New release from Australia's favourite cook

Fresh and easy recipes for a fast forward world

Whatever your cooking style, 'no time to cook' is the essential cookbook.

"With very little time for preparation and even less for cleaning up afterwards, the idea for no time to cook was born.... It's as much for myself as for all the time-poor people out there."

The essence of Donna Hay is special made simple, and as we all become increasingly time poor, there is even greater demand for her signature style: fast, fresh food that's great for everyday and entertaining.

Donna Hay's signature style of fast and fresh flavours and easy meal solutions have inspired a whole new generation of cooks. Her food, recipes and styling have set the benchmark for food publishing worldwide.

Her new book no time to cook is full of recipes that are easy to assemble and feature fast, simple flavours. With meals to cook in one pot, one pan or one dish, plus cheat's notes and handy hints, they're the best timesavers for a fast week night meal or a casual weekend meal with friends.

Fast doesn't need to be boring. Donna's one pot or one-pan recipes use bold flavour combinations but preserve all the simplicity of cooking in one vessel. Best of all, you're left with a minimum of washing up at the end of the night.

Everyone needs to cheat a little and no time to cook helps you with tips and tricks in every chapter. Transform simple store cupboard ingredients into breakfast + brunch ideas, salads + vegetables, sides + sauces and simple desserts.

Donna has now made the busy working week easier by reinventing the magic of make and freeze. Some now and some later means you can take the night off and all you have to do is reheat.

Donna is the editor-in-chief of donna hay magazine and has her own successful homewares brand, donna hay home, available at David Jones. She is also about to launch a new food range including muffin, cookie and brownie mixes, as well as opening the first donna hay general store in Sydney

www.donnahay.com

No Time to Cook By donna Hay
RRP: $ 39.99




Zucchini & Mint Pasta
200g spaghetti
2 zucchini (courgette), grated
2 tablespoons chopped mint
1 tablespoon lemon juice
pinch chilli flakes
sea salt and cracked black pepper
finely grated parmesan, to serve

Cook pasta in a large saucepan of salted boiling water for 10-12 minutes or until al dente.
Drain and return to the pan to keep warm.
Toss spaghetti with zucchini, mint, lemon juice, chilli, salt and pepper.
Divide spaghetti mixture between the serving plates, sprinkle with finely grated parmesan and serve immediately. Serves 2.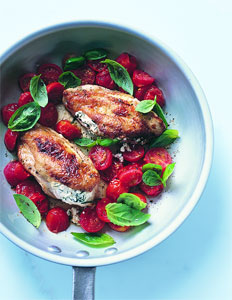 Ricotta-Basil Chicken & Wilted Tomatoes
100g fresh ricotta
1 tablespoon shredded basil
1 tablespoon finely grated parmesan
2 x 200g chicken breast fillets, skin on
sea salt and cracked black pepper
1 tablespoon olive oil
250g cherry tomatoes, halved
extra basil leaves, to serve

Preheat oven to 160°C (320°F).
Combine ricotta, shredded basil and parmesan.
Carefully loosen the skin from the chicken breast, leaving ends intact and carefully spoon in ricotta mixture.
Sprinkle chicken with salt and pepper.
Heat a medium non-stick frying pan with an ovenproof handle over medium-high heat.
Add oil and chicken to the pan and cook chicken for 2 minutes each side or until well browned.
Add tomatoes, place the pan in the oven and cook for 10 minutes or until the chicken is cooked through.
Divide between plates and top with extra basil. serves 2.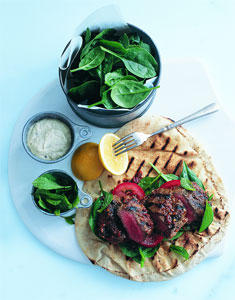 Harissa-Spiced Barbecued Lamb
1 x 200g lamb backstrap (boneless loin), trimmed
2 teaspoons harissa or chilli paste (g)
1 tablespoon olive oil
2 tablespoons lemon juice
2 teaspoons chopped oregano leaves
sea salt and cracked black pepper
40g baby spinach leaves
2 tomatoes, sliced
1/4 cup mint leaves
olive oil, for drizzling
2 flatbreads
100g store-bought baba ghanoush
lemon wedges, to serve

Place lamb in a shallow container.
Combine harissa, oil, lemon juice, oregano, salt and pepper and pour over the lamb.
Allow to marinate for 15 minutes.
Preheat char-grill pan (broiler) or barbecue to medium-high, cook lamb for 4 minutes each side or until done to your liking.
To serve, place spinach on serving plates and top with tomato, mint and a drizzle of olive oil.
Slice lamb and divide between serving plates with flatbread, baba ghanoush and lemon wedges. serves 2.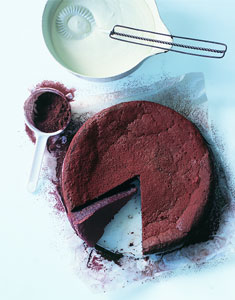 Flourless Chocolate Cake
350g quality dark chocolate, chopped
185g unsalted butter, chopped
6 eggs
1 cup (220g) brown sugar
1/4 cup (60ml) hazelnut liqueur
1 cup (100g) ground hazelnuts
hazelnut cream
300ml cream
B/E cup (60ml) hazelnut liqueur, extra

Preheat oven to 170°C (340°F).
Line the base and sides of a 22cm springform pan with non-stick baking paper.
Place chocolate and butter into a saucepan over low heat and stir until melted.
Place eggs, sugar, liqueur and hazelnuts into a bowl and whisk to combine.
Add chocolate mixture and whisk until smooth.
Spoon mixture into tin and cover with aluminium foil.
Bake for 40 minutes.
Remove foil and cool cake in tin then refrigerate until cold.
To make hazelnut cream, place the cream and liqueur in a bowl and beat with electric beaters or a whisk until soft peaks form.
Cover and refrigerate until just before serving.
Serve with hazelnut cream. serves 12.