Did you see Top Sante's survey published in the major daily newspapers recently? Of the 2,000 women surveyed less than 25% feel they are living the life they thought they would when they were younger. Sound familiar?
What's worse is the staggering 84% that say they are not fulfilling their potential. Further, the overwhelming majority of them feel underpaid, overworked, sexually frustrated and disillusioned!
---
"I was consumed with self doubt in many areas of my life. This also affected relationships with family, friends and slowed down my progress professionally."
Danni, Director of Lumiere Make-Up Melbourne, Australia
---
The chairwoman of Saatchi & Saatchi, Sandra Yates, said: "If there's one thing this report finally does, it puts the nail in that old myth that time will fix the problem. If we ever bought that old pup, we should abandon it as it is clearly not true."
If you are a ......
*
small business owner
*
young (or young at heart) professional or executive
*
therapist/nurse or carer
*
stay at home mum
*
teacher/educator
*
trainer
*
student
You have probably at sometime in your life been held back by baggage from the past and/or limiting beliefs you have made about yourself.
How many times have you heard yourself saying any of the following?
"I can't do that"
"I'm not worthy"
"I'm not good enough"
"I'm no good at Sales"
"I don't deserve what I really want"
"Money doesn't come easily"
"I'm not a good mum"
"I'm not a good wife"
"I'm not attractive enough"
"I'm not slim enough"
Probably more than you care to remember! We've been fortunate enough to develop a relationship with Anna & Sean Steele from NLP Coaching School who are about to deliver a series of seminars called Purpose, Passion and Power Weekend: The Secret to Self-Empowerment for Women.
The seminars will be delivered in Sydney, Melbourne and Brisbane shortly and you will be surrounded by other women who are trying to get the most out of life and are ready to leave all that stuff behind.
In the two-day event you learn how to:
*Take charge of your life

*Create the relationships you desire

*Hear the hidden messages in your emotions

*Drastically improve your financial results

*Overcome emotional baggage and be free of the past once and for all

*Be free from all your baggage from the past

*Smash through personal roadblocks

*Eliminate negative beliefs and decisions that are holding you back

*Formulate win-win relationships in all areas of your life

*Connect with your purpose and passion in life

*Consciously design and navigate your future and take charge of your destiny

*Set compelling goals with the tools to see you succeed at them


NLP School promise that if you don't like the seminar not only will they give you a complete refund, they'll give you $50 for wasting your time. You can't get fairer than that can you?
---
"The content of the course was absolutely mind-blowing! I recommend everyone to attend. Both Sean & Anna were extraordinary people and presenters and it exceeded all of my expectations"
Mary-Jane Slade, Human Resources Consultant, Newcastle Australia
---
To get the full details on how to eliminate baggage from the past, take charge of your destiny and the NLP Coaching School "Satisfaction Guarantee", visit the
Purpose, Passion & Power Weekend: The Secret to Self-Empowerment for Women
website.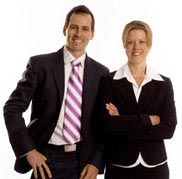 Dates:
Sydney - 12th-13th May
Melbourne - 19th -20th May
Brisbane - 4th - 5th August
Cost: $297, (normally $397)
Guarantee: Sean & Anna are so confident that you'll love the training that if you are not 100% satisfied by lunchtime on the last day of training you can hand in your materials and get a full refund.
Plus, they'll write you a $50 cheque for wasting your time. You can't get any fairer than that! You've got nothing to lose....
Visit
www.nlpschool.com.au/pppfemail.htm
to find out more about these events now and get started fulfilling your potential, isn't it about time you gave yourself the gift of clarity, passion and power?