Running a Business is a Piece Of Cake for 20-Year-Old Melbourne Millennial
Katelyn Matheson knows what hard work looks like. Starting out with as little as $1500 at eighteen years old, she has built a thriving business that is on track to make 1.6 million dollars by the end of 2018. Contrary to the stereotype that millennials are lazy, Kate embodies all the traits of a classic entrepreneur making a mark in her industry. She has established partnerships with many corporate and wholesale clients including, ANZ, Crown Casino, Myer, NAB, Optus, Telstra and now caters for customers looking for the perfect wedding cakes or party favours too. To date, Cake Creations by Kate employs over twenty staff, has stores in Craigieburn and Point Cook and will be launching its first city store in Melbourne's QV Centre this September.

Inner city Melbourne shoppers, office workers or uni- students looking for that sugar fix will have the opportunity to sample Kate's famous mini cupcakes for FREE at the official opening at the QV Centre, Level 2, Corner Swanston & Lonsdale Streets, Melbourne on Friday the 21st of September. The store will be giving away 200 mini cupcakes from 10am onwards. But don't fret yet – those who miss out, can drop by and purchase a pack to bring home to their loved ones, housemates or office colleagues… (if they even last that long!).

Katelyn's love affair with baking began with her beloved grandma Jean who was a natural in the kitchen, "I spent a lot of my time with my grandma in the kitchen. I learnt her secret sponge cake recipe, along with other secrets which have inspired me in my baking journey," Kate says. But it was a nasty fall that injured her ankle in 2016 that really set her path to entrepreneurship in progress. "I had enrolled in a pastry chef course after high school but had to take time off to recover from the accident, so I began baking at home instead." Soon she was baking 5000 cupcakes a week out of her mother's humble kitchen, with a line of cars banked up the suburban street to pick up their Cake creations by Kate. "Mum had had enough! It was time for me to move to a more commercial kitchen and open my own store. Friends and family thought I was crazy at the time, but it just made me more motivated to do it." Says Kate.

The stores tagline – 'Happiness is only a Cupcake Away!' Is rather fitting for a girl who genuinely loves what she does. Sweet tooth's can enjoy flavours such as Rainbow, Salted Caramel, Triple Chocolate or the ever- popular Jam Donut! Kate says; "I think the secret to my success is that I only use quality ingredients which means my cupcakes won't dry out as soon as you get them home, in fact they are even better the next day!"

Follow your sweet tooth to Cake Creations by Kate on Friday 21st September for your chance to sample a free mini cupcake at QV Centre, Level 2, Corner Swanston & Lonsdale Streets, Melbourne and share the love by using the hashtag #katescreations.

You can visit Cake Creations by Kate at: www.cakecreationsbykate.com.au

Facebook
YouTube
Instagram


Interview with Katelyn Matheson
Katelyn Matheson is the owner and creative force behind Cake Creations by Kate. When she isn't baking she enjoys spending time with her family and her dog, Bailey. Her secret baking tip for beginners is source the best quality ingredients for delicious results.


Question: What originally inspired your passion for baking?

Katelyn Matheson: I grew up baking alongside my grandma, which enabled me to learn lots of amazing skills, experience different techniques, and ultimately learn the craft of baking. I always practiced my skills in any spare time I had, as I just loved sharing food with anyone that would try my creations.


Question: Can you share your earliest baking memories, with us?

Katelyn Matheson: I remember baking with all my family from a very young age, my earliest memory would be from the age of 5, sitting on top of my Grandma's bench top, turning the handle on her old-fashioned flour sifter. I thought it was so much fun and couldn't wait to visit every school holiday.


Question: Can you talk us through the process of opening your third store?

Katelyn Matheson: Opening my third store has been a huge step for me! Whilst it has been really exciting to design something completely different from our usual store build, it has come with its hardships. I wanted to create something very 'Melbourne', to suit the atmosphere in Q.V. As the site is outdoors, we had to create a custom enclosed stand-alone store, so I spent months researching how I could make this work. Like all good things, they take time, so I have learnt to be very patient and eventually it will all work out.


Question: What challenges have you had to overcome during Cake Creations by Kate?

Katelyn Matheson: The hardest challenge I have faced in my business journey, is to juggle all the tasks that need to be done daily. It just seems like there is never enough time in the day for a small business owner. This has also made it hard to find work/life balance. Over time, you learn to manage your situation better, and put strategies in place to prevent burn out!


Question: How does your job continue to challenge you?

Katelyn Matheson: Every day, a new challenge arises. I always want to provide the best possible experience, which means I am always busy in the kitchen creating new recipes and trialing new products. This is the hardest part of the job, as all our staple flavours are very well-loved by our customers, and I never want to release a product I am not 100% proud of.


Question: What is your favourite thing to bake and why?

Katelyn Matheson: I love to bake our mini cupcakes. It is very satisfying watching them go from ingredients, to a complete finished product in 6 or so hours. I love piping thousands and thousands of mini cupcakes and seeing them all lined up ready for our retail stores. Knowing they will be enjoyed by so many people is the best part!


Question: What inspires your baking creations?

Katelyn Matheson: I gain inspiration from everything around me, especially pictures, paintings, patterns and nature. Sometimes, I wake up at 4am with a crazy idea of a new flavour and must write it down! I believe inspiration is all around us, we just have to be ready to take it on and create our own art.


Question: Which of your cupcakes is your favourite?

Katelyn Matheson: Ooh, that's a hard choice! It would be a close choice between Lemon & Jam Donut.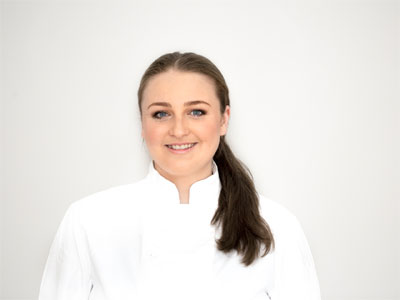 Question: What's a typical day like, for you, currently?

Katelyn Matheson: I currently am working in the kitchen, helping with production most days. I wake up early and help bake all our mini cupcakes fresh every day. I also spend a lot of time managing our orders, staff and stores. I also love to visit all our wholesale customers, who own cafes all over Melbourne, to see how our products are moving along in their very own stores.


Question: What advice do you have for other young entrepreneurs?

Katelyn Matheson: The main thing is to believe in yourself. You can't rely on this from anyone else, as the passion you have inside you, is what will get you through all the long days, nights and challenges you will have to overcome as an entrepreneur. I also believe creating an outstanding product is a must. Always use top quality ingredients/tools and it will keep people wanting more all the time!


Question: What's next for you?

Katelyn Matheson: Christmas is a very busy time of year for our mini cupcakes, so we will be employing more staff and providing training to ensure we get through this busy period smoothly. After that, I will have some time off the reflect on the massive year that it has been and start planning for 2019! It is very exciting to be able to continue to grow this company, hopefully offering more & more jobs in our local community every year.


Interview by Brooke Hunter