Nick Cave 20,000 Day On Earth
Cast: Nick Cave, Susie Cave, Warren Ellis, Darian Leader, Ray Winstone, Blixa Bargeld, Kylie Minogue, Arthur Cave, Earl Cave
Directors: Iain Forsyth, Jane Pollard
Genre: Documentary, Music, Drama
Running Time: 97 minutes

Synopsis: Drama and reality combine in a fictitious 24 hours in the life of musician and international cultural icon, Nick Cave. With startlingly frank insights and an intimate portrayal of the artistic process, the film examines what makes us who we are, and celebrates the transformative power of the creative spirit.

Nick Cave 20,000 Day On Earth
Release Date: August 21st, 2014
About The Production
20,000 Days on Earth is an inventive, lyrical ode to creativity featuring the musician and cultural icon Nick Cave. The film fuses drama and reality by weaving the journey of a fictional day in the life of the rock star, with an intimate portrayal of his artistic process. It is the debut directorial feature film by innovative visual artists Iain Forsyth & Jane Pollard and is set to an original score by Nick Cave and Warren Ellis.

Iain Forsyth & Jane Pollard have worked extensively with Nick Cave on various projects over the past seven years and now know him very well. Nick Cave says,

'I've always liked their unorthodox approach to things and on a personal level we have always gotten on very well. I invited them into La Fabrique Studios to film some promotional footage for the new record Push The Sky Away. As it turned out, in the end, they shot everything and the studio footage was so compelling we decided to expand the idea."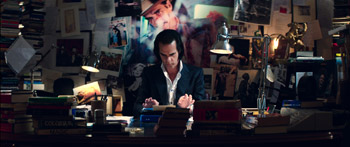 Iain Forsyth & Jane Pollard recognised this invitation from the resolutely camera-shy Nick Cave was an unmissable, unique opportunity. They started filming, without a plan for what the footage might become, and with unprecedented access began to capture extraordinary moments of Nick Cave's creative process.

'Nick Cave's surprisingly brutal with his ideas, songs mutate at speed and lyrics are slashed and forgotten" says Jane Pollard of the time spent filming in Nick Cave's office and the recording studio during the first half of 2012. 'Instinctively we knew what we were shooting had to form the starting point for a film, so we began to dream up ideas of what that might be", Iain Forsyth adds.

Next Nick Cave agreed to hand over his notebooks, which proved fertile ground for the filmmakers. 'We were able to trace the transformation of his ideas", says Iain Forsyth. 'We found disparate phrases which instantly sparked ideas that excited us. This included a calculation to work out how many days he had been alive for on the day they started recording the album, next to the unusually coined phrase -20,000 days on earth'." Jane Pollard adds, 'We began to work with the idea of what makes us who we are and what we do with our time on earth." The phrase eventually spawned the opening line of the film and the pair resolved to structure the film around a fictional narrative of Nick's 20,000th day. Nick Cave adds,

'This day is both more real and less real, more true and less true, more interesting and less interesting than my actual day, depending on how you look at it."

Taking the found phrases and ideas from Nick Cave's notebooks as starting points, the artists began requesting Nick Cave to write short texts on prompted topics. An edited selection of these was to form the voice-over backbone of the film. Nick Cave comments,

'The ideas initially came out of them looking in my notebooks. They could see my interests, my concerns and they would ask me to elaborate."

'With Nick Cave, we quickly arrived at this shared understanding that what we didn't like about a lot of contemporary music documentaries was their presumed-unobtrusive, observational style. That seeing the -real' Nick Cave would somehow reveal something more about Nick Cave. Watching a rock star washing the dishes or taking the kids to school might be interesting to some on a vacuous star-spotting level but it doesn't intellectually engage you.' Iain Forsyth explains.

By remembering visionary films including Led Zeppelin: The Song Remains The Same, and Jean-Luc Godard's One Plus One (Sympathy For The Devil) Iain Forsyth & Jane Pollard began to craft the visual and structural language they wanted to use. 'With these films, the results don't necessarily match the ambition of the vision – but they tell us that we should never sway from having crazy, bold intentions." explains Jane Pollard.

They knew they didn't want to make a reverential portrait of the artist, nor unmask him to reveal the ordinary. Instead Iain Forsyth & Jane Pollard wanted to play with rock mythology and harness what is gloriously extraordinary about Nick Cave.

'The thing that is remarkable, that is inspirational, the thing that affects you about Nick, is his brain, his creativity, his ability to reframe and shape-shift the normal to make it truly vivid and moving," says Jane Pollard. 'That's what we wanted to engage you with. We wanted to portray the Nick that tells stories, that thinks, that weaves myths, the man who is constantly churning everything through the mill of the imagination." Iain Forsyth adds.

In 20,000 Days on Earth they are railing against the part of our culture that now normalises genius and talent through TV shows such as American Idol. 'There is a strand of the culture that says almost anyone can do it; be made into a successful star," says Jane Pollard. 'But I want us to celebrate those remarkable practitioners, the Cohens, and the Dylans and the Caves, who have carved their own persona and path, who work magic with words and music."

Up to this point Iain Forsyth & Jane Pollard had worked alone in order to minimise their impact on the dynamics of the writing and recording sessions. This was not the approach they wanted to take when filming their fictionalised day in the life of Nick Cave.

'We believed that if we are going to take up Nick Cave's time, if we are going to take up our own time, then this needed to matter. It needed to be ambitious." Iain Forsyth states their intent, 'We took the idea to Pulse Films, brought in Jim Wilson and got the brilliant cinematographer Erik Wilson on board".

Was it liberating for Nick Cave to have the pair directing this creative work and for him not to be in charge?

Nick Cave answers,

'I wouldn't have done it otherwise. They have a huge amount of energy. They have worked hard on this film. It has been a privilege to watch people invest so much energy into something like this. Pulse and Film4 have been amazing as well, in the sense they have stepped back and allowed Iain Forsyth & Jane Pollard the space to do their thing. I've worked in film before and that's not often the way that is."

'Iain Forsyth & Jane Pollard have succeeded in getting what they wanted with very few compromises. That's been one of the most heartening things for me. It has restored my faith in film! Most films in my experience are fraught with compromise. That's the nature of filmmaking. I think they were given a lot of freedom to allow the film it's ambiguities, its eccentricities and most of all the time for scenes to develop and breathe. It has a lovely air and space in it."

Iain Forsyth & Jane Pollard began talking to London-based production company Pulse Films, because of their focus on thought-provoking and structurally adventurous films, such as Shut Up And Play The Hits, about the last days of the band LCD Soundsystem, and docu-drama Who Is Dayani Cristal? with Gael Garcia Bernal. The project immediately ignited the interest of Thomas Benski, Pulse founder and 20,000 Days on Earth Executive Producer. 'We pride ourselves on being a place where brilliant filmmakers and great talent can combine to take creative risks in a way that still serves the market," explains Thomas Benski, 'which is why Iain and Jane's collaboration with Nick Cave felt like such a natural fit."

'What has always excited us at Pulse is to tell music stories differently, bringing them to life through truly original approaches," says 20,000 Days on Earth producer Dan Bowen. 'When we first starting seeing material they had brought back from the studio there was something so distinctive about it - it pointed to a clarity of vision and you could quickly begin to see the film they were imagining. Combine that with Nick as a subject and it was very exciting."

'The film world is very different to the art world we've grown up in, and we've been astounded by the networks of support we've met at every level. The team at Pulse, and in particular our producer there Dan Bowen, became unflinching in finding ways to enable us to make the very best film we could." Iain Forsyth comments.

Next on board was experienced independent film producer James Wilson, whose credits include Jonathan Glazer's Under The Skin, starring Scarlett Johansson and Edgar Wright's Shaun of the Dead. As a fan of Nick Cave's work since the 1980s, Wilson was as intrigued by the subject matter as the filmmakers' bold approach to it. Forsyth & Pollard were impressed by the vision of James Wilson. 'James Wilson saw in us a version of us we wanted to be," says Jane Pollard. 'He saw auteur filmmakers, he saw a strong directorial voice".

'They had me at hello," says James Wilson of his first meeting with Iain Forsyth & Jane Pollard in the autumn of 2012. 'I love the film-essay form and this was one that explored rich themes – about the importance of art and creativity, and the relationship between artifice and truth – in a wholly original and cinematic way."

James Wilson had just produced two creatively unconventional films - Under The Skin and Sophie Fiennes' The Perverts Guide to Ideology - with Film4 and the BFI, and believed the directors and their idea had the artistic ambition to which they might also be drawn. 'Right now at the BFI and Film4 there's an appetite for bold cinema with an authorial stamp on it," he suggests.

Impressed by a mood reel Iain Forsyth & Jane Pollard had constructed, first Film4 and then the BFI stepped in to majority finance the project with UK private equity firm Corniche Pictures. Pulse brought on board Goldin Films and Canadian financiers PHI Films to complete the financing line-up and made an equity investment of their own. Hanway Films is handling worldwide sales outside the UK, and Cave's native Australia, which has been pre-bought by Madman.

Working around Nick Cave's touring commitments meant 20,000 Days on Earth had to be shot on an accelerated schedule. 'The tail of Nick Cave's schedule was furiously wagging the dog of independent film financing!" says James Wilson. Indeed, when the film screens for the first time at Sundance in January, it will be a year almost to the day since principal photography began.

No Ordinary Rock Documentary

'This couldn't be a vanity project, we were very explicit about that. It was a warning sign in all our heads, including Nick Cave's." says James Wilson. Nick Cave adds,

'I was very hesitant about undertaking this. I was ambivalent of the process anyway because I am suspicious of biographies and celebrity documentaries as they can appear self-serving and masturbatory. But these guys are artists. They come from the art world and not from the film world, so they have no problem with ambiguity and mystery. They approached things from a different way and they had a good, original idea."

20,000 Days on Earth is not a solemn, deferential portrait of an acclaimed musician. Instead, the directors were much more interested in probing universal themes including mortality, our time on earth and how we spend that time. Iain Forsyth & Jane Pollard's use of wit and humour deflects and deflates any hint of pomposity. 'We believe you can have a tremendously moving or inspirational film and still have moments that are raucously funny," says Jane Pollard. 'It's not a slight thing to be able to make people laugh. It's an incredible thing. The audience gets to shuffle, become active and then reset a bit, when there is a laugh. It refocuses your mind and gets it ready to take on something else."

The directors were thrilled when editor Jonathan Amos instantly understood this, appreciating the comedy in the material. They chose Jonathan Amos precisely because of his credits, which include the sharp UK comedies Peep Show and Pramface for TV, and features including Attack The Block and Scott Pilgrim Vs The World.

'Humour was the really big thing for us," says Iain Forsyth. 'We wanted to make a funny film. Nick is funny. The whole band are. Spending time with them can be hilarious, and we wanted to reflect that. But more importantly, it's a timing thing. If you can cut comedy, if you can make the timing of scenes work and hold the humour in them, then you will get what we were trying to do."

But it is the sheer artistry and vision of Iain Forsyth & Jane Pollard that elevate the film beyond the realm of a regular music documentary. It is their ambition and ability to communicate a feeling to us. 'Our way of making art is to start by defining the emotion we want the person experiencing it to feel," says Jane Pollard. 'With 20,000 Days on Earth it is about letting other people feel what you feel when you get to know Nick. You're inspired and impressed. We want you to get to the end of the film and feel fired up, to think -I need to be better, I need to do more'. Anybody can have an idea. You've just got to see it through."

It was apparent early on to Bowen and James Wilson that Iain Forsyth & Jane Pollard's approach could appeal not just to Nick Cave fans, but to lovers of cinema and great storytelling.

'They found this magical balance between the real and the fictitious with these bold ideas for situations they were creating," Bowen explains. 'Iain Forsyth & Jane Pollard have always approached their work with the audience in mind, and this is the ultimate example of a film that is unique and ambitious, but also totally accessible."

Is the film everything Nick Cave hoped it could be?

'Yes. Even though it is fictional on one level it is also very real. That's the beauty of it. We got closer to something through fiction and that's really what the film is all about. It questions the importance of the real world in contrast to the imaginative world. Or it tries to live within the space where those two worlds converge. Something very raw and revealing emerged from these fictional contrivances. I am really happy for Iain and Jane because I feel they got exactly what they were trying to get. It was always very strong from the first edit. It always felt solid with both feet firmly on the ground. So everyone could take a breath and sit back and let the directors do what they wanted to do."

Then adds,

'The creative process is both mysterious and not mysterious. On the one hand the creative process is just sitting down and doing the work. Yet there is an element of magic about it as well. Iain and Jane went about trying to capture that in a film in an interesting, crab-like way, approaching it sideways and in doing so revealing a lot more than the standard warts-and-all expose. There is a lovely slyness about the film."

'The film doesn't comply with the conventions of documentary, or drama-documentary" says Bowen. James Wilson adds, 'It's not a factual report of a story or issue. It doesn't reconstruct events that have happened. It's not a music concert film or a rock bio pic. By staging real behaviour in fictional spaces, it creates something new that beautifully resists pigeon-holing"

Creating The 20,000th Day

'Nick Cave can't act," smiles Jane Pollard. 'But he is brilliant at being Nick Cave. So we needed to construct scenarios that at least have an element of reality and surprise for him, with room for him to authentically respond, to think and be in the moment."

To depict the 20,000th day, set entirely in Nick Cave's adopted home town of Brighton on England's South Coast,Iain Forsyth & Jane Pollard created an intense, hyper-real world employing very high production levels. Their aim was for everything that happens within this -day' to feel completely authentic, with minimal editorial input from them or the crew once the scene was up and running.

The -day' was devised around two key scenes designed to allow Nick Cave to talk about himself and his ideas in a way that would extract something new, meaningful and substantial. The first is a meeting with acclaimed psychoanalyst Darian Leader and the second, a visit to a reassembled Nick Cave Archive.

Leader is a British psychoanalyst and founding member of the Centre for Freudian Analysis and Research. He met the directors while they were students at Goldsmiths College of Art and they became friends. 'We wanted someone who we could trust and work closely with. We believed Darian could provoke Nick Cave to respond to questions in the way a journalist would not be able to, and then build on that," says Iain Forsyth of their decision to use Leader. 'The important thing is that the situation was predominantly real for Nick Cave, there was no script, and we made sure they didn't meet before they sat down to talk, with the cameras rolling. Nick Cave was aware that Darian was an actual psychoanalyst and they ended up talking over two days for almost ten hours."

Many of Nick Cave's personal notebooks and possessions are held and cared for within the Nick Cave Collection at the Arts Centre in Melbourne, Australia. Iain Forsyth & Jane Pollard re-imagined the space in the basement of Brighton Town Hall and brought over the real head of the collection. 'We knew if Nick Cave could spend two days randomly, or what seems to be randomly, pulling out objects and photos, there would be an authentic journey for him and it would become a way of unlocking a stream of memories." Jane Pollard says.

The directors were in search of the moments that make the hair on the backs of your neck stand up. 'One of those was when Nick talks to Darian about Nina Simone and the times he has felt or witnessed transformation through performance. We all felt it in the room," admits Jane Pollard. The concept of performance is very important to the directors and runs as a theme throughout 20,000 Days on Earth.

'For us it's always about constructing a situation, making things happen and then finding a way of capturing the spirit of them the best way you can," says Jane Pollard, of their method of setting up scenarios and filming whatever happens within them.

'That's what Nick Cave responded to," explains Iain Forsyth. 'We made it our problem to get what we got and then come away and make it work in the edit. The big secret, which we never told anyone, was that we were always prepared to fail. There's a freeing up that happens when you accept failure as a very real option."

The directors put together an experienced team who appreciated their way of working. The crew was led by cinematographer Erik Wilson. 'We'd worked with cinematographers before but not to this extent," says Jane Pollard. 'It was really important to find someone who would trust our process. Erik Wilson is not only an exceptional cinematographer he's a lovely man, wide open to new ideas and infectiously enthusiastic to work with". Iain Forsyth adds, 'Erik Wilson never called a technical halt to a scene. He just let us get on. There would be a lot of times when Jane Pollard or I wouldn't be at the monitor because the scene needed one of us closer to Nick Cave, but when you sense a temperature change, you don't need to know exactly what it looks like on the monitor. We trusted Erik Wilson would get it."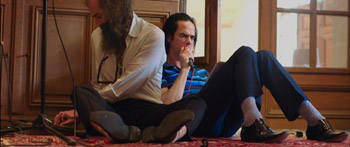 The psychoanalyst's room is a dressed set in Richmond, South London. The look is a nod to a 1970s Los Angeles aesthetic, inspired by the work of photographer Steven Meisel of whom Nick Cave is a fan. The filmmakers had a timeless look in mind for the film, particularly the archive. 'We wanted the scene to be intensely cinematic – a timeless subterranean world brimming with all of the stuff of Nick's past and flickering full of analogue technology. It looks nothing like the real archive, but the truth doesn't matter." Iain Forsyth claims.

The third significant location to be created was the home of Warren Ellis, Nick Cave's regular musical collaborator in the Bad Seeds, and to whom Nick Cave drives for lunch following his encounter with Darian Leader. 'This scene is at the centre of the film and we shaped it as a chance to let someone other than Nick Cave do the talking. Warren Ellis is a prolific storyteller and Nick Cave is entirely at ease with him," says Pollard of the change in tempo at this point in the day.

As with the archive and the psychoanalyst's office, Iain Forsyth & Jane Pollard had a strong sense of what they wanted the feel of Ellis's imagined home to be. 'Warren's house speaks of his character and personality, of being on the edge of something, off the grid, close to the elements," says Iain Forsyth of the overgrown, wild cottage, which is actually a historic coastguard's house in Seaford, near Nick Cave's home in Brighton.

Iain Forsyth & Jane Pollard's previous visual artwork has explored a fascination with the concept of altered states, daydreams, hallucinations and the moments between sleep and waking. This led to the three scenes representing the car journeys Nick Cave makes during the day. They wanted to find a way to visually represent those moments our minds slip and wander to another reality.

'The car gets Nick Cave from place to place and gives the day some structure but it is also the place where he gets to sift through his thought processes. The car is an extension of the inside of Nick's head, with other people manifesting as a kind of inner dialogue." says Jane Pollard. 'It really doesn't matter if they are actually there or not", adds Iain Forsyth.

Nick Cave recalls the archive scenes in the film:

'During the archive section, I just sat there for a couple of days and looked at photos and talked about them and largely forgot about the cameras and you can see that in the relaxed nature of these scenes. But the car scenes were much more about the emotional minutia that exists between two people. Although they are spontaneous and unscripted, they were a lot more difficult to do than they may appear. And I had to drive a car at the same time! Or pretend to! We made it difficult for ourselves as we wanted a kind of tension within these scenes."

In the car voices materialise in the form of three people who have had previous roles in Nick Cave's life: British actor Ray Winstone who starred in the film The Proposition penned by Cave and directed by John Hillcoat; German musician Blixa Bargeld, who was in the original line up of Nick Cave & the Bad Seeds for twenty years; and Australian singer and actress Kylie Minogue with whom Nick Cave duetted on his most successful single to date, Where The Wild Roses Grow, in 1996.

Each person extracts different reflections and insights from Nick Cave at particular points of the day. 'What was attractive about Ray is that because Nick Cave is such a strong character, a lot of people around him can be overshadowed or reverential, even people who know him pretty well. There is an inevitable amount of awe that kicks in around Nick Cave," says Iain Forsyth of the ease with which Winstone engages Cave in a conversation about age and aging. 'Whereas Ray is always just Ray. He treats everyone the same, there is no bullshit."

Bargeld had been a significant voice in the Bad Seeds and Nick Cave's right-hand man before abruptly leaving the band in 2003. Prior to shooting their scene together the pair had never talked about the reasons behind Bargeld's departure.

Nick Cave recalls, 'I hadn't really seen Blixa for some years before I sat in the car with him and we started talking. I had never asked him why he had left the Bad Seeds, for example. Kylie Minogue was similar. These scenes just found there own dramatic tension. In the Kylie Minogue scene there is something rather lovely going on as we can't see each other's expressions but the camera can."

Kylie Minogue gave Nick Cave a glimpse into the world of mainstream commercial success and super-stardom. 'Kylie Minogue is a real Australian icon and national treasure. Nick Cave is absolutely impressed by her, her work ethic and professionalism. He really saw the universal accessible merit of what she does and how she does it. There is nothing ironic about Nick Cave's interest in her" says Iain Forsyth. Jane Pollard quickly adds, 'He displays such a fondness even when speaking about her that we wanted to put them together again for the first time in many years."

The directors were careful to not prepare the three too much, preferring to simply explain the premise to the scene and why each is in Nick Cave's head at that moment.

'What I loved about the drives is that they were the most risky scenes," says Jane Pollard. 'You do two days in an archive or a sit-down interview and there is going to be some magic in there. But the drives were totally improvised. We had a set route and did two laps with each person. There was no point in going again. They had exhausted all natural conversation and were starting to get self-conscious. You just have to trust you have done enough preparation in seeding ideas and then wait for the edit."

Nick Cave 20,000 Day On Earth
Release Date: August 21st, 2014