Diane Keaton And So It Goes
Cast: Michael Douglas, Diane Keaton
Director: Robert Reiner
Genre: Romantic, Comedy
Rated: M
Running Time: 94 minutes

Synopsis: Self-obsessed real estate agent Oren (Michael Douglas) life is turned upside down after his estranged son leaves a grand-daughter he didn't know about in his care. Struggling with his newfound role of guardian, Oren turns to his lovable and determined neighbour Lean (Diane Keating) for guidance, and ultimately learns how to love again. From veteran director Rob Reiner (When Harry Met Sally), And So It Goes… is the wonderful tale that proves it is never too late to change your path and open your heart to happiness.

And So It Goes
Release Date: August 7th, 2014



About The Production
Director Rob Reiner knows about comedy, and he's certainly proven that he knows how to successfully fuse humor and romance. He kept audiences craving for Meg Ryan and Billy Crystal to somehow get together in his 1989 comedy classic When Harry Met Sally... And in 1995's The American President, they wanted only for Michael Douglas's President Andrew Shepherd and Annette Bening's lobbyist Sydney Wade to overcome their awkward courtship on the political battleground to succeed as a couple.

'I basically make the same movie over and over again," Rob Reiner laughs. 'The woman is always more advanced and more developed and emotionally able.

And the man is like an idiot running around, trying to figure it all out, until he realises that he should be with the woman." And so it is with And So It Goes.

The idea for the film came about during the press junket for Rob Reiner's 2007 hit, The Bucket List, starring Jack Nicholson. 'Every single journalist asked the same question," the director recalls, 'what'a on your bucket list?" Rob Reiner's longtime producing partner, And So It Goes producer Alan Greisman, remembers the classic Jack Nicholson answer. 'He thought for a minute and then he replied, "I sit in my living room with my feet up on the coffee table smoking a cigarette, and I ask myself: is there time for one more great romance?" I went up to Rob Reiner and said, "This is a great idea for a movie." The gears began to turn, and the subject of a new picture was hatched. Explains Rob Reiner, 'That struck me - people finding each other at a certain point in life, a later point in life."

Scribe Mark Andrus, who had written another Jack Nicholson hit vehicle, 1997's As Good As It Gets, came aboard to develop a script for the film. 'The main idea," says Rob Reiner, 'is about people who have decided that they're done, they're not going to be involved romantically again. And somehow they find each other." Under Mark Andrus' pen, the plot expanded to bring in broader themes about second chances in life – not just in romance, but also in career choice as well as for families in conflict.

Therein lies a great humanity beyond the comedy – which in turn helped to attract great talent. Recalls producer Mark Damon, 'I first read And So It Goes on a flight to Toronto. Between my laughter and my tears, I realised I was reading an exceptional script that could make an exceptional film in the right hands and with the right cast. With a pedigree of Academy Award nominees and winners, I knew this would be a film I would be proud to be involved with, proud to produce, and proud to distribute. Rarely had I been so sure about a film's prospects, and as soon as I got off the plane, I called Rob Reiner and Alan Greisman of Castle Rock, and told them "I'm in." Rob Reiner has a sure hand as a director, actors love him, and he gets wonderful performances out of them. It was exciting to see him bringing the promise of this script to life on the big screen."

And So It Goes centers around a once-successful real estate broker named Oren Little, whose wife passed away several years earlier after a protracted battle with cancer. Oren is played by Oscar®–winning actor Michael Douglas, making his second film with Rob Reiner at the helm. 'I love working with Rob Reiner, especially since we had worked together on American President," the actor says. 'There's a comfort factor – you don"t have to go through the introductions. There's shorthand. And Rob Reiner trusts his instincts. He doesn't like to do a lot of takes, likes to move things along. And he knows everybody's lines. On 'Action,' he just goes into another world. He puts his nose up to the monitor and watches everything really, really closely. And he has a stellar history with comedies."

Michael Douglas was attracted to the project not only for the opportunity to work with Rob Reiner again, but also by the script and the qualities of his character. 'Mark Andrus is quite a writer. He's got a wonderful quirky tone, and he writes these really interesting, well-defined characters. I could tell it was a great love story with a good sense of humour."

His character, Oren, had particular appeal. 'I'm always attracted to characters that are not very attractive, but ultimately come around," Michael Douglas notes. 'I enjoy the challenge of trying to get the audience onto my side."

The production also had another advantage; it was filmed in suburban Connecticut, not far from the actor's home in Westchester. 'I had just done 'Behind the Candelabra" and Last Vegas. So the idea of filming at home was great. It was just a 25-minute drive to get back to the house and see my kids every night. That was very attractive."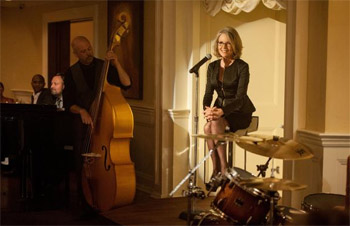 Oren, Michael Douglas explains, was once an extremely successful real estate broker. 'He had a very successful life, for many years. But he was probably not as successful as a father. His son, Luke, had developed drug addiction issues, and Oren simply kept him away, with no connection for the last ten years."

His wife, Sarah Beth, suffered a long battle with cancer, which she eventually lost; the experience left Oren an extremely bitter man. 'The last few years wore him down. After that long haul, going through all that with his wife, he"s pretty shut down. He's closed off to everyone," Michael Douglas explains. Adds Rob Reiner, 'Oren never loved after that. He visits her grave regularly, and he just can"t let go. And the worst part is, he never reconnected with his son. There was never any kind of reconciliation before the death of Oren's wife. And he still doesn't want one."

When we meet Oren, he is in the process of selling the family home – the home where he cared for Sarah Beth in her last days and in which he had raised his family. 'He's now not in very good shape, financially. And the real estate market has dropped out in that area. But he still will only sell it for what he thinks it's worth – even though the value is now cut in half," Michael Douglas explains.

In a sense, it almost seems as if he doesn't want to sell it. 'That house was his identity. For him and his wife, that was their status symbol. It was their life, where he raised his child and lived for so many years and where he nursed Sarah Beth and cared for her. 'He just refuses to accept that its value has dropped by so much," Michael Douglas explains, adding, 'That just goes to show you – you shouldn't have a realtor that's emotionally attached to their home."

Not that he doesn't try. Oren even goes to the extra effort, when showing the house to prospective buyers, of placing photos about the house of people matching the ethnicity of the buyers; in a vain attempt somehow make them feel he 'gets" them. 'It's pretty shallow," scoffs Rob Reiner.

Being in the transitive state he is in, and without the income he once had, Oren has taken up residence at a modest two-story fourplex he owns by the water in Bridgeport, Connecticut, home to a small family, a couple expecting their first child, and a widow. 'He's Oren Little, so it's called Little Shangri-La," Rob Reiner points out.

'I don't think anybody knows he actually owns the building," Michael Douglas notes. 'They just know that's one of the grumpy tenants in the building. He doesn't have many nice words to say about anybody. He won't even park his car in a manner, which would allow his very pregnant neighbor less of a walk home. He just doesn't give very much of himself. He's kinda of Scrooge-like."

Oren is more or less satisfied, though, with his life, as is. 'I grew up in that area – I know that New England character," Michael Douglas states. 'He"s a bit of a dandy – he likes his martinis. Living alone suits him just fine. He's given up on pursuing any kind of romance. He's like an old lady. He's not looking for anybody. He's surviving. He"s got a routine, and he's going to try to sell the house. He's got enough money with this fourplex to survive, read his paper and probably drink too much."

That all begins to change when he makes an acquaintance of his next door neighbor, a beautiful woman about Oren's age named Leah, played by Diane Keaton. 'I've known Diane Keaton over the years and have always been a huge fan, but I'd never worked with her," Rob Reiner says. In the film, Leah is a singer, so though various names had been tossed around to play the character, Diane Keaton's beautiful singing voice made her the perfect choice for the part."

'Plus, I've always thought of her as an incredibly gifted comedian," Rob Reiner adds. 'And she's also really sexy. And for a film like this, you have to find two people who are in that age range that also have a romantic quality – that you believe that there"s a romantic, sexual part to them."

Working with the actress was a treat for both Rob Reiner and Michael Douglas. 'Diane Keaton plays so close to her real person," Rob Reiner notes. 'That"s what I love about her – there"s not a dishonest move that she makes, because it's totally connected to her." Diane Keaton's signature nervousness in her characters also comes from the actress's own approach. Adds Rob Reiner, 'she's got this kind of nervous way of questioning everything and worrying about everything, and being anxious all the time. And she's incredibly sweet and loving, and interesting, beautiful and sexy. She's got a lot going in one package."

'Diane Keaton was the exciting unknown for me, because we had never worked together before," Michael Douglas states. 'She's so quirky and unpredictable – you never know exactly what's gonna come out of her mouth. She might vary a line if she finds something's better, which was always great." The veteran actor also found Diane Keaton's work style fascinating. He adds, 'She listens to music through a pair of earphones right up until the moment they say, 'Roll – action.' Then she just takes them off. . . and she goes."

And the production relished the opportunity to put these two legends on screen together for the very first time. Notes producer Greisman, 'Michael Douglas and Diane Keaton were without a doubt the perfect actors for the picture. Their chemistry is palpable, which is what makes the evolution of their relationship so believable – but it's their combined comedic talents that make it so fun to watch."

About The Location & Set Design

As mentioned, Oren and share Leah space in Little Shangri-La, a fascinating, lovely set built over a five-week period by production designer Ethan Tobman and his team, prior to the film"s 5-½ week shoot in June and July 2013.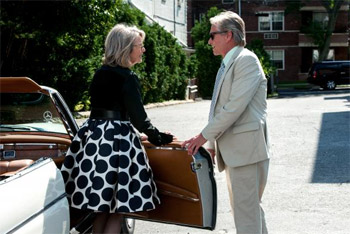 The script for And So It Goes originally set the story in the San Diego area, with images of bungalows and fourplexes coming to mind as planning began. 'The script had that kind of architecture where people have concrete cutouts and shared balconies and staircases," Ethan Tobman informs. But as the project evolved, Rob Reiner and the producers decided to shift the setting to New England. Ethan Tobman adds, 'that kind of architecture doesn't really exist on the East Coast. But we still kept the functionality of the plot, so that people were living on top of each other, sharing a fourplex."

Finding a location for such a structure wasn't easy – in fact, it was impossible. After six weeks looking from New Jersey to the Hamptons to the Connecticut coastline, Ethan Tobman eventually found a town in Connecticut called Black Rock, just outside Bridgeport on Long Island Sound, which appeared to fit the bill. 'We happened by chance upon this very run-down section of Connecticut, which has been in decline, economically, since the 20s or 30s." But it had an appeal. 'Black Rock's a very nice, gentrified area," states Michael Douglas, who knew the area from living close by for so many years. 'It's made up mostly of a lot of smaller houses owned by either retired policemen or firemen, or houses that are just rented out. Bridgeport's a pretty tough town – Black Rock is not. And it gives you a good sense of Southport, which is right next door," where the film takes place.

Ethan Tobman found a two-story duplex on a dead-end street on Burr Creek, which had the makings of what was needed for Little Shangri-La. 'It was a two-story unit, shared by two people, with entrances on the first floor," the designer describes. 'So each tenant had a two-story duplex. We needed to make it look like four separate units."

Trellises, balconies and spiral staircases were added, to give the illusion of four individual residences. 'We added trellises with oval cutouts, so that you're constantly in touch with your neighbor. If someone goes up the stairs, they're forced to interact with the person downstairs, which is always a great narrative visual – especially for Michael's character, who just wants to be left alone."

Every surface on the building – as well as the neighboring structure, which appeared in shot often – was completely resurfaced. Ethan Tobman adds, 'all the aluminum siding was torn down, and we put up wood shingles, which we aged. And we added siding to the interior walls, with vintage wood. The phrase that caught Rob's ear was that it was to have 'a faded hipness' to it. Something from the Catskills in the '40s – the idea that this place was a pretty good getaway in the '70s and '80s, but had seen better days."

A 100 ft. dock, complete with yachts and rowboats, was built out into the water, and 6,000 square feet of grass was added, in place of the dead-end pavement, to give a sense of an ample front lawn. Ethan Tobman references, 'we planted tons of foliage, to make it look overgrown – again, charming and past its prime."

Ethan Tobman took advantage of another important resource when designing Leah's unit in the building – Diane Keaton. 'Some actors show up the day of the shoot and either like everything or hate everything. I knew Diane Keaton was very involved in interior design and has had a lot of success with real estate, and she has excellent taste. I reached out to her in prep, because I wanted her to be part of the process, and she very much was." About a month before the shoot, Ethan Tobman flew to Los Angeles and spent the day with the actress, talking about her character. 'We talked about what might be on her walls, what might be her furniture. And what we came up with together – which was not in the script at first – was that her character was an actress who had had a mid-level range of success with her deceased husband, Eugene, in the '70s and '80s in New York and New Jersey, off Broadway."

Ethan Tobman's Art Department then created believably detailed posters, playbills, ticket stubs and reviews of countless fictitious plays Leah and Eugene Tobman had appeared in together – even to the point of casting a background player, Cyrus Newitt, to appear as her husband in the numerous photographs adorning Leah's walls.

In contrast to Leah's, Oren's unit is incredibly uninviting. 'Her unit is light and airy. His is dark and stained and claustrophobic and cluttered," Ethan Tobman says. 'There's no personality and no shred of femininity. There's been no female presence anywhere in his apartment since his wife died."

The completed set absolutely fit the bill, as far as Rob Reiner was concerned. 'It's like a character in the movie," he says. 'It's pretty self-contained. We had scenes in each of their apartments. We could shoot any angle we wanted. Ethan Tobman and his team did a fantastic job."

About The Music

When Oren meets Leah, he learns she is attempting to make it as a singer in local restaurants, such as The Oaks Bistro (actually filmed at the Long Ridge Tavern in Stamford). 'She's a frustrated lounge singer, who doesn't really know what she's doing with her life," Michael Douglas states. 'And she has the unfortunate habit of never being able to finish any of her songs."

The songs which Leah – and Diane Keaton – sing were chosen together by the actress and her director. 'We went through a lot of different catalogs and tried to figure out what kinds of things she would be singing," Rob Reiner recalls. 'We tried to mix it up. We felt she probably played in some musical comedies, so there are some older standards."

While the score for the film was written by Marc Shaiman, Rob Reiner himself selected the terrific group of songs heard throughout the film, representing tunes from Leah and Oren's prime. The film opens and closes with the Judy Collins' 1960s classic, 'Both Sides Now." 'I had that idea from the beginning, because I wanted to do music that was of their era," Rob Reiner explains. 'I wanted that song for the opening and closing credits, but if we'd used the original recording, with our budget, we couldn"t afford it." The only way to make the song affordable was to ask Judy Collins to re-record it especially for the film. 'She's done it thousands of times, and wanted to put a new spin on it, as most artists would. But I always remembered her version from when I was a kid, which is an iconic memory. And that's what she did, just like she had done originally."

Leah's own singing performances indeed have one fatal flaw: she can't get through an entire song without falling apart. 'It makes her think about her husband," says Rob Reiner. 'So anytime she's singing something that reminds her of her husband, she starts breaking down. And I love it, because every once in a while, she just cries. And she just says, "It's just something I do."

Part of the problem is her between-song banter, in which she can't stop herself from talking about the late Eugene. 'I try to help her with that," Michael Douglas says. 'She always tends to bring in her dead husband, so I tell her to stay away from dead people."

Oren indeed appoints himself her unofficial manager. 'I think he has an ulterior motive. Through trying to coach her, making suggestions and trying to get her a better job, they begin to form much more of a dialogue together," which eventually leads to a romance. Besides a new manager, Lea also has her trusty piano player, an affable fellow with a bad toupee named Artie, who has an uncanny resemblance to that 'Meathead" guy on 'All in the Family." 'I found an actor who would work for scale," informs Rob Reiner, whom he apparently then got rid of and took the spot himself.

'I don't really like to be in movies that I direct," he says. 'I just did a part in The Wolf Of Wall Street, and that was fun because I didn't have any of the headaches. They were all Marty Scorsese's to have. But when I'm directing, I don't like it, because my brain gets split in two places. I'm in costume, and then I'm directing, and I'm walking around like an idiot. But every once in a while I'll see something and say, "Well, geez, I could play this part."

And the hairpiece? 'It's completely undetectable," he says. 'Actually, it was a process. I had to find something that looked really bad. At one point, we cut it, and I looked like Hitler. And I thought, "Geez, this isn't good. Jewish guys shouldn't be looking like Hitler." Adjustments were made, though, and as Michael Douglas notes, 'That piece was something fierce."

About The Girl

Leah and Oren become further entwined with the arrival of a family member of Oren's he never knew existed: his granddaughter, Sarah, played by 10-year-old Sterling Jerins. 'She was doing World War Z, playing Brad Pitt's daughter, when she read for us," Rob Reiner recalls. 'I've worked with a lot of kids over the years. And they either have a natural quality or they don't. And she has it. She just has a naturally happy, upbeat demeanor. And she could cry on cue – I didn't even ask her." Adds Michael Douglas, 'she had that inherent sense of reality. She was just so good from the first scene she's in, when she says goodbye to her dad – just a built-in trepidation. And it was just wonderful to watch the interplay she had with Diane Keaton. Just a natural from the word go."

The arrival of Sarah completely throws a wrench in the works of the narcissistic Oren's plans. 'He's selling his house, he's ready to move. He's retiring and moving to a fishing cabin," Rob Reiner says. 'And before all that happens, his son, Luke (played by Scott Shepherd), who he hasn't seen in 10 years, arrives at his doorstep and tells him that he's going off to prison, and he's got a nine-year-old daughter, who Oren is going to have to take care of. So he's stuck in this situation he doesn't want, and he's forced to have to deal with it." Says MichaelDouglas, 'He wants nothing to do with her. It's not his problem." And until he can figure a way out of it, Sarah can be. . . Leah's problem. 'Initially he pawns Sarah off to Leah, next door. Kind of, "You can take care of her." Leah is a nurturing, loving person, and would love nothing better than to take care of her. But she begins to make Oren address some of his issues. And the dialogue they begin gets him to warm up a little. It's the beginning of their relationship."

About The Romance

The two attempt the most modest of dates, though Oren's inept attempt at pitching woo ('Last time I had sex, I tore my ACL") eventually does put the two of them in bed together. 'Leah actually says, "I"m leaving my bra on" in the scene," Rob Reiner notes. 'That's all about Diane Keaton. She thinks there's too much anxiety wrapped up in the sexual act. We put that in, because she said to me, "Well, can I do the sex scene with my clothes on?" So we just show the aftermath."

After so many years vacant from the dating scene, neither has a clue what to do next. 'It's the thing of, "Are we now a couple? Where do we go from here?"" the director explains. 'He's totally nervous and wants to get the hell out of there. He's trying to leave, and she's mortified that he's running out and trying to make chit-chat. To me, it's a perfect scene. Because it takes a while before you're ready to profess love to somebody. And at that stage in life, a woman doesn't want casual sex."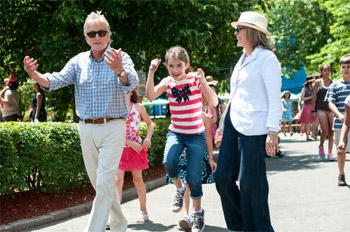 Not knowing what to do, Oren turns for help to a female elder, a crusty co-worker named Claire, played by veteran stage actress Frances Sternhagen, who appeared in Rob Reiner's 1990 film Misery. 'She represents Oren"s past and has a long connection with him. She's a no bullshit person," Rob Reiner says. 'And Frances Sternhagen knows how to deliver all those lines – she's like a sailor. And the truth of the matter is, she's a very sweet and gentle lady. She's a terrific performer." Adds Michael Douglas, 'I love cross casting, having this very elegant lady talk like a soldier. I couldn't believe those words were coming out of her mouth!"

While just watching Leah and Sarah interact begins to melt Oren's heart somewhat, he still makes an attempt to find the girl's mother, who, it turns out, is a junkie. 'He's adamant in the beginning," Michael Douglas says. 'He doesn't want to assume any responsibility for her. But when he does find the mother, it begins to hit him, that this little girl has had a rough time."

Leah, in fact, busts him on his coldness, telling him, 'I can't believe what you're doing. Don't you have any compassion?" 'He gets very angry at her, because he does have compassion," Rob Reiner says. 'It's just buried way down in there."

'Leah is responsible for resuscitating Oren and making him have feelings again," says Michael Douglas. 'She accuses him of not having any feelings, after all the years he took care of his wife. She sparks him back to life."

Oren begins to become so human, in fact, that he ends up helping his neighbor give birth – on his couch. 'The actress, Yaya Alafia, was actually pregnant at the time," Rob Reiner explains. 'She got to give birth before she actually gave birth."

The scene was a somewhat familiar one to Michael Douglas. 'I"ve been present for the birth of all three of my kids," he relates. 'But I've never had to deal with the afterbirth on my couch." Keeping his promise to help Leah in her career, Oren eventually sets her up with an audition for the owner of a club, 'Victor's," filmed at a steak house in Greenwich. The club owner is played by the one and only Frankie Valli. 'He was perfect," recalls Rob Reiner. If Diane Keaton appears nervous, this time, it wasn't just great acting. 'Michael Douglas had just played Liberace in the HBO film. And I was sitting there playing piano, and Diane Keaton was just in her own world. I asked her, jokingly, "How does it feel?" Are you nervous having to audition in front of Frankie Valli?" She said, "Frankie Valli? Where"s Frankie Valli?" I said, "He's right there. But don't feel bad, because I'm nervous. I gotta play in front of Liberace."

By the end, Oren, having upset Leah with his romantic ineptitude, figures he has screwed things up enough that he may as well continue with his plans to move away. 'He figures she wants nothing to do with him, so he should go ahead and leave," Rob Reiner describes. 'But then he realises he"s now got the pieces of a great little family, and knows he needs to win her back."

Oren has also come full circle with his son, realising that Luke had raised a wonderful little girl, despite everything. Says Michael Douglas, 'The walls came down. It"s nice to know that, at any age, you can rekindle emotional feelings again after being so isolated." That's exactly the point, Rob Reiner says: 'At whatever stage of life, love is love. Those feelings don't die. And you act like a teenager no matter what age you are." As producer Damon succinctly sums it up, 'Being a part of And So It Goes is what makes me love being in the film business."

And So It Goes
Release Date: August 7th, 2014
Romantic Comedy