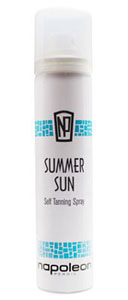 Napoleon Perdis Summer Sun Self Tanning Spray is designed to create a long-lasting, rich-looking tan in an instant. The formula is a delicate blend of color-enhancing botanicals, moisturising agents and enriching vitamins for enviable, sun kissed skin.
Chicory Extract revitalises and stimulates. Vitamin E hydrates and Aloe Vera nourishes skin and reduces the appearance of fine lines.
Napoleon Perdis Summer Sun Self Tanning Spray takes the guesswork out of tanning with a convenient spray formula for hard-to-reach areas. Say goodbye to stained hands and spotty coverage. The aerosol spray delivery controls mist flow and ensures an even distribution, while the product dries quickly. As always, exfoliate with Napoleon Perdis Smooth Over Body Scrub prior to application.
It's hard to deny that many women and men look healthier with a little colour and the Napoleon Perdis tanning range is the optimal way to achieve this.
Napoleon Perdis Summer Sun Self Tanning Spray is available from Napoleon Perdis Concept stores, David Jones and selected boutiques. For stockists call 1800 814 572 or visit:
www.napoleonperdis.com