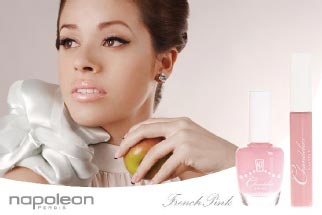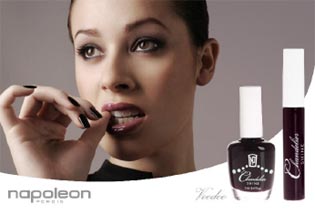 Inspired by the fabulous success of the Chandelier Shine nail polishes, Napoleon Perdis introduces 12 new ultraglossy lip glosses in a perfectly matched pack.
From top to toe you're covered with the new Chandelier Shine Lip Gloss pack, the perfect accessory to compliment any polished look. Colourmatched from the bestselling Chandelier Shine nail polishes, the new lip glosses come in 12 luscious colours from soft French Pink to the dark hues of Moroccan Velvet, seductive Santorini Sunset and the everbeguiling Milan.
Chandelier Shine Lip Glosses add brilliant texture and glide smoothly (never sticky) for that cameraready pout. With the added benefit of marine collagen, Chandelier Shine Lip Gloss delivers liprepairing properties, keeping lips moist and full, while contouring for a sweet supple look. The highest quality premium ingredients in Chandelier Shine Lip Glosses transform ordinary lips into a sparkling shimmer.
The current range of Chandelier Shine Nail Polishes have 30 distinctive shades, a longlasting shine and amazing chipfree technology. The new lip gloss packs are great for small gifts or to treat someone special. As an added bonus, customers will be able to upload their 'pout and polish Polaroid' to a special website,
www.chandeliershine.com
, giving them the chance to win a major prize from Napoleon Perdis cosmetics. Their entry will be added to an evergrowing page of Polaroids, as Gen Y and bloggers compete to upload the best portrait.
KEY INGREDIENTS
Lip Gloss - Marine collagen well known for lip repairing properties
Nail Polish - UV protectors prevent yellowing and nail hardening, other ingredients assist with keratin bonding.
PRO TIP
Compliment feline fingertips with Chandelier Shine Lipgloss or create more dramatic lips with the Devine Goddess, Lip Patrol or Lip Lacquer collections.
APPLICATION TIPS
Nail polish - Apply a base coat, three thin layers of colour polish, and a top coat to ensure a longlasting, truecolour finish.
Lip Gloss - Hydrate lips with Auto Pilot Lip Service then apply Chandelier Shine Lip Gloss for super shine.
Chandelier Shine Lip Gloss RRP: $30.00 (value $39.00)
Lip Gloss - 8ml
Nail Polish - 14ml
Available in Napoleon Perdis stores, David Jones and selected independent stockists. For Stockists call: 1800 814 572 or visit:
www.napoleonperdis.com