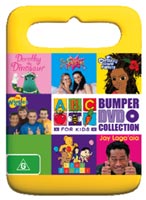 Kids love to watch video clips of their favourite artists and ABC for Kids has brought together a fun and entertaining collection of ABC for Kids most popular performers and clips.
Sing and dance along to The Wiggles This Old Man and Twinkle Twinkle Little Star, Justine Clarkes hugely successful I Like To Sing and Watermelon. Perennial favourite Don Spencers classics Bob The Kelpie and Fairy Penguin Strut, Bananas In Pyjamas Mellow Yellow and Banana Holiday.
Also featured on this DVD is Jay Lagaaias exciting new clip Ooh Aah Aah from his brand new CD.
Other artists that feature on the DVD are The Fairies, Christine Anu, Gracie Lou, Angela and Penny, Dorothy The Dinosaur and favourite animated clips from Play School.
The DVD features 22 of the most loved clips that will keep the little ones enthralled.
Review: Kids love ABC Kids programs and what better way to entertain at with convenience than with this collection of favourites. They will want to play it again and again.
RRP$19.95
ABC For Kids Bumper DVD Collection is available through ABC Shops, ABC Centres, ABC Online
www.abcshop.com.au