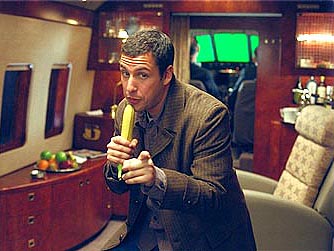 Release Date:
22nd August, 2002
Starring:
Adam Sandler, Winona Ryder, Peter Gallagher
Directed by:
Steven Brill
Produced by:
Sidney Ganis & Jack Giarraputo
Written by:
Tim Herlihy, Clarence Budington Kelland & Robert Riskin
Rated:
M
Running Time:
96 mins
Synopsis:
Longfellow Deeds (Adam Sandler) is a sweet, lovable guy leading a simple but happy life in the tiny hamlet of Mandrake Falls, New Hampshire. Deeds is admired by the locals who crowd into his pizzeria to hear him recite his offbeat (but hilarious) greeting card poetry. Life is good at the small town restaurant until two corporate fancy execs bring news that Deeds is about to be rolling in a different kind of dough. A long lost relative has left him an inheritance of 40 billion dollars along with the largest media company in the world, a football team, a basketball team, and a private helicopter ready to whisk him off to corporate America. It's a fish out of water, rags to riches story that has local tabloid reporters, including Babe Bennett (Winona Ryder), salivating. With the help of his trusty valet, Emilio (John Turturro), Deeds ultimately discovers what life is really all about and has to prove that money changes everything...but not everyone.