Mr & Mrs Smith's Definitive Guide to Italy Interview
Undercover hotel hunters Mr & Mrs Smith have been up to their old tricks again, this time turning back the covers in the most romantic destination of them all to bring you 32 of the most stylish Italian stays, from South Tyrol to Sicily.

Italians take pride in their sense of romance, history, culture and cuisine, and now we tap into that passion to unveil the best of la bella Italia for Signore and Signora Smiths everywhere.

From contemporary city slickers, opulent palazzi, chic farmhouses and coastal retreats, these glamorous newcomers and boutique classics all have the Smith stamp of approval for their looks, location, service and ambience.

As always, we dispatched a group of super-sharp reviewers from across the globe to visit each hotel anonymously, and then report back with the nitty-gritty of their stay. Experts from fashion (designer Erdem), wine and food (restaurateur Giuseppe Mascoli, chef Stefano Manfredi) design (Elle Decoration's Michelle Ogundehin, culture man Stephen Bayley, architect Mario Mazzer), and entertainment (comedian Rufus Hound, singer Jack Penate, actor Danny Webb, director Daniel Vernon), share their tales alongside writers and other dedicated Italophiles.

As well as entertaining reviews, you'll find concise Mr & Mrs Smith guides to 18 destinations: Aeolian Islands, Abruzzo, Amalfi Coast, Basilicata, Capri, Florence, Lake Garda, Milan, Puglia, Riviera di Levante, Rome, Sardinia, Sicily, South Tyrol, Treviso, Tuscany, Umbria and Venice.

Whether you want to taste olive oil in Puglia, truffle hunt in Umbria, or ogle art in Venice, these guides are here to help. You'll also find up-to-date restaurant recommendations, advice on when to visit, where to go and what to pack, and insider tips on everything from family-run trattorias and vineyards to little-known festivals and the eatery that invented tiramisu.

"Following our successful UK/Ireland and France guidebooks, Italy is the third single-destination book we've created, and it certainly merits a guide of its own," said Simon Westcott, Managing Director of Mr & Mrs Smith Asia Pacific.

"The range of small, stylish places to stay, from traditional trulli, charming stazzi and out-of-this-world palazzi, means there is something for everyone, whether you are looking for languid luxury or luxe-for-less."

Perfectly partnered with wanderlust-inspiring images, Mr & Mrs Smith's insider hotel overviews and entertaining reviews bring you the kind of detail you'd expect from a well-travelled friend.

And as a special gift to you, inside each book is an exclusive BlackSmith membership card, entitling holders to a year of life-enhancing extras, such as champagne breakfasts or spa treatments, at more than 850 hotels and holiday houses worldwide.

So what are you waiting for? Pick a partner and pack your bags... Buon viaggio!

Mr & Mrs Smith Hotel Collection: Italy
www.mrandmrsssmith.com
Price: $45.00



Interview with Sophie Davies, Editor (Asia Pacific), Mr & Mrs Smith
Question: Can you talk about the best family holiday spots (with low to mid budgets) for the coming Christmas?

Sophie Davies: Camping is fun for the kids and you can do it in style in the Blue Mountains at the Blue Mountains Private Safaris Luxury Swag Camp.

If you prefer your summer breaks with more beach than bush, then escape to Byron Bay or even Port Douglas in Far North Queensland, where Mr & Mrs Smith has a range of fantastic holiday houses which are ideal for families and large groups.


Question: What's the perfect Australian location for couples on anniversary trips?

Sophie Davies: Right now it has to be Hobart - Tasmania's intimate capital offers a seductive cocktail of culture at the world-class Museum of Old and New Art (MONA), spectacular food and wine, and the great outdoors. Our top tips for a romantic getaway are Mona Pavilions a contemporary riverside boutique hotel right by the museum with an acclaimed restaurant, and The Islington Hotel an elegant Regency guesthouse with lashings of private art. Is there anything more romantic than curling up with your loved one and a bottle of bubbly?


Question: Can you provide your top Summer travelling tips?

Sophie Davies: Catching some waves is a must in summer, and we've got a gorgeous collection of coastal boutique hotels and holiday houses with a beach in reach. If you'd rather dodge the crowds, though, head for the hills inland in The High Country in Victoria or Queensland's Scenic Rim or Sunshine Coast where you can work off fine dining with hearty walks.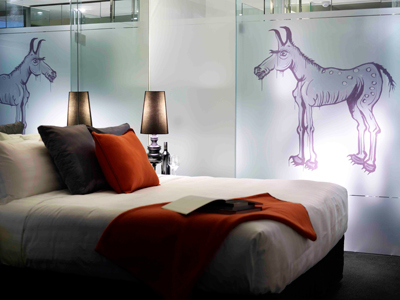 Summer's also a smart time to make like a tourist in your own city, so why not treat yourself to a few nights in a hotel in a part of town you don't usually hang out in? Melbourne boutique hotel The Cullen in fashion-forward Prahran is a hot spot for shopping and market-hopping, or the Establishment Hotel in Sydney's CBD has an achingly hip mix of in-house bars and restaurants, and is within strolling distance of the harbour.

When it comes to your summer survival kit, always pack a sarong - it can double as a beach towel, picnic blanket or cover-up, and can be worn by you or your other half (David Beckham is a major sarong fan). A moisturizer with a high SPF factor is another good space-saving tip.


Question: What's next for the Smith collection?

Sophie Davies: Our style-savvy hotel hounds are always on the hunt for new properties. This month, we've just launched new hotels in Fiji, Sabah, and Transylvania! We're planning to grow our South Pacific collection, as well as heading to new destinations in India, Sri Lanka, China and Japan. We'll also be unearthing more fab finds closer to home in Australia.

To book any of Mr & Mrs Smith's boutique hotels and holiday houses worldwide visit www.mrandmrssmith.com or call the expert Travel Team on 1300 896 627, 24-hours a day, Monday to Friday.