Monster Fest: Excision, American Mary
9th of November: Excision, American Mary and Closing Night Party
Two of the finest new body horrors on the planet, AND a night of debauchery with rising horror superstars, The Twisted Twins, Jen and Sylvia Soska!

The first thing that must be said about the movies screening at Monster Fest, is people that aren't horror and gore enthusiasts, are in for a shock (and I mean SHOCK). In terms of gore these films really pack a massive punch…

The Monster Fest organisers confidently selected Excision, Mathilda and American Mary for the closing night to leave a chill in the air, for at least a year!


Mathilda
Review: The evening began with Mathilda, a short film about a young girl, her sister, and her abusive boyfriend "monster".
Though no abuse occurs to the young girl, the Australian short film shows just how these home situations can impact a child as they grow. Mathilda's performance is impressive for such a young girl, and the "monster" impacts you completely even though you never see his face.



Excision
Cast: AnnaLynne McCord, Traci Lords, Ariel Winter, Roger Bart, John Waters, Malcolm McDowell
Director: Richard Bates, Jr.
Genre: Horror
Rated: R
Running Time: 81 minutes

Synopsis: From writer director Richard Bates, Jr. Excision both outraged and enthralled audiences at Sundance Film Festival this year and was deemed by Sundance Channel 'without question the most mind-blowingly grotesque film to screen at this year's fest".

Boasting an eclectic cast including AnnaLynne McCord (90210, Transporter 2, Fired Up, Nip Tuck), Traci Lords (Blade, Zack & Miri Make a Porno), Ariel Winter (Modern Family), Roger Bart (Hostel Part II, Law Abiding Citizen, American Gangster), John Waters (Twin Peaks) and Malcolm McDowell (The Artist, A Clockwork Orange, Rob Zombie's Halloween), Excision guarantees shock, horror and disgust with an all-star cast.

Excision has turned critics' heads and stomachs, garnering much attention at festivals in the US this past year Noel Murray of AV Club calls it 'one of the damnedest -adolescent misfit' movies you'll ever see - for those who can stomach the splatter, that is," and Chris Bumbray of JoBlo exclaims 'while it's more than a little sick, and will likely leave you queasy by the time the credits roll, Excision is nonetheless a truly unique horror ride into the scariest of all places - the mind of a teenaged misfit."

Now it is Australia's turn.

Based on a short film of the same name, Excision follows a disturbed and delusional high school student, Pauline (AnnaLynne McCord), with aspirations of a career in medicine, who goes to extremes to earn the approval of her controlling mother (Traci Lords). While dealing with being an outcast teenager and obsession over curing her sister's cystic fibrosis, Pauline becomes increasingly deranged, as her fascination with surgery and human flesh grows into something abysmal and demonic.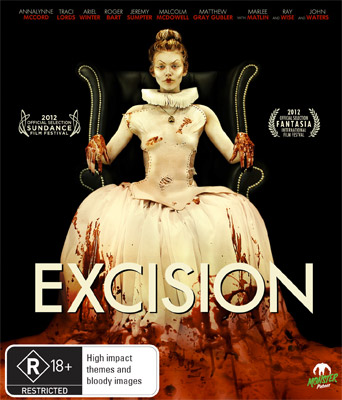 Review: The biggest shock for the night for me was Excision; a film that shows that if a mental illness is left untreated it can and will tear a family apart.

With a cast of very familiar faces 90210's AnnaLynne McCord stars as Pauline in this film that completely transforms her from glamour to gory.
With an obsession of blood that turns the stomach, each scene leaves your jaw on the floor or your hands over your eyes.

Ariel Winter who is recognisable as Alex from Modern Family has a fantastic role as Pauline's sister, who despite battling Cystic Fibrosis and an imploding family has a positive demeanour.

Charles Bart from Hostel 2 and Traci Lords star as Pauline's parents, struggling with one physically sick daughter it seems that Pauline's mental issues have been seen as trivial over the years and are left to be dealt with by the families Pastor, John Waters as opposed to getting her professional help.

Pauline has multiple dream sequences which provide a window into the full extent of her illness; each sequence intensifies her obsession with blood, sex and surgery, and a strange combinations of the three.

Things come to a head, in a way that pushes the family apart and leaves you wondering whether McCords character is evil, or just a very sick girl in need of help years before...



American Mary
Cast: Katharine Isabelle, Antonio Cupo, Tristan Risk
Directors: Jen Soska and Sylvia Soska
Genre: Horror, Thriller
Rated: R
Running Time: 103 minutes

Synopsis: The Twisted Twins have arrived and horror may never be the same again! This is the world's first body-modification horror, part Lynch, part Cronenberg – 100% Pure Canadian Soska!

The story follows medical student, Mary Mason, as she becomes increasingly broke and disenchanted with the surgical world she once admired. The allure of easy money sends Mary into the world of underground surgeries which ends up leaving more marks on her than her so called 'freakish' clientele.

Reviews by Megan Ford