Minions Joins the Specsavers Kids Eyewear Line-up
Minions fans across Australia can now channel their favourite Minions characters with a new range of children's glasses from Specsavers. Launching in store from 26 May, kids can choose from six colourful pairs of glasses inspired by the mischievous Minions.

Available in metal or plastic, all Minions frames include a branded case to complete the Minions experience, and come with a flex-hinge and SuperTough lenses to suit the active lifestyles of little fans. Scratch resistant SuperTough lenses are lightweight and provide high impact resistance so little ones can avoid their own Minions mishaps.

The Minions glasses collection is priced from $199 and is also part of Specsavers' 2 for 1 offer. Available from 26 May, head into store before they run out the door!
Minions 05 30403994 | 2 pairs from $199
This shiny black plastic front has a pale grey inlay and the sides carry the colourful message: -MINION MISHAP', which is the inevitable consequence of putting any Minion at the controls. Flex-hinges ensure the frame can survive a few mishaps of its own.

Minions 04 30403987 | 2 pairs from $199
This frame features a cobalt-blue, plastic front and a lighter, crystalline interior. The sky-blue, plastic sides carry a desi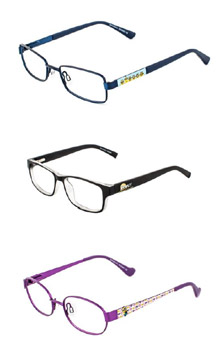 gn at the temple of a Minion caught causing mischief, surrounded by pencils and rulers. A Minion at school can only mean -TROUBLE'.

Minions 03 30403970 | 2 pairs from $199
This bold, black plastic frame features an expressive crowd of Minions along the length of each side. The eye-catching yellow and white design conveys the mischievous personality of these rebellious characters.
Minions 02 30403963 | 2 pairs from $199
Six mischievous Minions stare out from the sides of this midnight-blue, light metal frame. Their fun expressions range from smiling to surprised. The plastic ends of the sides, fitted with flex-hinges, allow for maximum comfort over the ears.

Minions 01 30403956 | 2 pairs from $199
-Oops!' The Minion is caught peeking out from the sides of this shiny black plastic frame. A Minion at work is always an accident waiting to happen and this robust frame, with a flex-hinge, will stand up to being worn by any similarly adventurous child.

Minions 06 30404007 | 2 pairs from $199
Love is in the air with these beautiful, metallic-violet, round-eye frames. Hearts abound along the sides, which also feature a Minion gazing out lovingly.
For more information, visit Specsavers.com.au