Celebrity Chef and Dad of Two Miguel Maestre Offers up His Top Tips for Gourmet Baby Food
Baby food prep like a boss with a little help from The Living Room's Miguel Maestre and Tommee Tippee's Quick Cook Baby Food Maker

Making the shift into weaning is an exciting milestone in a baby's development but for the uninitiated it can introduce a catalogue of new parenting challenges. What foods will they like, what ingredients should I use, how do I even cook them?

To help new parents navigate their way into the wonderful world of mush, Tommee Tippee has partnered with chef and TV presenter, Miguel Maestre.

Coinciding with the launch of the new Quick Cook Baby Food Maker, dad of two, Miguel is sharing his tips and tricks for a successful transition. He's passionate about helping Australian parents learn how to make nutritious and tasty homemade baby food using the best quality seasonal, local produce.

He says: "I know from my own experience, and from friends who have kids, making sure you give your little one the absolute best care is a high priority and it's no different when it comes to food.

"Of course, the only way to know exactly what's in your baby's meals is to make it yourself. But I don't want parents to panic, this doesn't have to mean hours and hours slaving away in the kitchen. Find a few core ingredients that your baby enjoys and build from there. If you're using Tommee Tippee's Baby Food Maker, you can prep and store a few days meals really easily with minimal clean up required."

When Miguel closed his restaurant in 2012 he wanted to spend more time raising his newborn daughter Claudia. He also played an active role in introducing her to solids. He found this process extremely rewarding, and it was important to him to teach her from a very young age about flavours and healthy eating.

Miguel added: "As a first-time parent I was heavily involved in helping raise Claudia and when she got to the stage of beginning to try foods, I really came into my element.

"I think feeding is one of the best ways dads can get in on the action with new babies - it can be a real bonding experience. My advice is to try and enjoy the process as much as possible. Have fun trying out new flavours and textures, you're not going to get it right every time but it's a learning experience for both parent and child.

"One of the greatest things about Australia is the quality of fresh produce that's available so make the most of it and keep things interesting with lots of colour mixing fruits and veggies together.

"It's also really important to pay attention to how you cook your baby food ingredients. A baby's palette is extremely sensitive and won't respond well to foods that are either too hot or too cold. I've found that it's almost always advisable to steam cook the food rather than fry as things can caramelize in frying and that can be a bit too strong for little ones. This is another reason why I'm recommending the Tommee Tippee Baby Food Maker as it gently steams the food at 100 degrees which helps preserves its colour and flavor providing top quality mush in minutes."


Interview with Miguel Maestre
Question: Can you share your advice on weaning?

Miguel Maestre: Experimenting with different fruits, vegetables and textures is a great way to start. This way you'll see what your baby likes and dislikes. From here you can start to develop recipes to suit. Avoid heavy sauces and flavours, as well as sticking to the guidelines on when to introduce certain foods, eg: eggs, honey, etc. I've found that a Mediterranean style diet that focuses on fresh and natural ingredients works best.

Having pre-made meals is also a lifesaver when times get busy. The Tommee Tippee Quick Cook Baby Food Maker can make multiple servings at once, which can be frozen and saved for later.


Question: Can you tell us about how you introduced food to your daughter?

Miguel Maestre: I started introducing food to my daughter as soon as I could! It definitely wasn't easy (kids are your biggest critics), but I found that by having fun and introducing new flavours and sessional produce worked best. She was always excited to try my latest creations! If only I had the Quick Cook Baby Food Maker back then, I could have saved so much extra time, and many dirty dishes!


Question: Why is it so important for you to share your baby food experiences with Australians?

Miguel Maestre: It's important to share my baby food experiences because sometimes parents can feel intimidated or stressed out at the thought of cooking for their babies. I think that I can help show other parents that it doesn't have to be daunting, and can actually be very simple. Once you know how to make a few good meals, you're set. I'm passionate about helping Australian parents learn how to make nutritious and tasty homemade baby food, using the best quality seasonal, local produce. Find a few core ingredients that your baby enjoys and build from there.


Question: What foods, in which order, did you introduce?

Miguel Maestre: I started with the core basics like sweet potato and mushy peas, and then as her palette developed, we moved to seasonal fruits and veggies like stone fruit and berries. As she got a bit older I then included other types of ingredients such fish, nuts and lots of greens!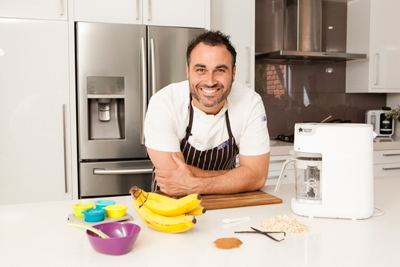 Question: Can you share your meal time tips, with us?

Miguel Maestre: As a father of two and a world-renowned chef, Miguel has dealt with every kind of fussy eater, both adult and child alike! So, it will come as no surprise that he has some meal time tips to help ease the some of the stresses around weaning.

Avoiding heavy sauces and flavours is essential when first starting to wean babies. It's best to stick to a Mediterranean style diet that focuses on fresh and natural ingredients that your bub will love!

With this in mind, it's important to ensure that there is a degree of diversity in the ingredients. Miguel's tip is to utilise seasonal produce. Plan your weekly shop around what's currently in season, this helped me think of hundreds of different recipe combinations!

Diversity in a weaning child is critical, variety is important in creating good feeding patterns and exposure to a range of tastes and textures. As well as providing a healthy diet.

Try out Tommee Tippee's Quick Cook Baby Food Maker. The innovative and light weight design will have to whipping up a dinner time delight in minutes! No matter the fussy eater.

Ensuring that the mush is at the perfect temperature and portion size, keeping things manageable and your baby happy is an important combination.

Finally, and most importantly, make dinner fun! When I feed my kids, there is lots of singing (not well) and games. It's an interactive experience for them and something I think that has made our bond so strong.


Question: Can you share a recipe or two?

Miguel Maestre: Miguel's Pumpkin and Leek Mediterranean Vichysoisse
Ingredients
200gr butternut pumpkin, cubed
2 baby leeks or 2 slices of white part of leek 60g
1 small sprig thyme
1/4 tsp Cultured butter
1/8 tsp pure cream

Method
Add pumpkin, leeks and thyme to basket. Steam for 27 minutes.
Discard thyme and remove from basket. Add to jug butter and cream and puree for 2 minutes. Push food down to the middle using a spatula. Puree again for another 2 minutes.
Allow to cool before serving.

Miguel's Healthy Banoffee Pie puree
Ingredients
2 small ripe bananas (100g each), chopped chunky
2 tbsp toasted oats
1/10 Fresh vanilla bean
1/8 tsp cinnamon

Method
Steam bananas, vanilla and oats for 8 minutes in the basket.
Remove from basket and put in the jug bananas, oats, and vanilla scrapings (discard pod) and purée for 40 seconds till very smooth. Sprinkle cinnamon on top and serve.


Interview by Brooke Hunter