MEET BAKER GIRL LOU
Lou created her business to rescue families from the stress of cake making.
"But really, Cake 2 the Rescued rescued me. Before launching Cake 2 the Rescue, I was feeling completely lost. With three young kids at home, my previous careers in engineering and interior design didn't seem to fit with my newly hectic 'mum life'. And I hated the stress and shame I could see in the mums around me. Feeling like they had to achieve some kind of impossible perfection to fit into the Instagram-worthy lifestyle being touted on social media. I wanted to help them embrace their chaos and channel their love into something productive and achievable," says Lou Duggan


So Cake 2 the Rescue was born. It's all about hero status for minimal stress, achievable for all levels of baker.


Originally from Scotland, Lou now lives on the Gold Coast and has called Australia home for 25 years. As a mum to three gorgeous teenage daughters, Lou knows all about the juggle of managing family life and work life. She's a creatively-minded entrepreneur with plenty of business smarts and hands on experience to share on what it really takes to successfully launch a new product to the market.
"As an entrepreneur, I love that my business let's me mix creativity with strategy. No two days are the same – I could be designing and sketching new cake kit ideas one day, and elbow deep in business planning the next" says Lou.
"Cake 2 The Rescue is about embracing the imperfect perfections our messy, busy lives, and having fun along the way. It's about making memories and feeling good about ourselves"
The welcoming and supportive Cake 2 The Rescue Support Group is home to more than 11,000 members. A place which celebrates imperfection and is full of people cheering on total strangers, and making new friends. A reflection of our philosophy.


We recognise that social media has placed unrealistic expectations on parents, but that our kids don't see the crumbs in the icing. They love us for being imperfectly perfect. So our group is all about raising each other up, and creating a place which is safe and supportive. Our community calls it the kindest cake group on Facebook.
How does it work?
JUST ADD EGGS, MILK AND BUTTER..
Everything else you need is in the box - from the pre-coloured fondants to the silver cake board for you to present your beautiful creation on! Even a disposable baking box! All delivered to your door, so you can create cake-fuelled memories for your loved ones.
A Birthday party just isn't complete without the birthday cake. After all, apart from presents, it's what the birthday boy or girl (big or small) looks forward to. If one of your children is celebrating his or her birthday soon, why not make the day extra special with kids birthday cakes that you have baked at home using a stress-free Cake 2 The Rescue DIY cake kit. If you are sick and tired of paying for expensive custom cakes, looking for something a bit more special than pre-made store-bought cakes, or you simply love the idea of creating a home-made cake for your little prince or princess, we've got exactly what you need. Cake 2 the Rescue offers DIY cake kits that contain absolutely everything you'll need to make an awesome cake for your kids birthday party. They are suitable for all levels of baker, so no matter how good you are in the kitchen or how much time you have free, you'll be able to create a fantastic home-made birthday cake.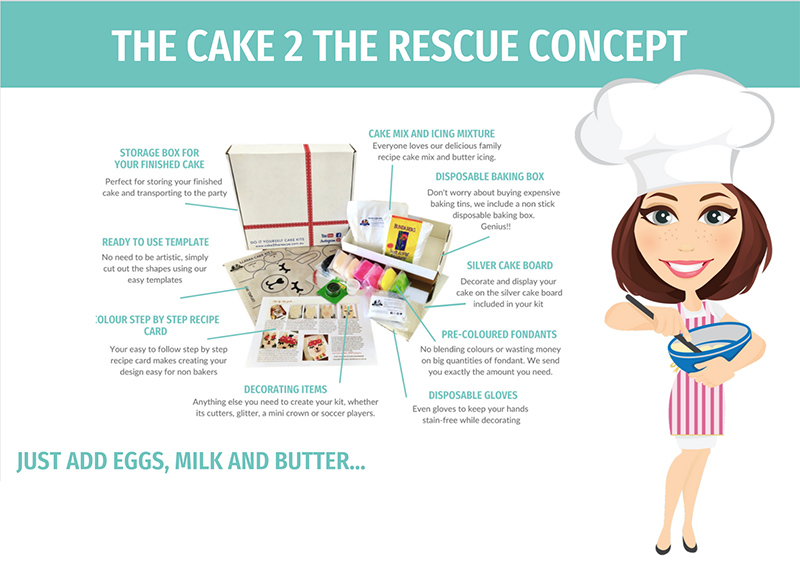 Review: Such a brilliant idea, and truly a lifesaver. You can be a cake hero with DIY cake kits from Cake 2 The Rescue. Make any day a special these clever cake kits, that come come with everything including the tray. Easy to follow instructions, the DIY cake kits are of course great for special occassions like birthdays, but why stop there, make it a holiday activity to bring out creativity and share with the family. There is also a network of bakers to share your experiences. Suitable for any level of baking... really it is.