Shhh... Don't tell anyone it's a nappy bag!
I won't tell if you don't! The gorgeous Mia Bossi range of nappy bags is so divine you would never pick them as nappy bags. Any yummy mummy or style savvy woman would be happy to own one. In fact, Katie Holmes, Tori Spelling and Angelina Jolie have all been spotted out and about with them.
What makes these bags so fabulous, besides the fact that they are incredibly beautiful, is the fact that they are so versatile. Once your bub grows and no longer needs you to carry half the nursery every time you go out, the Mia Bossi insert can be removed and replaced with a computer insert for your lap top or used as a normal bag. Unlike your change table or baby bath, the Mia Bossi bag will be loved and useful long after your child turns two.
The 'Maria' is the Mia Bossi signature bag. Generous in size and containing a (removable) nappy bag insert, it really does make a fantastic nappy bag. It comes with a soft faux fur change mat and stroller clips, and has space for bottles, nappies, wipes and a mobile.
The Mia Bossi 'Maria' Nappy Bag in Chocolate is made with ultra soft, distressed Italian leather which is finished with brushed gold hardware. The gorgeous Tangerine colour bag is crafted from cream dotted waxed canvas trimmed with tangerine Italian leather. You just know the Mia Bossi bags will stand the test of fashion time!
Check out the Mia Bossi 'Tobey' Nappy Bag for something a little different. Sophisticated and stylish, this bag is worn as a belt and holds a bottle, nappy, mobile as well as your keys and purse. This clever 'bag' allows Mums to have their hands free.
Thanks to
Metromum.com.au
, becoming a mother can enhance your personal style. MetroMum is a fabulous online shop that stocks unique and stylish parenting products you won't find in the stores. Take a look; you'll love what you see!
The entire range of luxurious Mia Bossi Spring 2008 bags, direct from the US, can now be bought exclusively from
www.metromum.com.au
.
Mia Bossi bags are not mass produced and the exceptional quality in each bag is quite obvious.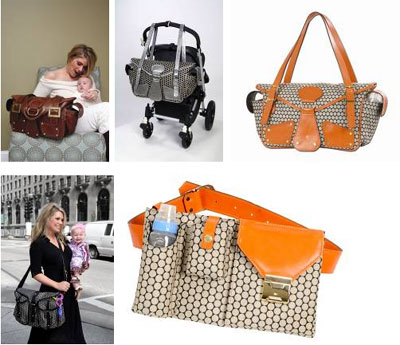 Pricing:
Mia Bossi Maria in Chocolate $515.
Mia Bossi Maria in Tangerine $385.
Mia Bossi Tobey in Tangerine $180.
These bags and other gorgeous products for modern parents are available from
www.metromum.com.au