Aussie Parents Struggle To Raise Kids In The Digital World
New statistics from Norton by Symantec have revealed that Australian parents may be struggling when it comes to cyber safety, with more than half of Aussie mums and dads with digital native children confessing they are unsure of the correct way to raise them in a digital world.

The release of the findings coincides with Safer Internet Day today, an initiative driven in Australia by the Office of the eSafety Commissioner, which is a reminder to parents that they can inspire positive change and teach children how to navigate the online world safely by developing four critical skills, known as the 4Rs: Respect, Responsibility, Reasoning and Resilience.

"Responsible internet use starts at home, and parents have an opportunity to teach their kids how to be wary and smart around online dangers," said Mark Gorrie, Director, Consumer Business - ANZ, Norton by Symantec. "At Norton, our goal is to help Aussie parents remove fear from the online world by taking back control. That's why we're so supportive of Safer Internet Day and proudly advocate for Australian families to be smart, safe, and secure online."

With that in mind, Norton by Symantec's findings have revealed that cyber bullying looms largest in the minds of parents, with almost three quarters (74%) worrying their children will encounter abuse. In addition, seven in ten parents (71%) fear their children will find themselves in dangerous situations online and not know how to respond, while almost six in ten parents (57%) agree that technology does not generally encourage positive behaviour.



These parents' fears are not unfounded, with past incidents influencing one in two households' internet usage rules and seven in ten parents agreeing that technology isolates children in the home and limits the amount of time families spend together.

To combat this, Australian mums and dads are drawing on the broader community of parents, schools, and cyber security experts for information on the best way to keep their children safe. Almost three in five (58%) look to others for guidance on how to make sure that they have the best protection online, and most parents are also heavily influenced by the default settings in parental control software (72%) and devices (72%).

"Aussie parents are doing their best to keep their kids safe in a difficult and fast-moving digital environment, but we all need a little help now and again," said Julie Inman Grant, eSafety Commissioner. "Safer Internet Day is a timely reminder for parents to model healthy habits and positive online behaviours for their children, as they would in any other element of life."

Join the conversation via #NortonAU and #SID2019 at esafety.gov.au/SaferInternetDay.


Interview with Mark Gorrie, Director, Consumer Business - ANZ, Norton by Symantec
Question: Can you tell us about the new statistics from Norton by Symantec?

Mark Gorrie: Norton by Symantec's new research reveals an uncertainty among Australian parents on how to balance the risks of online dangers such as cyberbullying and antisocial behaviour with positive screen time. It explains that parents' caution in implementing internet restrictions in the home may stem from previous online incidences that happened to other children, and that when seeking guidance, parents band together to share knowledge within their communities.


Question: What surprised you most about the new statistics from Norton by Symantec?

Mark Gorrie: The disconnection between parents fears and parent's actions continues to prevail which is surprising. Statistics show, one in three parents do not know what their children are doing online and admit that they do not understand the platforms their children are using. The research also reveals 80 per cent of parents worry their child will be bullied online, yet - despite growing concerns - parental supervision of children online is still not common practice. Furthermore, the level of preventative measures put in place to protect children and family-owned devices has also decreased from 2016. In fact, less than a quarter of Australian parents reported always supervising their children online. Helping parents bridge this this gap to achieve digital wellness in the home is what Norton wants to help achieve through our product suite and long-standing heritage of expertise.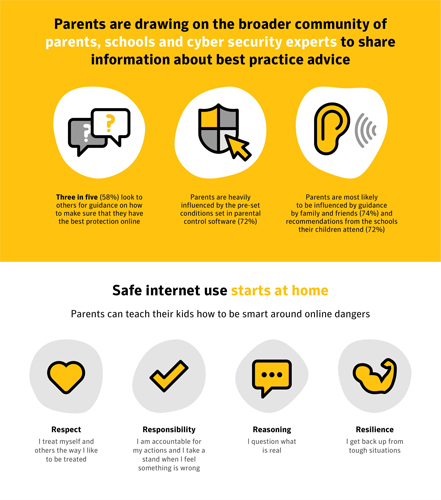 Question: What advice do you have for parents who are unsure how to educate their children about internet safety?

Mark Gorrie: In educating our children about internet safety, it is important to focus on showing them why they need to be cautious online. One of the best ways to approach this is to regularly play with your child online (e.g. play a video game together or search online for something that interests you both). Enjoy the time together, but also use this as a time to explain where the risks are as you see them (e.g. advertising, video game chat rooms, social media risks).


Question: What online bullying symptoms do parents need to look for in their children?

Mark Gorrie: Norton advises parents to take the time to learn about cyberbullying and how it effects both adults and children. The Office of the eSafety Commissioner provides parents and schools with great resources to help parents identify online bullying symptoms for children.


Question: How can parents ensure technology encourages only positive behaviour?

Mark Gorrie: Norton by Symantec's research shows us that six in ten Australian parents believe technology does not encourage positive behaviour. As today's children can access more information than any generation before, teaching responsible internet practices is more important than ever. Norton advises parents to follow the following tips to encourage positive behaviour:

Focus on screen quality: While it is important to monitor the length of time children spend online, what children are doing online is just as important. Encourage technology use that is creative, select games and activities that include lots of problem solving and working with ideas. Mirror this in your own use and show your child the quality things you can do on your device.
Create an open dialogue: Communication is important for families. Talk with your children about how they use the internet and about the risks the internet holds. These conversations should not generate fear of the internet, more so an awareness of how to be safer online.
Lead by example: It is equally as important to practice responsible internet use yourself as it is for your children. Whether it's cyberbullying, cyber security or positive screen time, practice what you preach. Also, apply rules like no screens at the dinner table to both children and adults alike.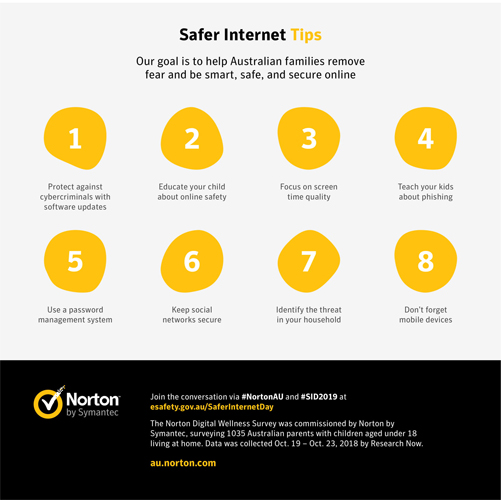 Question: Can you tell us about the latest software we should have on our devices to protect against cybercrime?

Mark Gorrie: Norton Security Premium is a great solution for securing the devices in your home. It comes with parental controls to put parents in control of digital devices in and out of the home by managing screen time and content. The wide range of features help ensure kids can explore the digital world safely.


Question: What message do you hope to spread this Safer Internet Day?

Mark Gorrie: Norton by Symantec wants Australian families to know they are not alone in this digital world. By practicing healthy and safe habits and drawing on experts such as the Office of the eSafety Commissioner and Norton, parents can reduce the feeling of fear when it comes to raising their digital natives.


Question: How can we help create a safer internet for all?

Mark Gorrie: Education and safe habits are key to creating a safer internet for all. Tips to achieve these goals include:

Educate your child about online safety. The best way to educate your child about online safety is by showing them. Regularly do something fun with your kids online, allowing you the opportunity to better understand how your children use the internet and teach of any potential risks online.
Use proper password hygiene. Passwords are the primary defense against hackers. If you don't regularly change your passwords, you can bolster your defense with a password management program, like Norton Password Manager.
Identify and avoid potential Wi-Fi threats. Wi-Fi networks are another possible entry point for hackers. At home, make sure your Wi-Fi network has a hard-to-crack password that you change regularly. Also, stress the importance of avoiding public Wi-Fi networks to your kids or utilise a virtual private network (VPN) to help protect your privacy when using Wi-Fi on the go.
Don't forget mobile devices. Your phone and tablet need as much security protection as your PC. Make sure you've got a full security solution that covers your mobile devices as well. Put a passcode on your tablets and phones, too.
Ensure you have the latest cyber security software in place to help protect your devices in and out of the home. Protect all your digital devices with comprehensive security software like Norton Security Premium. It can help you get peace of mind without sacrificing your family's ability to learn and stay connected. It's your single solution that helps protect multiple devices, including PCs, Macs, smartphones and tablets.


Interview by Brooke Hunter
Photo by Hal Gatewood on Unsplash