Hope Springs
Cast
: Meryl Streep, Tommy Lee Jones, Steve Carell
Director
: David Frankel
Genre
: Comedy, Drama
Running Time
: 100 minutes
Rated
: PG
Synopsis
: After thirty years of marriage, a middle-aged couple attends an intense, week-long counselling session to work on their relationship.
Release Date
: August 23rd, 2012
About the Film
Hope Springs is the story of a marriage that has lost that special spark. "Kay wants to reconnect with her husband, Arnold," says Meryl Streep, who stars opposite Tommy Lee Jones and Steve Carell in the comedy. "She wants to feel connected, to feel intimately involved with him, to feel that he's intimately interested in her. But I think Arnold, if you asked him, wouldn't think anything was a problem at all. If you were asking him where they are in their marriage, he'd say, 'I don't know - about the middle.'"
"He's a pretty complacent fellow," says Tommy Lee Jones of his character. "He's sort of accepted his fate in life. He doesn't do a lot of thinking about the state of his marriage. He's not the kind of person who challenges the status quo."
Meryl Streep says that that is a disconnect that many couples go through - but one that speaks to a culture that has many distractions. "As our attention becomes atomised and spread out, it intensifies the longing we have to connect with each other," says Meryl Streep. "These questions of intimacy and wanting, yearning, longing to be seen and to be understood and loved is central to our culture." Vanessa Taylor, who wrote the screenplay, which landed on the "Black List" of the industry's best work that has yet to be produced, says that she was inspired by those big questions. "I had been thinking about marriage and how people keep passion and sexuality in a long-term marriage," she says. "I'd been doing some reading on that and on marital counselling. And I started thinking - what would it be like to try to get your spark back if you never quite had it to start with? Especially from a woman's point of view; if you weren't comfortable with yourself and your sexuality, how much courage would it take to step forward and say, 'Our marriage is fine, but it's not good enough. I want more. I deserve better.'"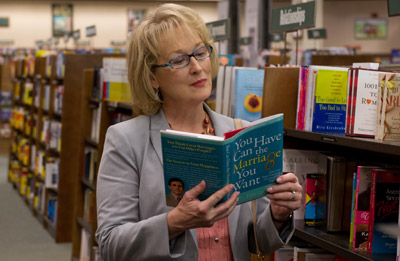 "I haven't been married, but I've certainly been in relationships where a distance built up," Vanessa Taylor continues. "I was shocked to find how difficult it was to cross back over. It seems like somehow you should be able to bridge that divide. That was part of what motivated me to write this - I wanted to know if these people could get back."
"I think a lot of people have an idea of their relationship - where it is, where it needs to go to succeed," says Steve Carell, who plays Dr. Feld, the psychiatrist whose legendary Maine retreat is Kay's last best hope for her marriage. "I think that's what makes this movie so funny - people can see what Kay and Arnold are going through, and relate to that and laugh at it."
Producer Guymon Casady says that Vanessa Taylor possesses a unique voice: "She is so observant, and she possesses this incredible ability to write characters with such dimension and detail," he says. When Executive Producer Nathan Kahane first read Vanessa Taylor's script, he found himself empathising with the characters of Kay and Arnold. "There are always challenges in a marriage," he says. "Hope Springs takes a look at how easy it is to let the magic slip away and how hard it can be to get it back. I immediately liked the script. It's a universal story."
It was producer Guymon Casady, founding partner of Management 360, who took the first steps toward nurturing Hope Springs into the light of day. He reflects on how he first came upon the script: "My wife Robyn, who is also a screenwriter, had met Vanessa Taylor at a barbecue, and as a result of that, Vanessa gave Robyn the Hope Springs script. A week later, Robyn and I were lying in bed reading, and she was deep into the script. When she finished it, she turned to me and said, 'I know it's late, but you have to read this screenplay. It's phenomenal.' I read it that night and fell in love with it, and decided I wanted to pursue it as a producer for Film 360, our film production unit. But Robyn deserves a lot of credit, because she has a great eye, and found the script first." Guymon Casady approached Vanessa Taylor and let her know how much he loved the script, and wanted to produce it. Guymon Casady then approached producer Todd Black to join him on the project, and Black set the project up with executive producer Nathan Kahane at Mandate Pictures. Todd Black, Guymon Casady, and Nathan Kahane brought on board the cast and director David Frankel.
In directing the film, Devil Wears Prada director David Frankel re-teams with Meryl Streep. "David Frankel understood that this was an intimate story but also a universal one," says Todd Black. "That's not an easy thing, to balance those moments - you can make it too big or too personal. But David understood how to make these moments play on both levels."
"Because Hope Springs is such intimate and personal material, Meryl and I knew that she needed a director she felt completely comfortable with," says Todd Black. "The idea of David Frankel felt like a natural fit. Luckily, he responded to the material immediately and it all came together quickly after that."
"David Frankel really understood the piece," says Guymon Casady. "For him, it was about yearning, but also that we had to be on the edge of our seats watching whether these two people were going to make it. His collaboration with Meryl Streep from Devil Wears Prada was so successful, it felt like the perfect pairing.
"What the very good directors do - what David Frankel does - is to make you feel that anything is possible and there are no wrong moves," says Meryl Streep. "You can go out on a limb for him - you can create a person that's real, but maybe different than you've done before. He gives you complete freedom."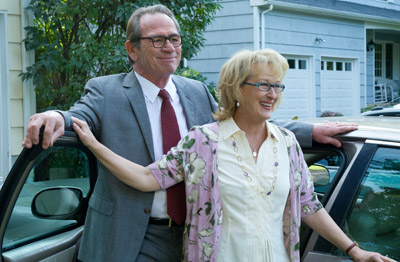 "David Frankel can nudge his actors in a different direction if he feels it's necessary, but he trusts them implicitly to explore the characters," says Steve Carell. "He's generous and supportive, and it opens you up to all sorts of different angles on your character."
"It's very pleasant to work with David Frankel - he doesn't waste any time or words," says Tommy Lee Jones.
"David Frankel's films strike a chord with audiences because the comedy organically comes out of each character," says Kahane. "He doesn't force it - he lets his actors find the genuine, funny moments, and encourages them to find the truth in those moments. When the chemistry between the actors feels real, their dialogue is more relatable to audiences and that is where great comedy lives."
David Frankel says that having Meryl Streep, Tommy Lee Jones, and Steve Carrell bringing the characters to life was the key to telling the story. "These are extraordinary actors who speak the same language, if you will," he explains. "They all instantly felt comfortable with each other, and really understood the characters so deeply. I'd like to say it was easy. I know they did a lot of hard work. But they made it easy for me."
Meryl Streep plays Kay. "She wants to shake things up - she wants to reconnect with Arnold in a way that they had been connected in their earlier years," she says. "She's on a search - she feels this dissatisfaction, and she's looking for answers, and finds it in Dr. Feld's book. It's not long before she's using her own money to book a trip to his therapy retreat in Maine."
Not that it's easy to convince Arnold to go along. In fact, it's only at her insistence that he gets on the plane. "For Kay, this is a big deal," says Todd Black. "She says, 'I'm going, with or without you,' and you see this woman from Omaha, Nebraska, become a Titan."
"From the very beginning, we all focused on Meryl Streep for this role," says Nathan Kahane. "Meryl Streep - like she does in each of her performances - completely embodies this woman and brings her to life. And she makes it all seem effortless, when in fact there is a huge amount of preparation she does for any role."
David Frankel says that Arnold is coming at the problem from a completely opposite point of view from his wife. "Kay is worried that she'll live the rest of her life in this forbidding, icy state. She's worried that it could go on like this forever. But Arnold, I think, is worried about how much he has to lose," he says. "He's afraid of what he's going to find out if they start asking questions - how did they get here, why did they end up like this. He has a line in the movie - if you don't come into therapy with problems, you're going to leave with problems, because you're going to say stuff that can't be unsaid. He doesn't want to risk that."
Arnold's reluctance even to admit that there is a problem is at the heart of their characters - but Tidd Black says that the actors bring out the characters not as closed-off caricatures but full human beings. "They can't communicate with each other," he says, "but with Meryl Streep and Tommy Lee Jones playing the roles, you feel everything that Kay and Arnold love about each other but haven't expressed in so long - or maybe ever."
David Frankel says that Tommy Lee Jones's playing such a closed-off character is a true expression of his skill as an actor. "In real life, Tommy Lee Jones is a charismatic, larger-than-life, polo-playing cowboy, and Arnold is none of those things. It was wonderful to see him transform into a guy you'd think he would find pitiable, but in fact he has sympathy for. You see Arnold emerge as an everyman - and that's Tommy Lee Jone's wonderful skill at work."
"The chemistry between Tommy Lee Jones and Meryl Streep works perfectly," says Nathan Kahane. "I don't know how they do it, except that they are great actors: they bring the history so that you feel the underlying love between husband and wife that has faded from not communicating for so long. You feel it in their silent moments and when they're speaking to each other. You know that they know everything there is to know about each other, for better or worse."
Steve Carell plays Dr. Feld, the psychiatrist with the insight to help Kay and Arnold reconnect. "He specialises in intense couples' therapy," says Steve Carell. In researching his role, he jokes, "I read Freud, Jung - all the greats - and I was in therapy for seven years, all in preparation for this role."
Seriously, Steve Carell says that the secret to Dr. Feld's magic is that there isn't any magic. "He's intelligent, he listens, and he helps people connect the dots," he says. "He doesn't even offer specific advice or tell people what to do. He just helps them open themselves up to new ideas and explore where they can help themselves."
"Steve Carell is a great dramatic actor," says Todd Black. "People think of him from his role on 'The Office' or the comedies he's done, but when you look at him in, for example, Little Miss Sunshine, he's a wonderful dramatic actor. That said, because he's also a comedian, he brings an empathy to the role of Dr. Feld that another actor might not."
For the therapy scenes, David Frankel felt that the best way to achieve a fresh, lively, fun and funny scene was to avoid over-rehearsal - or, in some cases, any rehearsal. For Steve Carell, this could be intimidating - for obvious reason. "Imagine - you sit down opposite Meryl Streep and Tommy Lee Jones for a nine-page scene, they say 'Action!,' and you just go! There is definitely an element of fear - I think David Frankel wanted to see if he could capture that deer-in-the-headlights look, especially from me - but it's fun, too. I can understand why David Frankel didn't want to over-rehearse; he wanted it to feel fresh and organic; not scripted. Sometimes, if you rehearse too much, the ideas are right there-as opposed to finding them, which is a bit more raw."
In the end, the pieces add up to a film that captures all the ups and downs of a marriage, according to Todd Black and Guyman Casady. "It felt like such an honest portrayal of a marriage, both the pain and the humour. And we responded to the idea of exploring such a universal idea - such as marriage - that is so abundantly relatable. Our hope always was that the story would become a lightning rod to spark a societal conversation about marriage, how difficult it is, and how it requires work on all of our part to make it work."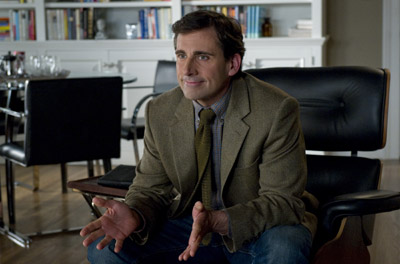 About the Production
Hope Springs is set mostly in Maine, with a few sequences in Omaha, but was filmed entirely in the state of Connecticut. The first three weeks of filming took place on the outskirts of South Norwalk, within a former factory that had been turned temporarily into a soundstage. (It has since found a new calling as a vast indoor ice rink.) There, Stuart Wurtzel, the film's production designer, designed a large, light, airy set for Dr. Feld's office and other interior sets.
After the filming of the therapy scenes, Meryl Streep and Tommy Lee Jones got down to filming the sequences depicting the Soameses in their home in Omaha, at the chain motel in Maine, and in their room at a romantic country inn. Several of these scenes depicted the couple's fumbling, awkward attempts at foreplay and intimacy. "Bedroom scenes of any kind are always tricky, because you're trying to suggest this illusion of privacy and intimacy, and yet in real life, if you backed up a little bit, there's this giant camera and sixteen people crowded into a small space, and somebody holding a big boom mike over the bed. There's just absolutely nothing private or intimate about it," says David Frankel. "Yet, obviously, great actors are able to make it feel deeply personal and very moving. So our job is to stay out of the way as much as possible, and create an environment where the rawness of the emotions can come through."
For the Soames' home, Stuart Wurtzel and his location scouts found a perfect house on a perfect block, slightly off the beaten path, in Darien, Connecticut. It had a large open-plan kitchen with plenty of space, and just the right neighbourhood view out the windows.
Stonington, Connecticut plays the role of the fictional town of Great Hope Springs, where Dr. Feld has built his retreat. The easternmost town in Connecticut before the Rhode Island border, Stonington is a charming fishing village that juts out on a tiny peninsula, miles away from any interstate. Founded during the Colonial era, it boasts a high number of Colonial, Greek Revival, and Victorian structures on the National Register of Historic Places. With charming town greens at each end of Main Street, gorgeous views of the sea, and its own lobstering and fishing fleet, it proved the perfect stand-in for fictional Great Hope Springs, Maine. "It was perfect," says David Frankel. "It's a tiny little town, but it had every element for our story - the inn in the center of town, a great house that we turned into Dr. Feld's, a restaurant - even on the outskirts of town, there was an Econolodge where Arnold and Kay stay to save some money.
"I liked Stonington because it was real and it was a working town," says Stuart Wurtzel. "It didn't look or feel too gentrified. It still has a very vibrant fishing industry; there are still telephone poles and telephone wires, and it still has a chockablock combination of historic architecture to it. It has had a long endurance, and it doesn't look like it was all built yesterday."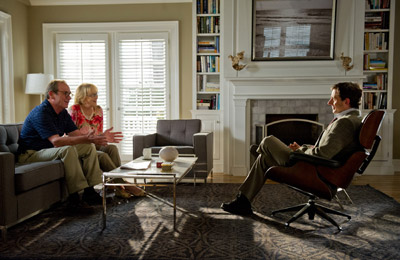 For Stuart Wurtzel, Stonington also helped tell the story on a more subtle, visual level. "I wanted there to be a contrast between their comfort-zone home in Omaha and the rocky coast of Maine, where things are not so easy for them. I also wanted there to be a visual contrast; I wanted us to see a lot of water. I felt all of that added, in a sort of subliminal way, to the quiet turmoil Kay and Arnold were enduring in their marriage. Stonington really gave us that sense of place. Not only due to the water, but because it is truly a small town-and in a small town, there is no hiding. In this fictional town of Great Hope Springs, if you're a stranger, everybody knows why you're there. The strangers are all couples; they're all going through the same sessions with Dr. Feld, so there's no protection. They're really vulnerable."
Stuart Wurtzel and his team did make a few temporary changes to Stonington to turn it into Great Hope Springs. Stonington has no movie theatre, so for the key scene in which Kay and Arnold go to the movies, he designed and added an art-house marquee to one of the existing buildings on Water Street. A couple of vacant storefronts were turned into a chocolate shop and a hardware store, and Noah's Restaurant-designated Connecticut's best neighbourhood restaurant of 2011 by Connecticut magazine-became the Nor'easter Diner, decorated on the outside with a 1950s-era mural and on the inside with an exuberantly kitschy seafood motif.
The old inn where Kay and Arnold go to dine and spend the night was actually a composite of three different locations. The exterior was an actual inn on Water St. in Stonington, the dining room was located in a mansion a half-mile away on the other side of town, and the upstairs guest room was filmed on a soundstage.
Throughout the Stonington filming, area locals gathered not only to observe, but to participate as extras.