The NTV Guide
World Vegan Day is on November 1st, and to help those who want to go green just for the day or offer up some inspiration to those already choosing the vegan life, Menulog's got vegans (and those cheeky flexitarians) covered.

A recent survey from Just Eat, Menulog's parent company and online food delivery service with delivery hubs in 15 countries, has reported 33 per cent of its partner restaurants have needed to introduce vegan options to meet new demand.

Looking at the ins-and-outs of the growing lifestyle trend, the bitesize Menulog New To Vegan (NTV) Guide helps you decipher what's vegan on the menu and what's not and the best places you can find delicious meat-free alternatives. We've also included the top plant-based dishes from some of the country's favourite vegan places, available via Menulog to be delivered straight to your door.

World Vegan Day Top Tips
Vege vs Vegan Don't mistake a vegetarian option for a vegan option. Your local Thai place's Pad Thai with tofu still contains egg and fish sauce – two items off the menu if you're sticking to a plant-based diet
Breaky Watchout Watch out for a drizzle of Worsterchire Sauce on breakfast, as the condiment tends to contain anchovies
Be fussy Tweak the dishes to suit your needs, you can add and remove most ingredients when ordering from an online food delivery service like Menulog by making a note to the kitchen at the end of your order
Ordering Indian? Hold on the Naan. Despite the simplicity of the bread and garlic, it's surprisingly prepared with yoghurt. Go for the Roti if you can't have your curry without your carbs
Vegan Asian Order Veggie tempura when ordering sushi or Japanese can often contain egg, as can fresh pasta, and sadly, simple potato chips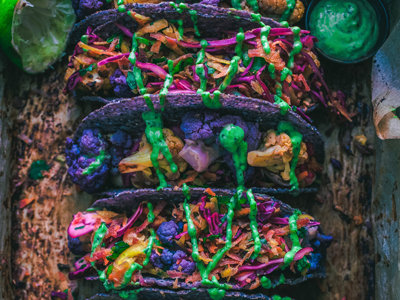 The Best Vegan Foods To Order

Menulog's vegan offering can make even the most passionate steak-enthusiast's mouth water. From burgers to 'chicken' schnitzels, deliciousness can be delivered for every kind of vegan. Discover the country's best vegan dishes, and what people are loving from each state:

Lord Of The Fries – Sydney & Melbourne
Lord of the Fries is an ethical restaurant serving up the best hot chips and award-winning vegetarian burgers and hot dogs in Australia. Enjoy vegan/vegetarian food from Lord of the Fries with free delivery via Menulog in Sydney. Menulog's top ordered dish is the classic, perfect fries, proving Lord of the Fries take their name seriously.

Verd – Surry Hills & Manly – Sydney
A simple menu with their plant-based food ethos at the heart of their salad bowls, smoothies and raw treats. Verd's food is made from local (where possible), non-gmo, vegan ingredients, with their top dish on Menulog being the OG Macro bowl – decked out for the healthiest vegan with kale, baby spinach, avocado, raw broccoli, quinoa, sprouted adzuki beans, tempeh bacon, kimchi, black rice and teriyaki almonds with a tahini miso dressing.

Soul Burger – Newtown, Glebe – Sydney
As one of Sydney's favourite plant-based burger places, Soul Burger has solidified its place as a top spot to have your vegan-fix delivered. Get your southern fried chicken or cheese burger delivered for free via Menulog in Newtown or Glebe, as the top burger picks from orders.

Green Lion – Sydney
The Green Lion Plant-food Pub, with the restaurant being Australia's first Vegan pub bistro. Order the bean beef nachos or green mack burger as the most popular dishes ordered in via Menulog. Or if you're missing the a pub parmi, look no further than the popular eggplant parmigiana – which is totally vegan.

Loving Hut – Melbourne
Having started over 20 years ago, Loving Hut were ahead of the vegan curve of 2018 with their Asian dishes and entirely plant-based menu. The top dish ordered-in is their Southern Fried 'Chicken' dish – followed closely by their rice paper rolls.

Huong Viet – Melbourne
With free delivery to Melbourne residents via Menulog, Huong Viet serves only vegan and vegetarian options. Ga Rang Muoi (or Vegan salt and pepper chicken fillets) is their top dish, followed by Suon Ram (or vegan sautéed pork).

Veganburgz – Brisbane
100% vegan burgers, sides, shakes, juices and desserts, VeganBurgz in Brisbane has everything the meat-missing new-to-veganism vegan needs - from a RibWich (pictured) to a Chicken burger, there's nothing complicated about their delicious vegan burger menu. Topping the list for VeganBurgz is the Cheesy B burger, made with a kidney bean, lentil and coconut oil infused patty topped with gherkins, dairy free cheddar cheese, ketchup and mustard sauce.

Veganism Pizzeria – Brisbane
Veganism Pizzeria believes more variety means more flavour. They combine vegetables and create pizzas without any animal product, delivering everything from falafel to Mexican pizzas. Despite being 100% plant based and prepared vegan, Veganism Pizzeria's top dish is their meat lovers pizza.