Melissa McCarthy The Boss
Cast: Melissa McCarthy, Kathy Bates, Peter Dinklage, Kristen Schaal, Kristen Bell
Director: Ben Falcone
Genre: Comedy

Synopsis: Icon. Maverick. Celebrity. Billionaire. Felon. Boss.

Welcome to the story of a comeback kid who has worked her balls off to get to where she's at today. Trust that the wealthiest woman in the country isn't going to let little somethings like bankruptcy and federal prison cramp her golden style. She's a phoenix who's gonna climb and crawl her way back to the top.

She sure as sh*t will.

Ladies and gentlemen…meet The Boss.

Melissa Mccarthy, whose pitch-perfect timing and deceptively effortless physical comedy has helped to rocket Spy, The Heat, Identity Thief, Tammy and Bridesmaids to blockbuster status, stars as Michelle Darnell, a titan of industry who is sent to prison after she's convicted of insider trading. She emerges ready to rebrand herself as America's latest sweetheart and reestablish herself as the doyenne of finance, but not everyone she steamrolled is so quick to forgive and forget.

The performer leads a dynamic cast including Kristen Bell (Frozen, Showtime's House of Lies), Tyler Labine (Rise of the Planet of the Apes, Tucker & Dale vs. Evil), Peter Dinklage (HBO's Game of Thrones, The Station Agent) and Academy Award® winner Kathy Bates (Misery, TV's American Horror Story) in a comedy about finding your inner darling while still trying to get dirty, stinking rich.

A hard-knock upbringing has made Michelle Darnell the person she is today: a brash, savvy businesswoman whose unrelenting drive to earn sweet, sweet cash has transformed her into a financial rock star with a colossal ego that accompanies a Midas touch. Her counsel commands the attention of world leaders, A-list celebrities and even average Joes and Janes who pay top dollar to hear the gospel firsthand. However, with this laser-focused acumen and power comes a deep well of spite and jealousy from the people she has bulldozed over the years…and her line of haters is a mile long.

Leading the charge is the pompous Renault (Dinklage), a former colleague and lover whose obsession with money is surpassed only by his deep-seated one with Michelle. Following closely behind is her former mentor Ida (Bates), the O.G. ball-buster whose own shrewd dealings have amassed her countless riches...in spite of her protégé's self-serving backroom deals.

When Michelle is released from Club Fed, the reality of her situation is a slap to her meticulously powdered face. She no longer has an empire, McMansion, hidden accounts in the Caymans or even friends. With nowhere to go and no one to scam, Michelle tracks down former assistant Claire (Bell), who reluctantly agrees to the briefest of stays in the apartment Claire shares with her daughter, Rachel- certain that her old boss will soon devise a plan B when it comes to accommodations.

In true Darnell fashion, Michelle devises a shady business model for a new venture, a brownie empire guaranteed to catapult her back into the big leagues while giving Claire a real opportunity to build a solid future for Rachel and her. It sounds like a win-win situation until Michelle"fighting her instinctual need to fight dirty and scorch the Earth as she gets even"wonders if she'll be able to regain her rightful place as the No. 1 screwer, or if the love of one family has screwed her for good.

The Boss
Release Date: April 14th, 2016
Check out theThe Boss A Look Inside feature: https://youtu.be/boqE2frOtz8

About The Production
All I Do Is Win: The Boss Is Born

Melissa McCarthy, Ben Falcone and Steve Mallory met almost 15 years ago at The Groundlings, the Los Angeles-based improv troupe whose notable alumni include comedy stalwarts, such as Will Ferrell, Paul 'Pee-wee Herman" Reubens, Jack Black, Kristen Wiig and Jennifer Coolidge, among a multitude of others.

That setting would nurture the budding comedienne, who would go on to create a number of memorable sketches and characters"including the extraordinarily tone-deaf, self-help finance guru Michelle Darnell"who years later would still retain the bite that made her an enduring character in the performer's arsenal.

'So many great characters have been born at The Groundlings. For me, that character was Michelle Darnell," remarks Melissa McCarthy. 'I loved her so much that I couldn't let her go and would randomly bring her up and talk about her over the years. She's a tricky one, though, because she is so dynamic, so forceful and so confident. Yet, Michelle is someone who makes you wonder what lies beneath it all when she says, -I don't need anyone, other than myself.'"

The catalyst for transforming her Michelle Darnell comedy sketch into the feature film screenplay that would become The Boss was the onset of the Writers Guild of America strike in late 2007. With TV production halted, Melissa McCarthy and Steve Mallory had time to sit down in their favorite coffee shop to spitball ideas from the numerous characters they had workshopped. They kept returning to the big-talking, ball-busting red head and drew up an outline of multiple story points for her. Indeed, some of their original ideas would be folded into the shooting script.

They began the process of writing the story around the avaricious money mogul with a surprising heart. Numerous incarnations would follow with Ben Falcone, Melissa McCarthy's husband and their writing partner, jumping into the fray. But throughout the process, the heart of their story remained the same: the reinvention of a seemingly irredeemable financier who proves to have quite the soft spot for those she loves. Well, sort of.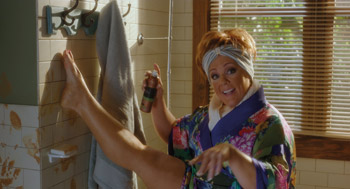 The multilayered screenplay they wrote tapped into the zeitgeist of the mercurial nature of modern-day celebrity with a ribald, if not insightful, commentary on wealth, family, fame and the power it all wields. Steve Mallory is heartened by what they were able to accomplish as a writing team. He reflects: 'As writers, Ben Falcone, Melissa McCarthy and I like and respect each other's creative voices, but mine is very different from Ben Falcone's"who has a very specific voice"as does Melissa McCarthy. But by combining them, we have something unique and better than any single voice. What we have today is at its core what we always envisioned."

The screenwriter gives some insight into McCarthy's decision to play flawed characters. Steve Mallory offers: 'We're all humans, and everyone has a worst day and everyone has a best day. So we came up with this great backstory for Michelle, which explained how she blasted her way through her life to get where she was. We thought it was an interesting character journey for Michelle"to go from a place of someone who was hurt when she was young, spent her whole youth brawling to get successful, gets on top of the world, loses everything and then has to find out what is really important. We always believed that was a wonderful journey for a character to take."

Michelle is introduced to audiences at the pinnacle of her success and power. Wrapped in her cocoon of entitled wealth and its concomitant power and privilege, she is planted squarely in the upper echelons of celebrity. She eschews customary rules of civil engagement and says or does whatever she wants, whenever she wants, with no repercussions. Well, until she is arrested for insider trading and sent to federal prison.

The consequences of her outlandish behavior reveal themselves when she returns from her stint in the pen…prepared to resume her extravagant lifestyle. No one is more surprised than Michelle when she realises she has nothing"no minions, no money, no assets and no friends. Turning to the only one left who will open her door, Michelle plants herself on former executive assistant Claire and her daughter Rachel's couch.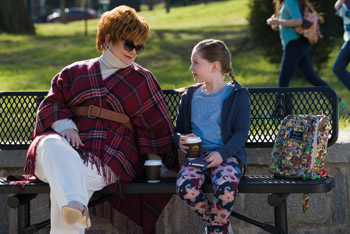 Melissa McCarthy, Ben Falcone and Steve Mallory knew that in order to get Michelle back on top, she had to tap into the pioneering innovation that kept her going all those years. Therefore, they gave her Darnell's Darlings, a brazen for-profit version of a revered scouting organization. Michelle's brainchild morphs into a motley crew of misfit girls peddling brownies, courtesy of Claire's own recipe. It is the linchpin to her resurrection and the heart of the story. Time spent with Claire, Rachel and the girls is not only the way she propels herself back into the business world, it's also the very thing that grounds her and leads her on the road to discovering what family is supposed to mean.

Producers Will Ferrell, Adam McKay and Chris Henchy, along with executive producers Kevin Messick and Rob Cowan, previously collaborated with Falcone and McCarthy as producers on the hit comedy Tammy, which marked Falcone's directorial debut and starred Melissa McCarthy. It was an experience that left all of them wanting to do it again and as the project came together at Universal, the Gary Sanchez Production principals signed on as producers.

Chris Henchy was drawn to the indelible Michelle Darnell and upon viewing an early Groundlings clip of Melissa McCarthy on stage performing the sketch, it only reinforced the decision to partner up. He offers: 'Will Ferrell, Adam McKay and I always look for strong characters in the material we choose to produce. It was fantastic to watch Melissa McCarthy performing this bombastic character on stage, and even then you could see the viability of building a whole movie around that character. Ben Falcone and Melissa McCarthy have always had it in their mind to get to the point where Michelle Darnell could be turned into a full-length feature, so it was an easy invitation for us to help make this movie."

Married for more than a decade, Melissa McCarthy and Ben Falcone's creative partnership is seamless and evident. Inherent to their approach as filmmakers is an understanding of comedy at its basic form…and how to get to the heart of it in the most expedient way of pacing. Ben Falcone admits that he still has to pinch himself to see it all come full circle: 'Fifteen years ago, Melissa McCarthy was doing Michelle Darnell as a sketch at The Groundlings. Eight years ago, Steve and Melissa McCarthy came up with the idea of a feature based on the character. This is a wonderful and weird project that started 15 years ago, and now the movie is actually being made."

The challenge of integrating big action into a character-driven comedy was enticing. 'One of the reasons we returned to work with Melissa McCarthy and Ben Falcone is the dedication they both have to the character and her world," cites Chris Henchy. 'For the two months that we film, Melissa McCarthy knows and studies her character well enough that when she first walks on set she's looking around the room to find things she can work with and how Michelle would react to her surroundings. There's shorthand there, and Ben Falcone knows how to harness that and provide as many tools to play with as possible."

Sitting on a Gold Mine: Casting the Film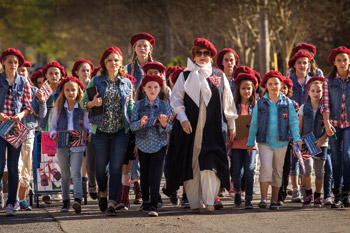 Melissa McCarthy is the first to admit that she gravitates towards flawed anti-heroines, as with their peccadillos comes opportunity for empowerment. 'I dare you to try make a movie with Melissa McCarthy in your cast without a strong female point of view," states Steve Mallory. 'Melissa McCarthy has a very strong point of view about playing women on film and television. They shouldn't be perfect, and they should be as flawed as their male counterparts but still have the ability to change. That's how you find balance with that imperfection."

Caught in the eye of Hurricane Michelle is Claire, the titan's intelligent, beleaguered assistant. Portrayed by Kristen Bell, known from her roles on screens large and small, Claire is a single mother who, while a bit reserved, is fully equipped to deal with her boss' outrageous demands. She goes with the flow, whether from an unexpected pregnancy in business school or the daily curve balls thrown from her mercurial boss. Unlike Michelle, she has a strong moral compass that eventually starts to rub off, albeit slightly, on her former employer.

'The hardest job in comedy is to be the straight person," says Steve Mallory, 'which Kristen Bell is as Claire. But she's no slouch; she gets her comedy in, and it's gold. It's just in these effortless little pieces. If Peter Dinklage is comedy gravitas, Kristen Bell is comedy charm."

Michelle's road to moral rehab is set into motion, in part, by her budding relationship with Claire and Rachel. Living with them gives Michelle a different perspective on how most people live their lives, not clamoring to the top. Their time ultimately inspires her to pitch an ingenious business proposal, one that pairs Claire's delicious homemade brownies with exploiting the sales model based on Rachel's Dandelion scouting troop.

Reflects Ben Falcone on Claire's role in the film: 'Ultimately, The Boss is a love story between Michelle, Claire and Rachel and how this unconventional family comes together. It's done in a very unusual way with Michelle's exuberance upending Claire and Rachel's world. None of them would have this chance for success without each other, so it was a very interesting dynamic for all of these great actors to play."

Kristen Bell appreciates her director's perspective, adding: 'Melissa McCarthy is obviously so good at what she does onscreen as an actress. Then, she writes a movie about a strong female character who has it all…and adds in a secondary character, also a female, to create this great buddy relationship between the two of them."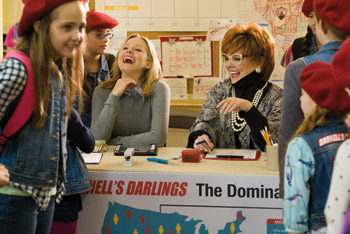 That philosophy sowed its seeds in the cast's youngest member, 11-year-old Ella Anderson, who plays Claire's daughter, Rachel. She states: 'It was just so cool to watch Melissa McCarthy on set as an actress, producer, and writer. It has been inspiring. I want to go to college to study film and continue acting, so I can someday produce and direct."

It was also important to the filmmakers that Claire have her own reawakening, of sorts. After Michelle's demise, Claire finds herself toiling at a low-level marketing job with no hopes of advancement, until Michelle steps in.

Prompted by a bright, shiny future as a business owner, Claire feels empowered to quit her job and partner up with Michelle to start Darnell's Darlings.

Brimming with confidence, she makes a date with Mike, her awkward-yet-endearing co-worker, who is portrayed by Tyler Labine. Says the performer of his roller-coaster ride of excitement when faced with the opportunity to work with Melissa McCarthy and Kristen Bell: 'I don't want to dork out too hard, but I feel like I jumped into another league with these guys. Coming to work to find yourself with some of the funniest people on the planet, and being charged with the task of making them laugh can be a little daunting. But once I got Melissa McCarthy to laugh at a joke, I was hooked and felt like I joined the party. "

Tyler Labine was not alone in his anxiety at the heightened level of comedic play on set. 'In this particular group of funny people, my head is barely above water," shares Kristen Bell. 'Melissa McCarthy is a certified genius. Tyler Labine is hilarious and so charming. Pete Dinklage is Pete Dinklage. We had so many funny scenes and it was difficult to get through without laughing, with added pressure because Melissa McCarthy never breaks character. I don't think I've ever seen her break." Kristen Bell pauses, coyly adding: 'I'm dying to get her to break, because I'd like to know she's human and that she thinks I'm funny!"

Oscar® winner Kathy Bates, who previously worked with Ben Falcone and Melissa McCarthy on Tammy and has guest starred on her hit television series Mike & Molly, welcomed the opportunity to work with Melissa McCarthy again…especially for the role of self-serving magnate Ida Dell Marquette, Michelle's mentor and dubious role model"for both her personal and business life.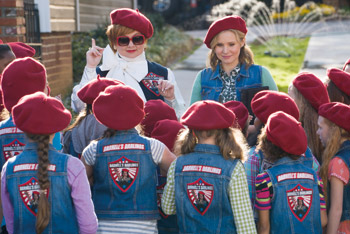 Filming the part would prove to be a fun romp for the multi-talented actress. She admits that she enjoyed playing around with the fractured relationship between Ida and Michelle, as their acrimonious falling out was precipitated by Michelle's double cross. 'I couldn't say no to a character like this, and I've learned to trust Ben Falcone and Melissa McCarthy with the comedy and not get too big for my britches," laughs Kathy Bates. 'Ida is one of the wealthiest women in the world, and she's a bi-atch. All she cares about is money, but it's not without consequence. She lives a very lonely, if not, privileged life."

Despite an unparalleled level of wealth and success in his own right, years of coming in second behind Michelle has broken the wily magnate Renault. The role of Michelle's nemesis was one that Melissa McCarthy and Steve Mallory secretly wrote with Peter Dinklage in mind…not sure that he would ever seriously consider it.

Ben Falcone loved the idea, and they began testing the waters with the actor to gauge interest. Best known for his dramatic performances in the cult hit HBO series Game of Thrones, as well as on the big screen"from films such as X-Men: Days of Future Past, to The Station Agent" Peter Dinklage took a shine to the ambitious megalomaniac and joined in on the fun, easily transitioning into the comedic role.

Remarks producer Chris Henchy: 'From the beginning, we knew we needed a good foil for Melissa's character. With Peter Dinklage, when you hear his voice, he simply exudes power and control. He is tremendous as Renault."

Filming took place during Peter Dinklage's hiatus from Game of Thrones, so the producers adjusted the production schedule and moved it to the first weeks of filming. The hitch was an intricately choreographed fight sequence between Peter Dinklage's and Melissa McCarthy's characters, the culmination of the third act arc would be filmed before all of their preceding dialogue scenes. That development proved to offer a number of benefits, actually shaping the humor in the previous two acts. The sequence would be shot over five days and transitioned across three sets"from the environs of one set to the rooftop of a high-rise building for night work.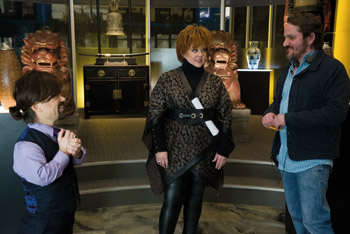 Joining Peter Dinklage for the majority of his scenes was Timothy Simons, best known for his role on the HBO series Veep, as Renault's hard-working assistant and brother, Stephan. The pairing of Peter Dinklage and Timothy Simons"with their mix of rich, irreverent interpretation of scenes"took the shooting days in an unexpected direction, one that left Falcone, McCarthy and the other producers giddy.

Lauds Melissa McCarthy: 'Timothy Simons and Peter Dinklage clicked immediately, and it seemed like they were brothers. They were so weirdly in sync and funny together. Shooting with them was one kind of dreamy, funny day after the next."

'I ruined takes," admits Ben Falcone. 'I'm directing, and I'm ruining countless takes by laughing. Peter Dinkalage's an actor's actor and does a lot of theater, which is where Melissa McCarthy and I come from as well. There was really a meeting of the minds."

Timothy Simons tips his hat to his on-screen brother: 'Peter Dinklage is a very open performer. He has his ideas, but he will let yours be an equal part. You have a feeling that no matter what you try, it's not going to throw him and he'll be able to make it better. He puts a lot of trust in you as well, which gives you a boost of confidence. It was unbelievable."

It was crucial to the producers that their ensemble cast be comfortable with the improvisational aspect of their filmmaking process. In turn, the oft-repeated bonus of Ben Falcone as the director was his openness to collaboration, a welcome byproduct of his theater background at The Groundlings.

Peter Dinklage embraced the improv that Ben Falcone and Melissa McCarthy encouraged on set. 'Being able to tweak little things as we filmed was such a fun, open way to work," Peter Dinklage notes. 'Over the years, I've realised you can't just rely on being funny; you have to be a really good actor as well. Melissa McCarthy brings such talent, honesty and truth to the table, and at the core that's what comedy is, really. She's a gem."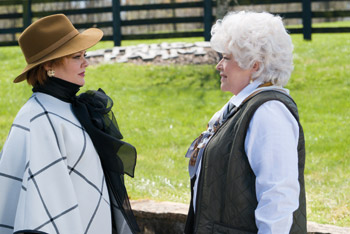 A who's who of established and up-and-coming comedy actors would fill the ranks of the supporting cast of The Boss. They include comedy stand-outs Kristen Schaal (TV's Last Man on Earth) as the oft-mystified Dandelion scout leader Sandy, Cedric Yarbrough (Reno 911!) as Tito, Michelle's yes-man/bodyguard, and Cecily Strong (TV's SNL) as Dana, Claire and Mike's Darnell-obsessed boss.

Naturally, Ben Falcone and Melissa McCarthy would look to their Groundlings cohorts"from Steve Mallory, MICHAEL Mcdonald (Spy) and Annie Mumolo (co-writer and co-star of Bridesmaids), to Larry Dorf (Tammy) and Damon Jones (Tammy). Besides the bond of surviving the demanding program, there's shorthand among The Groundlings alumni when it comes to the approach and execution of comedic improv that stokes the creativity on set.

'You meet some really remarkable people," remarks Melissa McCarthy of her experience with this troupe. 'You learn how to push it just so far, and yet there are rules. You can be peculiar, you can be eccentric, but it still has to makes sense. To this day, I still use all of the tools I learned at Groundlings."

You Gots to Regulate: Designing and Filming

Becoming Michelle
Regardless of genre, Melissa McCarthy is the type of actress who has an unparalleled dedication to delving into the psyche of every character, focusing on details from the banal to the absurd. She then turns her attention outward"transforming herself with a full arsenal of hair, makeup and wardrobe at her disposal.

Coupled with her gift for physical comedy, she crafts a fully realised character who packs a punch"whether it's the Dockers-wearing Megan from Bridesmaids, once-nebbish federal agent Susan in Spy, shopaholic grifter Diana in Identity Thief or good-hearted trainwreck Tammy in the raucous road trip comedy of the same name.

Even her co-stars were captivated by her dynamic persona. 'Melissa McCarthy is so confident in her craft that she has no insecurities about just going for broke," compliments Kristen Bell. 'The costumes that she wears in this movie are wildly ridiculous. The wig is phenomenal, and the way her makeup is applied is all very precise. She thinks about every single detail."

The visual bones of Michelle Darnell had been determined more than a decade earlier"when Melissa McCarthy had originated the bombastic financier with an equally outlandish, yet classic, style. From the top of her meticulously coiffed fiery red head to the tips of her well-maintained, Streisand-esque, French-manicured nails, Michelle wholly resides in the brain of Melissa McCarthy. And her creator knew exactly what she wanted out of this old friend she was bringing to the big screen.

Explains Melissa McCarthy of how she wanted to convey her character on film: 'For Michelle, I always thought that the makeup and that hair was all part of the illusion. It was all a part of the persona she presented to the world…the protective armor that masks who she really is."

With the input of her longtime hair and makeup team of Linda Flowers (Ghostbusters) and Kate Shorter (Bridesmaids), the Michelle Darnell look would be updated for 2016 but remain as Melissa McCarthy had originally envisioned.

The pair's collaborations with the comedienne on such hit films as Spy, Tammy and Identity Thief would prove invaluable as they began to explore different variations on the core elements Melissa McCarthy wanted to incorporate into the character.

Flowers, who headed up the hair department on the feature films The Hunger Games and The Hunger Games: Catching Fire, had access to a treasure trove of wig options for the actress to review. A custom-made, short-haired wig, which was colored a vibrant red with honey highlights, would be the final selection for The Boss herself.

Kate Shorter, who also works on McCarthy's series Mike & Molly, cites Oprah Winfrey as her inspiration for Michelle's bold-statement makeup"particularly the dramatic eye and bold lip"which provided a nice counterbalance to the spiky red wig that Melissa McCarthy would don almost every day during the production.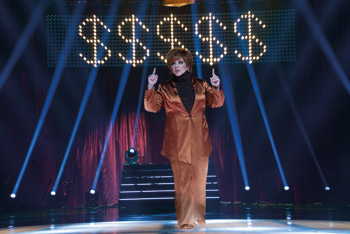 Completing the overall effect of power, wealth and privilege for Michelle would be costume designer Wendy Chuck, who previously worked with Melissa McCarthy and Ben Falcone on Tammy. Wendy Chuck's other film credits include a longtime collaboration with director Alexander Payne on such films as Nebraska, The Descendants and Sideways; and more recently the Oscar®-winning drama Spotlight, from Tom McCarthy.

Coming into the comedy, Wendy Chuck had spoken extensively with Melissa McCarthy and knew exactly what she wanted to present her. One caveat from the writer/producer/actor was that her character would wear turtlenecks, always. Chuck embraced it all and began channeling a variation of Joan Collins (circa Dynasty) and incorporated a wardrobe replete with bold colors, gloss and movement…and in some cases immense shoulder pads. Statement jewelry would be the final adornment on the one-of-a-kind, custom-made wardrobe.

'It's all in the details," sums Wendy Chuck. 'To be able to transform Melissa into this larger-than-life character, with her singular sense of style, was exciting. There was a day when we were doing a costume fitting, and she said: -This is it. I found it. This is Michelle Darnell.' From there, I was able to use that as a template and start embellishing with more ideas, colors and shapes. That transformation, that moment when everything clicked, was extraordinary."

Costumes of the Supporting Cast

Only fitting for Michelle's mentor, Kathy Bates would get a similar makeover. Ida's signature look"one that wholly informed Michelle's inimitable style"was the source of many conversations between Melissa McCarthy, Kathy Bates and the film's glam squad. Melissa McCarthy always envisioned a look reminiscent of iconic model Carmen Dell'Orefice, who is in her eighties and still models. Kathy Bates was a bit dubious of the comparison, but relished in her transformation, which did indeed channel the supermodel.

Wendy Chuck would again get to push the fashion envelope when designing the bright, bold, contemporary, custom-made looks for Peter Dinklage as well as Simons, whose character's look is derivative of his brothers.

One of the early conversations with Ben Falcone and Melissa McCarthy elicited the prompt that a look similar to director Paul Feig's infamously dapper style could be an interesting design choice. Chuck loved the idea and ran it by Peter Dinklage, who was delighted.

'Renault has to be one of the most fun characters I've dressed in my career," cites the costumer. 'I absolutely love the idea of the modern dandy, and we used a great combination of colors, textures and patterns. They're such great tools to work with, so I just went for it. I was able to mix and match the pieces in his closet for added versatility, if needed. Peter Dinklage loved the clothes, which is always the best nod of approval."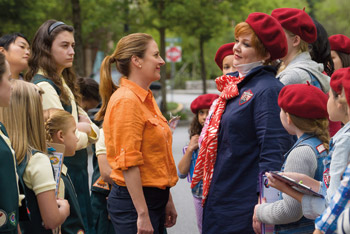 Production Design and Filming

Maintaining Melissa McCarthy and Ben Falcone's edict of rooting the material in reality, while elevating their film with memorable set pieces and innovative action, turned out to be one of the biggest endeavors for the behind-the-scenes brain trust of Chuck, cinematographer Julio Macat, production designer Rusty Smith and stunt coordinator Todd Bryant.

Julio Macat, a veteran cinematographer with a slew of comedies under his belt, is adept at giving each of his films a singular look. Key to his approach for The Boss was ensuring that the visual landscape of the film has cinematic scope and scale"as well as a heightened level of sophistication that was presentational and veered away from customary flat-lighting techniques.

Working in concert with Julio Macat's photography, Rusty Smith would address the need to span a multitude of looks, from the rarified world of extraordinary wealth to the more grounded middle-class existence.

Comments the production designer: 'It's all about the discovery of what the design is and how it affects the scope of the action or dialogue. We knew we wanted Michelle's world to be tasteful and classic, whereas Renault's had more of a nouveau feel. I'm always conscious of establishing a certain flow between my set pieces. Even if it's something as poetically simple as having the end of the movie happen where the movie started."

During production, the cast and crew appreciated Ben Falcone and Julio Macat's fluid shooting style, one not locked into the dialogue of the script. It was important to the producers to always stay within the confines of the story, but the production was very much a live one.

Ben Falcone encouraged the cast to riff off each other and come up with jokes that would translate onto the screen. Often, Melissa McCarthy would start filming and then Ben Falcone would toss out ideas at the cast…suggesting different lines or jokes. No matter what he yelled out, Melissa McCarthy and company were game to give it a try, running away with often funny riffs.

Lensing in Atlanta and Chicago

Although The Boss is set in the bustling city of Chicago, hometown to both Ben Falcone and Melissa McCarthy, cast and crew would film for two months in Atlanta before traveling to the Windy City to film a variety of exterior locations with Melissa McCarthy, Kristen Bell, Anderson and Yarbrough.

The versatility of Atlanta's urban and suburban landscapes allowed the filmmakers to re-create all aspects of the material"from modern glass high-rise buildings for Renault and Michelle's classically opulent corporate headquarters to the Gwinnett Arena, which hosted a rousing day of filming for Michelle's spectacle 'Unleash the Power" seminar. Then it was off to the tree-lined blocks of brick townhouses in Southeast Atlanta for key sequences with the Darlings.

What wasn't filmed practically throughout the city would be filmed on various soundstages. Claire's modest-but-comfy apartment and Renault's Japanese-inspired office would be left in the capable hands of Smith and his art department to design and build over the course of eight weeks.

Cast and crew would then travel to Chicago for the last week of shooting. The city's more iconic sites"downtown, Millennium Park, Wrigleyville and U.S. Cellular Field"would provide the backdrop for filming of various and sundry exterior scenes.

Quite the hosts, Ben Falcone and Melissa McCarthy made sure that the Chi-Town food staples of Chicago dogs and Italian beef sandwiches were served to everyone upon their arrival.

Go for the Aggressive Girls: Stunts of the Comedy

Bryant's team would create a number of stunt-driven sequences for the film" including the final showdown, which is a quite unexpected sword fight between Melissa McCarthy and Peter Dinklage. 'There was a lot of training for the sword-fight scene between Melissa McCarthy and Peter Dinklage," explains Ben Falcone. 'There was intricate choreography to ensure it looked cool. They met on a Friday, and by the weekend they were fighting with swords. Todd made it so the fight looks pretty dicey."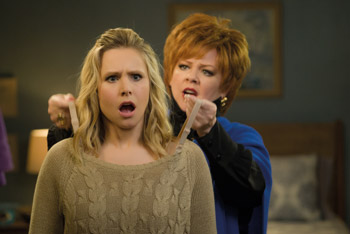 They also designed an all-out street Dandelions vs. Darlings brawl, reminiscent of Scorsese's Gangs of New York. In particular, this film served as a visual reference that Ben Falcone, Melissa McCarthy and Steve Mallory have used from the script's inception.

It's cookie-selling season for the Dandelions, as the pre-teen scouts, moms and leaders begin canvassing neighborhoods to sell their treats. But when they come up against the upstart Darlings, a motley crew of denim-wearing girls selling brownies on their turf, all hell breaks loose. What begins as a verbal volley of insults and trash talk between Michelle and Helen, Mumolo's tightly wound Tiger-mom, escalates quickly.

Ben Falcone and Melissa McCarthy wanted to embrace the unexpected for this fight sequence and gave Bryant full creative license to design a knock-down, drag-out fight"one that not only included the girls but their moms as well. The logistics of coordinating an all-out brawl among irate adults and pre-teen girls was a first for all on set. Petite stuntwomen were brought in to round out the dozens of handpicked background actresses who were excited to film the sequence over three days.

The stunt performers would augment the action as the Dandelions squared off against the Darlings with gravity-defying wirework and martial-arts moves. Says the director: 'Todd was able to facilitate a lot of stunts quickly due to the changing light and time constraints. It was a free-for-all, but the talented stunt crew made it funny and kept it safe."

Anderson, along with actresses Eva Peterson, who portrays the quite-large-for-her age Darling Chrystal, and Aleandra 'Ali" Newcomb, who plays street-wise Brazilian Mariana, were especially excited to film their fight moves, a first for the young actresses.

Anderson was able to don a harness and do her own wirework flying through the camera frame à la Peter Pan and throw a punch at a Dandelion.

Discussing what, admittedly, was one of her favorite filming days on The Boss, Anderson says: 'I learned some MMA wrestling moves and got to fight. It was so much fun."


The Boss
Release Date: April 14th, 2016