Make Up Store
As the summer season approaches, we opt for lighter, fresher make up applications which help create radiant looks for day and night. Taking inspiration from natural beauty, Make Up Store is excited to share their new look for the season, 'Pure'.
Creating the Look
The 'Pure' look is all about 'the beauty of simplicity'. It focuses on enhancing the natural beauty with a soft colour palette and clever highlighting, all working together to keep the look clean and simple. Nothing says natural beauty better than fresh, luminous skin. The key to creating the 'Pure' look is a flawless, dewy base. With Make Up Store's new release 'Hydranight' moisturiser, the skin is injected with moisture and nutrients that leave it looking revitalised, plump and healthy. Once the foundation has been applied, a light dusting of 'Wonder Powder' is brushed across the face. With its light reflecting pigments, this helps to give the skin a healthy glow.
Definition and contouring is created by making use of a muted coral Blush, which can then be teamed with a deeper burgundy hue to be used on the apples of the cheeks for a hint of warmth.
The eyes are kept clean and light, with the 'Pure' collection containing soft metallic shades of beige and silver, which compliment the matte shadows of a pale purple and cream, all coming together to create a fresh look.
Carrying the natural theme, the lips are kept very neutral, lined with nude colours and filled with a soft citrus shade of lipstick. Then, a sun-kissed tangerine lip glosses is applied for a sexy shimmer that radiates natural beauty.
To finish the look, a neat manicure in a rich berry red, channels simple, clean and elegant.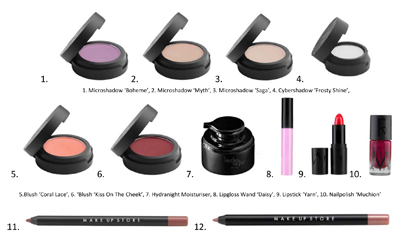 New Product
To celebrate, Make Up Store has released a selection of their cult products incorporating appropriate colours and finishes to create a palette that is both light and fresh, working to create the stunning 'Pure' look.
Hydranight is a night cream that works through the night to repair and rejuvenate the skin, with active ingredients that leave the skin feeling soft and supple.
Microshadows and Cybershadows are highly pigmented eyeshadows that produce intense colours, with Microshadows available in a variety of finishes - sparkle, matte and shimmery - and the Cybershadow with its creamier texture and has a pearl finish.
For best results in your lip makeup it is best to start with the Lippencil, which both contours and creates a longer-lasting colour. Next the Lipstick not only offers more depth in colour, but with the shea-butter and avocado oil moisturises the lips, leaving them soft and pillowy.
Finally, no look is complete without a perfect manicure and with the Make Up Store Nailpolish one is never short of inspiration - a variety of colours, bold and bright, soft and pretty, and in different finishes - sparkles, shimmers, matte, and glossy.
All Make Up Store products are designed to be used on their own or in conjunction with any other Make Up Store products. To find out where your nearest Make Up Store location is, contact Make Up Store's head office and flagship store in Paddington on 02 9360 5885.