Maggie Smith My Old Lady
Cast: Kevin Kline, Kristin Scott Thomas, Maggie Smith
Director: Israel Horovitz
Running Time: 106 minutes

Synopsis: Paris. Nearing winter. Cold and rainy. A 60ish, dissolute American, Mathias Gold (Kevin Kline) arrives from NYC. Mathias has no money, speaks little or no French.

Mathias has inherited an immense apartment overlooking the Jardin du Luxembourg. His plan is to sell the apartment as quickly as possible, and return to the USA with sufficient money to settle long-overdue debts.

Mathias enters the apartment he believes is now his to liquidate ... only to discover that there is an 90-year-old Englishwoman Mathilde Girard (Maggie Smith), living there with her 60ish English daughter Chloé (Kristin Scott-Thomas).

Mathilde was married to a Frenchmen, long ago widowed. When she was younger, she'd founded a language school in Neuilly, specializing in teaching English. Mathilde tells Mathias that her apartment is a viager. Mathias has no idea what she's talking about. Mathilde explains that by French law, he will not be able to take possession of the apartment until Mathilde dies.

Mathias's father Max Gold bought the apartment from Mathilde as a viager nearly 40 years earlier, and paid monthly charges to Mathilde of €2400 per month … until Max's recent death. Slowly but surely, Mathias begins to understand that he has inherited a €2400 per month debt. Mathilde is long retired from formal teaching, but barters English-lessons with various French people – with restaurant-owners for meals, with doctors for medical treatment, with cleaning ladies, with booksellers, whatever.

Mathias confesses that he has no money, no return plane-ticket to the USA, that he had relied upon getting money from a quick sale of the apartment he thought he'd inherited without complication. Mathilde offers Mathias a bedroom in her 500m2 apartment, which has several empty rooms boarded up, unused. She gives Mathias a key to the apartment, but takes his gold watch as rent.

We see Mathias on the streets of Paris, lonely and lost.

Chloé (Scott-Thomas) returns from work – she teaches English at the language school her mother founded and sold. A condition of Mathilde's sale of the school was that Chloé be employed as a teacher. When Chloé meets Mathias, she is horrified and is sure that Mathias will sell the apartment as soon as Mathilde dies, and that she – Chloé – will be without a home.

Chloé and Mathias are instant enemies. Chloé threatens Mathias with legal action – with policearrest for trespassing. Mathias stands his ground, telling Chloé that he cannot be arrested for trespassing because he is paying rent – (his gold watch).

Mathias consults Auguste Lefebvre (Dominique Pinon), a local immobilier (estate agent) explaining that he has a 500 M2 apartment to sell overlooking Jardin du Luxembourg. Lefebvre is excited, but when Lefebvre learns the apartment is a viager, he is less excited. 'That's not good." When Mathias explains that Mathilde is more than 90 years old, Lefebvre is encouraged.

'That's not so bad."

Both Chloé and Mathilde warn Mathias that he will be contacted by a lawyer named François Roy (Stéphane Freiss), who will want to buy the viager contract from Mathias. Roy has developed two high-end hotels in the neighborhood and holds contracts to buy all of the apartments in Mathilde's building. Mathilde is the sole holdout. Mathias meets with François Roy, who Mathias calls 'France Wah Wah" (Franç+ois+Roy) to structure a deal to sell.

Chloé tells Mathias that his payment of €2400 is due at the end of the month and if he doesn't pay, he will be evicted by the police as a trespasser. Mathias opens some of the boarded-up rooms and discovers valuable antique furniture, which he sells to a local dealer. He also discovers photographs with images that seem remarkably familiar. When he questions Mathilde, showing her a photograph of children he believes to be he and Chloé, Mathilde confesses that she and Mathias's father Max became lovers 60 years earlier. Mathias knows that his father's ashes are buried somewhere in France.

Mathias is shocked, devastated to realise that Mathilde was a large part of the reason his mother committed suicide. Chloé is first to learn from Mathias that his mother committed suicide and why, thus, first to understand. She feels Mathias's pain. When Mathilde learns of Mathias's mother's suicide, she collapses. Max had protected Mathilde from the truth of his wife's death. Chloe and Mathias come to realise the awful similarity of their damaged childhoods. Mathias wonders if he and Chloé share a common father: Max. Chloé confronts Mathilde whose response is 'I don't know. What possible difference would knowing have made?" Chloé and Mathias bond with each other with deep affection.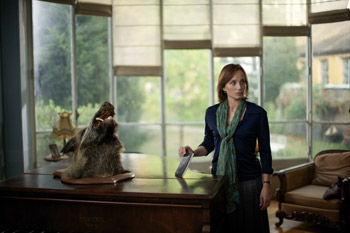 Mathias goes to François Roy and refuses to make a deal, refuses to sell the apartment to Roy.

Mathias discovers Lefebvre living on a small barge in the Seine, which Lefebvre tells Mathias he bought as a viager, many years earlier. Lefebvre tells Mathias that the barge-owner died just days after signing the viager contract with Lefebvre. Mathias tells Lefebvre that he thinks the viager system is insane … to bet on somebody dying. To which Lefebvre replies 'It's a game of destiny. When the person dies quickly, it's your destiny to replace them. And Mathias asks 'What if they don't die quickly?" And Lefebvre answers: 'Then, it's your destiny to pay ... to help them live."

Mathias and Chloé are tested and learn that they do not in fact share the same father. Mathias asks Mathilde where his father's ashes are buried. He goes to Max's grave in Mathilde's garden and says 'Thank you for sending me here, Max. You did a good thing. On a scale of 1 to 100, you've just gone from a 1 to a 3!"

Chloé and Mathias kiss in the garden. In the film's final scene, we see Mathilde looking down from the window of her apartment at Chloé and Mathias kissing. She is ancient, alone … but not unhappy.

My Old Lady
Release Date: November 13th, 2014



About The Production
Viager: a well-established equity release plan in France, which, broadly speaking, allows the release of cash to a property owner in return for an interest in the property on the owner's death. (It is more common for property owners over the age of 70, to consider such a transaction.) On the flip side, the viager is also advantageous to a buyer who wishes to purchase investment property rather than to purchase a home for himself.

Before My Old Lady was a film, it was a hit play, premiering in New York City at the Promenade Theater on West 76th Street in October 2002, before a lengthy run abroad, including productions in Germany, Russia, and of course, France. At the heart of both movie and play is the murky French real estate arrangement known as the viager, in which the buyer pays a monthly fee to the seller in lieu of a lump sum, forgoing the right to occupy the property until the seller's death. For the buyer's heirs, however, this can turn a simple inheritance into a years-long ordeal if the seller is in good health.

Enter Mathias Gold, a hapless New Yorker, at once childless, spouse-less, and penniless, having spent the bulk of his almost sixty years basking in resentment towards his estranged businessman father. Mathias Gold hopes to quickly sell the apartment bequeathed to him, as Paris calls to mind his father's frequent trips to the city, which placed a strain on his parents' marriage, culminating in his mother's suicide.

For the movie version, Israel Horovitz sought to both simplify and broaden aspects of his story. Mathilde became an Englishwoman living in France, eliminating any language barrier among characters while allowing the viager concept to occupy a more central presence in the story. "It's such a rare and uniquely French tradition," Israel Horovitz admits. "France is the only country I know where it's active and present. I'd always envisioned an American placed in this mix as a foil, because the concept is explosive to an American mind: You put your money down on a property, essentially betting that somebody's going to die sooner rather than later."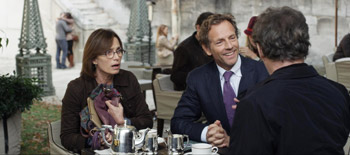 Israel Horovitz also expanded the play's setting to include a grander, more cinematic vision of Paris than the one that was merely implied on stage. "The play is populated by three actors in one room, and the decision to expand the film's setting wasn't because I felt the story was too contained in that room, or didn't work," Horovitz explains. "I just felt that images of Paris would add another huge dimension to the story."

Israel Horovitz is no stranger to the French capital, having first basked in the city's many cultural delights in his early 20s, as a drama student in London, where he was the first American to be chosen as the playwright-in-residence at the Royal Shakespeare Company. Traveling with his wife and newborn daughter, Rachael, who would go on to co-produce the film My Old Lady, to visit his parents, who were vacationing in Paris, Israel Horovitz fell instantly in love with the City of Lights. "As soon as my feet touched down in Paris, I did all the American stuff," he explains.

"Tracking down Sylvia Beach's bookstore, visiting the Café Flore and Les Deux Magots, where I saw Simone de Beauvoir sitting alone on the terrace, smoking and writing in a notebook. I smiled at her and she smiled back at me " I was flirting with Simone de Beauvoir on my first visit to Paris!"

After five decades spent adoring Paris, Israel Horovitz sought to write a play and subsequent screenplay that would be a kind of valentine to the French capital, culminating in 2002's off- Broadway production My Old Lady starring Siân Phillips as Mathilde, Peter Friedman as Mathias and Jan Maxwell as Chloé. A screenplay adaptation followed several years later, with Israel Horovitz cohort Kevin Kline dropping by the playwright's Greenwich Village residence for intermittent readings as the film script branched out from its theatrical roots.

Dame Maggie Smith was the first actor to officially sign on to the film version, for the role of 92- year-old Mathilde Girard. Horovitz traveled to London to meet with the stage and screen veteran, who accepted the part amid 25 competing scripts offered to her at the time. Israel Horovitz recalls Maggie Smith joking during the meeting that it was the only script in the stack that didn't end with her character dying. Adds Israel Horovitz: "To my knowledge, it's the first time Dame Maggie's done a movie in which she doesn't wear a wig."

Never mind the fact that Maggie Smith appears in My Old Lady with minimal make-up. "I wanted a specific reality to Mathilde " I didn't want the audience to feel like there was anything between them and her," Israel Horovitz continues. "Maggie Smith isn't even close to being in her 90s, but she had to act as if she were, and I didn't want it to be artificial, like something we painted on her " because nobody would believe it. She totally got it, and arrived on set with minimal makeup and no wig and delivered a totally believable performance." Producer Rachael Horovitz marveled at Maggie Smith's transformation into Mathilde. "It was stunning to watch her transform herself without wigs and props," Israel Horovitz recalls. "She was using pure acting skill to turn into this character that was so many years older than herself."

Kevin Kline's considerable body of work over several decades on both stage and screen " including an Academy Award for his work in A Fish Called Wanda (1988) " made him ideally suited to the central role of Mathias Gold, the slightly bumbling and adrift middle-aged New Yorker who travels to Paris thinking he's about to strike pay dirt through the quick sale of an inherited apartment, only to discover real-estate and relationship turmoil that sends his broken life in a new direction.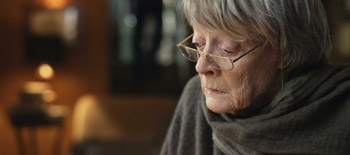 Kevin Kline came to the production semi-attached, having helped his friend Israel Horovitz develop the Mathias character, warming to the character and readily agreeing to take the part because " as Kevin Kline quipped to Israel Horovitz during its gestation from stage to screen " it might be the last time as 9 an actor that he gets the girl. Kevin Kline brings to My Old Lady a career-sampling aptitude for droll comedy, serious gravitas and musical talent, culled from years of stellar work in everything from Sophie's Choice and The Big Chill to his stage work in The Pirates of Penzance (for which he won a Tony Award for Best Actor in a Musical) as well as plays by Shakespeare, Chekhov and Shaw.

"Kevin Kline has marvelous instincts as an actor," insists Israel Horovitz. "He has an uncanny ability to give a director several variations on the same scene " a lighter one, a heavier one, but always a truthful one. Thus, in editing, I had everything I needed to capture the sort of tragi-comic performance our film demanded. Kevin Kline gives a great performance as Mathias. His work, for me, defines thrilling."

Producers Rachael Horovitz (Moneyball, HBO's Grey Garden) and Gary Foster (The Soloist, Sleepless in Seattle) got the script to Kristin Scott Thomas, who signed on immediately to play Mathilde's confrontational daughter Chloé, having already worked with Kevin Kline on Irwin Winkler's Life as a House in 2001 (producer-director Winkler was best man in Israel's wedding, and the two had worked together previously on the 1982 comedy Author! Author!, starring Al Pacino). Furthermore, Kristin Scott Thomas and Maggie Smith had already played mother and daughter on two previous occasions " in 2001's Gosford Park and 2005's Keeping Mum, giving My Old Lady a friends-and-family pedigree that dovetailed well with the script's intimate tone and trajectory. The central cast was complete in early 2013, and My Old Lady was ready to go before cameras in Paris later that year.

A significant difference between stage play and screenplay, according to Israel Horovitz, is found in the development of the Chloé character, which has a much bigger presence in the film as Mathias' nemesis-turned-unexpected-love interest. "I had long seen My Old Lady as Mathias' journey " his story with the old woman, hence the possessive "my" in the title," Israel Horovitz explains. "But it's ultimately the story of two people who have been destroyed by the same love affair. They'll never meet anybody in their lives who understands their problems better than each other."

To flesh out Kristin Scott Thomas' Chloé, and to extend the story outside the confines of the apartment, Israel Horovitz opted to give Chloé a lover in the screenplay " a married man with children " heightening the stakes for Mathias as he compiles evidence and goes to war with the Girards over his claim on the apartment. Adds Israel Horovitz: "Kristin Scott Thomas is stunning, so without Kristin Scott Thomas's mining Chloé's neurotic anger, it would have been impossible to believe she wouldn't have ten guys falling at her feet. For this reason it was difficult to cast the lover character " if I'd cast a classically handsome, athletic guy, it might have given the audience an incorrect definition of Chloé."

To round out My Old Lady's robust cast, and to emphasize the more ordinary, workaday aspects of its Parisian setting, Horovitz cast a slew of veteran French character actors in vital supporting roles, including Dominique Pinon as the helpful real-estate agent Lefebvre, who indoctrinates Mathias into the complex codes of the viager system. French film aficionados will recognize Pinon's distinct facial features from his work in everything from Jean-Jacques Beineix's Diva (1982) to the films of Jean-Pierre Jeunet, including Amelie (1999) and A Very Long Engagement (2004). "As Kevin Kline, Maggie Smith, Kristin Scott Thomas, Dominique and I all come from a strong theatre background, we are all workaholics, and shared an easy dialogue on the set," insists Horovitz. "It was a joy for me to direct these actors, and I took advice that Sidney Lumet gave me some years ago: Cast great actors ... and then stay out of their way."

Writer-director-actress Noémie Lvovsky appears in a small role as Madame Girard's physician, while actor-director Stéphane Freiss (who is well known for his performance in the 2008 French smash Welcome to the Sticks) and actor and TV personality Stéphane De Groodt contribute memorable work, respectively, as the rapacious property developer François Roy (a.k.a. Wah- Wah) who wants to buy Mathias's apartment and turn it into a sleek hotel, and the philandering married lover of Chloé.

Much of My Old Lady was shot in la Manufacture, located in les Gobelins in Paris's 13th Arrondissement, operated and maintained by the French Ministry of Culture. A vast complex comprising several main buildings and a slew of apartments (now used to house government functionaries), la Manufacture is the historical site of tapestry manufacturing for French royalty dating from the 17th century to the present day.

Because there is no longer a huge demand for artisan tapestries in France, la Manufacture doubles as an ersatz soundstage for film and television productions " in the case of My Old Lady standing in for the more-central and tourist-trod Marais, where Madame Girard and Chloé reside. Owing to the Marais' disruptive traffic and cramped, winding streets, Horovitz and crew jumped at the chance to shoot inside the pristine Manufacture compound in the Gobelins, where the Girard's sprawling residence, overlooking a verdant garden, was brought to life by the French crew as a Marais apartment. "Almost the entire movie was shot inside the compound," Horovitz admits. "At one point in its history, la Manufacture was its own city within the city, with a thousand people living there. We could park our trucks inside the gated compound and shoot in a way we never could in the busy Marais. Finding the apartment we used, with its creaky floors and general disrepair, was really what made the movie possible. It was like having our own little studio."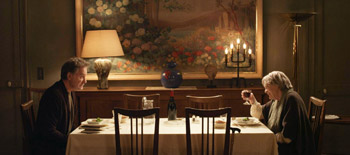 Although My Old Lady is Israel Horovitz's debut feature as a director, the veteran playwright is no stranger to the motion picture industry, having written the screenplay for The Strawberry Statement, which won the Jury Prize at the 1970 Cannes Film Festival. He collaborated with István Szabó on the screenplay for the 1999 historical drama Sunshine, which tracked a Jewish family living in Hungary during the turbulent first half of the 20th century. Horovitz and Szabó shared the European Film Award for their screenplay. Israel Horovitz also wrote the teleplay for Mark Rydell's 2001 Emmy and Golden Globe-nominated James Dean biopic, starring James Franco. He also wrote, directed and starred in the award-winning 2002 documentary 3 Weeks After Paradise, detailing his own frustrating efforts to locate his young son in the wake of the 9/11 terror attacks.

Despite his seasoned screenwriting work, Israel Horovitz had avoided movie directing, mainly owing to his worldwide activity as a playwright. Decades into his successful playwriting career, inspired by years of commuting back and forth to Paris for productions of his plays from his homes in Gloucester, Massachusetts, and New York City, Israel Horovitz completed the My Old Lady screenplay with the intention of making it his big-screen directorial debut.

My Old Lady was shot in Paris in 24 days in autumn 2013. Production duties on the film were split between Israel Horovitz's daughter, Rachael, and Gary Foster. Rachael Horovitz's recent hits include HBO's Emmy and Golden Globe winning Grey Gardens, starring Drew Barrymore and Jessica Lange, and Bennett Miller's Academy Award-nominated Moneyball, starring Brad Pitt and Jonah Hill. Gary Foster's extensive credits include Sleepless in Seattle and the hit NBC sitcom Community. Both Industry veterans, Horovitz and Foster jumped at the chance to work with Israel on his feature directorial debut. "He may have just turned 75 but Israel is as vibrant and capable as a 35-year-old," insists Gary Foster. "I've worked with younger directors for whom I've had more fears about physical well-being than Israel at his age. The fact that he's directing a story about an elderly woman and a man in his fifties " well, he's kind of lived that, which was a huge plus because he could bring so much life experience to it."

Rachael Horovitz was attracted to My Old Lady for several reasons, including its rich casting potential and Parisian locale " she traveled to the city frequently as a child and lived there briefly when she was 21 " but also because it gave her an opportunity to work with her father, who she describes as "the most prepared director I've ever worked with." Above all, she praises Horovitz père for his professionalism, sense of humor and grace under pressure, each one a boon for the intimate, familial-themed My Old Lady. "There is real humanity in this film thanks to those factors," she concludes. "Working with a family member is always a pleasure because there is the shorthand of communication you have with few others."

Gary Foster also praises Israel Horovitz for his human touch, including his considerable grasp of human nature and conflict, honed through years of dedicated stage work. "This movie is at its core about family and how people deal with the many challenges in their lives," Gary Foster insists. "Everyone has harbored secrets at some point. My Old Lady examines how people with secrets reveal themselves emotionally in order to locate truth. What's special about Israel's craft is how organic and truthful it feels. So much of this movie depends on the actors working with dialogue-rich scenes set inside cramped rooms with little action and no special effects " you have to buy into the dimensionality of these characters. Israel is at his best writing and directing scenes that feel real, as though you were a fly on the wall amid the revealing of this family's secrets. He's not afraid of being overly sentimental and open with emotions, and I think that's hugely valuable."

My Old Lady
Release Date: November 13th, 2014