Skincare Tips for Girls that like to Sweat
RosehipPLUS is an Australian Certified Organic and natural beauty brand that's cruelty-free and vegan.

The range has products to thoroughly cleanse, moisturise and hydrate your skin. Start by cleaning your face with the Daily Cream Cleanser, add moisture with the Hydrating Day Cream , before bed apply the Nourishing Night Cream and add Rosehip Oil any time of the day or to treat scars, stretch-marks and sun damaged skin, just to name a few.

RosehipPLUS products are free from pesticides, bleaching, colouring and fragrances
PETA endorsed
A superfine filtering process is applied which preserves the natural and effective qualities of this unique oil, producing one of the finest quality rosehip oils on the market
The entire range is infused with our Rosehip oil and can be used daily on all skin types - even the most sensitive skin
RosehipPLUS products have been proven to treat, improve and help skin conditions such as: scarring, acne, rosacea, eczema and dermatitis, aging, dry dehydrated skin, pigmentation and sun damage, stretch marks, fine lines and wrinkles



Interview with Lizzie Bland
Question: What did you learn about your body whilst you were a professional ballet dancer?

Lizzie Bland: That dancing couldn't be my only source of exercise if I wanted to improve my stamina and strength for long rehearsals and shows. I'd always thought that dancing was all the exercise I'd ever need as i was doing it all day every day, but as soon as i added Pilates and circuit training to my routine, I soon became stronger as a dancer and my endurance really improved.


Question: Can you tell us about Lean Bean Fitness?

Lizzie Bland: Lean Bean Fitness is about fun, female fitness. We believe that keeping your fitness regime as varied as possible is key to getting and staying fit. Our classes range from Pilates & Barre to Boxing & Strength training. Women's bodies thrive on a balance between restorative movement, cardio and resistance exercise and our clients are proof that this method delivers great results.


Question: How did your ballet career inspire Lean Bean Fitness?

Lizzie Bland: The daily routine and physical challenge of professional dancing were definitely factors that inspired me when creating Lean Bean Fitness. The classes really challenge you, no matter how fit you are, but they're still fun which is why so many of our clients are at the studio every single day. I've always loved going to and teaching classes so opening my own studio where i could create all the workouts exactly how I wanted them was heaven to me.


Question: What would we always find in your gym bag?

Lizzie Bland: One pair of Lululemon Align pants (next level stretchy comfort) and always a black top because they hide sweat. Nimble have some great backless ones that keep you cool and don't look overly 'activewear'. Water and loads of snacks are essential as well as my RosehipPLUS Roll on Rosehip Oil for dry lips as I'm often teaching in aircon which really dries them out.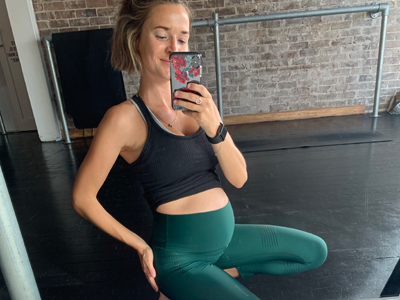 Question: What's a typical day like, for you?

Lizzie Bland: Wake up at 6am, drink loads of water and then take my puppy out for a 10 minute walk. Having a dog forces you to get up and out the house *even when I really can't be bothered* because it instantly freshens me up and means I'm not just scrolling through Instagram before work. I'll then have a big breakfast of porridge with a banana, peanut butter and a sugar-free hot chocolate. Ill check in with my emails and then go to the studio. I normally teach around two classes a day + several private clients. Lunch is normally out at one of the many good cafes in Bondi and there I'll do the daily admin and write my scheduled articles/ blog posts. I work some evenings but mostly I'm home by 4pm and the evenings are spent cooking, cleaning the house listening to a podcast (one of my favourite pastimes), FaceTiming my family and friends in the UK or Netflixing. I'm always in bed by 9pm reading a book.


Question: What five ingredients could you not live without?

Lizzie Bland: Salt, olive oil, peanut butter (if that counts), avocado and 70% chocolate.


Question: Can you share your top skincare tips, for those of us who like to sweat?

Lizzie Bland: 1. BYO towel, always - this is a great barrier to keep your skin away from that sweaty communal gym mat.
2. Wash your face pre and post work out - Having clean skin whilst you work out will help avoid your open pores getting clogged with makeup, suncream and sebum.
3. Go light. Use skincare products free from rubbish & fragrances to avoid added irritation.


Question: Why do you love the brand, RosehipPLUS?

Lizzie Bland: Since falling pregnant, I've been much more conscious about what I put on my skin. I've started using the products from RosehipPLUS as they're Certified Organic, free from pesticides, bleaching, colouring and fragrances so I know that nothing bad is going in to me or the baby


Interview by Brooke Hunter