Livebait Restaurant
Livebait opened originally to great acclaim under the clever Cath Claringbold's hand, but after 5 years it sat forgotten between owners. Enter restaurateur Lou Jovanovski, who decided that a prime position overlooking the water and the heritage piers of Docklands deserved better. He approached chef Dan Szwarc, who he had admired for some time and the marriage was complete.
Dan is a youthfully passionate and experienced chef with a refreshing approach - literally waiting in the wings for an opportunity to do his own thing with seafood - having gathered an audience at Number 8 at Crown, Oyster Little Bourke and more recently at the revamped Albert Park Hotel.
Livebait itself has had a complete facelift and rejuvenation, bringing it back to the restaurant that was so loved and stood out proudly from the pack at Docklands when the waterside precinct was first developed. With it's panoramic views, unique location and Dan's premium seafood offerings it has already earned a renewed reputation.
Dan's food style is multi-faceted, with influences from French training, an Australian lifestyle and a Sth American heritage... it comes together on the menu as an eclectic and stylish offering with dishes such as Oysters four ways - from Escabeche with warm chorizo to Margarita with tequila. Pickled herring with quail eggs, Spring Bay mussels beside Cloudy Bay Surf clams, spanner crab cakes, duo of yellowtail kingfish and yellow fin tuna carpaccio, roasted W.A. barramundi with sweet and sour onions, chickpeas and mint and a local Port Phillip Bay snapper with ginger puree, pumpkin and carrot salad. There's a separate 'Crustaceans' feature and the shared 'Livebait Feast' is one to save up for special days, when everything is fabulous and abundant.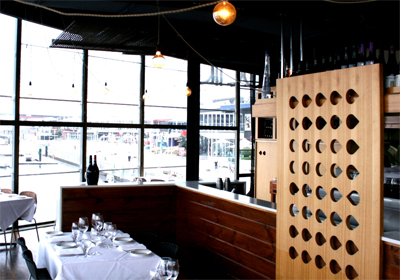 The non seafood diners are well accommodated with a separate list of seven offerings from porcini mushroom and chestnut risotto to a Claire Valley fillet with asparagus salsa. There are lots of 'sides and a dessert list that ensures every taste is covered from cinnamon churros with vanilla bean brulee, to banana and toffee pie with Caribbean cream.
An extensive wine list has a generous range of choices by the glass and some Special Reserves, which all complement the menu perfectly.
Dockland's continues to evolve and mature, seeing it feel more comfortable in its own skin these days - with thousands of residents now calling it home and around 70 restaurants and cafes, all adding to the community feel. Of course being on the doorstep of one of Victoria's greatest sporting arenas is another positive for the region.
So the tables are set, the kitchen brigade is humming and its time to give Dockland's another look.
LiveBait
55b NewQuay Promenade Docklands
(Arrive by car via Docklands Drive)
(03) 96421500
Open lunch and dinner 7 days
www.livebait.com.au