Last Vegas DVD
Cast: Michael Douglas, Robert De Niro, Morgan Freeman, Kevin Kline, Mary Steenburgen, Roger Bart, Romany Malco
Director: Jon Turteltaub
Genre: Comedy
Rated: M
Running Time: 105 minutes

With the 'mother of all-star' casts including Academy Award winners Michael Douglas, Robert De Niro, Morgan Freeman and Kevin Kline, Last Vegas is a laugh-out-loud comedy about four old friends who reunit in their late 60s for a last hurrah in the City of Sin.

Billy, Paddy, Archie and Sam have been best friends since childhood. So when Billy, the group's sworn bachelor, finally proposes to his thirty-something girlfriend, the four head to Las Vegas with a plan to stop acting their age and relive their glory days.

On arriving, the four quickly realise that Sin City is not the place it used to be, testing their friendship in ways they never imagined. The Rat Pack may have once played the Sands, and Cirque du Soleil may now rule The Strip, but it's these four who are taking over Vegas.

From geriatric gags about Lipitor, hip replacements and early bedtimes, to scadntily-clad lap dances to LMFAO's Redfood and transvestites dressed in Madonna drag, Last Vegas is a comedy unafriad to let its hair down. Driven by its talented, veteran actors, this heartwarming comedy delivers genuine and humourous insight into the humanity of its characters.

Special Features:
Filmmaker Commentary with Jon Turteltaub and Dan Fogelman

Blu-ray Special Features:
Filmmaker Commentary with Jon Turteltaub and Dan Fogelman
It's Going To Be Legendary
Four Legends
The Redfoo Party
The Flatbush Four
Ensemble Support

Last Vegas
RRP: $39.95
Blu-ray: $44.95
Interview with Morgan Freeman and Kevin Kline
Question: You get a script that is nicely written but then, of course, you want to add your kind of flavour to it…… Were there things that you felt that you wanted to add, that weren't on the page?

Kevin Kline: Well, one doesn't want to add one's flavour to it so much as one wants to look freshly at each scene as it comes up, and then simply to be responsive to the situation. If some element emerges in the doing of a particular scene – some little accident or insight which the writer didn't anticipate – then this can be folded into the recipe. That is, if the schedule, the director, and the other actors are receptive. Jon generally invited that sort of discovery and playfulness and he had a keen sense of when to let it play out and when to nip it in the bud.

Morgan Freeman: Yes, staying with your original question, reading the script, you very seldom see anywhere you can overlay, where you want to overlay. If there is a lot of overlay that you can see, you should put the script down.


Question: When I look at Archie's character, I was actually very surprised at how much dancing he did and I was so happy to watch you – you've got some really good moves there for Archie. So was that also part of it? Was that originally there?

Morgan Freeman: I don't recall.

Morgan Freeman: I don't know if the dancing was in the original concept of this. It had to be, though.

Kevin Kline: Yes and I remember reading, there was the name of a dance.

Morgan Freeman:Oh right, right, that I didn't know anything about. Yes, right, exactly. There was some kind of dance and those kids were doing it. Yes.


Question: When you get to work, as an actor, do you feel a little bit, that this is kind of fun? Can you describe what it's like to see your peers do really great work?

Kevin Kline: It doesn't happen while you're actually shooting but of course, yes, the first day, you're looking around the table as we read through the script. You're looking at actors whose work, whose body of work, you've seen over a long period of time and admired and sometimes been deeply moved by and/or amused by, delighted by…… And yes, you pinch yourself and think, "I can't believe I'm here. You think either someone has made a terrible mistake or I am extremely lucky."

Morgan Freeman: "I'm here."

Kevin Kline: "Here. How did I get into it? Who let me in?"

Morgan Freeman: "Who let me in?" Yes.

Kevin Kline: But then you just kind of get on with the work. But I don't think actors are immune to, you know…

Morgan Freeman: Stargazing.

Kevin Kline: Stargazing, yes, and curious to have certain questions answered. What was scripted? What wasn't? How certain ideas were arrived at? How did you put on 58 pounds and how did you lose it?

Morgan Freeman: Why did you put it on and how did you get it off?

Kevin Kline: And, you know, as a fan you get a lot of things you've been curious about answered. But you get that out of the way pretty early and then you just get on with the work at hand.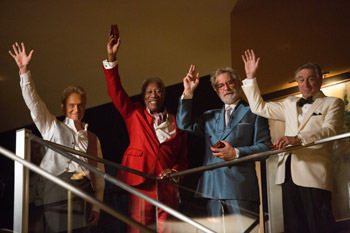 Question: Who in this group of characters needed this adventure the most? Who do you feel was the one who benefited or needed to have this?

Morgan Freeman: It seemed to me that all of us benefited and you could say that was equally. Sam, in his ultimate realisation that the Viagra and the condom wasn't going to work in Vegas; if it was going to work it was going to work at home with his wife. I think every woman in the audience sort of tears up when he makes that realisation and acts on it. Sam, when he just shoves his son back and says "look, you know, I'm not a kid". Paddy's realisation that what happened between him and Billy was an act of love on Billy's part. He was just like, "okay I'll owe you for that"…. And Billy was easy, you know, he's the ultimate winner because he meets the right woman and his friend too gets him to understand that the woman he was thinking of is the wrong woman….

Morgan Freeman: Yeah, so it's like a win, win, win, win, win.

Kevin Kline: Paddy comes out of his shell. We think he's been in this mourning period for too long.


Question: When I get back to my high school friends, my role kind of gets back to the same person that I started as when I was a teenager. So do you have friends like that? Who are you in your collective of friends, when you see each other? If you can describe who you are like when you hang out with your old friends?

Morgan Freeman: Old friends…… I don't have any old friends that I hang out with. I find that, generally, they kind of drop along the wayside because, you're climbing the ladder and after a while… That whole thing doesn't work, you know, them looking up and you apparently looking down. It just doesn't work. So, what friends I have that have carried on, they're climbing their own ladders, you know, so we don't have that childhood relationship. Obviously, we have a childhood friendship, but it's not quite the same.


Question: And lastly, you Kevin, do you……?

Kevin Kline: Yes. I have a few friends from high school with whom I'm still in touch. The friendships that last are obviously the ones that are healthy enough and run deep enough that superficial symbols of success or status are not factors.

Morgan Freeman: There aren't that many.