Leslye Headland Sleeping With Other People Interview
Cast: Jason Sudeikis, Alison Brie, Jordan Carlos
Director: Leslye Headland
Genre: Comedy
Rated: MA
Running Time: 101 minutes

Synopsis: Can two serial cheaters get a second chance at love? After a one-night stand in college, New Yorkers Lainey (Alison Brie) and Jake (Jason Sudeikis) meet by chance twelve years later and discover they each have the same problem: because of their monogamy-challenged ways, neither can maintain a relationship. Determined to stay friends despite their mutual attraction, they make a pact to keep it platonic, a deal that proves easier said than done.

Sleeping With Other People
Release Date: October 29th, 2015



Interview with Leslye Headland
Question: How did you decide Sleeping With Other People would be your writing/directing follow-up to Bachelorette?

Leslye Headland: Sleeping With Other People came to me while I was on vacation in San Francisco. I went there to write, and these characters and their stories just poured out of me. I knew it was the next project for me because it was extremely personal. I wanted to challenge myself not only to write about my past heartache, but to try and revitalize the romantic comedy for a modern generation.


Question: Sleeping With Other People isn't your typical romantic comedy is it?

Leslye Headland: It really isn't. People trash talk the Rom Com, but it's one of the oldest cinematic genres with stellar origins like Twentieth Century or Trouble In Paradise. I think as audiences lost their innocence the genre lost its suspense. To create suspense you need obstacles. It's really about giving characters in a Rom-Com true obstacles that very few people ever overcome: their own behavior and their past.


Question: How did Jason Sudeikis and Alison Brie become involved with the film?

Leslye Headland: Jason Sudeikis was an easy cast. I went up to him at a party and said "I have a part for you." That same week we met up and talked for hours. When Jason talks to you, it's like you're the only person who ever existed. He's a major charmer, and that's Jake to a tee. He was made for the part. A total leading man.

Alison Brie's character, Lainey, was harder to cast because I felt like we were casting me. I was so close to the character. But when Allie auditioned, this vulnerability poured out of her and I knew we had found Lainey. She's an incredible actress, we all just fell in love with her.


Question: Tell us about Jason and Alison's characters Jake and Lainey.

Leslye Headland: The Jake and Lainey we meet at the beginning of the story, during their days at Columbia, are so different than the people they become. They lost their virginity to each other, and then ten years later, we dive into these characters of these complex adults, really seeing how sex and intimacy have materialized for them on their separate paths. Lainey is a serial cheater who can't get over one man. He's a drug to her. He's everything to her and she can't let it go. Jake has evolved from a late bloomer to a charming womanizer. He can get anyone to sleep with him, but he's completely terrified of getting his heart broken. He never sleeps with a woman he would care about losing.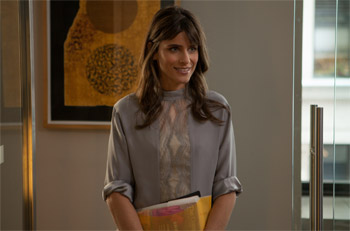 Question: You have assembled such a great ensemble cast, tell us about that.

Leslye Headland: Jason Mantzoukas plays Jake's best friend, Xander, and he is probably one of the most hilarious beings on the planet. The chemistry he has with his on-screen wife, played by Andrea Savage, is crazy stupid funny. Natasha Lyonne and I are friends in real life – not Hollywood life – so she was just down for anything. And of course, Adam Scott and I worked together on Bachelorette. People will definitely be surprised by what a creep he is in this movie. Adam is such a gifted actor, it played very well. Other members of the ensemble – Amanda Peet, Katherine Waterston, Adam Brody, Billy Eichner. I mean, come on. We were blessed with such a stellar cast. They're unreal.


Question: What was it like shooting the film in New York City?

Leslye Headland: New York City is my home. It's so romantic, it can't help itself. Shooting is difficult in New York, but so worth it. We had to stop a few times to let the sound of the subway rumbling underneath the actors pass, but other than that, what's not to love about New York?


Sleeping With Other People
Release Date: October 29th, 2015