Horrible Bosses Review
Cast: Jason Bateman, Charlie Day, Jason Sudeikis, Jennifer Aniston, Colin Farrell, Jamie Foxx, Kevin Spacey, Julie Bowen, Donald Sutherland
Director: Seth Gordon
Genre: Drama, Comedy
Rated: MA
Running Time: 98 minutes

Synopsis: For Nick, Kurt and Dale, the only thing that would make the daily grind more tolerable would be to grind their intolerable bosses into dust. Quitting is not an option, so, with the benefit of a few-too-many drinks and some dubious advice from a hustling ex-con, the three friends devise a convoluted and seemingly foolproof plan to rid themselves of their respective employers…permanently. There's only one problem: even the best laid plans are only as foolproof as the brains behind them.

Jason Bateman, Jason Sudeikis and Charlie Day play the three hapless workers, while Kevin Spacey, Colin Farrell and Jennifer Aniston are their unbearable bosses. Jamie Foxx appears as the con, whose street cred is priced on a sliding scale.

Verdict: Horrible Bosses boasts an all star cast including Jennifer Aniston, Colin Farrell, Jamie Foxx, Kevin Spacey and of course three of the funniest guys in Hollywood, Jason Bateman, Charlie Day and Jason Sudeikis.

Nick (Jason Bateman), Dale (Charlie Day) and Kurt (Jason Sudeikis) face daily, awkward and distressing circumstances in the workplace and one night, after a couple of drinks, they decide that the only way for their lives to improve is to kill their bosses.

Horrible Bosses is an extremely funny movie that showcases the worst in horrible bosses and shocking workplaces. Dale's boss is promiscuous and blackmailing dentist Julia (Jennifer Aniston) who plays her role perfectly equipped with foul language and sexual actions. Whilst Kurt's boss is drug-addicted, child-like, spoilt Bobby (played by the unrecognisable Colin Farrell) and Nick's boss is the psychotic, egotistic and disturbed Dave (Kevin Spacey).
Jamie Foxx stars as the trio's murder consultant (equipped with a head full of tattoos) who provides shifty murder advice, for $5,000.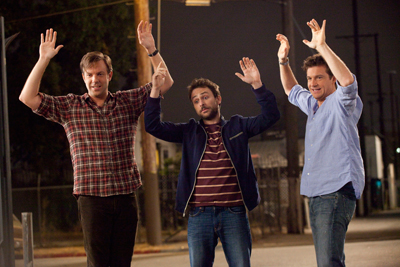 The storyline is basic as Horrible Bosses chooses to focus on the personas of the main characters which are hilarious and overall out-of-control. I can imagine each of the bosses had a fantastic time with their strong minded character and the shocking actions which truly makes them horrible bosses.

All three of the comedians showcase their perfect comedic material which plays, perfectly, off each other.
Jason Bateman, Charlie Day and Jason Sudeikis all attended the Melbourne Premiere of Horrible Bosses and proved that they are just as funny off-screen as on.

Although Horrible Bosses tackles the serious concept of considering murder, it is a very funny and fulfilling film.

Rating: ****
Brooke Hunter

Release Date: 25th of August, 2011