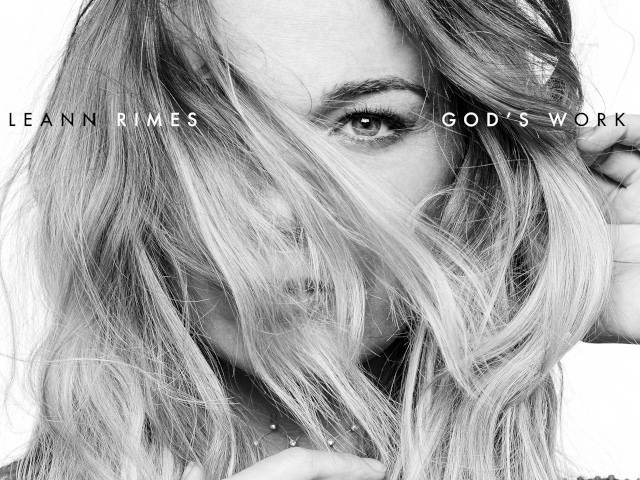 GRAMMY Award-winning singer, songwriter, actress, and author LeAnn Rimes has announced her new album, god's work (EverLe Records via Thirty Tigers/ The Orchard / Cooking Vinyl Australia), to be released on Friday, September 16th. The 12-track record features an eclectic group of accomplished artists that bring a genre-bending sound to the album, including Mickey Guyton, Ziggy Marley, Aloe Blacc, Ben Harper, Ledisi, Sheila E., Robert Randolph, and more.

Written and produced by Rimes and her longtime collaborator and close friend/producer/songwriter Darrell Brown, god's work has been nearly three years in the making and puts Rimes' breathtaking vocals on full display. The track listing includes a mix of ethereal, rhythmic, and brutally honest songs that take each listener on their own unique journey, exploring the duality of life and recognizing the light and the dark that we all encounter. Rimes made a commitment to highlight females in the creation of the album, from the mixing to the recording and mastering, allowing her to fully immerse herself in the vulnerability of the lyrics and sound.

"For me, god's work was all about a journey of reclamation, where humanity meets spirit," Rimes said. "The idea was to really dig into the duality of life, and I needed to be at the place I am in my life now in order to release this record whole-heartedly. It's so empowering that I am finally there."

Rimes intentionally chose to go with an all-lowercase album title and track listing, explaining "If we're arguing about why the 'g' is or isn't capitalized, we're missing the whole point. It's so important for us to focus on the messages, rather than the nuances."

To help celebrate the album announcement and Rimes' 25th anniversary, the GRAMMY Award-winning artist will headline this year's iconic music series, "CMT Crossroads," airing on April 14th at 8p/7c on CMT. "CMT Crossroads: LeAnn Rimes & Friends" features an all-female lineup, including Mickey Guyton, Carly Pearce, Ashley McBryde, and Brandy Clark, who help commemorate Rimes' career and recognize the path she blazed forward for women in all genres.

To stay up-to-date on LeAnn's upcoming projects, please follow her on Instagram @leannrimes.