Laura Wheelright Animal Kingdom Interview
Wheelwright makes her big-screen debut in Animal Kingdom, as Nicky, J's pretty, young girlfriend, whose tranquil family upbringing has ill-equipped her to deal with, or comprehend, the brutality of the Cody family.
At just eighteen years-of-age, Wheelwright has studied dance and drama for many years, undertaking courses at range of acting workshops run by such institutions as National Institute of Drama Art (NIDA), St Martin's Youth Theatre, Melbourne Theatre Company (MTC) and Victoria College of the Arts (VCA).
Animal Kingdom looks to be her first major step in what promises to be a very successful career.
Can you tell us about your character, Nicky Henry, in Animal Kingdom?
Laura Wheelright
: Nicky is a teenage girl who is in her last year of high school. She is the girlfriend of Joshua 'J' Cody. Nicky is attracted to and intrigued by the world that J's family represents, but she is also scared of it. She likes the idea of 'bad boys' and is curious about drugs, but she is really very innocent and naïve. I think she has a desire to explore and discover, but ultimately she just wants to be loved.
How did you prepare for your role, in this film?
Laura Wheelright
: James and I had a few weeks of rehearsals before the shoot began, where we had a chance to become comfortable with one another and also work with two different drama coaches. I did a lot of preparation at home on each individual scene, working out what Nicky wants, how Nicky and I were similar and how we were different. When it came to acting on the day, it was really the support of everyone else around me that made it work.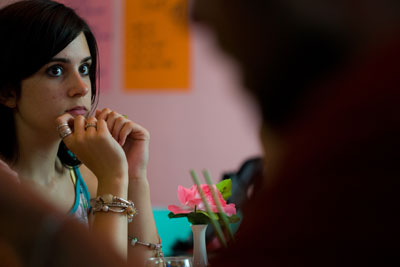 What was the audition process like for Animal Kingdom?
Laura Wheelright
: I went to an open casting call amongst a lot of other girls, and met the casting director Kirsty McGregor. I got called back that day to do another audition with a scene from the film. I didn't hear from them for at least a month after that and I assumed that I hadn't got the part, but then one day I got a call from Kirsty asking me to come in and meet David, the director. I did another two auditions with David and Kirsty, and in the second one I met James, who had already been cast as J. Then I waited anxiously for news, and got a call from Kirsty about a week later. She said 'you're going to be in a movie!' and I was so surprised. That was a wonderful day!
How did you ensure you portrayed chemistry between your character and the character of Joshua 'J' Cody, in the film?
Laura Wheelright
: I think chemistry between people, to a certain extent, is out of our control. I think it had more to do with David's decision about casting two people that he believed shared chemistry. James and I became very comfortable with one another during the rehearsal period and throughout the shoot, so that definitely helped.
Tell us a little bit about the filming of Animal Kingdom:
Laura Wheelright
: It was so exciting and scary for me because everything was new. I didn't really know much about how things worked on a film set, so I was learning as I went along. David was such a great support, just a great person to have around. I felt safe when he was around. There's lots of waiting and it can be stressful, but I found every part of the process incredibly fun.
Was it hard to stay true to playing a character, in a story based in the 1980's?
Laura Wheelright
: The film is not actually set in the 1980's- a lot of people get the impression that it is because of the connections in the plot to events that happened in the 80's in Melbourne. Animal Kingdom is only loosely connected to those events; it is a fictional story that takes place in present time. Nicky is a teenage girl, and I tried to play her truthfully as that person, regardless of era or setting.
This is your first film, what have you learnt from this experience?
Laura Wheelright
: I feel like I have learnt more from this experience than I ever have in any acting class or even any school class, for that matter. It's kind of hard to put into words- I guess I just learnt so much about who I am as an actor and as a person. I learnt more about acting for film (as opposed to theatre) and also about how other people work. I also discovered all these emotions that I had never felt before. I wouldn't trade this experience for anything, nothing!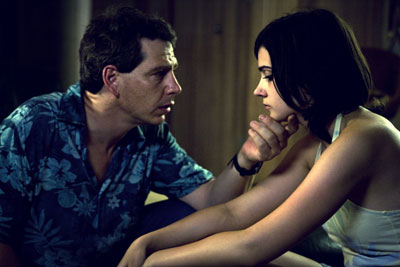 Were you able to learn acting skills from well-known actors; Ben Mendelsohn, Joel Edgerton and Guy Pearce?
Laura Wheelright
: I didn't have much to do with Guy or Joel on set, but I worked fairly intimately with Ben. That was probably the highlight of the whole shoot. I learnt so much from him, I feel like I owe him a lot. He is the most powerful, intense and interesting actor- and person. He was so supportive of me when we were doing scenes together, which was really nice because I was pretty much terrified throughout the whole shoot. If I ever get to work with him again, I'll be so thankful.
Animal Kingdom has been described as 'the best Australian film in years' how does this make you feel?
Laura Wheelright
: It makes me feel awesome! I feel very lucky to be a part of something that is being so well received. I really love Australian film and I wish more people supported it in this country. I am so happy for everyone involved, especially David. I think he deserves every compliment he gets- he is a wonderful person.
What is next for you, in regards to acting?
Laura Wheelright
: I am playing a part in an Australian play that's on in August. I am also very eager to learn more and get more training, so I have auditioned for an Acting school that commences at the end of July.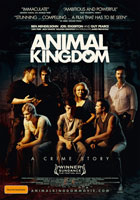 Animal Kingdom
Cast
: Ben Mendelsohn, Joel Edgerton, Guy Pearce, Luke Ford, Jacki Weaver, James Frecheville, Laura Wheelwright, Dan Wyllie, Anthony Hayes
Director
: David Michod
Genre
: Crime, Family, Drama
Rated
: MA
Running Time
: 112 minutes
Synopsis
: Animal Kingdom tells the story of seventeen year-old (Josh), as he navigates his survival amongst an explosive criminal family and of the detective who thinks he can save him.
Release Date
: 3rd of June 2010
Website
:
www.animalkingdommovie.com.au
Animal Kingdom Review -
www.femail.com.au/animal-kingdom-review.htm