Kristen Bell and Josh Gad Frozen
Cast: Kristen Bell, Josh Gad, Idina Menzel
Director: Chris Buck, Jennifer Lee
Genre: Animation, Action, Adventure

Synopsis: Walt Disney Animation Studios, the studio behind 'Tangled" and 'Wreck-It Ralph," presents 'Frozen," a stunning big-screen comedy adventure. Fearless optimist Anna (voice of Kristen Bell) sets off on an epic journey"teaming up with rugged mountain man Kristoff (voice of Jonathan Groff) and his loyal reindeer Sven"to find her sister Elsa (voice of Idina Menzel), whose icy powers have trapped the kingdom of Arendelle in eternal winter. Encountering Everest-like conditions, mystical trolls and a hilarious snowman named Olaf (voice of Josh Gad), Anna and Kristoff battle the elements in a race to save the kingdom. The film is directed by Chris Buck ('Tarzan," 'Surf's Up") and Jennifer Lee (screenwriter, 'Wreck-It Ralph"), who also wrote the screenplay. It is produced by Peter Del Vecho ('Winnie the Pooh," 'The Princess and the Frog"). Featuring original songs from Tony® winner Robert Lopez ('The Book of Mormon," 'Avenue Q") and Kristen Anderson-Lopez ('In Transit," 'Winnie the Pooh"), and an original score by Christophe Beck ('The Muppets," Oscar®-winning short 'Paperman").
Frozen
Release Date: December 26th, 2013
Creating A Contemporary Classic
Filmmakers Build Contemporary and Engaging Story Inspired by Beloved Tale

'Frozen" embraces core elements from Hans Christian Andersen's 'The Snow Queen," a tale first published in 1845 that has sparked the interest of Disney filmmakers dating back to Walt Disney himself. The idea, of course, was to capture the sentiment and themes of the original story, but in the spirit of Disney classics like 'The Little Mermaid""another of Andersen's tales, which was adapted for the big screen in 1989"allowing the filmmakers the creative freedom to be inspired to tell their own story.

A story of the struggle between good and evil, Hans Christian Andersen's 'The Snow Queen" depicts a shattered mirror that causes a young boy, Kai, to view the world in a negative way. Director Chris Buck decided to take on the story a few years ago. 'We were inspired by that struggle and appreciated the overall message Andersen is sharing," says Chris Buck. 'We were also drawn to Gerda, the girl in the story who wants to save Kai. Her core characteristics"optimism, love, strength and determination"began to form what would become Anna."

But the story team was stumped by the Snow Queen herself. According to Jennifer Lee, who first joined the team as a writer and was later tapped to direct with Chris Buck, Andersen's version of the title character was somewhat mysterious. 'She's more symbolic in nature in the original story," says Jennifer Lee. 'We knew that she'd need her own voice in -Frozen.'.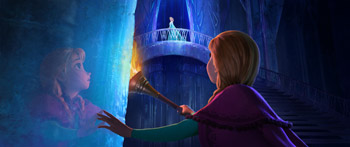 'We wanted the movie to be both timely and timeless," continues Jennifer Lee. 'We were going for something contemporary that everyone would understand and we realised that fear is so often the very thing that gives us a negative outlook, that threatens our relationships. Every single scene, in its own way, supports our themes of family and love, and real love versus fear. And it's fear that drives Elsa."

Elsa's inability to handle her power to create snow and ice is revealed when she and Anna are playing as children. Elsa's magic delights young Anna"the girls build a snowman they name Olaf and play amidst wild slopes of snow inside their home. But the magic gets out of Elsa's control and injures Anna. Elsa lives each day thereafter in fear she'll hurt Anna again, and as a result, avoids the one person she loves most. 'Anna, who has no memory of the event, grows up trying to reach out to Elsa," says Chris Buck.

Kristen Anderson-Lopez and husband and writing partner Robert Lopez, who worked hand-in-hand with the directors and story team, were struck by the image of Anna getting shut out by her sister. 'What could get you more on that girl's side than seeing doors slam in her face all throughout her childhood?" asks Kristen Anderson-Lopez.

'We needed to tap into Anna's emotions," continues Kristen Anderson-Lopez. 'We needed to understand her and show what's missing from the world of this goofy, optimistic young woman. That moment in the film when we see the two sisters on either side of the closed door is one of the most revealing moments in the movie."

The filmmakers realised that the morning of Elsa's coronation would represent a new beginning for Anna. The story team wanted to introduce the now-grown-up Anna with a song, but it proved to be a tall order. 'This particular song was a tough nut to crack, because it had to do a lot of things," says Kristen Anderson-Lopez. 'It had to introduce Anna as an optimistic, active person, but also as someone with a need to be filled over the course of the movie."

The solution"and title of the song, 'For the First Time in Forever""came from a story-room conversation when someone said the words -for the first time in forever' as part of a story point, catching the ear of president of Walt Disney Music Chris Montan. 'I said, -That's it! That's Anna's song!'" says Chris Montan. 'It was just one of those moments. -For the first time in forever, I'm going to be free. I might meet somebody. I might live my life.' It was really exciting."

The song ultimately illustrates Anna's desire for connection, while showcasing just how far apart she is from big sister Elsa. The story of broken family bonds takes a turn when Anna confronts Elsa, inadvertently setting free her sister's stifled emotions and sparking a wintry outburst that reveals to everyone Elsa's long-kept secret. Elsa flees Arendelle, leaving a cold and icy kingdom in her wake"and finding the freedom she's craved.

That freedom actually became the defining moment for the film's music, said songwriter Robert Lopez. 'Let It Go" was the first song that the filmmaking team embraced. 'That was our lynchpin," says Robert Lopez. 'We wanted to write the biggest, beltiest diva number we could channel because we knew we had Idina Menzel"who just knocks it out of the park"and we knew her character Elsa was experiencing something epic in her life."

The song resonated with filmmakers"so well, in fact, that it made them rethink scenes leading up to the moment. '-Let It Go' was the first song that we all knew belonged in the film because it helped shape Elsa's character," said Jennifer Lee. 'It delivers such a poignant and powerful message about how she's feeling that we needed to back up and earn that song"to show how she finds herself in that place at that time."

The realisation of Elsa's long-kept secret inspires Anna to take drastic measures to make things right. Her journey to find Elsa leads her to seek assistance from Kristoff, a rugged mountain man who'd rather not join the adventure. Kristoff and Anna face fierce weather, wolves"and a strangely familiar snowman named Olaf, who takes them"and the audience"by surprise. 'When Elsa flees Arendelle," says Jennifer Lee, 'she starts playing with the very magic she's been hiding for so long. The snowman she creates comes from memories of the happy times she shared with Anna when they were young. Olaf represents that pure innocence and childhood joy. The minute we imbued him with that, he just took off. He's funny in a way that children are funny. He's completely unaffected by the world. He's the one character who isn't struggling with fear versus love. He is love."

According to Del Vecho, Olaf exemplifies the real beauty of 'Frozen." 'It's chock full of left turns. Though it has everything that audiences will expect from a Disney film"it's fun and full of heart"it also takes you in unexpected directions. That's what I love about this movie."

Who's Who In Frozen
Cool Cast of Characters Are Brought to Life with Engaging Performances

The cast of characters for 'Frozen""and their diverse personalities"emerged over time, says director Chris Buck. 'With comedy, action, adventure and emotion in this film, our characters needed to have great depth," he says. 'We wanted them to feel real"even in a magical world"so that they could make a personal connection to the people watching."

The characters of 'Frozen" were brought to life by a talented roster of actors, who provided their voices. A skilled and creative group of artists and animators were behind the look and performances, striving for the kind of nuanced acting that is both moving and memorable. Lino DiSalvo, who is head of animation for the film, actually brought in acting coaches to help improve the performances created by his team of more than 60 animators, providing everything except the character's voice. 'Our goal for this film was to raise the bar," says Lino DiSalvo. 'We want to find truth and believability in the acting. We want the audience to see each character's soul when we're done."

With the help of the acting coaches, Lino DiSalvo and his team studied each character thoroughly. 'We'd ask, -What was she like before the movie started? How is he changing over the course of the film? Who are they destined to become?' We got to know each character inside and out," says Lino DiSalvo.

Advanced facial rigging allowed artists to develop authentically subtle performances. Artists were able to shape and sculpt the facial expressions of their characters in all new ways, and in many cases, less was more: the slightest change in expression might speak volumes. 'Frozen" offered animators more controls, which allowed micro expressions that could silently reveal the thoughts behind a character's eyes.

Animators were also privy to special sessions with members of the voice cast, who shared with them critical elements of performing"like when and how a singer takes a breath during a song"that helped the animators bring the characters to life like never before.

The Lineup
ANNA is more daring than graceful and, at times, can act before she thinks. But she's also the most optimistic and caring person you'll ever meet. She longs to reconnect with her sister, Elsa, as they were close during their childhood. When Elsa accidentally unleashes a magical secret that locks the kingdom of Arendelle in an eternal winter, Anna embarks on a dangerous adventure to make things right. Armed with only her fearlessness, a never-give-up attitude and her faith in others, Anna is determined to save both her kingdom and her family.

'She represents a lot of the girls I grew up with," says director Jennifer Lee of Anna. 'We can relate to her as a true female hero of today. She's strong and fearless"in her own way"but she has flaws. She's not perfect and I love that about her. She, as a character, really evolved along the way, becoming what she's meant to be: empowered, yet playful with her own unique sense of humor." Jennifer Lee credits Kristen Bell with bringing the character to life in such an organic way. 'Kristen Bell has such warmth and humor"it's so relatable and so Anna."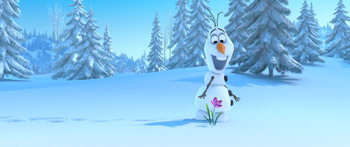 'Anna's a little awkward," says Kristen Bell. 'She's very goofy"easily excitable. She often speaks before she thinks. She's a little more, in my opinion, human than what you might expect."

Animation supervisor Becky Bresee, who headed up the animation for Anna, turned to one tool she uses often to achieve very human performances: herself. 'Instead of doing thumbnails, I actually make videos of myself acting a scene out. I usually film myself dozens of times to make sure I'm getting the exact performance that I want"though I almost always end up going back to my first take because it's the most honest."

Producer Peter Del Vecho tips his hat to the advanced rigging available for 'Frozen" that helped animators achieve truth in acting. 'There's a simple scene in which Anna meets Hans," says Peter Del Vecho. 'At the end of the sequence, Anna looks back at Hans and, with hardly any movement, it's clear that she's falling in love. She sighs, which usually makes everyone break out in laughter because they know exactly what she's thinking. It's that type of subtle animation that we're improving with each film."

From the outside, ELSA looks poised, regal and reserved, but in reality, she lives in fear as she wrestles with a mighty secret"she was born with the power to create ice and snow. It's a beautiful ability, but also extremely dangerous. Haunted by the moment her magic nearly killed her younger sister Anna, Elsa has isolated herself, spending every waking minute trying to suppress her growing powers. Her mounting emotions trigger the magic, accidentally setting off an eternal winter that she can't stop. She fears she's becoming a monster and that no one, not even her sister, can help her.

Idina Menzel brought warmth and likability to what might otherwise have been a cold character"by definition. 'Idina has a sense of vulnerability in her voice," says Chris Buck. 'She plays a very strong character, but someone who lives in fear"so we needed someone who could portray both sides of the character, and Idina was just amazing."

Idina Menzel says she finds her character unique. 'Elsa is the Snow Queen; she could easily be perceived as a villain, but that's not who she is. She's extremely complicated and misunderstood. She actually banishes herself from her home to avoid hurting others, and in return, she finds the liberation to celebrate who she is."

The celebration is marked by the song 'Let It Go," and the character undergoes a profound transformation"inside and out. 'Before -Let It Go,'" says character design supervisor Bill Schwab, 'Elsa is really buttoned up, her hair is up"everything is perfect. During the song, she gives herself permission to be who she is and everything changes"her hair is more wild, her gown is magical. She's finally free"even if she is all alone."

According to Paul Briggs, head of story, Elsa's new-found freedom"and the journey Anna takes as a result"showcases one of the film's key themes: family. 'The one person Elsa most needs on her side when her secret is finally revealed is her sister," says Paul Briggs. 'The strength of the family bond is what makes this story so powerful, because it's her sibling who's willing to look beyond her powers and stand between her and the world if that's what it takes. She just has to find a way to let that happen."

KRISTOFF is a true outdoorsman. He lives high up in the mountains where he harvests ice and sells it to the kingdom of Arendelle. Rough around the edges, Kristoff's the strong, no-nonsense type, who follows his own set of rules. He may seem like a loner, but he always has his best friend by his side"a loyal and extremely mangy reindeer.

Voiced by Jonathan Groff, Kristoff promises to raise a few eyebrows"in a good way. 'Kristoff is an interesting guy because he doesn't have a lot of social graces and he's not great with people," says Jonathan Groff. 'Yet he's still charming"he just doesn't realize that he's charming because he spent so much of his time alone."

'We liked the idea of an atypical Disney protagonist," says Chris Buck. 'He's just a regular guy. He's messy and dirty and unexpected. He lives in the mountains outside Arendelle and his best buddy is a reindeer named Sven."

'Kristoff is really important to the story because he has no problem challenging Anna's point of view," says Jennifer Lee. 'We knew we'd need someone like Jonathan who people would like even when he disagreed with her. And Jonathan"that voice ..."

'Everyone just fell for him," adds Chris Buck. 'He brings this likable charm to the character. He's very easy going"an every-man kind of guy."

According to Schwab, Kristoff's look"much like the setting of the film"was inspired by Norway. 'We knew he was a mountain man"a live-off-the-land extreme guy," says Schwab. 'So we gravitated towards the Sami culture in Norway and really pulled from that in terms of costuming.

'We wanted a guy who was a little rough around the edges," continues Schwab. 'But he's a very strong guy who you'd want with you on an epic journey."

A reindeer with the heart of a Labrador, SVEN is Kristoff's loyal friend, sleigh-puller and conscience. He makes sure his mountain-man companion is the stand-up guy Sven knows and loves, and does so without saying a word. A few emphatic snorts usually get his point across. Life would be perfect if only Kristoff would lose that ridiculous reindeer voice he likes to use when speaking for Sven (as if reindeers really talk that way).

'Sven's a very loveable 600-pound version of a Labrador," says Lino DiSalvo. 'We had a real reindeer come to the Studio, but once we brought him in, we realized that reindeer sometimes don't do very much. So we decided to have some fun with Sven. Whenever Kristoff is doing Sven's voice we have Sven's expressions echo what Kristoff is saying."

Lino DiSalvo says artists were able to study the physical makeup and mannerisms of the visiting reindeer, which were later caricatured in the making of Sven. The reindeer also showcased an unexpected technique for taking care of an itch on his ear: he used his back legs"like a dog might do. Sven later adopted the technique, in addition to his habit of panting, which filmmakers observed in footage of Alaskan reindeer.

Sven, of course, inspires the lullaby-ditty 'Reindeer(s) Are Better Than People," which Kristoff sings to him"and with him"just after meeting Anna.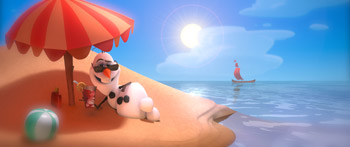 HANS is a handsome royal from a neighboring kingdom who comes to Arendelle for Elsa's coronation. With 12 older brothers, Hans grew up feeling practically invisible"and Anna can relate. Hans is smart, observant and chivalrous. Unlike Elsa, Hans promises he'll never shut Anna out; he just might be the connection she's been waiting for all these years.

Santino Fontana was called on to voice Anna's suitor. 'Hans has a good sense of humor," says Santino Fontana. 'He's slightly awkward"but in a good way, which is a good match for Anna. They find each other at a perfect time because they both need someone to say, -You're OK.'"

Kristen Anderson-Lopez and Robert Lopez wrote 'Love Is an Open Door" to showcase the spark between Hans and Anna. 'This song explains why Anna would rush into marrying somebody who she only knew for a day," says Kristen Anderson-Lopez. 'If she had a whole life of doors in her face and this one night a door opens, she's going to run through it as fast as she can because she's been craving love for so long."

Adds Robert Lopez, 'Not only did you have to understand why she would make such a rash decision, but you have to agree with that decision. We want the audience to say, -Yeah, Hans is great, she should marry that guy.' That's why the song is so sunny and happy."

He's OLAF and he likes warm hugs. Sprung from Elsa's magical powers, Olaf is by far the friendliest snowman to walk the mountains above Arendelle. His innocence, outgoing personality and uncanny ability to disassemble himself at good and not-so-good times lead to some awkward, albeit laughable moments. He may also have the world's most impossible dream, but what he doesn't know won't melt him"or will it?

Josh Gad lends his voice to the affable snowman. 'While technically he doesn't have one, Olaf's got the biggest heart in the world," says Josh Gad. 'He lives to love. And he really cares deeply about these new friends he's found"Anna, Kristoff and Sven. The joy that he has in experiencing this family for the first time is the truth of the film that the audience will relate to the most."

'Olaf went through many iterations in development," says Jennifer Lee. 'He had so much potential. We found him as soon as we asked, -How does a snowman think?' I started writing Olaf as a pre-teen boy"maybe 12"who's playful, direct, more sophisticated than a little boy, but still innocent. Then Josh Gad came in and we decided to play with the character in the scene in which Anna and Kristoff meet him for the first time. We had a blast adlibbing and discovering exactly who Olaf is. It was perfect. We never re-recorded that scene.

'There's something so poignant and emotional about Olaf that makes him effortlessly funny," Jennifer Lee continues. 'I don't think anyone could do that but Josh."

'We want to ground the comedy and drama within the characters and situations," adds producer Peter Del Vecho. 'Olaf is one of the funniest characters in the movie, but he also has an innocent view of the world, which allows him to say things that go right to the heart very quickly."

Filmmakers hoped to take full advantage of what Olaf offered in terms of his snowman construction, so they called on the technology team to create software called Spaces that allowed artists to deconstruct the character"and rebuild him"as part of the animation process. 'For the animation team, Olaf was like a giant toy box," says Chris Buck. 'He's made up of three balls of snow that can break apart and come together in different ways. His eyes can move around, his nose can slide in and out and off. His stick arms came off. Animators could do anything with him."

Another technological advance that benefited Olaf's look was proprietary software called Flourish. The program allows artists to more easily add that extra bit of movement"like the jiggle of the twigs atop Olaf's head.

What the DUKE OF WESELTON lacks in stature, he makes up for in arrogance and showboating. He's determined to get close to the new queen"that is, until Elsa's magical secret is revealed. Then he's the first to call her a monster and try to turn her own kingdom against her"anything that might help him exploit Arendelle's tradable goods.

'The Duke fancies himself a looker," says Alan Tudyk, who voices the character. 'He shows up for Elsa's coronation with the rest of the area's dignitaries, and when he finds himself stuck there after she freezes the fjord, he hits the panic button for the whole kingdom."

'He's that person that you like watching because it's fun to root against him," says Loin DiSalvo. 'On the surface, he seems harmless, but he has ill intentions. There are two sides to him, which makes him scarier than your average villain."

Lion DiSalvo and his team referenced themselves for the Duke's dance scene. 'He's trying to get information out of Anna while doing some ridiculously silly dance moves," says Lion DiSalvo. 'We have animators who are really great at physical comedy; they shot reference of themselves dancing for that scene. Watching that reference video next to the animated scene is very funny. The team is so talented"maybe not at dancing"but they're great."

PABBIE was born from volcanic rock back when the Earth was still forming. He's pretty much seen it all and might even know it all. He's especially astute when it comes to magic. If you've got a magical problem, Pabbie's your troll. He's a healer, a prophet and an artist. His greatest work can be seen in the Northern skies most nights, namely the Aurora Borealis.

According to Lee, Pabbie and the rest of the trolls sprung from Hans Christian Andersen's original tale. 'Our trolls are more benevolent than those in -The Snow Queen,'" she says. 'But it was important to us that we not only included these mystical characters, but in a way that paid respect to the Norwegian folklore. We brought in experts to help us understand Scandinavian culture and the role of trolls in their stories."

Ciarán Hinds provided the voice of Pabbie, who serves as the patriarch of the trolls" ancient creatures who might be found in the Valley of the Living Rock, but only if they want to be found. Trolls are masters of minerals and yielders of the night sky. They are also overbearing, loud, meddlesome, inappropriate and heavy"really heavy. But they mean well and love well.

MARSHMALLOW is an enormous icy snowman born from Elsa's powers. He serves as a brute bodyguard charged with keeping intruders away from her ice palace. The menacing snow beast doesn't say much, but he packs a powerful punch.

According to Schwab, Marshmallow's look was a challenge. 'We started with a simple snowman"three snowballs," says Schwab. 'We tried to make something scary, but the original design didn't really line up with his ferociousness. At one point, he was a shape-shifting snow creature that grew out of the ground. We played with ice armor; he traveled underground for a while. Ultimately, the idea emerged that he would be an ice monster with snowdrifts on him. He is a big ice skeleton covered in snow, which seemed a lot scarier for some reason."

OAKEN, who's voiced by Chris Williams (co-director, 'Bolt"), runs Wandering Oaken's Trading Post and Sauna. But with Elsa's massive winter storm hitting in mid-July, he finds himself with a surplus of summer supplies. Deal-seekers beware: though he's good-natured and helpful, if you cross him, Oaken won't hesitate to throw you out of his humble establishment.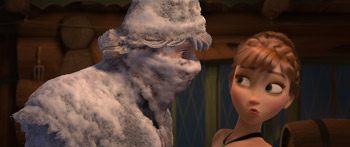 'Oaken is a big sweetheart," says Schwab. 'He's a 7-footer, maybe 350 pounds, which you can't tell when he's behind the counter. We just wanted him to be this funny, sweet, good-natured guy with bright blue eyes and a comical Christmas sweater that was inspired by something I saw at the mall"so Oaken's on trend."

Filmmakers Set The Stage For Epic Adventure
Research and Top-Notch Technology Combine to Get the Look of 'Frozen"

The 'Frozen" script called for a dramatic setting, complete with ice and snow, fjords and mountains. Filmmakers took a cue from Hans Christian Andersen's original tale, which was set in Scandinavia. The production team referenced details from their extensive research trip to Norway for the fictional kingdom of Arendelle, which sits on a fjord and includes elements of classic Norwegian architecture like its stave church. The steep, majestic backdrop serves as the perfect setting for Anna and Kristoff's journey.

The inspiration extended beyond the setting and influenced the look of the characters and the costuming, including elaborate rosmaling details discovered in native garb, as well as the braided hairstyles.

Extensive research was conducted and members of the 'Frozen" team consulted with experts to create a world that was both believable and inspiring. Many of the elements"from the snow and ice to the braids worn by Anna and Elsa"required significant technological advances to make the final look possible.

The Setting

'It's a road movie of sorts, so the setting is integral to the story," says director Chris Buck. 'One of my first mentors was a man named Eric Larson, who's one of Walt Disney's Nine Old Men. Eric Larson always said, -We don't have to create a real world, but we do have to create a believable world.' So while our setting isn't meant to replicate Norway"we wanted to pay tribute to it and yet make it our own"it will feel familiar to audiences and ground our characters in a place that makes sense."

When art director Mike Giaimo began his work on the film, his initial explorations included a lot of research in books dedicated to Scandinavian countries and cultures, and even a trip to Solvang, Calif. At that early stage of his process, he'd identify imagery he liked without considering the specific locales. But after the trip to Solvang, Giaimo decided it was time to zero in on an area. 'Embracing a culture or place as a starting point often ensures a certain truthfulness to the end result," he says. 'When I started reviewing all the visuals that appealed to me, it was very interesting, because 80 percent of them were Norway visuals.

'We wanted to create an intimate world with an enchanting and dynamic setting that would be immediately identifiable for generations to come," Mike Giaimo continues. 'Norway offered a cultural backdrop we'd never explored before and we thought, -Wouldn't it be great to blend its dramatic natural environment, architecture and folk costume aesthetic?' It feels like a world from a classic Disney film, but it's completely new."

Mike Giaimo and his team traveled to Norway to soak up the atmosphere, check out the architecture, research the local culture and mythologies, and garner inspiration from the environment for their fictional kingdom of Arendelle. Via cars, trains and boats, they visited fortresses, castles, shops, museums, cathedrals, fjords and glaciers. To gain insight for Arendelle's castle, the team visited Oslo's medieval Akershus Castle, and the city of Trondheim's Stiftsgården Royal Palace, one of the largest wooden buildings in Scandinavia. Artists took boat tours in the Geirangerfjord and Sognefjord, which at 205 kilometers, is the longest fjord in Norway (and third longest in the world). Fjords are a well-known spectacle of the Norwegian landscape. In fact, the Geirangerfjord and the Nærøyfjord are on the UNESCO World Heritage list.

With a clear picture in mind of what the film would look like, filmmakers began exploring ways to make it happen. And one of the key tasks at hand was making it snow.

Let It Snow!

With a film inspired by a story called 'The Snow Queen," filmmakers knew from the beginning that 'Frozen" would feature a wintry setting. It was one of the factors that first drew director Chris Buck to the project. 'This story gave us the opportunity to create a world that audiences could do more than just see and enjoy"we could make a place that they could feel"a place they'd want to go to and experience along with the characters.

'But as much as a snowy, icy backdrop offers this beautiful blank slate where anything is possible," continues Chris Buck, 'it's really tough to get it right, to make it believable, to base it in reality, and then take it somewhere magical."

So the team at Walt Disney Animation Studios"from technology to art direction to animation and special effects"had to learn how to make it snow"literally. Among the first challenges was achieving the right look for the varied textures of snow"wet snow, fluffy snow"and ensuring it reacts like snow should when it makes contact with feet and clothing. According to principal software engineer Andrew Selle, in 'Frozen," the snow was treated like a primary character, and as such got some special attention. 'We asked, -How does snow behave and what are its essential properties?'" says Andrew Selle. 'It's not really a fluid. It's not really a solid. It breaks apart. It can be compressed into snowballs. All of these different effects are very difficult to capture simultaneously, so we needed a simulator to do it for us. We developed a snow solver technology called Matterhorn."

The tool was particularly useful when characters walked through deep snow, ensuring that the snow reacted naturally to each step. 'We thought we'd use it on a few shots," says effects supervisor Dale Mayeda. 'But the results have been just staggering, so we've used it throughout the production."

Dale Mayeda and fellow effects supervisor Marlon West were among the team of artists that traveled to Jackson Hole, Wyo., to experience deep snow. They donned various attire"including long skirts"to capture the impact created by their steps and how snow interacts with clothing. 'We have characters walking around in ankle-deep, knee-deep, waist-deep snow," says Marlon West. 'So we were willing to do anything"even wear skirts in the snow"to better understand how that should look and feel."

For more shallow snow, a special tool was developed called Snow Batcher, which helped artists create imprints in the snow and the bits of snowy debris that are created when trudging through the snow. Filmmakers also consulted with snow experts to ensure authenticity in their recreation. Dr. Ken Libbrecht from Cal Tech was called on to share his vast knowledge about snowflakes and how they grow. Ken Libbrecht, who actually grows snowflakes in a controlled environment and documents the phases of growth on video, explained how humidity and other conditions affect the process of branching and plating, which is why no two snowflakes are alike. His expertise helped filmmakers develop 2,000 unique snowflake shapes for 'Frozen." They also replicated the branching and plating concept in the creation of Elsa's ice palace.

Ice House

Filmmakers knew early on that once Elsa's secret powers were revealed, she would use her magic to construct a majestic ice palace. 'We sent several members of the production team to Quebec City to an Ice Hotel to get a feel for how light reflects and refracts off snow and ice," says producer Peter Del Vecho.

The structure, which is built annually and stands for just four months, is made of 15,000 tons of snow and 500,000 tons of ice. Some walls are as thick as 4 feet. 'It's cold," says Buck, who visited during production. 'It was incredible watching how the sunlight refracted through the ice. That was the moment we knew Elsa's palace could be really spectacular."

But it wasn't easy. 'For one single shot in which Elsa builds her palace, 50 people worked on the technology required to execute that shot," says Jennifer Lee. 'And the shot is so complex that just one frame takes 30 hours to render. That's a perfect example of how much this team is putting into this movie. And it really shows. It's just beautiful."

The sequence required specialized lighting and choreography that made the palace literally spring from Elsa's magical movements. Ice is very difficult to make believable"to differentiate it from the look of glass or plastic, says director of cinematography, look and lighting, Mohit Kallianpur. 'Ice is a very refractive medium with a lot of light going through and bending, and so we had to use ray tracing a lot more than we have ever done before, as well as coming up with other techniques."

New shaders were created for 'Frozen" to allow artists to apply textures like frost to the ice for a more naturalistic look. They also introduced tools called modifiers so artists could more easily change the look of the ice"from clear to frosty to clear again within a single sequence.

'The scope and scale of this film is huge," says Mohit Kallianpur. 'From the number of characters to the number of costumes and hairstyle changes each character has"it's unprecedented."

All Dressed Up

Giaimo and his team were inspired by Norwegian bunad"traditional folk costumes that feature elaborate and colorful designs. The look required some technical preparation, however, due to the highly detailed and layered looks.

Layers are not easily understood in the CG process, so advances were made to build costumes in a different way to ensure authenticity in both the look and movement of the costumes. The film has more than two times the number of cloth rigs represented in every WDAS CG feature film prior to it"combined. The result is more sophisticated, dynamic and believable clothing for each and every character (even background characters).

Additionally, filmmakers constructed the costumes in 'Frozen" utilizing digital pattern-making techniques and introduced the real-world properties of fabric to ensure that costumes behaved on screen much like they would in a live-action production.

Artists were able to blend the traditional look inspired by Norway's rich culture and work their own magic. 'We combined the authenticity of the Norwegian bunad with a kind of Hollywood glamour to get a look that was distinctly ours," says Mike Giaimo.

For example, rosemaling, a style of decorative folk art found throughout Norway's history, appears throughout the film"on clothing, within the architecture and is even evoked in Elsa's magic and her icy creations. But for Giaimo, it's Elsa's Snow Queen costume that tops the glamour category. 'It's probably the most stunning outfit in the show and perhaps the most stunning that's ever been done in CG."

The look, which was a huge challenge to create, went through many iterations, says the art director. The crowning detail"so to speak"was a 12-foot cape. 'It's this elusive cape made of ice crystals," says Mike Giaimo. 'The back features her large signature snowflake with smaller ancillary snowflakes."

Topping It Off

The characters in 'Frozen" were given traditional hairstyles that evoked the Norwegian cultural inspiration. The introduction of braids"and the number of styles featured"proved challenging to the production team.

Filmmakers took advantage of their Southern California location when it came time to capture Elsa's newfound boldness upon fleeing Arendelle. Celebrity hairstylist Danilo hit the Burbank studios to experiment with various styles, which ultimately led to Elsa's eye-catching look. At 420,000 hairs, Elsa has more than four times the number of hairs as the average human. (The famous locks of Rapunzel in 'Tangled" had 27,000 very long hairs.)

For Elsa and Anna's more traditional styles, the challenge required even more resources. Though it might seem that 'Tangled" presented the WDAS team with the biggest challenge when it came to hair, 'Frozen" actually takes hair to new lengths. A program called Tonic (created by senior software engineer Brian Whited"the creator of the Meander software that made Disney's Oscar®-winning short 'Paperman" possible) was developed that helped artists group the hairs on the characters' heads and direct them in desired ways. 'Once Tonic was up and running, our look artists, who groom the hair, were building a first pass at styles like Elsa's detailed coronation braids in a few days," says character CG supervisor Frank Hanner. 'Before Tonic, it would've taken several weeks."

The volume-based sculptural representation of hair was essential in styling the culturally appropriate looks of the core characters. The existing comb/brush technique wouldn't work for braids; with Tonic, artists could push and pull volumes of hair, which was effective for both the braided looks and others (like Anna's serious bedhead style early in the film). But filmmakers didn't reserve Tonic for the film's female leads. It was also utilized for parts of the wolves and horses. Even Sven's shaggy neck hair got the Tonic treatment.

Frozen Score Soars
Composer Christophe Beck Creates Score to Complement Lopez Lyrics

Composer Christophe Beck, whose diverse talents are evident by a resume that includes the Oscar®-winning 'Paperman" and the 'Hangover" trilogy, provided an epic score for 'Frozen." 'The people at Disney really value music," says Beck. 'And in animation, versus live action, the music is really integral to the storytelling"it does some of the heavy lifting when it comes to communicating the emotion."

Beck's score complements eight original songs written by Kristen Anderson-Lopez and Robert Lopez, including 'Frozen Heart," 'Do You Want to Build a Snowman?" 'For the First Time in Forever," 'Love Is an Open Door," 'Let It Go," 'Reindeer(s) Are Better Than People," 'In Summer" and 'Fixer Upper."

Beck paid homage to the Norway-inspired setting, referencing regional instruments such as the haunting bukkehorn and vocal techniques like kulning, which is a traditional shepherd's herding call. 'With -Frozen,'" he says, 'we had the setting to draw from"these incredible icy snowy vistas, which are very evocative. The region provided us with lots of really cool and interesting sound to explore that I'd never heard"I don't think many people outside of the region have either."

Filmmakers recruited a Norwegian linguist to help with the lyrics for an Old Norse song written for Elsa's coronation. And the team even travelled to Norway to record the all-female choir Cantus for a piece inspired by traditional Norwegian music. 'Christophe added a layer of authenticity to this world with very special voices and an extraordinary musical language that respects the songs and enhances the storytelling," says director Jennifer Lee.

The score, which was recorded by a full 80-piece orchestra, features 32 vocalists"including native Norwegian Christine Hals, whose rural upbringing inspired her kulning skills.

Beck worked with Anderson-Lopez and Lopez on some of the songs' arrangements and in incorporating their melodies in the score, often doing so in a unique, but recognizable context. According to director Chris Buck, the collaboration went even further for 'Do You Want to Build a Snowman?" 'The song reflects Anna's side of the story"which is sung by Kristen Bell, Agatha Lee Monn and Katie Lopez as Anna, and written by Bobby and Kristen"and Elsa's side, which is represented by Christophe's score. It is all woven together beautifully," says the director. 'And the melody returns at the end of the film in a really grand and moving way."

'Our goal," adds Beck, 'was to create a cohesive musical journey from beginning to end."

Cool Soundtrack

The 'Frozen" original motion picture soundtrack listing follows.
1. 'Frozen Heart" Performed by Cast
2. 'Do You Want to Build a Snowman?" Performed by Kristen Bell, Agatha Lee Monn and Katie Lopez
3. 'For the First Time in Forever" Performed by Kristen Bell and Idina Menzel
4. 'Love Is an Open Door" Performed by Kristen Bell and Santino Fontana
5. 'Let It Go" Performed by Idina Menzel
6. 'Reindeer(s) Are Better Than People" Performed by Jonathan Groff
7. 'In Summer" Performed by Josh Gad
8. 'For the First Time in Forever" (Reprise) Performed by Kristen Bell and Idina Menzel
9. 'Fixer Upper" Performed by Maia Wilson and Cast
10. 'Let It Go" (Demi Lovato Version) Performed by Demi Lovato
11. Vuelie (Featuring Cantus) Score
12. Elsa and Anna Score
13. The Trolls Score
14. Coronation Day Score
15. Heimr Àrnadalr Score
16. Winter's Waltz Score
17. Sorcery Score
18. Royal Pursuit Score
19. Onward and Upward Score
20. Wolves Score
21. The North Mountain Score
22. We Were So Close Score
23. Marshmallow Attack! Score
24. Conceal, Don't Feel Score
25. Only an Act of True Love Score
26. Summit Siege Score
27. Return to Arendelle Score
28. Treason Score
29. Some People Are Worth Melting For Score
30. Whiteout Score
31. The Great Thaw (Vuelie Reprise) Score
32. Epilogue Score


Frozen
Release Date: December 26th, 2013