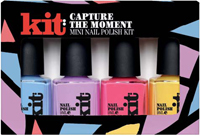 Capture the Moment with Kit Cosmetics' new seasonal makeup collection.
Inspired by the revival of retro cameras and photography's ability to capture the moment, this collection evokes a mood of free-spirited fun and embracing the now. Playing with light and colour, this collection features the shades of the moment framed in a modern aesthetic.

The new limited edition Capture the Moment Mini Nail Polish Kit contains four mini nail polishes (9ml):
Let Loose Lemon
Play Down Musk
Phase in Sky
High Impact Melon
RRP: $29.95

Nail the whole collection in this limited edition quartet featuring the shades of the season in good-to-go sizes.