Live Streaming of Lingerie Fashion Parade with Real Women Goes Viral
Australian lingerie retailer for big and curvy women, Big Girls Don't Cry Anymore, has launched its latest online innovation, Big Girls TV, and it is creating quite an impact across the country.

Big Girls TV is an online lingerie show for big and curvy women delivered via the internet. Shows include the live streaming of lingerie fashion parades and other informational segments using real-life everyday Australian women as models and the inclusion of a presenter who comperes the segments and responds to questions real time sent in from viewers during the course of the show. The team at Big Girls Don't Cry Anymore affectionately call the new online TV channel 'BGTV'.

Big Girls TV recently delivered its first-ever live fashion parade and already the show has been viewed over 250,000 times and the view rate is growing by the day.

"Big Girls TV is designed to provide the women of Australia with a lingerie fashion parade that real women can relate to and access from anywhere, as long as they have an internet connection," Big Girls Don't Cry Anymore founder, Karen Edbrooke, said today.

"Our models come in all different shapes and sizes. The one thing they all have in common is that they don't look anything like the stock standard stick models that women are so used to seeing in glossy magazines and bra advertisements. Our models reflect the real women of Australia."

Since launching the innovative concept, Big Girls TV, viewership has soared and sales are going through the roof for Big Girls Don't Cry Anymore.

"The latest Big Girls TV live fashion parade is being shared by women all over the country," Karen said.

"Women can actually relate to the models, and their shape, and they feel comfortable knowing that our bras will fit their body shape – and there's no judgement."

Big Girls TV's next live fashion parade, which is taking place on Saturday, 26 October, is going to focus on swimwear for women of all shapes and sizes.

Karen and her team are expecting the show to attract over half a million views from women all over the country, which is more viewers than many national television shows get.

Big Girls Don't Cry Anymore caters to women of all shapes and sizes, and has built a large social media following as a result. Their page on Facebook currently has over 100,000 'followers'. Their Brisbane store was founded by Karen Edbrooke in 1992 and has grown to become a national brand.

"I founded Big Girls Don't Cry Anymore after realising the difficulties that larger and curvier women faced in finding lingerie that fits their size. The reason we have stayed open so long is our willingness to innovate and adapt to the times," Edbrooke said.

Big Girls Don't Cry Anymore sells bra sizes 6 to 36, and cup sizes A to N. They have the largest range of fuller figured bras in Australia. Big Girls Don't Cry Anymore's range of bras are available for shipping to customers in Australia and New Zealand. Their store in Brisbane is only 20 minutes from Brisbane City and the Brisbane Airport. This August, the brand celebrated its 27 years of operation.

"Although we have the largest range of fuller figured bras in Australia, we also cater to smaller curvier women as well. Our services are available to every woman living in Australia and New Zealand, regardless of how big or small they are," Karen added.
www.brastogo.com.au


Interview with Karen Edbrooke, founder of Big Girls Don't Cry Anymore
Question: Can you tell us about Big Girls TV (BG TV)?

Karen Edbrooke: It is an interactive LIVE segment about anything and everything to do with Bras and Swimwear where customers can ask questions while we are live. As an example, during last week's segment, we showed a bra and a customer wanted to know what it looked like on a 16H. Within a few minutes later we had it on a model. We had a live fashion show – and customers from Australia and New Zealand can stop a model on our runaway and ask questions and interact with the live show.


Question: How does it work?

Karen Edbrooke: Live via Facebook and Instagram – and if you miss a segment you can go to our web site and you can watch the past ones.


Question: When did you launch?

Karen Edbrooke: April this year. I have been working on this idea for over two years – and it finally came together and with the help of my staff my visions exceeded expectations.


Question: How did you come up with the idea?

Karen Edbrooke: We are a destination shop and customers are always asking wish you had a shop near me etc – and it is very hard to duplicate our shop in Brisbane. I wanted to bring our shop to them and involve them no matter where our customers live. I want women to feel as though they can access quality services, support, guidance and products regardless of where they are or what day of the week it is.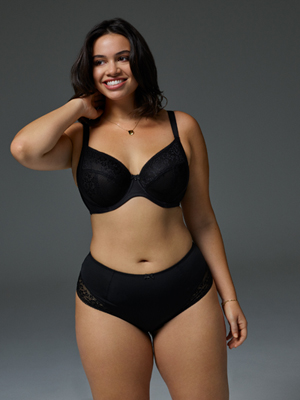 Question: How popular has it been?

Karen Edbrooke: Our small segments can get around 30 to 70K views across all platforms – our first LIVE full fashion parade has been viewed nearly 260k times and this figure is continuing to grow. We also involve the customers and ask what they want to see – we don't use models – we use real women who are our customers, bloggers, staff.


Question: What did you hope to achieve from Big Girls TV (BG TV)?

Karen Edbrooke: We want to bring our shop and our fitting experience to customers no matter where they live in Australia or New Zealand. Even if they don't live near us we want to show them the latest styles – new innovations. Some of our customers have been with us for 27 years and have never been in our shop.


Question: What does the future look like for BG TV?

Karen Edbrooke: Very promising – we have now built our own studio behind our shop – where we do a lot of filming – plus it is where bloggers/influencers can come in and also use the studio at no cost. We have 100K plus Facebook followers in Australia and New Zealand. We really work hard to listen to our customers and understand what they want to make the shows a success.


Question: When is the next event?

Karen Edbrooke: 26th of October around 6.30pm, we will advertise on all our social media the week before. We are going to have a LIVE swimwear fashion show and as usual customers can tune in and ask questions. After the first one there is a lot I want to fine tune and we take on board feedback from our customers.


Question: Can you tell us about Big Girls Don't Cry Anymore?

Karen Edbrooke: Celebrating 27 years we cater for curvy and plus size women in bras and swimwear. We have our own retail store and online shop. We offer over the phone fitting advice, live chat or customers can book in for a virtual fitting.


Question: What originally inspired you to begin Big Girls Don't Cry Anymore?

Karen Edbrooke: I founded Big Girls Don't Cry Anymore at home after recovering from a serious car accident. I had put on 30 kg in one year and found I couldn't get bras to fit me anymore. I did months of research going to the QLD library a few times a week sorting through overseas yellow pages. You have to remember when I started this business there was no social media and we had no google, so had to do it the hard way.


Question: Can you talk us through the creation of the product?

Karen Edbrooke: We mainly import from the USA/UK and we visit our suppliers every six months giving advice on design etc. When we first started we did look at our own manufacturing but it wasn't viable and we couldn't have the range we have today if we did that.


Question: Overall, what has been the biggest lesson you've learnt since starting your own business?

Karen Edbrooke: You are only as good as your worst staff member especially in retail and now with social media. Hire a HR Company to help with staff contracts and put policies into place. You have to work on your business rather than in your business - which after 27 years it is still very hard to do, but I have found this year our business has had a 30% increase from new ideas etc like BG TV just because I of this.


Question: Do you have any advice for others hoping to start a thriving business?

Karen Edbrooke: Do all your research first just don't jump into it. Expect to work the long hours, and you are normally the last to be paid especially when starting out. Social Media must be on top of your list and a plan across all platforms. Start off with the right technology and make sure you have a lease plan that can adjust to your growth. Listen to what you customers want – do surveys with them every six months.

Even after 27 years – we have changed more the past six months than ever before – so much is changing in business and you have to be at the forefront of it. We would have never thought we would have a major growth spurt again – but it doesn't take much – and I wouldn't have been able to do it if I was working in it.


Question: Can you talk us through a typical day for you?

Karen Edbrooke: Start around 5am in the morning and make USA calls with suppliers and check emails as this is their afternoon. Do a quick check on all the social media platforms just to make sure everything is firing and that nothing needs changing. Around 7am have phone meeting with my shop manager – and give her any extra work that the staff need to complete for the day and catch her up on any emails/phone calls from overseas. As we are in a massive growth spurt at the moment I am doing all the purchase orders, to assist staff with our stock holding. As a business owner, you have to be involved where needed. We just launched a new web site a few months ago, but there is so much I want to do with this – so I spend quite a fair bit of time – planning new features and talking to our IT Developers. BG TV is more successful than ever – so we are working on fine tuning this and working out what else we need. I didn't expect after 27 years to still be working long hours – but with everything that is happening it is very exciting and I still have so much I want to do with our shop and website. I do have a home office – so around 7pm, I start doing the UK Emails and phone calls.

I love what I do and I would not change it for the world.


Interview by Brooke Hunter