Judi Dench The Second Best Exotic Marigold Hotel
Cast: Bill Nighy, Judi Dench, Maggie Smith
Director: John Madden
Genre: Comedy, Drama
Rated: M

Synopsis: Two hopeful new arrivals at The Best Exotic Marigold Hotel for the Elderly and Beautiful quickly learn that there is only a single room left to rent.

The Second Best Exotic Marigold Hotel
Release Date: February 26th, 2015
About The Production
"Not only can you be anything you want to be, you have no idea now what you will become.
Don't try to control it. Let go. That's when the fun starts."
- Muriel (Maggie Smith)

Checking In Again

In 2012, the sleeper comedy hit The Best Exotic Marigold Hotel beckoned audiences on a journey with a group of seven British pensioners who 'outsourced" their retirement, taking a risk on a newly opened Indian hotel claiming to cater to the 'Elderly & Beautiful." Though the hotel turned out to have seen better days, the fearless and optimistic residents came to realise that no matter what their age, the best might be yet to come. The Second Best Exotic Marigold Hotel brings together the original cast, headed by Judi Dench, Maggie Smith, Bill Nighy and Dev Patel, with newcomers Richard Gere, Tamsin Greig and David Strathairn.

The original film took audiences by surprise – breaking the mold by presenting a disparate group of ordinary, complicated, funny people embarking on a bold adventure: they also happened to be senior citizens, and were played by some of the finest actors of their generation. The film went on to do record-breaking business in the UK and US, earning more than $136 million worldwide, garnering acclaim and accolades including Best Picture nominations from The Hollywood Foreign Press, BAFTA and Screen Actors Guild (Ensemble Award).

'We were all surprised," recalls Academy Award® winner Judi Dench, reprising the role of Evelyn, who arrived in India a recent widow but now confronted with an unforeseen array of possibilities. 'The first film just seemed to gather momentum and it became this huge success. It's been amazing how many people come up to me to talk about it. So being back in India doing a second one was fantastic."

Bill Nighy, who returns as Douglas, now smitten with the elusive Evelyn, adds: 'I always felt the original story would make a good film, but I couldn't have imagined it would be as successful as it was. It obviously hit the spot with people, and it's very satisfying to get to do this a second time."

It was also satisfying to all involved to be able to bring an often ignored cinematic constituency. 'The appeal I think was that The Best Exotic Marigold Hotel dealt in an irreverent and affectionate way with the lives and relationships of people who are well into their sunset years," comments actress Lillete Dubey who plays Mrs. Kapoor. 'This was one of the very few films that went into that zone in a joyous way, a film that said, -hello, you may be 60 or 70, but life never stops surprising, unless you let it.'"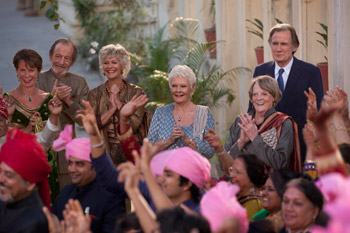 Producers Graham Broadbent and Peter Czernin admit they were initially cautious about a sequel for an indie film that never anticipated anything of the sort. There was a certain boldness to doing something unprecedented: revisiting characters who are not action heroes, or part of a franchise.

'What was so widely enjoyed about the first movie is that it was an emotionally engaging story told with humor," says Graham Broadbent. 'The only reservation we had about making a second was that it needed to be a film of equal merit."

There was only one way to do that: reunite the original team of writer Ol Parker, who had adapted Deborah Moggach's novel about a retirement home in India, and Oscar®-nominated director John Madden, both of whom now knew these characters intimately. Once the duo got together to discuss where a second chapter might take the hotel's residents, the ideas took shape quickly. Sonny's marriage to Sunaina was already implicit at the end of the first film, and the protracted preparation and celebrations of a full-blown Indian wedding became the unifying thread of the new one, throwing into relief the emotional journeys of everyone involved.

Says John Madden: 'Ol and I decided that the wedding preparations should weave through the entire film – reflecting the all-encompassing nature of the classic Indian wedding. So it became a three-part structure, each act leading to a party, with its own pressures and its own distinct repercussions. As they have a habit of doing, weddings provoke everyone to measure their own sense of where they are in their lives. In some ways, we're telling a more intense story than the first film, because now we have the opportunity to follow these characters deeper into their lives."

The director goes on: 'I think this film is really about family – an unconventional family who formed around their own attempts to assimilate into this different culture. Of course it's funny, but it touches other moods as well. The characters are facing the very real decisions and choices that confront people at this point in their lives. It makes for a rich canvas."

Graham Broadbent: 'It became clear that the first film only told half the story. The second script left us with another whole journey to take with each character: 'Muriel, who travels from lonely xenophobe to becoming the centre of a family which until then she'd never had; Evelyn and Douglas, wrestling with conflicting emotional commitments; Madge, still looking for happiness, but not necessarily in the right places; and Norman, the footloose adventurer, tempted and tortured by fidelity. .."

Parker delivered a screenplay that saw each character evolving in funny and unexpected ways, growing not only closer to one another but also to India itself. 'While the first story was more about the culture clash they enter into, here we get to see them experience India as their home," Graham Broadbent says. 'They've become a part of the local life. Douglas has a bike shop and works as a tour guide. Evelyn is developing a textile business. Norman and Madge are running the Viceroy Club. Everyone has a different view of things now."

Graham Broadbent started making calls to gather the cast as soon as the idea of re-visiting the hotel presented itself. He got commitments straight away, long before there anything to read. 'It was like an exercise in trust," he says, 'and actually I think it is a great credit to John Madden and his relationship with these actors that everyone was up for it from the beginning. Then, when we went back to them with Ol's script, there was an immediate full house."

Maggie Smith, the two-time Oscar® winner who makes her return as the salty-tongued Muriel, a character coming into her own at this late date, says: 'The hardest thing you could ever do was try to get this group of actors together again after three years because everybody was dispersed doing different things …so I think it's a very extraordinary thing that it succeeded."

When thinking about who else they might be happy to add to the hotel's roll call, Graham Broadbent recalls one name jumping to the fore: Golden Globe winner Richard Gere. 'Richard Gere was able to bring that kind of instant romantic frisson that has a ripple effect on everyone at the hotel," observes John Madden. 'And his character's circumstance provoked some interesting possibilities."

Adds Graham Broadbent: 'I remember asking Ol Parker and John Madden -who would you most want to walk into the Marigold courtyard' and the instant answer was Richard Gere – so we were delighted that he joined us. The combination of John, the script and the caliber of our actors drew everyone in."

Richard Gere, who plays Guy Chambers, found the invitation to be in the film irresistible. 'I thought the first film was terrific," he says. 'You see fewer and fewer films about the real dilemmas of our lives, so it was a rare thing. And then to see such a really good script the second time around; that doesn't happen all that often. John Madden and Ollie developed something wonderful … and it's the most extraordinary cast to bang heads with."

There was also the pleasure of casting several new players, including the seemingly too young Lavinia Beech, played by Tamsin Greig, and the investor and business chief, Ty Burley played by David Strathairn. 'Tamsin Greig is fantastic. I've always loved her work and I pounced on the opportunity to smuggle her into this when we knew we had a character for her. And David Strathairn is a brilliant actor with whom I'd already worked on stage - a wonderful addition to the cast," says John Madden.

Judi Dench said of the newcomers: 'Having new blood invigorated us enormously."

John Madden also collaborated with two new arrivals to the crew: distinguished British cinematographer Ben Smithard (The Damned United, My Weekend With Marilyn, Belle) and production designer Martin Childs, an Oscar® winner for Madden's Shakespeare In Love who also worked with Madden on Mrs. Brown - to create a fresh, dynamic look.

Ben Smithard notes that the second film has a kinetic energy that flows from its hero, Sonny, and made it a different animal from the first. 'With all the parties and the wedding, we have a lot of set pieces that were a big but enjoyable challenge," he says. 'One of the real differences in this film is scenes of tremendous scale – at times we had 900 people on set – and we did a Bollywood dance number on top of it. So there were a lot of logistics and technology. We really tried to bring that epic feel that India is so good at providing."

On the set, the magical connections of the first film reasserted themselves, but in new ways. John Madden was especially interested in the way this second chapter reveals the vital links between generations. 'A big part of The Second Best Exotic Marigold Hotel is the juxtaposition of youth and age, an idea emblematised in the closing frames of the first film," he says. 'This story's climax extrapolates that idea into something more profound - about handing things on, about transmitting what is most valuable about our experience and knowledge, not just from one culture to another, but from one age group to the next."

The Hotel's Hard-Core Regulars

"I thought, how many new lives can one have?
Then I thought...as many as we like. While we can."
Evelyn (Judi Dench)

To her great surprise, the once curmudgeonly Muriel (Maggie Smith) has found her mind opening to India – and has found her niche as the Marigold Hotel's unlikely new co-manager, with her own ideas of what hospitality means. They might be the oddest of odd couples but she and Sonny have become partners in the truest sense of the word, each bringing something the other can't to the table.

For Maggie Smith, it was a pleasure to see Muriel fully coming out of her shell after her initial sarcasm about the Marigold – although she hasn't lost her inimitably opinionated ways. 'In the first movie, Muriel spent a lot of time observing everybody and I think she came to like Sonny a lot," says Maggie Smith. 'But in this film, I've become more like a grandmother to him. I saw his potential and now it is lovely to see him grow and grow. Muriel and Sonny are very different people, but he has such a huge heart and enthusiasm."

Judi Dench comments on their unlikely relationship: 'Sonny has all these flamboyant ideas, whereas Muriel is terribly grounded. With his enthusiasm and her practicality they get through and in the end you realise they have grown very much to depend on each other."

One of the biggest challenges of playing Muriel this time around, says Maggie Smith, was simply keeping up with her. 'Muriel's got a lot of energy in this film," laughs the 80 year-old actress. 'I don't have nearly as much as she has."

Maggie Smith especially enjoyed having another chance to work with John Madden, impressed with how he balances the comic with the bittersweet. 'John held all of us together," she sums up. 'He does go on and on and on until he's satisfied, and that can drive you crazy, but it's also a terrific way to be."

Evelyn (Judi Dench) – also a familiar fixture - might have arrived at the Marigold Hotel newly widowed, in deep debt and disconcertingly uncertain about her future, but she now has enough opportunities that she faces big choices about what – and who – she wants. She adores India with all its ravishing colors and sensual textures and has a chance to be more a part of it in the textile business. But at the same time, she can't decide if she should spend all her time negotiating fabrics or leave some room for Douglas (Bill Nighy).

Judi Dench was drawn back in completely when she read the second script. 'Ol Parker and John Madden were incredibly clever in intertwining everyone's stories in various ways," she says. 'It was done so beautifully and I felt it was a great compliment to the first one. It's an incredibly joyous story and quite surprising, I think, all around."

As for Evelyn's journey, Judi Dench says: 'It turns out to not be as straightforward for her as it might have seemed at the end of the first story – but that's good and very real."

She also enjoyed exploring the developing nuances in Evelyn and Douglas' rapport, which reveals that even in the later stages of life, romance never gets any less complicated. 'Bill Nighy and I worked a great deal together and this has taken Evelyn and Douglas' story onwards," she says. 'We had a wonderful time. We even rode a motorbike together. I didn't have a nerve left in my body but he was very proficient at it."

Judi Dench, not unlike Evelyn, was exhilarated to be in India once again. 'How lucky could we be to get to return," she muses. 'I fell in love with it the first time, and now it's happened all over again."

Sonny, played by Dev Patel, is also back in full force and to the amazement of his mother, he has managed to make a success of The Best Exotic Marigold Hotel. His enthusiastic personality has won over the residents at the hotel and now he has decided that outsourcing old age could work equally well beyond India and he launches the action of The Second Best Exotic Marigold Hotel on a Route 66 - on a U.S. road trip with his co-manager, Muriel, to pitch his idea as a potential franchise.

Dev Patel was thrilled the second he heard rumors of a new life for a character who took off into the cultural zeitgeist – and one for whom he has an extreme affection. 'I feel so lucky because Ol Parker wrote Sonny to my strengths, and I can completely relate to him. He's a showman, but behind that is an insecurity," he observes. 'And at this juncture, he feels his life may be spiraling out of control. He's getting married, with all that that involves in India, the hotel needs to be expanded and beyond, then there is this handsome guy Kush, who he feels is threatening both his relationship with Sunaina and his business ventures."

Dev Patel is familiar with the kinds of pressure Indian weddings can put on a groom-to-be, no matter how exuberant. 'There are tons of ceremonies and preparations that go into an Indian wedding. So it's an incredibly stressful time for Sonny," he observes, 'and he's trying to balance it all with his business."

Sonny is also trying to impress Guy Chambers (played by Richard Gere), convinced that the unruffled writer could be the hotel inspector sent from America to evaluate his operation– which leads to one mishap after another. 'Sonny gets quite distracted by Guy, and nearly ignores his fiancée," laughs Dev Patel. 'Richard Gere was great to work with in this role. He's this silver fox who can turn it on but he also can play very deadpan and I think that gives him a lovely dynamic with Sonny. And of course, he's so charismatic."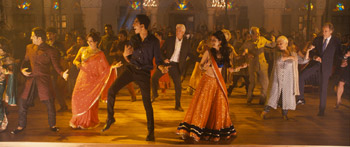 For Dev Patel, seeing all the hotel's residents together again was inspiring. 'It was beautiful to have everyone back," he says. 'They're all such heavyweights, yet I fell right back into rhythm with them and it just felt like home, basically. That kind of feeling allows you the utter confidence to try anything."

He especially loved making a second go-around with what he calls 'the two Dames": Judi Dench and Maggie Smith. 'Working with them was and is a life-changing experience," he concludes. 'They just deliver and deliver and deliver. They both have this aura around them and everything they do is top-notch."

For Douglas (Bill Nighy), the move to India changed everything about his former life – and toppled his unfulfilling marriage to his pinched and unhappy wife Jean (Penelope Wilton). Yet now, madly in love with Evelyn, he's tied himself in knots, trying to make the next move with a woman who makes him terribly shy.

Bill Nighy was intrigued to see where Douglas had wound up in the new screenplay. 'At the end of the first movie, Douglas' relationship with Evelyn was left somewhat open-ended," Bill Nighy points out. 'They'd made a connection, but now Evelyn is feeling tentative and Douglas is utterly confused. I think he's probably assumed something much more than she did from that first connection."

'Douglas and Evelyn are fumbling towards honesty and commitment in a way that is almost like a teen romance," comments producer Graham Broadbent. 'Surely at this point in her years, Evelyn should be able to cut through and speak the truth, but it never gets any easier!"

Douglas has also found two new careers, even if he's not particularly competent at either one – as a memory-addled tour guide and a bike repairman who can't always find the right fix. 'He has become obsessed with repairing bikes and he is absolutely useless with bikes," quips Bill Nighy. 'It amuses me and I hope it will amuse the rest of the world."

The first film marked Bill Nighy's first-ever trip to India, but he was anxious to return. 'The first time I think you're in sensory overload," he notes. 'So it was quite nice to come a second time when you're at least somewhat more prepared and you can start to really savor it."

As Sonny's mother, Mrs. Kapoor (Lillete Dubey) may not be a resident of the Marigold Hotel, but she is in her 60s, and a widow who has never so much as considered the possibility of new romance in her life – until she meets the American novelist Guy Chambers, who finds himself drawn to her, even as a mortified Sonny tries to keep them apart.

Lillete Dubey says it was a chance to enlarge the character who was a source of comic relief in the first film, but here she can show a more passionate side. 'When I heard there was to be a sequel I remember saying jokingly to Ol Parker -oh gosh, I hope there is a romance for Mrs. Kapoor,'" Lillete Dubey recalls. 'I'm so happy that's what happened, because it gives a whole different dimension to the character."

Lilete Dubey certainly enjoyed being seduced by Richard Gere. 'When I told friends that Richard Gere was joining the cast they were rather excited," she muses. 'But what I love is that it's not me chasing him, so that's very nice. And Richard is the type of actor who makes it all very real. Right from the start I knew it was going to be very, very easy to work with him. We felt so comfortable together, we had to add back in some of that tension and distance between Mrs. Kapoor and Guy at the beginning."

For Lilete Dubey, the fact that Mrs. Kapoor becomes an unlikely romantic is all part of the theme of the possibilities that never stop in life. 'Its an important space that this film goes into," she concludes. 'Whether you are young or old you need that sense of possibility, that sense that anything can happen."

Celia Imrie also returns to the cast in her role as Madge – who originally came to India hoping to find romance – and is still tirelessly pursuing it. In a sense things couldn't be going better, given that two wealthy Maharajahs, Nimish and Abhilash, are jealously vying over each other for her attentions . . .but for some reason, she can't quite make up her mind. Coming and going from her romantic exploits, Madge confesses all to her observant driver Babul.

Celia Imrie was taken with her character's journey in this film. 'We find Madge in a bit of a dilemma. She is overrun with suitors, but that isn't making her happy," she notes. 'What's especially fun is that John Madden gave me the leeway to explore this blue-ness, a slightly unseen side to Madge, which is actually quite interesting. The great thing about the entire script is that it's not what you'd expect."

Celia Imrie also loved that Madge, like the other guests, has discovered an unanticipated new career. 'Madge and Norman are now running the Viceroy Club; they're not just lazing about and giving up," she observes. 'We're all rolling up our sleeves and getting on with things and entering deeper into India." Imrie felt like she was returning to a family. 'We already know each other so well," she muses, 'that it gives this second part of the story a new richness."

The perennial bachelor, Norman (Ronald Pickup) had spent his life in pursuit of sexual adventures. But now, even though he has found the perfect occupation for his preoccupation with the opposite sex - running the Viceroy Club alongside Madge – he has hit a snafu that has him bewildered: falling in love.

Ronald Pickup was thrilled to rejoin his compatriots as they each ask big questions about what to do next in their lives. 'This movie goes into areas that are a bit more, nuanced, shall we say," he comments. 'How do people move on from the euphoria of finding a place like the Marigold Hotel and the relationships that were formed there? What happens next? Life never stands still even at this age" says Ronald Pickup.

Ronald Pickup acknowledges that along with the joy of reuniting also came a sense of making it worth it 'I think we all wanted it to be just as good, if not even better, than the first one."

Carol (Diana Hardcastle) also returning from the original, is now the unlikely partner of former playboy Norman, but she's hedging her bets by keeping a free-spirited attitude. Diana Hardcastle, who had a supporting role in the first film, now joins the ensemble as one of the hotel residents. Diana Hardcastle says the draw of the second installment is its major theme: 'It's about relationships. At the center is the marriage of Sonny and Sunaina, but all the characters are in evolving relationships. It's about what's attractive and what's frightening about them: independence vs. loss of independence. Love, of course, isn't only the prerogative of the young. We all experience these insecurities and fears, as well as the thrills." She goes on:

'With Norman and Carol, I think it's all about: am I really safe to put all my eggs in this one basket? In the first movie they discovered each other because they were both lonely. But now that they are together, they don't quite trust the commitment."

Hardcastle says she especially enjoyed communing with the younger cast. 'Dev Patel is a powerhouse and Tina has so much energy and enthusiasm. They're such positive forces in this story," she comments. Bollywood star Tina Desai returns as Sunaina, Sonny's fiancée at last. This film finds her trying to organise their wedding, while Sonny seems to have bigger fish to fry – chasing his dreamed-of second hotel

Tina Desai says the script for The Second Best Exotic Marigold Hotel was unexpected. It's so exciting that it's a true continuation of these lives." Part of that is the way the residents continue to blend into the intensity of Indian culture all around them. 'They're not foreigners anymore," she observes. 'They've accepted India as their home. And it's really great to see how they've adapted."

Tina Desai especially looked forward to all the wedding preparations, which in India are notoriously involved. 'It's all one big, fat Indian wedding," she laughs. 'An Indian wedding really is an insanely long, one-week event which has 500 different variations. No two Indian weddings are the same."

She goes on: 'Of course there are last-minute hurdles, but mostly Sunaina sees Sonny cooking up problems. Sonny's world is always stressful…because he attracts stress! Sunaina is really the voice of reason in his life. She's always grounded while he's going crazy."

Coming from India, Tina Desai says she was taken aback by how accurately both films have portrayed her home country. 'It captures a truly Indian sort of spirit, which surprised me because I think you have to live in India for a significant period of time to know how we think and feel. As it says in the last line from the first film: Everything will be all right in the end; and if it's not all right, it's not yet the end. That gives you a feeling of hope – and that's exactly what Indian films are about."

The Hotel's New Arrivals

'To say that there's huge room for improvement in the way the hotel is run is to
understate the surreally haphazard nature of your operation."
- Guy Chambers (Richard Gere) -

The latest arrival at the Marigold Hotel is an alluring mystery– the American Guy Chambers who might or might not be the key to Sonny's dreams, but is definitely about to shake things up one way or the other. The role brings the Golden Globe® winning actor Richard Gere into the ensemble.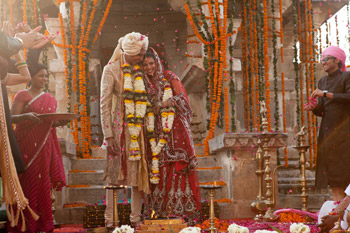 Richard Gere couldn't resist joining the crew. 'I'm always happy to do anything in India," he says. 'I've always wanted to work with John Madden and then of course, there was this cast. It's widely accepted that Judi Dench and Maggie Smith are royalty in the film industry. They're such appealing individuals to see up on the screen, but in terms of who they are as people . . . they have wicked senses of humor!"

The energy of the entire cast, no matter their chronological stats, was exhilarating to him. 'You can't be an actor and not have a youthful spirit," he says. 'It doesn't happen any other way. I was in dance rehearsals right off the plane basically, so there was an immediate sense of joy and fun. A lot of that feeling comes from John Madden, as well. He's someone who is delighted by people, by performances, by the culture in India and I think he brings all of that out in this production."

Richard Gere was also drawn to the sophisticated wit of the comedy. 'At times it's almost like a Shakespearean comedy of manners, with all these human foibles on display," he muses. 'And it seems that all the characters are mostly focused on modifying the damage Sonny wreaks on everything!"

As for Guy Chambers, Richard Gere demurs: 'I can't say much except that he has a lot of secrets . . . ' Tamsin Greig plays Lavinia Beech, who arrives with Guy Chambers but is quickly shuffled to the side by Sonny. Younger than the rest of the crew, she reveals that she's on a scouting journey, looking for the ideal respite for her mother.

Tamsin Greig came in already a big fan. 'When my agent first mentioned this film to me, she didn't even get to finish her sentence," she laughs. 'I'd so loved the first one, and this group of actors would draw anyone into their midst."

The biggest challenge was trying to dive into the already established rapport between the members of the original cast. 'Naturally I brought my own degree of terror going into that company," she laughs. 'And yet they were all so welcoming and celebratory it was like joining a supportive community who are only delighted by new faces. It was a great family to join."

Sonny's big pitch for expanding the Marigold Hotel is made to American executive Ty Burley, whose company, Evergreen, sees the elder market as an opportunity for growth. Playing Burley is another leading American actor: Academy Award® nominee David Strathairn, whose diverse career has spanned The Firm ,The Bourne Ultimatum, Good Night, And Good Luck, and Steven Spielberg's Lincoln.

'Ty Burley's an investor who really likes the idea of creating elder communities, not just what you might think of as a rest home, and then into his office come these two rather eccentric people," David Strathairn explains. 'You have Sonny with his over-the-top enthusiasm and inappropriate behavior and then this rather taciturn, formidable, engaging but kind of dangerous woman, Muriel. I loved having a front row seat to watch Maggie Smith. That's something special."

David Strathairn says he found the first film 'disarming" but this second incarnation transported him in a different way. 'There's romance all over the place in this story – and among all age groups," he points out.

Another newcomer to The Second Best Marigold Hotel is most unwelcome from Sonny's perspective: Kush, a friend of Sunaina's brother, freshly returned from America, who also happens to be dashing, a great dancer and all too interested in the hotel business – all of which arouses Sonny's anxiety. Playing Kush is up-and-coming British actor Shazad Latif, who has up until now been known for British television. Latif sums up: 'Kush is basically Sonny's great rival. He thinks he wants to take his woman from him and also his new hotel. He has a lot of issues with me!"

Shazad Latif loved having the chance to riff with Dev Patel. 'Dev Patel's got great, great energy," he says. 'He reminds me of Tigger, from Winnie the Pooh, just hopping about all the time. I'm the opposite, so I think we have a nice counter-balance together."

Most of all, Shazad Latif was thrilled to join the multi-generational cast. 'Working with Maggie Smith, Judi Dench, Richard Gere, Bill Nighy, Tamsin Greig – well, all of these guys are my heroes," he summarises.

The Marigold Gets a Remodel

'The sound of Destiny, Madam. Calling us with her siren song.
And go to her we must. For this is our moment.
If not now, when? And if not us, who?"
- Sonny (Dev Patel) -

'The Marigold Hotel has always been a character in itself," points out director John Madden. And like all the other characters in the story, the hotel reveals it has gone through changes big and small since its tumultuous grand opening. Sonny has added three rooms on the roof and a freshly renovated courtyard gives his guests more opportunities for the life of serene leisure he promised in his brochure.

Once again, the stand-in for the Marigold was Ravla Khempur, a royal palace turned equestrian hotel that is attached to the tiny village of Khempur just outside the scenic lake district of Udaipur. 'That building has a magic about it, and an unmistakable charm," explains John Madden. 'It has that something special that you could immediately believe would draw these characters to stay."

Production designer Martin Childs wanted to invite audiences into an upgraded version of the amenities of first film. 'The first film established a kind of -shabby chic' style that was a part of its charm – but things have developed," he explains. 'Things look a bit smarter, yet they haven't lost that fun eclecticism. Sonny used found objects in order to put this hotel together in the first place, but now he has more of a sense of purpose and business acumen. I was keen to bring all that together."

In many ways, Martin Childs started from a blank slate, especially in approaching the characters' individual rooms, knowing that their sense of design has drastically changed from who they were back in England or even when they first arrived in Jaipur. 'When I first talked with John Madden," the production designer recalls, 'he told me to forget about any details of continuity from the first film because things have moved on and, as they've gotten settled, all the people will have changed their rooms. Now that the characters have become more established in India, India is now visibly more a part of them."

More importantly, the hotel's guests are now moving more about Jaipur, saturated in the vivacious colors and rhythms of the famed 'pink city," once home to Raj rulers and currently a pulsating metropolis jammed with tuk-tuk taxis, bikes, trucks and elephants streaming down its narrow streets.

The film gave John Madden and his crew the chance to showcase more of the surrounding hotspots, including Jaigarh Fort, a rugged hilltop installation built in the early 1700s by Jai Singh II. Childs created several sets there, highlighting the formal gardens and their staggering view of a wall that flows across the landscape reminiscent of the Great Wall of China. Filming also took place at another travelers' favorite: the Cenotaphs of the Kings - a royal cremation site featuring dome-shaped pavilions and ornate carvings in the Rajasthan style – which is Douglas' new place of employment.

The creative challenge lay in balancing all the outdoor action with the one-on-one interactions that are the heart of the story, says director of photography Ben Smithard: 'There are a lot of big scenes, but there are also a lot of moments between two characters, so we wanted to capture that intimacy along with the huge epic scale. I was always looking for that harmony."

It was Smithard's first trip to India so he was on sensory high alert. 'I found it so fascinating," he comments. 'It really inspired me to try to encapsulate the essence of the country. There are some trials to shooting there, but it's also spectacular and we had such a great story and characters."

One of Childs' favorite sets was found by kismet: the fabric factory where Evelyn and her business partner Hari make a sly deal with the owner. Garment factories are commonplace in India, but the filmmakers were in search of something special that might ignite Evelyn's passion for artistry.

'One evening, we were scouting when suddenly we saw these bits of glorious, multicolored fabric waving in the distance," the designer recalls. 'When we investigated we found the factory of our dreams -- where the block-printed fabrics the area is famous for are made."

Shaadi: The Wedding

'The two things we can give our children are roots and wings.
Sonny and Sunaina's wonderful family have given them roots,
and now they can take flight together and as they embark on their journey,
on which we send them with love and admiration."
- Douglas (Bill Nighy) -

Between October and December, in the months gapping the monsoon rains and the heat of summer, all of India explodes into dazzling colors and merriment with the coming of the famous 'wedding season." During these few months, thousands of betrothed couples celebrate with multi-day ceremonies steeped in tradition, customs and symbolism, each culminating in a grand day of food, music and dancing. Rarely seen in Hollywood films, John Madden was delighted to invite audiences to be part of Sonny and Sunaina's typically extravagant and emotional Indian union.

'It was irresistible to have their wedding become a big part of the film," comments Graham Broadbent. 'It was always on the cards and it provided the perfect climactic sequence."

Tina Desai explains why Indian weddings are so lavish, often involving a year of ultra-high-stress prep. 'An Indian wedding is a really, really big event -- because it's not just about the girl marrying the guy; it's about families coming together as well. It's never a small private affair. It's where everybody comes, all of the people in your life, to celebrate. I think the film was able to capture it so well."

For authenticity's sake, Martin Childs even hired a local wedding planner to help source all the accoutrements for the ceremony. Following on the heels of the Sagai – or engagement party – and the Sangeet – or family party –the wedding begins with the Baraat, a customary procession featuring the groom riding in on a white horse, accompanied by friends, family and marching band. Then comes the mainstay of any Hindu wedding ceremony, known as Saat Phere ('the seven circumambulations"), during which seven round of vows are made by the bride and groom in front of a sacred fire.

Childs kept the design in keeping with tradition, while adding creative touches and a distinctive floral theme throughout. 'The wedding reception features all the yellow and orange Marigold colors," he points out. 'What's amazing about the colors of India is that they all clash yet somehow they also all come together beautifully. I wanted to play with that in the wedding design."

The multichromatic spectacle moved both cast and crew deeply. 'It's something I will never forget, ever," sums up Judi Dench. 'I felt very privileged to be able to see it at very close quarters, and be part of the tradition of walking around the fire seven times. And Dev and Tina looked so beautiful."

An essential element of The Second Best Exotic Marigold Hotel for John Madden was the film's score, which reunited the director with 12-time Academy Award® nominated composer Thomas Newman. Madden had been so taken with his score for the first film, he was intrigued to see where they could take the second film musically.

'The score Tom wrote for the first film exceeded my dreams of what even his extraordinary catalogue of work might have promised," Madden recalls, 'with its grasp of the humor, melancholy, spirituality and emotion, and the way it navigates the different stories. The musical challenges of the second film were, I think, enticing as well as tricky … and Tom approached everything afresh, writing music that acknowledged the melodies and themes of the first, but evolving them and breaking completely new ground, much as the film's characters had become embedded in this world that was formerly unfamiliar. Tom's ability to penetrate the soul of a film is unmatched … and as a director, you have the wonderful feeling someone has shown you something you did not know and had not suspected about the film you made."

Newman was eager to return to the subtly Indian-accented yet richly emotional musical world of the Marigold Hotel in new ways. 'When John was putting the movie together, he used a lot of music from the first movie for the temp score and it really worked well, so the challenge was how to keep that creative spirit but freshen it up," the composer explains. 'So everything from the first film got dusted off and new instruments and lines were applied to it. It was fun trying to give the characters even more life with the music's pace and acceleration – and I could identify with these characters so much. As always, John knew how to bring out the best of me and it delighted him to do so."

Marigold Meets Bollywood

John Madden had always envisaged dance as a central thread of the story, tracking Sonny's insecurity in the zone where most Indian males are more than happy to take center stage. Sonny's disastrous failure to measure up at the engagement party leaves him with amends to make, and the climax of the wedding breaks out – as so many Indian weddings now do - into a full-on Bollywood dance act – involving Sonny, Sunaina and, ultimately, all the hotel's residents. It was a thrill for cast and crew to suddenly turn their focus to a show number amidst all the human drama and romantic intrigue.

Choreographer Longinus Fernandes, who worked on Danny Boyle's Oscar®-winning Slumdog Millionaire, designed the sequence – setting it to John's favorite track – the driving techno song 'JBJ" from the hit Bollywood movie Jhoom Barabar Jhoom. The whole idea was to weave the unbridled spirit of Bollywood into this moment of bittersweet beauty for the characters.

'A Bollywood dance features one major thing and that is fun," says Fernandes. 'The cast approached it with a lot of joy and passion, which made my job easy. They gave it all they had."

That was especially true of Dev Patel, who takes Sonny where he has never been before with his virtuoso dance moves. 'Dancing is organic in the process of an Indian wedding and the bride and groom usually do a big dance for the families," says Patel. 'But that scene I believe was also the result of my talking to Ol Parker about how much I hate dancing! Fortunately, in the end Sonny manages to pull out all the stops, all the hip shaking in the world, and he goes full Travolta. It's one big, spectacular dance sequence that ends up with me dragging up all the guests behind me."

Ironically, the film marks the first time Bollywood star Tina Desai has danced on screen. 'That my first dance comes in an English film is hilarious," she laughs. 'The whole scene was insanely fun."

It was John Madden's decision to add the rest of the cast to the dance, unexpectedly. 'It all came about at the last minute, when John said it would be wonderful if we all joined in," recalls Dench. 'It was terrific. We learned moves that we called -shampooing the dog,' -air guitar' and -airplane.'"

Most of all, the scene unites all the story's comically contrasting characters in a way that might have seemed impossible mere months ago.


The Second Best Exotic Marigold Hotel
Release Date: February 26th, 2015