Jim Parsons Home
Cast: Jim Parsons, Rihanna, Jennifer Lopez
Director: Tim Johnson
Genre: Adventure, Animation, Fantasy

Synopsis: When Earth is taken over by the overly confident Boov, an alien race in search of a new place to call home, all humans are promptly relocated while all Boov get busy reorganising the planet.

Home
Release Date: March 19th 2015
About The Production
The Home Team

Welcome to what Home director Tim Johnson calls the first 'post-apocalyptic, alien invasion buddy comedy, road trip, animated movie." But above all, says Johnson, Home is about two characters who don't fit in their respective worlds, but together find the true meaning of acceptance and ever-surprising commonalities. 'It's very much a buddy movie, and it's also about a clash of cultures coming to an incredible understanding and blossoming into a fun and beautiful friendship between Oh and Tip," he elaborates.

'Tip is hostile toward Oh, but as they embark on a global journey, they realise they have more and more in common," adds Jim Parsons, who voices Oh.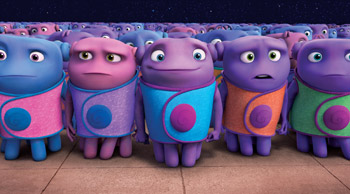 'You never know where, and with whom, you're going to find friendship," continues the Emmy® winning star of the long-running series The Big Bang. 'Making lasting friendships with people – or visitors from afar – who couldn't be more different from you, and with whom you'd never expect to connect, is not only possible, it's necessary."

Oh and Tip are an intergalactic odd couple of friends. 'They're from two very different worlds and couldn't be less alike," says global music star and seven-time Grammy® winner Rihanna, who voices Tip. 'But they slowly discover common ground and become amazing friends."

Bringing Home to the big screen began in Tim Johnson's …home, when he began reading author Adam Rex's novel The True Meaning of Smekday to his young sons, then ages five and seven. The youngsters enjoyed the story, which made an even greater impact on their father, who recalls: 'I read the boys two chapters and tucked them in, and then ruthlessly cheated on them by reading late into the night and finishing the book at 2 a.m. It's such a powerful story of friendship with a comic and crazy edge, and the characters are crisp and fun."

With Rex's support, Tim Johnson, screenwriters Tom J. Astle & Matt Ember, and producers Mireille Soria and Suzanne Buirgy, worked to bring the story and characters to life on film, sometimes expanding upon themes and situations from the book, but always remaining true to its spirit.

At the core of both the book and the film is the friendship between Oh and Tip. Oh is a Boov, hive-minded beings who value conformity and think true happiness is achieved through the healthy suppression of individuality. They're enthusiastic visitors to our planet, which they've graciously decided to conquer.

But Oh is no ordinary Boov. He's smart and hard-working, but longs for friendships with other relationship-phobic Boov. 'Oh is not really built to be a good Boov," notes Tim Johnson. 'The Boov ignore one another and they don't have friends, neighbors or family. But Oh craves these things. He wants connection in a world that really doesn't value that."

'Oh is an incredibly positive, upbeat character who thinks coming to Earth is the best thing that's ever happened to the Boov, and that humanity desperately needs them," notes Suzanne Buirgy.

'The Boov are unilateral," Jim Parsons adds. 'They're all of one mind. Initially, Oh believes in that philosophy and he's really enthusiastic about being the best Boov he can be. But unlike the rest of them, Oh wants to have a good time."

Jim Parsons makes his animated feature debut in Home. The classically trained actor embraced the challenges of working in the genre. 'It's the most interesting -playtime' I've ever had as an actor," he explains. 'It feels like you're going down a mysterious but joyful black hole, where you're alone with the character. Once you relax, it's really fun to see what happens. I never left the recording studio without being a sweaty mess!"

Tim Johnson had been a fan of Jim Parsons' work for several years, and their collaboration deepened his respect for the actor's prodigious talents. 'Jim Parson's voice is musical and that's the most important thing you look for in casting an animated feature," the director explains. 'His voice is gorgeous to animate. Oh's story is that he's desperate to connect, but that's impossible to do with the Boov, so he falls in love with humanity as a chance to have friends, tell jokes, listen to music, have parties, and everything else that's been denied him as a Boov."

The friendly alien's journey begins after a big 'Oh, no!" moment, when he sends out an intergalactic email inviting some friends to an Earth-style housewarming party. Unfortunately (and like so many of us), he hits the 'Send All" button, copying pretty much everyone in the universe, including the Boov's arch-nemesis, the fearsome Gorg.

Not surprisingly, the Boov are none too pleased with Oh, who must then go on the run from his people. This leads to his meeting Gratuity 'Tip" Tucci, a human girl who has been living alone ever since her mother – and virtually everyone else on Earth – was relocated by the Boov. Tip is tough, smart and seemingly fearless. She's the only human who's managed to hide from the unwanted visitors to our planet.

At first, Tip and Oh are wary of each other. There's a lack of trust because they've been forced together by circumstances: Oh may be able to help Tip find her missing mother, and her car (upon which Oh has made some startling Boovian modifications) will provide the means for him to flee the pursuing Boov. But as the story unfolds, these very circumstances create moments of genuine friendship. Oh comes to understand what it means to be human, with Tip becoming his teacher, introducing Oh to humor, art, family and friendship.

Rihanna makes her animated feature debut (like her onscreen pal Jim Parsons) as the voice of Tip. And like Jim Parsons, she enjoyed the experience, finding much to explore with the character. 'Tip is sassy, independent, but still vulnerable at times," Rihanna notes. 'She's still a young girl. There are times with Oh that she's running the show, and other moments when she's a child again. It's really sweet and endearing to see those two aspects of Tip."

Further, the music icon identified with her onscreen alter ego. 'Tip definitely reminds me of myself," she says. 'That's really why I did Home. I understand the way Tip thinks, as well as her flaws, ambition, sass and attitude."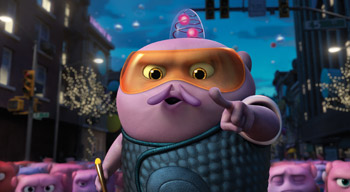 For Tim Johnson, working with Rihanna was like nothing he had experienced before. 'The microphone has been Rihanna's partner her entire career and she easily found the voice of Tip, who's on the cusp of becoming a teenager. Rihanna came in with a fresh perspective on the character and really brings to life Tip's scrappy personality and survivor's energy."

Rihanna credits Tim Johnson with knowing 'exactly how to convey the necessary emotion in a given scene. Even early in the process, when the characters were far from being fully animated, I felt the scenes' emotion. I'd be crying my eyes out, thinking, -I'm so embarrassed! I'm crying at stick figures!'"

The singer's celebrated vocal talents made a big impact during their sessions together. 'Recording Rihanna, you literally have to stand back when you tell her to yell…wow, I mean, this is someone who fills arenas with her voice," adds Tim Johnson. 'She is that powerful."

A very different kind of power is wielded by Boovian head honcho, Captain Smek, whose edict to capture Oh after the latter inadvertently cc's the Gorg, propels Oh and Tip on their adventure. Smek's turn-ons include being right about everything, taking credit for others' accomplishments, believing his own publicity, and naming things after himself.

But Smek's greatest accomplishment is his relentless cowardice – which is revered by the Boov. 'Smek is very proud because he's been awarded the Yellow Heart medal three times for his cowardice," says Tim Johnson. 'That's the ultimate prize of all prizes."

Comic legend Steve Martin voices the ever-confident (and with no good reason) leader, and notes that 'the fact that a coward like Smek is the supreme head of the Boov points to their naiveté. He fills their egos, but eventually [spoiler alert!] they recognise Smek for what he is: an idiot. But Smek is resolute in his belief that Earthlings are rather simple, and that Smek of course, is a genius."

But relentless cowardice is not Smek's only talent; he's also prone to popping footballs into his mouth, as though they were delicious candy or fruit. In fact, he comes to love (and misuse) many objects he finds on Earth.

Steve Martin, who is also a noted playwright, says that he loves the acting process in an animated feature because 'it's like writing a play, where you can try something out, change it and go back and experiment with it 70 different ways. So much emotion can be brought into an animated film."

Like most voice actors, Steve Martin did most of the recording sessions minus his co-stars. But he was impressed by how little this impacted his performance. 'You feel like I've worked with Jim Parsons and Rihanna on Home for two years, even though my actual time with them was very limited or non-existent."

For Tim Johnson, collaborating with Steve Martin was the culmination of an almost lifelong fandom. 'At age 16, I sat in the back row of Chicago Stadium watching a distant figure in a white suit place balloon animals on his head," he recounts. 'I've admired Steve Martin for as long as I can remember. He's the kind of comic genius for whom you frame the character and situation, and then get out of the way."

Steve Martin's Smek and his Boov minions have relocated much of Earth's population, including Tip's mom Lucy, which leads to the young girl (and her traveling companion Oh) to embark upon a global quest to reunite with Lucy. But no one knows better than Lucy that Tip is no ordinary kid, so Lucy has hope. Their separation, Tip's search, and their ultimate reunion lead to some of Home's most heartfelt moments.

Jennifer Lopez, who had previously worked with Tim Johnson on the director's animated box-office hit Antz, voices Lucy. 'To work with Jennifer Lopez again, after 17 years, was such a treat," he says. 'She brings the warmth and power you'd expect in a mother separated from her daughter. Jennifer Lopez's performance becomes the emotional center of the movie.

'One of the film's most emotional moments," Tim Johnson continues, 'was talking with Jennifer Lopez about families separated and then reunited, and sharing some of her ideas and experiences to make the moment where Tip and Lucy reunite really profound. Jennifer is the full bandwidth – entertainer, actor, filmmaker and producer."

Rihanna is another fan of her onscreen parent. 'Everybody wants J-Lo to be their mom!" she exclaims. 'Her voice is so sweet and vulnerable; you feel safe just hearing her voice and performance. You believe she's Tip's mother."

A Boovian Traffic Cop, A Cat Named -Pig,' And A Fearsome Foe

Oh isn't the only put-upon Boov. A long suffering traffic cop named Kyle has been tasked by his supreme leader, Captain Smek, with hunting down Oh. At heart, Kyle is a decent Boov who just wants to keep his head down and do his job.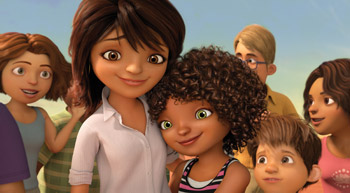 Matt Jones, who had a memorable role as Badger on Breaking Bad, voices Kyle, whom Johnson says is 'just someone who's been swept into this intergalactic adventure, and we end up rooting for him."

The subjects of Kyle's pursuit, Oh and Tip, are joined in their adventure by Tip's cat/best pal, Pig. 'They're inseparable," says Rihanna. Producer Suzanne Buirgy calls Pig the film's 'Greek chorus, who observes – or sleeps through – everything that's going on. He's also one of the story's emotional touchstones because he's really involved in the growing friendship between Tip and Oh."

But above all, Pig is a cat, so his agenda is his agenda – which usually involves food and naps.

But there's little time for rest for our heroes, and for the Boov, who are being pursued by their mortal enemy, the Gorg. The Gorg follow the Boov everywhere and destroy planets being considered by the Boov as a home. But the Boov have finally figured out they can escape to a planet where the Gorg will never find them. It's Earth, in the Milky Way – the Gorg are lactose intolerant – so they'll never think to look there…well, until Oh's misguided intergalactic party invite arrives in their 'In" box.

The Home Beat

Music plays a big role in shaping Home's humor, characterizations and themes – no surprise, given Rihanna's involvement with the project. In addition to essaying Tip and contributing key songs, the pop sensation was very involved in shaping the film's entire soundtrack, which weaves songs from her and other contemporary artists, including Kiesza, Charli XCX + Stargate, and Ester Dean, into the traditional film score.

'I've had an incredible time working on some of the film's music," says Rihanna. 'I really enjoyed working closely with Tim Johnson and music producers Stargate to ensure that, lyrically and musically, the songs were exactly what were needed for a given scene," be it fun and upbeat, cutting edge, or emotional.

Tim Johnson says he couldn't have asked for a better partner. 'We have a story that takes us around the world, and the voice of humanity is the voice of contemporary pop music – Rihanna," he explains. 'She delivers an incredible music experience."

'Rihanna is two people in Home," adds Suzanne Buirgy. 'She's the actress voicing a 12 year old, and the incredible music superstar. She expresses much of the humor and emotion via song."

One of Home's highlights is Oh's introduction to Earth music, specifically Stargate's 'Dancing in the Dark." Oh pretends he's appalled by the music but his body betrays him: Oh's foot starts tapping and his hips start moving to the beat. Unable to resist, he begins boogeying down like there's no tomorrow – with no control over his own body. The fun and crazy sequence speaks to the heart of Oh's journey of coming to love what it means to be human.

The scene was choreographed by Beau Casper Smart, who danced for hours to create reference footage for the animators, who then 'Boovified" the moves.

Going Global

Home takes Oh, Tip – and the audience – on a worldwide journey, from the United States to France to China, and finally to Australia. It's an epic expedition encompassing millions of Boovian spaceships, and technology that switches off gravity across the entire planet. An enormous Gorg mothership also lends impressive scale. 'The goal from the start was to make Home a big global adventure," says Johnson.

Paris serves as Boov Central Command. The wannabe conquerors have taken over the Eiffel Tower, which they've renamed 'The Great Antenna," and which Tip and Oh sneak into, hoping to find her mother. 'The Boov have repurposed the Eiffel Tower as a kind of communications center, floating over Paris," thanks to the Boovian penchant to nullify gravity, says Suzanne Buirgy. 'It's a huge, beautiful set. We wanted to the world to look altered by the Boov, without it looking scary."

Home Design

Home's production design is an intriguing mix of the familiar and the unearthly. Among the Boov's signature features are roly-poly frames, assertive and bright-eyed faces, six little legs – and 'nostricles," which look like tentacles situated where we'd expect their ears to be. 'They're an outrageous yet adorable species," says Tim Johnson.

Perhaps the Boov's defining feature is their color-coded emotional energy, which turns them into living mood rings. A yellow hue indicates fear (and by the way, they're often scared); red signals anger; and blue – you guessed it – means they're sad.

During their initial encounter at a convenience store, Oh transforms Tip's car into 'Slushious," which uses the store's Slushy ice drinks to power the engine and enable it to fly. Slushious travels at tremendous speeds – handy, when you're on a global trek. In addition to its better-than-turbo-powered Slushy machine, there's a popcorn machine 'weapon" in the front, plus a hot dog dispenser where the radio used to be.

The car's exhaust – a trail of bubbles – reflects the fact that the Boov's technology is based on the circular suds. Everything in their world is spherical or round, whereas their enemy, the Gorg, are defined by triangles, and Earthlings by the square shapes of their homes, cars and many other terrestrial objects.

Language: Boovisms

The True Meaning of Smekday author Adam Rex created the Boov's distinctive interpretation of the English language, which includes avoiding contractions ('I can't" is a Boovian no-no; the preferred form is, 'I cannot"). The filmmakers expanded upon Rex's ingenious language twisting, with Jim Parsons taking an especially inventive tack. 'Jim Parsons started to own that Boovian grammar and invent his own weird syntax, like -I'm a hundred percent popular for being arrested,'" recalls Tim Johnson. 'The Boov see the world through a crazy lens of fractured English."

High-Tech Home

Since Tim Johnson directed DreamWorks Animation's Antz in 1998, animation technology has made quantum leaps – due largely to the company's innovations. Art and technology come together in a big way at DreamWorks Animation, with the technology enabling the artist and the animation.

The studio gives its artists, including Tim Johnson and his teams, creative free reign with a tool set that allows them to work effortlessly, efficiently and effectively in making their creative visions reality.

That's why DreamWorks Animation embarked on creating an entirely new technology to be used in the design of its films. Home is the second film, following How to Train Your Dragon 2, to fully employ the company's new proprietary platform, Apollo. Five years in the making, Apollo allows artists to control and manipulate data in an effortless and intuitive way, creating an end result that is visually richer and greater in scope for the audience.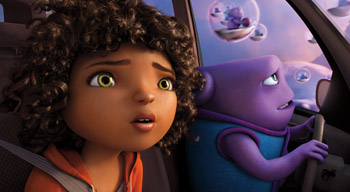 Apollo has two core software components, Premo and Torch. Premo is the animation tool that enables artists to work with high-resolution characters in real time, on their tablets with a stylus, manipulating the character in a naturalistic way that allows for much more experimentation. Artists work at the speed of their imagination sculpting rather than managing a complex web of curves and spreadsheets. Torch is the lighting tool that empowers individual artists to create a vast amount of imagery through the management of millions of files, across hundreds of artists and from thousands of iterations.

Tim Johnson says that these high-tech breakthroughs are, above all, liberating. 'The artists can more easily show me different ways a shot can be animated and lit, and I can quickly review the outcomes from my feedback," he explains. 'Instead of waiting for technology to catch up, our innovations are enabling me to focus on the humour, intention, motivation, and emotion of the story, while the artists do the rest."

'…Is Where The Heart Is"

What is the true meaning of 'home"? Not surprisingly, it varies, to a degree, from person to person. But the shared connective tissue for all is always, emotion.

'Home is the emotional place where you feel like you're not away from it," confirms Steve Martin.

'It's wherever I feel safest, really," notes Rihanna. 'Anything and anywhere that feels familiar and comfortable, is home."

'It's where you feel unjudged, and where what I do isn't necessarily stupid or wrong," adds Jim Parsons.

Tim Johnson notes that, 'it's where you find the place where you can be yourself."


Home
Release Date: March 19th 2015