John Lloyd Young Jersey Boys
Cast: John Lloyd, Christopher Walken, Freya Tingley, James Madio
Director: Clint Eastwood
Genre: Musical, Drama
Rated: M
Running Time: 134 minutes

Synopsis: From director Clint Eastwood comes the big-screen version of the Tony Award-winning musical 'Jersey Boys."

The film tells the story of four young men from the wrong side of the tracks in New Jersey who came together to form the iconic 1960s rock group The Four Seasons. The story of their trials and triumphs are accompanied by the songs that influenced a generation, including 'Sherry," 'Big Girls Don't Cry," 'Walk Like a Man," 'Dawn," 'Rag Doll," 'Bye Bye Baby," 'Who Loves You," and many more.

These classic hits are now being embraced by a new generation of fans through the stage musical, which has been running on Broadway for more than eight years and has also enjoyed successful tours around the globe.

Jersey Boys
Release Date: July 3rd, 2014
Website: www.JerseyBoysMovie.com.au


About The Production
'Everyone remembers it how they need to."
We know the songs. We know the sound. But few know the story.
'Jersey Boys" tells of the rise and fall of the iconic rock -n' roll group The Four Seasons, reminding audiences why their songs have remained in the public consciousness"some for more than half a century"but also revealing the surprising origins of this seemingly clean-cut, all-American rock band.
The film is based on the Tony Award-winning, smash hit musical, which has struck a chord with audiences worldwide, becoming one of the longest-running shows in Broadway history and a sensation in virtually every city in which the show has been mounted, both in the U.S. and abroad. Now director Clint Eastwood broadens the canvas and brings all the joy and heartbreak, the music and the memories, to the big screen for moviegoers everywhere.
Clint Eastwood, who also produced the film with Graham King and Robert Lorenz, offers that it was the drama behind the jackets and ties and four-part harmonies that intrigued him most. 'I have always loved the music of The Four Seasons, so I knew it would be fun to revisit that, but what mainly interested me was how these semi-juvenile delinquents, who didn't grow up under the best of circumstances, made it big. They were living on the periphery of the mob, pulling off petty crimes and what have you. Some had even done jail time. Then the music came and pulled them out. It gave them something to strive for."
Producer Graham King estimates he has seen the stage show 'Jersey Boys" between 30 and 40 times, but says it didn't take him nearly that long to recognise its cinematic potential. 'I fell in love with it the first time I saw it," he attests. 'I knew the songs of The Four Seasons, but I couldn't believe I knew nothing of their real story. For someone like me, who loves making movies like -The Departed' and -The Town' and films of that genre, it was perfect because it had that Mafia, street-smart aspect, and then you incorporate the songs from that period. It had all the right elements for a terrific film."
By far, the most distinctive element of The Four Seasons' sound was the falsetto tenor of Frankie Valli. John Lloyd Young, who won a Tony Award for his portrayal of the celebrated lead singer and reprises his role in the film, states, 'The songs are part of the tapestry of that era, but the lyrics are still relatable to everyone today and the melodies are so infectious. But I think the underbelly of their rise to fame is what's fascinating. These were scrappy, rough-and-tumble Jersey guys with a dream, who took the energy of the Jersey streets to the recording studio and became a phenomenon. It's the quintessential rags-to-riches story."
Clint Eastwood relates, 'Frankie Valli told me that to be a singer in that neighborhood in those years was hard. Just singing under the streetlights, they endured a lot of ridicule…until they became a big hit, of course. But they had to have a great deal of perseverance to get through that."
And beyond. Producer Robert Lorenz affirms, 'Their struggles did not end with the start of their success. With the money and the fame came new problems"personal and professional"that they weren't prepared for. They were trying to get away from the neighborhood, but found they could never entirely escape its influence on them and on who they were."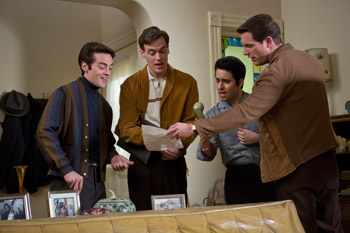 'The juxtaposition of their music and their lives was remarkable," says Rick Elice, who, together with Marshall Brickman, wrote the screenplay for 'Jersey Boys," having previously earned a Tony Award nomination for the book of the musical. He continues, 'The songs are these great, upbeat pop classics, but the guys behind them were from a tough neighborhood where the bond they forged is like iron. They are not related by blood, but they are as close as family and sometimes just as dysfunctional. We wanted the script to be the strongest possible telling of that story, with the music of The Four Seasons serving as landmarks along the journey."
The music was one of the main reasons Graham King approached Clint Eastwood to direct the film. 'Clint Eastwoodt is an incredible filmmaker and I knew he had a love for music, especially jazz," says Graham King. 'The sound of The Four Seasons came out of the jazz and big band era, so I felt this would be in his wheelhouse. Out of the blue, I sent him the screenplay and within two days he called and said he wanted to make the movie."
At the time, Clint Eastwood had not seen the show, but he quickly remedied that, catching the Las Vegas, San Francisco and Broadway productions in quick succession. As it turned out, those were the first round of auditions for the director.
Bringing the musical to the screen, the filmmakers drew a number of talents from the theatrical productions, including several members of the cast. In addition to Young as Valli, Erich Bergen and Michael Lomenda returned to the roles of original Four Seasons members Bob Gaudio and Nick Massi, respectively, having played their parts in the national touring company.
Joining the band for the first time, Vincent Piazza took on the role of Tommy DeVito, another of the group's founding members. Clint Eastwood also cast award-winning actor Christopher Walken as local mob kingpin Gyp DeCarlo.
Behind the scenes, Clint Eastwood enlisted the show's original musical director Ron Melrose to serve as music consultant on the film, as well as choreographer Sergio Trujillo. The real Frankie Valli and Bob Gaudio served as executive producers, with Gaudio, together with lyricist Bob Crewe, also credited with writing the unforgettable playlist of Four Seasons hits.
One unexpected device taken directly from the show is the fact that the actors break the proverbial 'fourth wall""talking right to the camera and, thus, right to the audience. 'Each member of The Four Seasons is telling the story from his own point of view," Elice explains. 'We weren't sure it would work on screen to this extent, but, lucky for us, Clint Eastwood's a genius. It's an interesting structure and it's also very engaging to have the characters speaking directly to us at times; it makes the film a very first-person, interactive experience and pulls us into the story emotionally."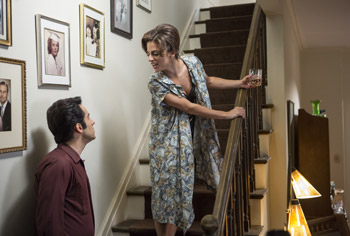 Marshall Brickman adds, 'Because film is so much more flexible than theatre in terms of storytelling, as well as moving between settings and locations, we were able to go deeper and show more of their world, with those memorable songs always carrying us forward."
Graham King points out that people today still know the songs"from dozens of movie soundtracks over the past four decades to contemporary remixes. 'It's amazing how their music transcends the years. Just a few years ago, my kid was listening to -Beggin΄' by Madcon, having no idea it was originally a Four Seasons hit."
Clint Eastwood agrees. 'There are so many wonderful songs: -Sherry,' -Rag Doll,' -My Eyes Adored You,' -Big Girls Don't Cry,' -Walk Like a Man,' -Can't Take My Eyes Off You'… And each was distinctly different, even though they all had the imprint of The Four Seasons on them. Every day of filming, there would be a new favorite. They'd sing -Dawn' and we couldn't stop humming that. Then we'd go back and film another scene with -Rag Doll,' and it would take over and we'd be humming that. It was great fun."
'There were three ways out of the neighborhood: you join the Army and maybe get killed; you get mobbed up, maybe get killed that way… or you get famous. For us, it was two out of three."
In assembling the 'Jersey Boys" ensemble, Clint Eastwood wanted faces that would be new to moviegoers, and, in fact, the film marks the major feature debut of all four actors cast as the legendary group at the center of the story. 'We weren't looking for big stars, we were looking for the best actors for each part, and I think we got them," the director states. 'They were all great."
John Lloyd Young says he was thrilled to have the opportunity to return to his breakthrough stage role, this time onscreen. 'It was such a joy to play this character and explore more facets of him in a different arena. I love that Frankie Valli believes in himself and fights the only way he knows how to get himself out there, because his success is in no way a foregone conclusion, considering where and how he's starting out. He's not perfect and faces some rough consequences in both his personal life and his career, but it was rewarding to play him warts and all.
'It's the culmination of everything I've wanted to do as an actor, and to do it with Clint Eastwood directing was a dream come true," John Lloyd Young continues. 'He's so interesting to work with. He offered very pointed direction, and yet he also gave us a lot of creative freedom, so the combination of our input as actors and his as a director went beautifully together. Even though I'd played Frankie Valli so many times on stage, this experience felt fresh and new. I think that speaks to the timelessness of the story and, of course, the music of Frankie Valli and The Four Seasons."
Despite his vocal talents, Frankie Valli might never have performed under anything brighter than a streetlight were it not for the drive of his friend Tommy DeVito, played by Vincent Piazza. 'He's one of those guys who will do whatever it takes to survive and make good," Vincent Piazza says. 'His attitude is if obstacles appear, you go around them or run them over, but you get through."
Unfortunately, Tommy's street-smart swagger is not enough to help him handle the pitfalls of fame and fortune, which has repercussions for everyone. 'Tommy is responsible for some of the group's early gains but also a lot of the big defeats," Vincent Piazza admits. 'He's been managing the group from the start, but it reaches a point where he doesn't have the skill set to deal with the club owners and record labels and others in that circle. He also has problems with gambling and whatnot, which makes things even worse. Yet, he never loses his confidence, and on some level you have to admire a guy like that. There's something freeing about playing someone who's always right. Even when Tommy's wrong, it's not his fault."
From the outside looking in, John Lloyd Young allows, 'Tommy's point of view is very selfish. But these guys come from a culture that says you stick together no matter what and support the people you came up with. That can be a good thing, but there's loyalty and then there's loyalty to a fault. If someone you came up with is a bad seed, you wind up making sacrifices for someone who's screwing up your life."
The group's growing rift with Tommy is felt most by Nick Massi, their vocal arranger and bass guitarist, who rooms with him on the road. Coming into the role of Nick, Michael Lomenda had some insight into his character's frustration, having toured for months in the company of 'Jersey Boys." 'That kind of existence can make your head spin off your shoulders if you don't find a way to stay grounded," he remarks. 'I think these guys are launched into this situation before they have the skills to cope. So when you mix a scrapper like Tommy with someone like Nick, who doesn't say a lot, there has to be a breaking point and that creates some fireworks. For Nick, it's much more about a lack of respect."

Lomenda won the part after Clint Eastwood saw him play Nick on stage in San Francisco. 'I was backstage, about to go on, and someone said that Clint Eastwood was in the audience. I wasn't buying it because we were always playing jokes on one another about so-and-so being in the house…until someone snapped a photo with him and texted it to me. I said, -Oh man, I'm glad I didn't know while I was on stage,' but it was a real treat to meet him afterward," says the actor, who adds that it was an even bigger treat to work with him. 'He has an actor's sensibility and trusts his cast. It's a wonderful thing to have a director who trusts you as an artist. It's the best possible environment."
Frankie Valli has the voice, Tommy has the ambition and Nick has the ear, but the formula for The Four Seasons is not complete until Bob Gaudio joins the group. Erich Bergen, who stars in the role, notes, 'Bob Gaudio is different from the other three guys because he not only came from a little bit higher-class background and not from the streets, but he also had a taste of success as the writer of the song -Who Wears Short Shorts.' He brings in business savvy as much as he brings in the musicianship."
Bob Gaudio's songwriting talents take the now complete Four Seasons to the next level. But his impact on the group's dynamic goes much deeper. Erich Bergen explains, 'Early on, Bob has to sit back and let Tommy think he is still running the group, even though Bob is pretty much leading it from the moment he joins. I love that he's smart enough to be the quiet leader…until it's time to no longer be quiet. Together with Bob Crewe, he changes their sound and changes all their lives."
Mike Doyle portrays Bob Crewe, The Four Seasons' ingenious record producer and the co-writer of some of their biggest hits. 'He has a very big personality," Miek Doyle describes. 'More importantly, he has an incredible eye for talent and recognises a spark in them that he believes he can turn up into a flame. It's that instant when talent meets opportunity and the two come together to make something special. Bob has the best ears in the business; he is the one who pioneers the idea to double Frankie's voice and make their sound even more rich and distinctive, so he plays a big part in their rise up the charts."
But there is also a fall, which ironically comes at the height of their popularity. Ugly truths are exposed, forcing them to seek help from New Jersey mob boss Gyp DeCarlo. By far the most recognisable cast member, Oscar® winner Christopher Walken appears as the gangster whom Frankie Valli could move to tears with his rendition of 'My Mother's Eyes."
Christopher Walken remarks, 'There is a patriarchal, familial relationship between Gyp and the guys from the neighborhood; it's very tribal. He considers himself something of a mentor to Frankie, so he wants to help him."
Rick Elice observes, 'Someone from the outside threatens one of the group, these guys from Jersey reflexively coalesce. It's not that they don't have bones to pick with one another, but when one of them is in trouble, the others are there for that guy. They might think all their lives that what they're trying to do is get out of the old neighborhood, but they can never get that part of the old neighborhood out."
Surprisingly, although Christopher Walken's and Clint Eastwood's careers span more than 50 years, they have never worked together before. In fact, Christopher Walken reveals, 'I had never even met him. But his involvement was one of the things that made me want to do the movie. I think he's a master at what he does."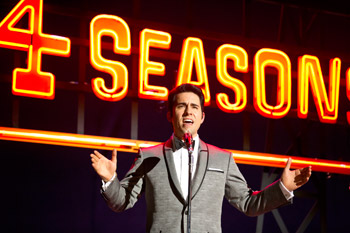 However, the actor does have some professional history with the music of The Four Seasons. 'The song -Can't Take My Eyes Off You' was used to great effect in the movie -The Deer Hunter,'" he affirms, referring to his 1978 breakthrough film. 'And I certainly knew their music growing up."
Apart from the music, 'Jersey Boys" offers a glimpse at the personal life and loves of Frankie Valli. Renée Marino was cast as Frankie's first wife, Mary Delgado, having previously played the part on Broadway and on the national tour. 'Frankie and Mary get married before he becomes a big star," Renee Marino offers. 'It's such an amazing role to play because we see the ups and downs of her journey, beginning when we meet her as the young, confident woman who Frankie falls in love with. She's a feisty spitfire who knows what she wants and goes for it. Over the course of the film, we see the shift that takes place as Frankie's success, paired with her own personal issues, brings Mary to some of the lowest moments of her life."
Another veteran of the stage production, Erica Piccininni is seen later as Frankie's girlfriend, Lorraine, a reporter who comes to do a story on the band. 'She winds up being completely charmed by this extraordinarily talented guy who just sweeps her off her feet," Erica Piccininni says. 'Lorraine is a strong, independent career girl who never expected to fall in love with Frankie, but she's drawn in by his down-to-earth candor and his vulnerability and he's got a little bit of that bad boy thing that she thinks is sexy," she smiles.
Unfortunately, the real bad boy of the group, Tommy, makes a pass at Lorraine, knowing she is already involved with Frankie. The breach of trust breaks a code between the friends…and Frankie's heart. 'It's not so much that Tommy is really trying to get with Lorraine; it's more of a machismo thing for him, but it serves as a catalyst for the rift between Frankie and Tommy," states Erica Piccininni.
Rounding out the main cast of 'Jersey Boys" are Joseph Russo as Joey, a kid from the neighborhood who grows up to be Joe Pesci; Donnie Kehr as Norm Waxman, who ends up having an unforeseen financial stake in The Four Seasons; and Katherine Narducci as Frankie's mother.
'Four guys under a streetlamp… The first time we made that sound"our sound… and all there was, was the music. That was the best."
With music being the connective thread that runs through 'Jersey Boys," Clint Eastwood made the decision to have the actors playing the title characters sing the band's indelible songs live on camera, instead of doing pre-tapes of the musical performances. The director comments, 'It just felt like the way to go since most of them had done it live so many times before. When they sing, you really see the performance value and get the emotion."
'It feels very immediate," attests John Lloyd Young. 'Coming in, I didn't realise how unusual it is on a film to sing live on camera, so it was an interesting challenge for everyone. The best part was that Clint Eastwood is a true music aficionado, so it was fantastic to watch this legendary director turn into an enraptured audience member right in front of us."
Vincent Piazza, who came into the film without a musical background, appreciated the support of his fellow castmates, as well as his director. 'John Lloyd Young, Erich Bergen and Michael Lomenda were there to help me through the numbers, which was a blessing, and I had great teachers.
And I knew I was in the best hands with Clint Eastwood. The fact that he believed in me gave me all the self-confidence I needed."
John Lloyd Young, Erich Bergen, Michael Lomenda and Vincent Piazza worked with choreographer Sergio Trujillo to create the steps of The Four Seasons, drawing on his choreography for the stage. 'I took some liberties with their dance style," Sergio Trujillo notes. 'These are blue collar guys, so Clint Eastwood and I agreed they shouldn't look too slick. In the same way they have a distinct sound, the vocabulary of their movement needed to have a little more edge in keeping with their Jersey roots."
One move that Four Seasons and 'Jersey Boys" fans alike will recognise is the signature 'Walk Like a Man" stomp, which Erich Bergen calls 'deceptively simple. It's always funny to see people try to imitate the -Walk Like a Man' stomp because it looks so basic when you first see it, but then you try to do it and find you can't quite get it."
Sergio Trujillo's biggest challenge was choreographing the film's finale, which Clint Eastwood envisioned as a kind of curtain call. The director affirms, 'In a play, everybody comes out and takes a bow, but you don't typically do that in a movie. I was imagining the sequence to end the film on a high note with all of the actors dancing and singing to some of The Four Seasons' biggest hits. I mapped it out with Sergio Trujillo and he did a great job putting it together. You even see Christopher Walken doing a little soft shoe there," he smiles. 'We all had a lot of fun."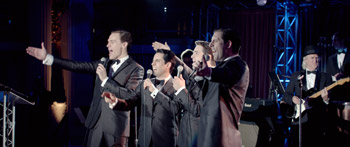 Reuniting all the characters onscreen, the finale also showcases the fashions of each decade spanned in the story. Costume designer Deborah Hopper remarks, 'We had everyone in their most recognisable costumes from throughout the story, with the `50s, `60s and `70s all mixed together."
Deborah Hopper did extensive research for the film, watching old television and concert footage and poring through books and magazines of the day 'because these were real people with a real story," she says, adding that she had another resource for the four main characters. 'I bought most of The Four Seasons' original albums, which had a lot of photos of them throughout the years," she relates. 'I could see how their style changed."
To create the costumes for the two women in Frankie Valli's life, Deborah Hopper indicated their contrasting backgrounds and personalities in their clothing choices. 'Mary is more of what I would consider to be a Jersey girl, who comes from the same streets as the guys. She's spunky and kind of spicy. Lorraine is a more conservative career girl, so her wardrobe is more polished and put together," she relates.
In designing the sets, production designer James. J. Murakami and his team had the challenge of depicting mid-20th-century New Jersey in 21st-century Los Angeles. 'Jersey Boys" was shot almost entirely in and around L.A. Filming was also accomplished on soundstages on the Warner Bros. lot, where the homes of Frankie Valli, Gyp DeCarlo and Bob Crewe were built, each reflecting their diverse tastes and financial status.
In addition, several L.A. landmarks stood in for important sites along the timeline of the story. Murakami's crew turned The Mint supper club on Pico Boulevard into The Strand in New Jersey. The Orpheum Theatre became the home of the Ed Sullivan Show in New York, while the Palace and Belasco Theaters were also used as performance venues for Frankie Valli and the Four Seasons. The city's famed Dorothy Chandler Pavilion was completely transformed into the equally famous Roostertail nightclub in Detroit. Murakami's crew completed the effect by tracking down on the Internet authentic Roostertail menus and even cocktail napkins from the time.
The props department had little trouble finding vintage instruments. However, because they were recording live, there was one caveat. Art director Patrick Sullivan points out, 'There are plenty of resources to get hold of the appropriate amp or guitar or piano, but we also needed the electronic components to be brought up to date in order to record the sound properly."
The finale was filmed on a street on the Warner Bros. backlot, which doubled for a street in the New Jersey neighborhood where the iconic sound of The Four Seasons was born.
The production also traveled to New Jersey to capture some exteriors, including shots on the very street, at the very home, where Frankie Valli grew up. There, the filmmakers and crew stood back as John Lloyd Young and the real Frankie Valli took a moment to sit together on the stoop of that house and reflect on the journey of four guys from Jersey who left an indelible mark on musical history.
John Lloyd Young offers, 'He is a true artist and I'm honored that he gave me the freedom to embody him as a character in -Jersey Boys.' Where we are different, well, that's for the audience to decide, but where we overlap…that's our secret," he grins. 'I think the story of what Frankie and his compatriots accomplished is the American dream and their story is better because they struggled to get there. But I believe that real talent eventually will be recognised. You just have to keep going after it, and man, you know these guys did. They really did."
Clint Eastwood concludes, 'I know audiences will come out of the theater humming the songs and that's great. But I also hope they enjoy learning the story of where those songs come from and remembering the four young men whose legacy is still being felt today."
Jersey Boys
Release Date: July 3rd, 2014