Jennifer Todd Alice in Wonderland Interview
Jennifer Tood is a partner at Team Todd, a company she founded alongside her sister Suzanne Todd in 1997. In her career thus far, she has produced over a dozen films for theatrical and television, garnering both critical and commercial success. Jennifer Todd has been honored with numerous awards including the Independent Spirit Award for Best Picture, Women in Film's Lucy Award, the GLAAD Media Award, a People's Choice Award, three Saturn Awards and several MTV Movie Awards. With an exceptional eye for intriguing stories and a passion for filmmaking, she has produced numerous hit movies throughout her career.

She was nominated for a 2008 Golden Globe® for producing the highly acclaimed 'Across the Universe,' a musical featuring the songs of The Beatles. Directed by Julie Taymor and starring Evan Rachel Wood, it also received an Oscar® nomination for Best Costume Design and a Grammy® nomination for Best Soundtrack Album.

Team Todd's unique and inventive independent film 'Memento' was both a box-office and critical success. With a budget of $4 million, it went on to gross more than $25 million domestically and over $39 million worldwide. 'Memento' won many awards, including the 2002 Independent Spirit Award for Best Feature, the Saturn Award for Best Action/Adventure/Thriller Film and the Sierra Award for Best Picture. The Todd sisters were also nominated for the AFI Movie of the Year. Director Christopher Nolan won the AFI Screenwriter of the Year Award and was celebrated by MTV as 2002's Best New Filmmaker. He also won Best Screenplay and Best Director at the 2002 Independent Spirit Awards and was nominated for both an Oscar® and a Golden Globe® for his screenplay.

The Todds are the producing duo behind one of the most successful comedy franchises in history, 'Austin Powers.' Starring Mike Myers and Elizabeth Hurley, 1997's 'Austin Powers: International Man of Mystery' grossed more than $67 million worldwide and won the 1998 Saturn Award for Best Fantasy Film and two 1998 MTV Movie Awards. The 1999 sequel 'Austin Powers: The Spy Who Shagged Me,' this time starring Heather Graham with Myers, grossed an overwhelming $310 million worldwide and won numerous awards, including nominations for an Academy Award® for Best Makeup, a Golden Globe® for Best Original Song, a MTV Award for Best Movie and a Grammy® for Best Soundtrack Album. The final film in the franchise, 2002's "Austin Powers: Goldmember," starring Beyonce Knowles with Myers, grossed $289 million worldwide and won the 2003 Kids' Choice Award for Favorite Movie, the 2003 MTV Award for Best Comedic Performance and a 2003 BMI Film Music Award for composer George S. Clinton.

Jennifer Todd continues to develop unique, challenging dramas, large-scale fantasy and family fare, as well as light-hearted comedies for the big screen. She produced the upcoming film 'The Romantics,' a romantic drama starring Katie Holmes, Josh Duhamel and Anna Paquin. Galt Niederhoffer adapted from her novel and directed the film, which premieres at Sundance 2010.

With Team Todd, Jennifer Todd's other credits include the romantic comedies 'Must Love Dogs,' starring John Cusack and Diane Lane for Warner Bros., 'Prime,' starring Uma Thurman and Meryl Streep for Universal Pictures, and the gritty Wall Street drama 'Boiler Room,' starring Giovanni Ribisi and Ben Affleck for New Line, which was nominated for Best Feature and Best First Screenplay at the 2001 Independent Spirit Awards. In 2007, Team Todd also released 'Ira and Abby,' a charming romantic comedy starring Chris Messina and Jennifer Westfeldt, which won Best Comedy at the HBO Comedy Festival. For the small screen, Jennifer Todd served as an executive producer on 'If These Walls Could Talk II,' starring Vanessa Redgrave, Chloe Sevigny, Sharon Stone and Ellen Degeneres. Jennifer Todd was nominated for an Emmy® for Outstanding Made for Television Movie, and received a nomination for the Television Producer of the Year Award in Longform by the Producers Guild of America. For her performance in the film, Redgrave won an Emmy, a Golden Globe®, and the Screen Actors Guild Award®.

Born and raised in the San Fernando Valley, Jennifer Todd attended USC Film School before working for Joel Silver at his Warner Bros.-based production company, Silver Films. While there, Jennifer Todd worked alongside her sister, Suzanne, until she moved on to Miramax as a production executive. At Miramax, Jennifer supervised several films including 'The Opposite Sex' and 'Romeo Is Bleeding.' After leaving Miramax, Jennifer Todd went on to run Bruce Willis' production company, Flying Heart Films, for Columbia Pictures. In 1995, she executive produced her first feature film, 'Now and Then,' with Suzanne, who was working with Demi Moore at Moving Pictures.


Interview with Jennifer Todd
As women in a male-dominated industry, what are qualities needed to survive Hollywood?

Jennifer Todd: Good question! I think you have to have a tough will and a very strong spirit. Movies are so hard to get made. I do think women make great producers though; we are good multi-taskers and caretakers.


What did you learn working alongside, director, Tim Burton, for Alice in Wonderland?

Jennifer Todd: I learned from Tim that you can never aim too high. He really reached on this film from his own comfort zone and the results were magical. I learned you can never stop pushing the envelope.


Can you tell us what it is like to work with Johnny Depp?

Jennifer Todd: Johnny's such a sweet, likeable guy and a tremendous talent. He's so affable; he makes you forget what a giant movie star he is.


As I understand it, Alice is the first time Tim Burton has filmed on a green screen. With so much of the film shot against green screen, combined with demanding VFX, how much pre-production time was involved and what were some of the challenges foreseen?

Jennifer Todd: We prepped the film for about 6 months; it was a long prep to get everything organized for the shoot. Even then we still came across a lot of difficulties on set, with Alice shrinking and growing and taking into account the Queen's head and all the fake characters, it felt like a complicated math puzzle every day.


As children, did you wonder in awe even at the 'simpler,' animated version of Disney's 'Alice In Wonderland'?

Jennifer Todd: Absolutely - I loved the original and I always loved the Disney ride! It's amazing how far filmmaking has come since I was a child.


Where does your creative inspiration come from?

Jennifer Todd: It comes from all over - films and books I've loved as well as the artists in my life. Now it also comes from my children.


What were the biggest problems as a producer with getting the final product?

Jennifer Todd: One of the biggest problems was getting the film done in time. We had our release date locked very early, and we could not change it. So the last few months were very stressful waiting for the final FX to come in.


What do you feel 3-D did for Alice in Wonderland in a new generation?

Jennifer Todd: I'm happy that 3D has excited a great deal of people to go to the movie theater. And I think that being one of the first big 3D films out in the US after Avatar helped our film tremendously.



Were you surprised with the overwhelming success of 'Alice' at the box office?

Jennifer Todd: I was - although I expected the film would do well as I knew how good it was. But no one can predict the kind of numbers the film did. I wish I could!


Did you find it more or less difficult to oversee production on a film with Tim Burton's whimsical touches? On a film that was mostly digitally created?

Jennifer Todd: I actually felt it was easier, as Tim still had the freedom to make changes after we filmed the movie. That's one of the upsides of a mostly digital film. He could make changes you could never make in a traditional live-action film.


You've spent a significant time working in independent film - a far cry from Disney and blockbusters like Alice in Wonderland. Can you tell us what the transition was like for you, and whether or not your indie sensibilities informed the production of Alice at all?

Jennifer Todd: They are such different film making experiences, but yet I like them both. Obviously you always want to tell a great story, no matter how big or small. I love the intimacy of small films and I love the reach of big films like Alice.


Alice has such a long history on the big and small screen, was it daunting to create this new version?

Jennifer Todd: It was - it's a bit scary to take on such a famous piece of literature. But at the same time we re-imagined it in a way that we thought would feel fresh to an audience.


If you could go back to the beginning now, is there anything you'd want to do differently?

Jennifer Todd: I can't say there is. Because of the success of the film, I'm just thrilled with it all.


What turned out to be your favorite scene in the film?

Jennifer Todd: Hmmm...That's so hard. I love the introduction to the Red Queen when she's playing croquet, I also love the end with Alice and the Mad Hatter.


Can you discuss the way in which Tim Burton works on a set, compared to say Chris Nolan or Julie Taymor?

Jennifer Todd: Every director is so different, but these three are clearly so talented. Chris is a writer/director so I think he's very confident in his material when he directs. All three of them are perfectionists - which I think one must be to deliver films on the level they do.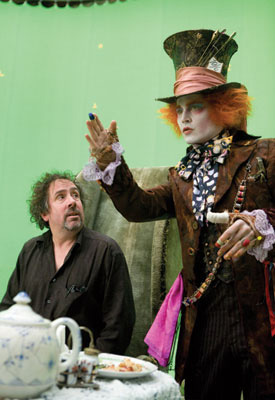 How did you map out the different sides of The Mad Hatter's personality both in visuals and voice?

Jennifer Todd: Well the decision to make his eyes big was Tim's and was just an amazing effect. Johnny Depp decided the Hatter was a bit of a split personality - his Scottish accent comes out when he's angry and remembering his past.


You've assembled an amazing cast, many of whom are unrecognizable in their roles, was there anybody who turned you down though?

Jennifer Todd: No! That's one of the great gifts of working with Tim - actors are dying to work with him.


Given the relationship between Tim Burton and Johnny Depp, how difficult or challenging was it to collaborate?

Jennifer Todd: Once they decided to work together it was very easy. Their friendship and ease with each other made the filmmaking process really nice. It also set a nice tone on the set for the other actors.


How does the experience compare between working on such a behemoth as Alice and a smaller scale movie like Memento?

Jennifer Todd: The time commitment is much greater on a big film. Alice in Wonderland was about three years in the process and that's even quick for a movie of its size. Also it takes so many more people to complete a film like this - Memento was such a small, intimate experience, the two feel like very different processes.


We often hear stories of Johnny Deep staying in character throughout a shoot, was he like that for Alice, was he in Hatter mode a lot of the time?

Jennifer Todd: He was, although at the end of the day when he was cleaned up and not in make-up anymore he seemed to just be himself.


Did the two of you 'produce' anything in your younger days? (Backyard plays…)

Jennifer Todd: No, but my sister killed me off in a couple of her student films at USC. I was always her main actress, pity for her.


Ken Ralston has done an amazing job of VFX. How did Ken get involved in the project - was he a first choice? - And what were some of the challenges cast/crew faced in delivering such convincing performances with so many VFX considerations to work around, such as oversized heads and the varying height of Alice?

Jennifer Todd: Ken was the first choice for the film - he's such an amazing talent and really at the forefront of VFX. The challenges were enormous - every day was like a giant geometry equation of where Alice would stand and be the right size, where the eye lines for the CG characters were, where people could stand and not interfere with the Queen's head. Thank goodness Ken could figure it all out.



The visual effects are quite in-depth, is it hard to visualize the end computerized result when working with the actors?

Jennifer Todd: Yes - I give the actors great credit for acting to a green screen and making it so convincing. One day on the set Mia was running on a treadmill and an AD was yelling out "tree branch" for every time she was supposed to duck - it looked very difficult to me!


What attracted you to Alice in Wonderland? Especially since it had been done many times before.

Jennifer Todd: I loved this take on Alice - I had never pictured her as a young woman before, and one who would become a symbol for female empowerment.


There's an interesting quote in the special features we're seeing, which says of the Red Queen that she is played like a petulant child pretending at being queen, does that describe the theory at the outset, or did that evolve dynamically during the shooting?

Jennifer Todd: I think Helena brought a lot of that to the character. She's written as a woman who is cruel because she is unloved, but I think Helena brought a great petulant quality.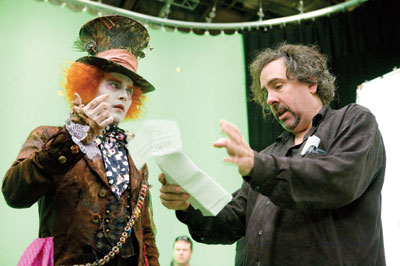 How much creativity did Johnny Depp bring to The Mad Hatter character?

Jennifer Todd: Johnny Depp brought so much to the character. We re-wrote quite a bit of the Hatter when Johnny came in, we fleshed out his back story of his family being killed, which explained his motivation and state of mind. Also all the lovely nuances of the character - his accent, wardrobe, etc were all created by Johnny with Tim.


Did you get to keep any of the props from Alice in Wonderland?

Jennifer Todd: Sadly no, there weren't many props to pinch! The Hatter's tea was so beautiful but it went on tour after we finished filming.


Have you, for one reason or another, passed on any scripts that you later saw turned into great films?

Jennifer Todd: I can't think of any I have - although it's bound to happen. As a producer you have to accept your own taste and know that you won't catch everything. I'm sure I would miss a great horror film if it came my way as I'm not good at those.


At what stage of production did you decide to make the film 3D?

Jennifer Todd: At the beginning when Tim signed on. He was very keen on making this his first 3D film as the technology had just improved so much.


Both Johnny Depp & Helen Bonham are both strong, creative actors, it must have been fun working with them. Can you tell us what they both bring to the set in creativity?

Jennifer Todd: They are both so dedicated and fearless. They also are both so imaginative to create in the real world what worked for Wonderland. Both of them had so much input in their hair and make-up, wardrobe, props, etc..


You worked on 'Across The Universe'. Do you envisage a career peppered with interesting semi-animated projects and what is it you like most about semi-animated films?

Jennifer Todd: I love creating worlds and still being real. If I can find more movies to do this with I'll be thrilled. They're hard to find.


Do you think this version that Tim Burton did of Alice enriched the classic? Did it respect all the guidelines of the book of Lewis Carroll?

Jennifer Todd: I think it is respectful. We used characters and plot from both books but only to enrich the plot of the film. I think the whim and the magic are in step with Lewis Carroll's work.


What made you go with Tim Burton as Director of this?

Jennifer Todd: He was our first choice - he has the vision and the tone we thought perfectly suited the material.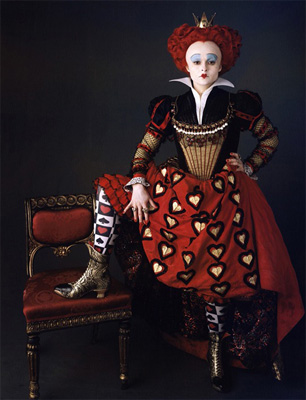 When working with such a talented director like Tim Burton, is the worry factor less or more pressure because of his quirkiness as an artist?

Jennifer Todd: I think there's less pressure as Tim is such a known artist, and has had great success in his films prior to Alice.


Tim Burton's visions are always lush and I guess you would say extravagant (in all the right ways!). Were there any times when Tim's vision had to be altered, either from a budget point of view or a creative one (to achieve a more 'mainstream' appeal, for example)?

Jennifer Todd: Not really. Tim self edits rather beautifully, and I think what's great is that his unique vision appeals to audiences.


Was it daunting to take such a well-loved classic tale and take forward into a new story line?

Jennifer Todd: Yes. The book is terrific but doesn't lend itself well to a movie plot, so we were forced to re-invision it a bit without losing its magic.


The original Alice story drew political parallels and satire wrapped up in a children's story. What were some of the core messages and themes intended to be conveyed in this modern interpretation? Is it just a story about a girl lost in her own world and inner conflict, or do you see something much deeper?

Jennifer Todd: Our film is about a young girl at a crossroads in her life and finding the strength within her. It's her "muchness", her spirit, which she must tap into to find her way.


Is there a tug of war between producer and director when it comes to creativity?

Jennifer Todd: Not on a film like this, that was dependent on Tim's vision. We really gave him the script and waited to see what he would come up with.


Do you always look to work together as producers on projects, and are there times when the demands and stress of producing impact on your relationship?

Jennifer Todd: We do mostly produce together and I think it is actually quite easy having each other. It's nice to have a real ally in the film making process as it's so hard.


This is going to be a hard movie to top, will your next couple of projects be deliberately small scale?

Jennifer Todd: We really make whatever we can when we can, but it just so turns out that our next film is quite small, The Romantics, which premiered at Sundance.


With so many different avenues of entertainment available, is it getting more difficult for producers and filmmakers to green light big budget productions? Is the overwhelming box office success of films like Alice, Avatar, etc. helping build confidence in studios/investors/etc.?

Jennifer Todd: It seems right now you are either getting films made at a big level like Alice or AVATAR or very small like our next film The Romantics. The middle seems to be very difficult these days.


Is it harder to reinvent classic tales than new scripts?

Jennifer Todd: Yes and no. It's great to start with characters that are already known and loved but daunting that you don't mess it up and upset your audience. Studios like classic tales as it gives them a pre-awareness for an audience.


Any final thoughts on Alice In Wonderland?

Jennifer Todd: Thank you all so much for your interest and time today. We are thrilled with the success of the film and hope you all enjoyed it.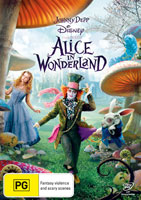 Alice in Wonderland
Cast: Johnny Depp, Anne Hathaway, Helena Bonham Carter, Crispin Glover, Matt Lucas, Marton Csokas, Tim Pigott-Smith, Lindsay Duncan and Mia Wasikowska as Alice
Voice Cast: Stephen Fry, Alan Rickman, Michael Sheen, Timothy Spall, Christopher Lee, Paul Whitehouse, Barbara Windsor
Director: Tim Burton
Genre: Family, Fantasy, DramaRated: PG - Fantasy violence and scary scenes.
Running Time: 108 Minutes
Released on DVD: 1st of July 2010

Tim Burton brings to extraordinary life one of the most classic and celebrated stories of all time when Alice in Wonderland is out on DVD on 1 July, 2010

In a modern twist to the fabled tale, Alice (Australia's own Mia Wasikowska) is a grown woman of 19- years trapped in a world of stifling etiquette. Following the death of her adventurer father Charles, who regularly consoled her about her strange dreams of Wonderland by declaring her, "mad, but all the good ones are", Alice doesn't feel like she belongs in the real world.

About to be unwillingly proposed to in a lavish garden party by the son of her late father's business partner, Alice sees a rabbit in a waistcoat, gives chase and tumbles down a rabbit hole where she is transported into the magical, mysterious and dangerous world she encountered as a child - Wonderland. Let the adventure begin!

With an all-star cast including Helena Bonham Carter, Stephen Fry, Anne Hathaway, Alan Rickman and Johnny Depp as the Mad Hatter, Alice in Wonderland is a must-own family adventure released on DVD and in the Blu-ray/DVD Value Pack™ on the 1 July 2010.Interview by Brooke Hunter