Jennifer Saunders and Joanna Lumley Absolutely Fabulous: The Movie
Cast: Jennifer Saunders, Joanna Lumley, Rebel Wilson, Gwendoline Christie, Cara Delevingne, Kim Kardashian West, Julia Sawalha
Director: Mandie Fletcher
Genre: Comedy
Rated: M
Running Time: 91 minutes

Synopsis: Appropriate for their big screen debut, Edina Monsoon and Patsy Stone (Jennifer Saunders and Joanna Lumley) are still oozing glitz and glamour, living the high life they are accustomed to; shopping, drinking and clubbing their way around London's trendiest hotspots. But when they accidentally push Kate Moss into the river Thames at an uber fashionable launch party, Eddy and Patsy become entangled in a media storm surrounding the supermodel's untimely demise and are relentlessly pursued by the paparazzi. Fleeing penniless to the glamorous playground of the super-rich, the French Riviera, they hatch a plan to make their escape permanent and live the high life forever more!

Fox Searchlight Pictures presents in association with BBC Films a DJ Films/Saunders & French production, starring Jennifer Saunders and Joanna Lumley in Absolutely Fabulous The Movie, also starring Julia Sawalha, Jane Horrocks, June Whitfield, Chris Colfer, Kate Moss, Lulu, Emma Bunton, Robert Webb, Barry Humphries, and Indeyarna Donaldson-Holness. The comedy was directed by Mandie Fletcher from an original screenplay by Jennifer Saunders, based on her hit television sitcom of the same name. It is produced by Damian Jones and Jon Plowman; the executive producers are Maureen Vincent, Jennifer Saunders, Dawn French, Christine Langan, Nichola Martin, Steve Milne and Christian Eisenbeiss. The director of photography is Chris Goodger, and the production designer is Harry Banks. The costume designer is Rebecca Hale and the hair and makeup designer is Christine Cant.

Eddy's PR career has hit the skids. Her not very many clients include a boutique vodka and the 60's pop icon, Lulu, who refuses to sing -Shout!' as often as Eddy would like. Eddy is desperate for someone to publish her memoirs - every microbe on the planet seems to be able to get a book deal these days - but the publishing world isn't biting.

Patsy's career, meanwhile, seems to be miraculously intact. In fact, her magazine is sponsoring a major fashion event, the Huki Muki Retrospective launch party. Everyone who is anyone is going to be there, even the supermodel Kate Moss, who happens to be between PR's (publicity reps)... Kate Moss! All Eddy has to do is get to Kate before her arch rival Claudia Bing (Celia Imrie) of Bing, Bing, Bing & Bing, and she will be right back in the game. And in her beautiful 13 year-old granddaughter Lola (newcomer Indeyarna Donaldson-Holness), she has the perfect accessory to help her to do just that. Needless to say Eddy, who still claims to be 49 years old, hasn't embraced grandmotherhood in the traditional twin set and pearls sense but she and Lola have a common enemy in Lola's mother Saffy (Julia Sawalha), Eddy's long-suffering, straight-laced daughter.

But things go badly wrong at the Huki Muki party. When Kate Moss is involved an accident, the hating faces of the fashion world place the blame firmly at Eddy's door. When an attempt to find Kate results in the disappearance of Eddy's trusty secretary, Bubble (Jane Horrocks), she and Patsy have no choice but to go on the run in search of great escape and rich husbands. And what better place to do that but the South of France, where mother (June Whitfield) is celebrating the birthday of her extremely wealthy sister, Violet (Wanda Ventham).

So ensues a hilarious Cote d'Azur caper, with all our favourite old faces rubbing straw hats with a lineup of pitch perfect new characters. Will Eddy's dissolute past begin to catch up with her? Is the party finally over?

Absolutely Fabulous: The Movie
Release Date: August 4th, 2016



About The Production
Sweetie Darling: Twenty Five Years of 'Absolutely Fabulous"

In 1990, Jennifer Saunders and her comedy partner Dawn French were writing the scripts for the third series of their hit TV show, 'French and Saunders", when they came up with a sketch about a mad, -modern' mother, an ex-hippy called Adriana - as played by Saunders - and her sad, straight-laced daughter, as played by French.

One year later, in 1991, Dawn French and Jennifer Saunders were preparing to film their fourth series. Studios had been booked at the BBC and the show's longtime director, Bob Spiers, was in place. Just as the girls - who had been comedy collaborators since meeting at drama school in the late 70's - were about to get down to writing the series, Dawn French and her then husband, Lenny Henry, got the phone call they had been awaiting hopefully for years; a baby girl was ready for adoption. Work had to be put on hold.

It was at this point that Jennifer Saunders got a call from her longtime agent, Maureen Vincent, wondering if there were anything else that she could think of that might fill the studio slot? For Jennifer Saunders, who had never considered writing anything on her own, this was a terrifying suggestion. Encouraged by her husband, fellow writer and comedian Adrian Edmondson, Jennifer Saunders had a think about what on earth she could write. It was then that she came back to the idea of the modern mother Adriana, who she would rename Edina 'Eddy" Monsoon. 'I had enjoyed writing and playing the character," she says. 'I could speak her easily, which made the writing easier, indeed possible."

Jennifer Saunders - who got the idea for Eddy's job from Lynne Franks, then London's hottest fashion PR - wrote a treatment, and the wheels started to turn. Jon Plowman, the 'Dawn French & Jennifer Saunders" producer (who went on to become the Head of Comedy Entertainment at the BBC), liked the idea and encouraged her to go away and write a pilot. Jennifer Saunders scribbled the pilot - -Fashion' on an A4 notebook. In it, Eddy wakes up on the day of her big fashion show to a hangover and a guilt trip from her daughter, Saffy. Along with her best friend, Patsy, Eddy turns the show into a rousing success and, the next morning, she and Patsy trick Saffy into thinking that Eddy is going to check into rehab.

Originally broadcast on the BBC in 1992, 'Absolutely Fabulous", or 'Ab Fab" as it would come to be known, aired to instant acclaim. Patsy and Eddy shocked and delighted in equal measure, Saffy made our toes curl and gave the show a heart, Mother knocked us dead with her withering one liners and Bubble made us laugh out loud with her surreal inefficiency.

It was a show that had something for everyone: a dysfunctional family, a die-hard friendship and a huge, outrageous sense of fun. 'The characters in -Ab Fab' - and it is a concept that is driven by its characters - are a cartoon version of all of us," says Jennifer Saunders. 'And I think, at the end of the day, people like to laugh at themselves and not take life too seriously. If I had to say why the show was a success, I would say that it was because it was a license not to have to behave. Patsy and Eddy are awful, sad human beings, but they enjoy themselves hugely. Plus, they are each other's greatest ally. My main experience over these past god knows how many years is that people come up to me and say -I've got a Patsy, I've got an Eddy. They are just like me and my mate.' And, do you know what, everyone likes to have a little double act, a friend who supports them, who they can have a laugh with. Because that is what family, in its strongest possible sense, is and should be. And that's all any of us want from life, really. That, and to have fun, to have a laugh, and not take it all too seriously."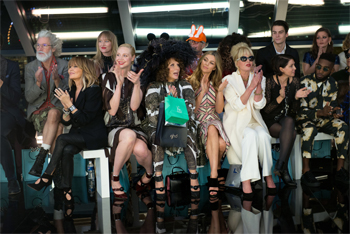 Riding high on its runaway popularity, 'Absolutely Fabulous" - which was also bought by the Comedy Central in the US in 1994 - ran for three series, from 1992 to 1995 (winning the BAFTA Award for Best Comedy Series in 1993). In 1996, a two-part television film entitled 'The Last Shout" was to be its finale. But the world wanted more and, between 2001 and 2004, two further series and three one-off specials aired. Seven years later, in 2011, Jennifer Saunders once again bowed to public demand with two further hour-long specials on Christmas Day 2011 and New Year's Day 2012, both directed by Mandie Fletcher. A further special aired to coincide with the 2012 London Summer Olympics (also directed by Mandie Fletcher, and for which Jennifer Saunders won a Best Actress BAFTA) - was to be the last.

But four years, and much lobbying later, Jennifer Saunders has finally given the world what it has really been waiting for: Absolutely Fabulous: The Movie.

Hedging her bets; bringing 'Ab Fab" to the big screen

'You keep meeting people and they keep enjoying it, but it was Joanna Lumley who finally forced me into it," says the arch-procrastinator, Jennifer Saunders, a woman much happier sweeping her terrace or cleaning her keyboard than she is actually sitting down to write. 'She put it very simply, and very brilliantly. She simply said -You must write it, darling. Otherwise we will all be dead and we won't have made the film.'And I love hanging out with Joanna Lumley, and I love being with the other cast members, and I knew that we could have a lot of fun."

Around the same time, Jennifer Saunders was recording her Radio 2 Christmas show with her old friend and collaborator, Dawn French. When Dawn French asked her, live on air, what her New Year's Resolution was, Jennifer Saunders (who had recently published her autobiography 'Bonkers: My Life in Laughs") replied that she was determined to finally write the script for the film version of 'Ab Fab". Dawn French, who had heard it all before, spotted an opportunity. 'She said that, if I hadn't written the script by the same time the following year, I would have to pay her £10,000," Saunders remembers. Dawn French and Jennifer Saunders shook on it and the deal was done. 'I was pretty confident that I would have written it by the summer," says Jennifer Saunders.

One year later, on the eve of recording their end of year 2014 show, Jennifer Saunders realised, in a blind panic, that she hadn't fulfilled her side of the bet. 'I had such a mental block about writing it," she admits, 'I just couldn't quite see it yet." Not wanting to suffer the indignity of losing the bet, not to mention the £10,000, Jennifer Saunders quickly banged out the first 30 pages of a 90 page script. On the blank 60 pages, she simply wrote 'Blah, blah, blah", hoping that Dawn French might not notice. On the day of the recording, as she handed over the unfinished script, Jennifer Saunders was 'actually sweating and panicking." When the recording had finished, her comedy partner came up to her and said 'That's not the script."

'This was just before Christmas and I argued that I had until New Year," Jennifer Saunders remembers. 'I promised her that, by New Year's Day, she would have a finished script." Over the next couple of weeks, Jennifer Saunders continued to flesh out a version of the script and emailed it to her comedy partner, knowing full well that French was a luddite who didn't do email and 'would probably never get round to reading it."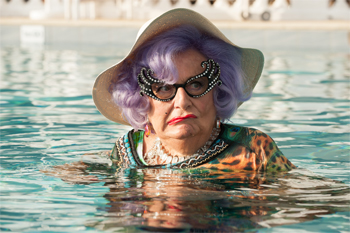 Still, Jennifer Saunders had kept her side of the bargain and, by then, the word was out. 'Most movies are a script in search of some money," explains Jon Plowman, who had produced all five series and seven specials of Ab Fab over the years. 'But this was more a case of some money in search of a script. From the minute the word got out that Jennifer Saunders was contemplating writing the film of -Ab Fab', lots of financers threw their hats in the ring. It was what the world had been waiting on for years." Both Jon Plowman and Jennifer Saunders are particularly happy that BBC Films have a stake in the film. 'The BBC is where the show started, "says Jennifer Saunders. 'We owe them a lot."

Albeit a little unwittingly, Jennifer Saunders was now committed. She was not without her worries. 'I felt, what I'd always felt, which is that it wouldn't be enough to make a film version of the TV show, because that was just an excuse to make jokes for half an hour. No, the film had to be something different, something bigger. It had to be relevant. It had to be about Patsy and Eddy now and the reality of how their life would have panned out. And that reality, let's face it, was always going to be quite sad."

In a world which is 'running away with itself", Eddy has become an anomaly. 'She has always been an enthusiast for the new but, in an age of social media, everyone is onto everything before she can be," says Jennifer Saunders. 'The world has left her behind, in a way. She's become slightly irrelevant and behind the bounce. Neither she nor Patsy is savvy enough or hip enough - because they never were, let's face it - to keep up."

The subject of aging in the modern world was something of particular interest to Jennifer Saunders, herself now a grandmother of two. 'Eddy and Patsy don't know how to grow old, in the way that none of us seem to these days," she says. 'In cave man times, we would all have been dead by the time we were thirty. Now, we flap about until we are 70, 80, even 90 and we don't know what to do because biologically we should just be dead. And we haven't got this extra brain or gene that tells us how to live to be old. We used to just disappear into the twilight without spectacles but now we can have laser surgery and we don't know what to do. We don't just not know how to grow old gracefully; we don't know how to grow old at all. It's like we've lost the ability to stop wearing trainers."

No one more so than Eddy and Patsy. 'They refuse to give up," says Jennifer Saunders. 'They can't, and won't, ever admit to being old. Ever. So they have to find a different dream; they have to retreat into the past, into something sentimental and nostalgic that they love and know. And, for them, that is the idea of the South of France, of somewhere halcyon where their idea of glamour is still clinging on for dear life."

Jennifer Saunders herself is baffled by the modern world. 'To me, keeping up with Facebook and Instagram and Twitter is a whole day's work," she says. 'I don't know how not to trail through other people's worlds of children and dead friends and dog videos before I get to someone I actually know."

To her mind, the 21st century - with its earnest, faddy twittering - is just as ripe for a swipe as it ever was. And what more powerful symbol of its antithesis than Kate Moss? 'Kate Moss represents the old souls," explains Jennifer Saunders. 'No, she's not going to give an interview, no, she's not on social media and yes, she's still bloody gorgeous. Kate Moss is the one person that defies everything about the modern world and that is precisely why the world loves her. It is certainly why Patsy and Eddy love her. She is the one that they would like to live like. Because she has fun, and she doesn't play by the rules, and she manages to be herself, however she wants to be, and gets more beautiful with every day that goes by. She doesn't age or fade; she blazes a glorious, rebellious trail and, in the sweetest, coolest, most gorgeous way pays no heed to what anyone thinks."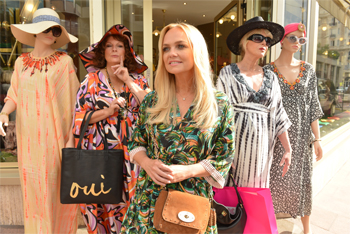 The secret to the success of 'Absolutely Fabulous" has been its refusal to play by the rules. 'It was the first time, on screen, that women were seen behaving badly," says Jane Horrocks (Bubble), who originally auditioned for the part of Saffy, and then created her own, fabulously kooky character in Bubble. 'When Patsy and Eddy came along, women the world over felt that they had been given permission to get arseholed and have a laugh. They were such a breath of fresh air; such a brilliant, funny relief."

Patsy and Eddy do what most of us would like to do but that which we don't quite have the guts to do. And now, on the big screen, their glorious misbehaving is going to be amplified. But Saunders was determined that, along the way, there needed to be a moment of reckoning. No victory can be sweet if there isn't a lot to lose. 'I wanted to make sure that Eddy was driven - and, by driven, I mean quite literally driven - into a moment of comeuppance. Her awful moment is the moment that she looks at who she is, and who she has been, and what the future holds, and almost embarrasses herself into saying that she loves someone."

But Patsy and Eddy will never lose. They can't lose because at the end of the day their audience wants to see them win. Firstly, because of their friendship, which is a thick and thin union that has lasted longer and more joyously than most marriages of the same length. And secondly because, in their boundless optimism and resolute refusal to be anything but themselves, they provide the perfect comic tonic to real life. 'The truth is that times are quite dark," says Joanna Lumley. 'People are tired and lives can sometimes feel dull. But Patsy and Eddy don't feel that. They are positive forces, life forces, forces for fun. And they believe that, whatever happens to them, they are going to survive and come out on top."

From sitcom to cinema; painting the bigger picture

'This is -Ab Fab' on a completely different scale,"says producer Damian Jones. 'Fans of the TV show are in for quite a treat because they are going to get all the outrageousness and hilarity that they first fell in love with, wrapped up in a very glamorous package."

Filming on Absolutely Fabulous: The Movie began in October 2015. From the outset, the team behind the film were determined that its denouement should take place on the Cote d'Azur. 'Patsy and Eddy are wildly hedonistic creatures and to them the South of France is a sort of nirvana," explains Jon Plowman. 'It's got all the ingredients for their sort of good life - yachts, sea, sun, booze, hotels that are beyond the dreams of ordinary mortals where drinking huge amounts of champagne before breakfast is absolutely the done thing. It's the life that they have been looking for since 1991, when we made the first pilot for the series."

The finished film blends some of the more iconic landmarks - the Croisette in Cannes and the Grand Hotel du Cap Ferrat - with some hidden visual gems, such as the gorgeous St Peter's Chapel in Villefranche-sur-mer and the Palais Bulles, Pierre Cardin's futuristic clifftop villa in Theoule-sur-Mer. 'The villa has a glamour and a sort of exuberant bonkersness to it that we just thought was very -Ab Fab'," explains the film's production designer, Harry Banks, whose work on several episodes of the TV series meant that he spoke the show's language.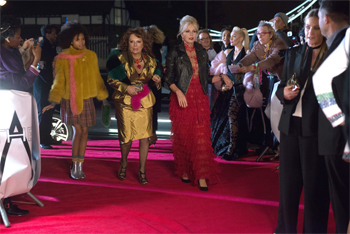 Particular praise must be singled out for the Grand Hotel Du Cap Ferrat, easily one of the most prestigious hotels in the world, who, for the love of 'Ab Fab" threw open their doors and, most remarkably, closed down their swimming pool - one of the most exclusive in the whole Riviera - for an entire day.

It certainly wasn't always easy. A matter of days before filming was due to begin, the Riviera was hit by catastrophic flash floods. But, rather than battening down the hatches, locations like the Martinez hotel in Cannes welcomed the production with open arms, despite still being without telephone or internet connection in the wake of the storms.

For the full two weeks of Riviera filming the Cote d'Azur luckily returned to its most blue-skied beautiful, which only served to heighten the sense of old-fashioned glamour that Eddy and Patsy have always yearned for.

Back in London a different backdrop glitters, but it is certainly just as majestic. With its big vistas, glass shards and twinkling modernity, the banks of the River Thames provided the perfect up-to-date backdrop for this contemporary look at a group of characters whose lives we have been following for a quarter of a century. Stand out, cutting edge locations included a 22nd floor penthouse of Neo House on Bankside, where a Giles Deacon fashion show opens the story, to an undeveloped Victorian Pump House in Wapping which provided the perfect backdrop for the Huki Muki party. Their aesthetic appeal aside, what these spaces provided to the filmmakers most of all was a canvas on which to paint their picture in the broadest possible strokes. 'Our ultimate aim was to open the TV series - which largely took place in the closed set of Edina's house - up into 360 degrees," Harry Banks explains. 'This is the -Ab Fab' we know and love, but it has now opened up onto a believable, cinematic scale. We've given it an uplift, I suppose. And the effect that that creates is that it makes the audience feel that they are somehow, more than ever, living Patsy and Eddy's experiences alongside them. We can drive with them up to Eddy's house, follow them down the stairs into the kitchen, go with them to a party, cruise with them on a yacht. It's the same -Ab Fab' we know and love, but now it's in Technicolor."

'It was very simple, really," says Mandie Fletcher. 'We wanted it to look, and feel, like a glass of champagne on a dark day. We've given it the gloss, the glitz and the glamour that it deserves."

All the J's; the 'Ab Fab" Family

'It was basically just like Christmas every day," says producer Jon Plowman of the joys of reuniting the original 'Ab Fab" family.

Getting the gang together was, in many ways, the easiest part of the filming process. 'We all hoped it was going to happen at some point because the longing for it was just so colossal," says Jane Horrocks.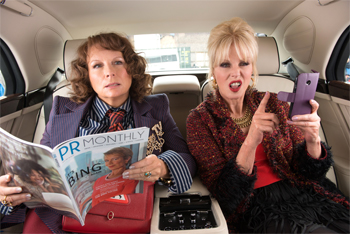 But no amount of longing could make it a certainty. 'People have always said -When are you doing a film? When are you doing a film?" says Julia Sawalha. 'But I always said -Well I don't think a film will ever happen' because I didn't know if Jen would ever be ready. She's not the sort of writer who would ever write anything for the sake of it. She writes it when she has something original and topical to say. And that, at the end of the day, is why she's such a genius. So when she finally wrote it, we all knew that it was because the time was right, and we all jumped at the chance!"

All the J's - Jennifer Saunders, Joanna Lumley, Julia Sawalha, Jane Horrocks, June Whitfield (and Jon Plowman) - have been a family for longer than a lot of their new, younger audience demographic have been alive. Having worked together on and off for twenty five years, on five series and seven specials, they know every aspect of each other's characters - both in fiction and in reality. 'The great thing about having a success is it means you can do more of what you're doing, make more of what you've been making," explains Jennifer Saunders. 'We all became a family, and there is no better feeling than going into something knowing that people you love will be there."

'We are safe as houses, the five of us," says Joanna Lumley. 'We know that. We know each other. We know each other's characters. And we know our audience. I am sure I speak for all of us when I say that we have all adored being back together again."

'It does feel that we just lock back into how we were twenty years ago," says Helen Lederer, who plays Catriona. 'Some anxieties, some joys, always gossip." June Whitfield (Mother), who celebrated her 90th birthday during filming, says 'I couldn't have asked for anything nicer."

'We are all very different, but we have all - crucially - got the same sense of humour," says Julia Sawalha. 'We are all very relaxed and pretty normal people, actually. We haven't got high demands. At the end of the day, I would much rather sit with my lovely colleagues than in a trailer on my own with a fan heater blowing in my face and an iPad."

After years of togetherness, Jennifer Saunders and Joanna Lumley are a particularly sharp double act. 'Some of my happiest times have been sitting in costume with Joanna Lumley, having conversations in character that just make us pee," says Jennifer Saunders. 'She is a seriously funny person and the joy is that she is not remotely precious. I love working with her. Just being Eddy and Patsy is, to me, like a kind of mindfulness. If I could just do Eddy and Patsy for ten minutes a day, I'd probably be absolutely sorted; getting out all that laughter and all that angst and saying things you are never usually allowed to say. Once I'd done that, I could just continue on a cloud of loveliness. The greatest thing, for me, is that there has never been anywhere we couldn't go with the characters and, on the film, this was amplified."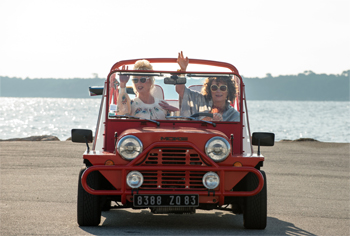 For their chemistry to work at its highest possible frequency, all the J's - most particularly Jennifer Saunders, Joanna Lumley and Jon Plowman - felt that it was essential to work with a director who could speak their language. From the outset, the award-winning director Mandie Fletcher seemed the only girl for the job. Mandie Fletcher - whose top-drawer comedy credits include 'Blackadder" and 'Only Fools and Horses" - had previously worked with Jennifer Saunders on three series of 'Jam and Jerusalem" as well as on three 20th Anniversary Specials of 'Absolutely Fabulous". 'She's fast, she's brilliant and, most crucially, she's got a great sense of humour," says Jennifer Saunders. The admiration is certainly mutual. 'I'm desperately fond of Jennifer Saunders," says Mandie Fletcher. 'She's not just a terrific writer, but she's also an extraordinary performer. With most performers, you get a good performance, but it's grounded. But there's something about Jennifer Saunders where, if you give her a moment, she'll cut the strings and float above. Plus, she now has a confidence in herself which, I believe, has made for something very special in this film, because she's touching as well. This film is not just all about broad comedy, about falling over and getting drunk. There's an honesty and a truth which underlies the whole thing, and that gives it a consequence."

With Mandie Fletcher at the helm, the rest of the family fell very easily, and obviously, into place. Every key Head of Department - Production Designer Harry Banks, Costume Designer Rebecca Hale and Hair and Makeup Designer Christine Cant - all worked on the TV series of 'Absolutely Fabulous" in some capacity. And even those who weren't part of the original 'Ab Fab" family - Director of Photography Chris Goodger and Editor Gavin Buckley - have significant collaboration history with Mandie Fletcher.

For those new to the 'Ab Fab" family, every day was pure joy. 'Every day, there was huge amounts of laughter," says producer Damian Jones. 'Because, most crucially, there is a strong chance that this will be the Ab Fab finale, that this will be the end of the series as we know it, so everyone has given it their absolute all. It has been a real labour of love."

Jumping on the Bandwagon: a casting stampede

'I have never had a professional experience like it," says the film's casting director, Alex Johnson. 'Most films I have worked on, there has been a certain amount of begging people to be in it - or trying to financially tempt them in certainly - whereas with this one people have been ringing up and begging to be in it. We were practically beating them off with a stick."

Once word was out that the popular sitcom was finally being made into a film, actors from across the globe put their hats in the ring for a part. New additions, like Robert Webb, one half of the comedy duo Mitchell & Webb, who plays Saffy's boyfriend, and Nick Mohammed, a comedian who plays Magda's assistant Caspar, jumped at the chance to appear in the film of the iconic comedy. And previous incumbents like Emma Bunton and Lulu didn't hesitate in saying yes when they were asked to return.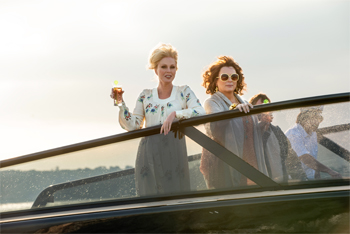 For Glee star Chris Colfer - who plays Edina's hairdresser Christopher - the bid to be in anything that Jennifer Saunders had ever had anything to do with had started as a boy, watching episodes of 'Absolutely Fabulous", which is to his mind 'one of the funniest shows in history". In 2011 when he came to London for a two-week leg of the Glee world tour, he asked his representatives to offer his hero, Jennifer Saunders, tickets to see the show. She came, he was awestruck, and the two became friends on Twitter. When Jennifer Saunders said she was thinking of writing a script for the film version of 'Absolutely Fabulous", Chris Colfer replied that he would 'move mountains" to be in it. Several years later, when she got in touch saying that she had written him a role, Chris Colfer 'almost exploded" with happiness. 'It doesn't seem right to call it a job because it's been so much fun," he says of his time filming. 'I don't think I've ever laughed this hard. Ever. Definitely not on a set before, anyway. Watching Jennifer Saunders and Joanna Lumley has, for me, been the most incredible thing because they just crack each other up. It's almost like a competition, like they're each trying to make the other one laugh more."

For Gwendoline Christie, the star of 'Game of Thrones" and STAr Wars: The Force Awakens, the opportunity to work on Absolutely Fabulous: The Movie was also a dream come true. 'I have been a lifelong fan of everything Jennifer has ever done,"' she says. 'I grew up watching and re-watching -Ab Fab'; to me it was a masterclass in how performance could work at the highest level." When the actress met her comedy hero at the Elle Style Awards at the beginning of 2015, she showed off 'in a pathetically vain attempt to try and impress her." Thankfully, it worked. 'It would seem that she took pity and allowed me to be in her film," laughs Gwendoline Christie, who plays herself, and who says that the greatest birthday experience of her entire life was when, during the filming of her real-life partner Giles Deacon's fashion show, Eddy and Patsy presented her with a huge birthday cake. 'My cheeks are still hurting from grinning."

Without exception, all the actors and real life characters who appear in the film share a common essential trait: the ability to laugh at themselves. And, of everyone, no one was more up for some fun than Kate Moss. 'From the very beginning, she threw herself at the idea of playing herself," says Jon Plowman.

Kate Moss was no stranger to working with Jennifer Saunders - in 1996, she modelled alongside Dawn French in an episode of 'French & Saunders" and, in 2012, she starred in an 'Absolutely Fabulous" Olympic special. 'I grew up with -Ab Fab'," says the supermodel. 'When it started, I was right at the beginning of my modelling career and I always found it to be such an amazing take on the fashion business. It made me laugh, which was a good thing, because the fashion world isn't always funny."

Cast and crew alike are unanimous in their praise for Moss's enthusiastic professionalism. 'She was just fab," says Jennifer Saunders. 'So sweet, so funny, with absolutely no airs and graces." 'I've never met anyone who tried so hard and wanted to do it so right," says Mandie Fletcher. 'Before she got there, we said to ourselves, -She's a multi-millionaire supermodel. She could arrive and be difficult. She could have done anything and we would have sucked it up'. But not a bit of it. She was completely charming and professional. An absolute delight."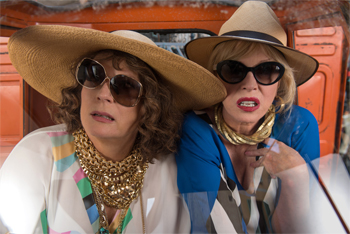 Anything she was asked to do, Kate Moss did with aplomb. 'She was up for anything," says the costume designer Rebecca Hale. 'For one particular scene she had to wear a wetsuit and wade into the Thames and she didn't moan once."

In another scene - a dream sequence in which Eddy fantasises that Kate Moss and her cool friends beg her to come to Goa with them – Jennifer Saunders found herself sitting amongst some of the most beautiful faces in London.. As the likes of Lara Stone, Alexa Chung, Lily Cole, Daisy Lowe, Stella McCartney, Suki Waterhouse and Nick Grimshaw said goodbye to her at the end of filming, each and every one of them thanked her for having them in her film. 'Quite lovely, quite hot face making," says Jennifer Saunders.

In fact, not since the 'Ab Fab" TV series (which racked up a stellar list of cameos; Debbie Harry, Twiggy, Elton John, Marianne Faithfull, the list is endless...) has a British production featured such a glut of real life stars: Lulu, Emma Bunton, Dame Edna Everage, Joan Collins, Janette Krankie, Sadie Frost, Abbey Clancy, Alesha Dixon, Orla Guerin, Bruno Tonioli, Jerry Hall, Kelly Hoppen, Jean Paul Gaultier, to name but a few 'There was one red carpet scene that we were filming," remembers Mandie Fletcher, 'that I looked around and thought, -Is there anybody who is famous in the UK today who is actually not here?''' And the film still has a few surprise Hollywood turns in store for the audience as well.

With so many special guest appearances, every day on the set of Absolutely Fabulous: The Movie had the feeling of a particularly buzzy party. But none more so than the misty Monday morning when 80 drag queens, dressed in their full, fantastical regalia, jostled with grey-faced commuters to be at the Vauxhall Tavern for a 7am call time. 'I have never seen anything so -Absolutely Fabulous' in my life," says Jon Plowman.

Casting the drag queens was more a case of opening floodgates. From the beginning of its history, 'Absolutely Fabulous" chimed with the LGBT community - Patsy and Eddy were toasted for being outrageous, unapologetic and the truest possible friends .The opportunity to appear in the film version was one which nobody wanted to pass up. 'There was not a single person who turned us down," says Chloe Partridge, who worked under Camilla Arthur, together finding all the specialist background and extras. 'The response was just incredible; one girl, Miss Ra, cancelled her two week holiday in Thailand because it clashed with filming, others flew in from all over the world." And these were not just any old drag queens; these were the crème de la crème of the drag scene - fashion icon Jodie Harsh, 'Britain's Got Talent" finalist La Voix, as well as several stars of 'Ru Paul's Drag Race".

Naturally, Jennifer Saunders and Joanna Lumley, who might otherwise have had a rare break from filming, could not resist coming to set that day.

Dressing Ab Fab

It wasn't just the LGBT community who wanted to be part of the story. Fashion types came forward in their droves to appear in a film which now, as historically, pokes fun at the heart of their industry.

'Jonathan Swift, the man who wrote -Gulliver's Travels' famously said that -satire is a glass wherein each man sees every face but his own'," says Jon Plowman. 'From the earliest days of -Ab Fab', we thought that fashion and PR would hate us and think -Oh my God, they're laughing at us' but, in fact, they had the opposite reaction. In a way, they were the very first people who said -Wow! You noticed how shallow and vacuous we are. You noticed us. Hooray! Thank you for noticing.'"

From the very beginning, figures of fashion - the likes of Zandra Rhodes and Christian Lacroix - were delighted to be a part of the 'Ab Fab" story. 'The ones that come to you, as they always have, are the ones that see the funniness and the ridiculousness of it all," says Jennifer Saunders. 'That's the joy; they may exist in a rarefied world but so many of the best fashion designers just don't take themselves too seriously." And twenty five years on, this is still the case. Thus, for the chance to appear front row in a fictional fashion show, the likes of Vogue Fashion Director Lucinda Chambers, Tatler Editor Kate Reardon and GQ editor Dylan Jones all took days out of their busy schedules to effectively poke fun at themselves. Extras on days like these dressed themselves, and did so perfectly. 'Mostly we'd just look at them and say -Great'," says costume supervisor Charlotte Sewell. 'Which was quite a relief as there was so much we needed to get right."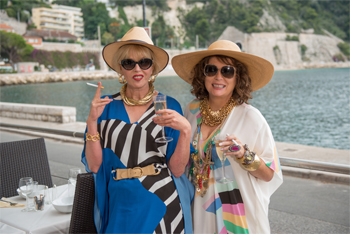 From the outset, all those involved in the film were adamant that, above all else, it was the costumes that were going to ground the film convincingly in the modern day; that they were going to make a twenty five year old concept feel both cinematic and relevant. Or, as Costume Designer Rebecca Hale puts it, 'If the fashion isn't right, the whole thing topples. We had to make it now. We had to make it cool. We had to make sure that no-one, at any point, could accuse us of being old hat."

First came meetings with established designers. As costume supervisor Charlotte Sewell explains, 'Some of the British brands - and we were very adamant, at all times, that we represented British fashion as much and as emphatically as possible - said -Oh my God, how amazing! You don't want any stuff from us do you?' While others said. -We'd love to be involved! Can't wait!'" 'Because this was film, not television, I couldn't get away with using cheap clothes," says Rebecca Hale whose opposite colleague, Makeup Designer Christine Cant, also had to work hard to gloss up and glamourize the cast of the film, without ever detracting from the comic content.

On the fashion front, the most notable supporters were Stella McCartney, Vivienne Westwood and Giles Deacon. 'I'm a bit of an anomaly within the fashion world," explains Deacon, who jumped at the chance to put on the fashion show, and himself appear on screen. 'It's always been important to me to see the lighter side; I hate the overbearing, tortuous side of the industry that I work in. For me, doing great work and being able to see the lighter side need not be mutually exclusive. I think it's a real shame if you can't have some fun and laugh at yourself and I also think that it detracts from the personality of the clothes."

Rebecca Hale is effusive in her praise for Deacon, whose designs Jennifer Saunders even wore to the British Fashion Awards, which she and Lumley attended - in character - during filming, to present an award to Stella McCartney.

Of particular note for Rebecca Hale was the support of Vivienne Westwood. 'I can't thank her and her team enough," she says. 'Not only did they lend us everything, but they also made us clothes at cost. They went out of their way to support us and their brand echoes so much with ours. It's anarchic and fabulous and it has something to say. For Jennifer Saunders, it was like being in a sweetie shop."

For Jennifer Saunders, whose costumes have always been a crucial vehicle for her comedy, a particular interest was taken in the film's fashion. Similarly, Joanna Lumley - herself an ex model - has a very clear idea of what Patsy should and shouldn't wear. 'I went to her house one day to do a fitting and she went into her cupboard and bought out this beautiful jacket that she'd never worn and said -Can we do anything with this?'" remembers Rebecca Hale. 'And she ended up wearing it in the party scene and looked amazing, as ever." Similarly, both Julia Sawalha and Jane Horrocks have very firm opinions on how their character's looks should work. 'If I can look at myself as Julia Sawalha, then there's something wrong," says Julia Sawalha. 'But, if I look in the mirror and go -Ugh' then Rebecca Hale knows that she's got it right."

For Jane Horrocks, herself the mother of a teenage daughter, and an actress who always has strong opinions on her character's costumes, the essential thing was to make Bubble feel as contemporary as possible. She, in many ways, was the vehicle with which Rebecca Hale and her team felt they could best pull 'Ab Fab" into the 21st Century. 'The main change in fashion has been the way that the internet has revolutionized the way we dress," says Rebecca Hale. 'And this absolutely had to be reflected in the film."

It was Jane Horrocks who put forward the names of Vin & Omi, a young, process-led design duo whose work she had been following with interest. A subsequent meeting with Rebecca Hale, and a symmetry of ideas, gave the effervescent pair (lifelong 'Ab Fab" fans who have also designed clothes for Michele Obama) the opportunity to design some of Bubble's weird and wonderful costumes; most notably a hashtag emoji outfit, a hat of giant collagen lips with syringes in it and a dissolvable flower dress made from 1,500 Italian crepe paper flowers; a symbolic comment on the throwaway nature of contemporary fashion.

As with everything, the internet has given what it has taken away, and Jane Hale is at pains to point out that it is as much her best friend as her enemy. 'I found a lot of designers on Instagram that I had never heard of before," she admits. Just typing in 'weird spectacles" led her to Amore Eye Wear, a tiny American company that produced all the glasses for Patsy's love interest, Lubliana (Marcia Warren).

With a focus on modernity and freshness, Hale and her team also looked to fashion graduates for some of their more standout fashion party looks. A phone call to Caryl Court, a senior fashion lecturer at the University of East London resulted in a collaboration with the final year students, who ended up writing their module around their designs for the film. 'It was great to bring the youth into the film," says Charlotte Sewell. 'Because Absolutely Fabulous is, at the end of the day, as ever-changing, and obsessed with the new, as fashion is."

'At the end of the day, there's something quintessentially British about -Ab Fab'," says Damian Jones. 'It celebrates every aspect of our culture, but most crucially, our tendency not to take ourselves too seriously." 'One day, we'll all be dead," says Jennifer Saunders. 'So I say, let's just all enjoy every single blooming minute as much as we possibly can, for as long as we possibly can."


Absolutely Fabulous: The Movie
Release Date: August 4th, 2016