The Switch
Cast
: Jennifer Aniston, Jason Bateman, Patrick Wilson, Jeff Goldblum, Juliette Lewis
Director
: Josh Gordon and Will Speck
Genre
: Comedy, Drama, Romance
Running Time
: 101 minutes
"I can't wait around for something that may never happen!" -Kassie
With those words, spoken to her best friend Wally, Kassie sets out to find the perfect sperm donor, but her plans go awry in Miramax Films and Mandate Pictures' offbeat comedy The Switch, directed by Josh Gordon and Will Speck and written by Allan Loeb, based on the short story Baster by Jeffrey Eugenides.
Starring Jennifer Aniston, Jason Bateman, Patrick Wilson, Jeff Goldblum and Juliette Lewis, The Switch is being produced by Albert Berger and Ron Yerxa. Nathan Kahane, Jennifer Aniston and Kristin Hahn are executive producers.
Release Date
: October 28, 2010
On Board with Directors Josh Gordon and Will Speck
Albert Berger and Ron Yerxa knew of Josh Gordon and Will Speck from their extensive commercial work, but it was their hilarious figure skating spoof Blades of Glory that made the directors appealing candidates for The Switch to all the filmmakers involved. "We thought Blades of Glory was quite witty and inspired and had an interestingly odd, unexpected premise," says Ron Yerxa. In Blades of Glory, where two men partner up to compete for the national figure skating championships, the directors explored gender roles and expectations as well as the changing dynamic of adversaries becoming friends.
"We thought they'd be a good match, because they could deal with the outrageous and the physical," continues Ron Yerxa, "but they also wanted to explore the characters and crisis of conscience and other weightier issues."
Nathan Kahane comments, "Once we all sat down with Will Speck and Josh Gordon to hear their thoughts on how to bring this great script to life, it was clear that we had to make this movie."
Albert Berger adds, "Will Speck and Josh Gordon are fantastic collaborators and wonderful directors. They have primarily made a name for themselves in the world of commercials. They have one feature under their belt, Blades of Glory, which is a mainstream comedy. This was something a bit more sophisticated and I think the direction they are moving toward. They're perfectionists. Ron Yerxa and I have worked a lot with directing teams and Will Speck and Josh Gordon are really unique in the sense that they collaborate very closely, but at the same time they have divided interests, so that Will is more in the arena of production design and costume design whereas Josh Gordon is more camera oriented."
Will Speck, commenting on the film's appeal from his and Josh Gordon's point of view, says, "I think the thing that we thought was different here was that it didn't have a lot of artificial conceit to it. These characters felt real and they felt grounded in the real world. It was pretty much to us as it would unfold in real life."
Josh Gordon adds: "It really is about how families come together in kind of interesting ways. They don't have to follow a pre-prescribed path, and this group of people certainly didn't do that in this movie."
Some of the cast members commented on the experience of working with two directors:
"Working with two directors was great," says Jason Bateman. "Will Speck and Josh Gordon are a lot of fun and we share the same sensibilities. It was like doing a film with two of your really good buddies. They've really worked out a great system and I'd love to work with another pair. It's much more efficient, you know."
"The only other time I've worked with two directors was when I did a Gap commercial," says Patrick Wilson, "with Jonathan Dayton and Valerie Faris who did 'Little Miss Sunshine.' That was the only time I'd ever experienced two directors in the room, so I was wondering how it was going to go, but they get along so well. They're like Butch and Sundance…or Batman and Robin…actually it's more like Tango and Cash.
Will Speck was the one who'd run in and give the acting notes and Josh Gordon handled more of the technical side. They work really well together, which makes it easy on everyone around."
For Juliette Lewis, it was a new experience. "This is the first time I've worked with the duo, the directing team, and this is a very unique situation. They seem to really agree and the great thing about creative partnerships is they probably have different talents and together collectively create this really creative dynamic. And they're really, really fun."
Jennifer Aniston shines as Kassie
For the determined, no-nonsense Kassie, the filmmakers say there was never any question about who they wanted in the part.
"The first piece of casting was Jennifer Aniston, which seemed like perfect casting," says Ron Yerxa. "The definition of the character, her situation and the comedic but heartfelt moments in the screenplay, we built around Jennifer Aniston."
Albert Berger seconds, "We always had Jennifer Aniston in mind. She seemed the perfect choice for this movie as an actress who has done such excellent work in comedy. She was really at the right point in her career and in her life for this particular role."
Director Will Speck adds, "Jennifer Aniston was always at the top of our list. She's great comedically, but we feel like she's a really good, underestimated actress too. She brought a lot to the dilemma of this character in a real way that never felt phony."
Director Josh Gordon, commenting on how Jennifer Aniston puts herself out there in her roles, says, "Jennifer Anniston's really brave. She chooses characters that do sometimes come close to her own experience, so it adds another layer to her character."
Albert Berger agrees: "She is well known as perhaps our premier comedic leading lady and this is a movie that's comfortably in her zone. Yet she always looked for the honesty in the dialogue and in what she could bring to it and into that character's dilemma."
Will Speck sums up: "It was great to have her. Jennifer Aniston was incredible and we think she delivers an amazing performance."
Jennifer Aniston is also an executive producer on the film, along with her Echo Films partner Kristin Hahn. "Jennifer Aniston, who's a real pro, was able to wear those two hats in a very positive way for the film," says Albert Berger. "She's graceful, generous and is able to exert her influence on behalf of the production in subtle but good ways. Kristin Hahn, Jennifer Aniston's partner, is a very capable producer and it has been a real pleasure making the movie with them."
"I've found Jennifer Anniston to be amazingly earthy, charming, direct, very easy to talk to," adds Ron Yerxa.
Jennifer Aniston found herself drawn to the part for several reasons: "I thought it was a really beautiful, great story that was kind of unconventional and it's also one of the first movies that our production company Echo Films will be coming out with. I also wanted to work with Jason Bateman."
Jason Bateman- The Perfect Wally
After breaking out in Arrested Development, Jason Bateman has gone on to motion picture acclaim, often playing an ordinary man trying to get by in increasingly surreal circumstances, appearing in such films as Juno, Forgetting Sarah Marshall and Hancock. His self-deprecating demeanor and appealing charm work well in the creation of Wally, an otherwise largely unsympathetic man who commits an incredible act of deceit.
"Jason Bateman has a distinct kind of comedy, a dry wit, an improvisational feel," describes Ron Yerxa. "He is very spontaneous and I thought he would complement Jennifer Aniston's style of acting nicely. She's very heartfelt and in the moment and he has this edgy dry wit that we thought would establish the character well."
The filmmakers were amazed at Jason Bateman's comic skills and ability to improvise. "He's a remarkably gifted comedic actor and one thing that really helped us along was his ability to improvise," says Albert Berger. "He always stuck to the script and all that, but then at the end of each sequence, or each set up, he would really give a lot in the way of alternatives. I think it's going to bring a fresh, spontaneous quality to the film."
Nathan Kahane, who worked closely with Jason Bateman on Juno and Mr. Magorium's Wonder Emporium, also concurs with Albert Berger's assessment of Jason Bateman's comedic timing and creative instinct.
Directors Josh Gordon and Will Speck have been longtime fans of Jason Bateman and were similarly impressed by his talent. Will Speck says, "We feel super lucky and feel like this is a role for him that we hope shows people more of what they saw a little bit of in Juno. It was really exciting for us to work with him."
Jason Bateman describes the character that drew him to the role: "I play Wally Mars and he is the best friend of Kassie. I'm a guy who is a little bit complicated and a little in his own head and is not the most free-spirited, fun-loving kind of guy. He has complications and some challenges to get through to reach a point of happiness and so he's a little bit more of a girlfriend to Kassie than a potential boyfriend. Maybe that's why he's not a perfect candidate to be a sperm donor. Plus it would wreck their friendship, so, he's that kind of guy."
Jason Bateman and Jennifer Aniston are longtime friends, and the actor is a fan and an admirer. "It was nice to get a chance to work together more than just one or two scenes like in 'The Break Up,'" says Jason Bateman. "Doing a full film with Jennifer Aniston was as great as I hoped it would be and we used every part of our familiarity, especially since we're supposed to be best friends, so it was nice to have that beforehand. She's incredibly talented, you know. I think some people that are as good-looking as she is don't get the credit they deserve sometimes for their acting abilities, but she's incredible in this."
Jennifer Aniston also enjoyed the experience of working with Jason Bateman. "Jason Bateman is just one of the sweetest. I've always adored him and he's just delightful."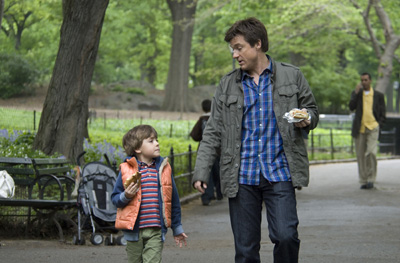 Juliette Lewis found Jason Bateman the perfect foil for her own ad-libbing as Kassie's best friend, Debbie. "Jason Bateman and I, we're sparring partners-he'd throw these insults out and the way Debbie takes to the insults-she just doesn't have it."
Jeff Goldblum had nothing but kudos for Jason Bateman's work ethic and talent. "Jason Bateman is fantastic. I didn't know him. I knew his work and was a big fan but only met him on this film. I hadn't seen Arrested Development, but now I've seen it all, every single one, it's just hilarious and I'm addicted to it and it's great."
Albert Berger observed that Wally's character allows Jason Bateman to explore the non-comedic side of his art. "Even though Jason Bateman is known primarily for his comedic movies, I think he saw in this an opportunity to show a dramatic side and there is a real integrity to his performance. He never allowed anything to get too broad and he was always looking for the truth in his character and in the scenes. There was a very healthy tension between the material and Jason Batemen's approach that I think is going to bring a real depth to this movie. Jason Batmen is in almost every scene in the movie and had to bear the weight of all sorts of difficulties including night shooting and rain machines and an ongoing writing process that really kept him on his toes. So my hat really goes off to him. He carried the burden of this movie on his shoulders and never complained and really, I think, took on this challenge of being the leading man and delivered a fantastic performance."
Patrick Wilson surprises as Roland
The Emmy® and Golden Globe®-nominated Patrick Wilson, who is known for his performances in Angels in America, the film version of The Phantom of the Opera, the edgy Hard Candy and Watchmen, would not be the first actor to come to mind when casting a comedic role. But Albert Berger, who worked with Patrick Wilson on Little Children, saw that the actor was more than capable of delivering comedy.
"Patrick Wilson, Ron Yerxa and I worked on Little Children and he, for the most part, is known for more dramatic roles. But he's a very versatile actor. He's big in the world of musicals, on Broadway, and has many sides to him that people haven't seen. There was one outtake that he did with Noah Emmerich on Little Children where we were filming a driving sequence using rear screen projection. Noah Emmerich was driving the car and Patrick Wilson was in the passenger seat. In the middle of the take Noah Emmerich opened the passenger door and shoved Patrick Wilson out. Patrick Wilson pretended to be running to catch up and it was all filmed from the side and it was kind of a genius, almost like a Buster Keaton-type moment, and you just realised that there's a physicality to this guy. There's a humor to him. He has so many sides that have been untapped in movies that when we had the opportunity to approach somebody with this particular role we immediately thought Patrick Wilson would be perfect."
"I got involved initially because of Albert Berger," says Patrick Wilson. "He and Ron Yerxa of Bona Fide pictures had produced Little Children, so we already had a great relationship and I have always had a great respect for the projects they choose. I knew a little of Will Speck and Josh Gordon's work, but it was Albert Berger who introduced us, and after a few minutes with them, I knew this was going to be a very original and special film."
Will Speck comments, "Josh Gordon and I met with Patrick Wilson first thing. We had thought about who would be not just a genetic superstar, but also able to play with a sense of humor. We thought about him because we loved Little Children so much. We had seen him in that and he was so iconic."
"It was important to us that the character was just not a paper target. It was a tricky role to play," adds Josh Gordon.
Patrick Wilson describes his character: "I play Roland Nilson, very Nordic, who is the donor in the movie. Roland's a good guy. He's ultimately unbelievably earnest and eager, perhaps a little bit too much. In creating Roland and getting with Will Speck, and with Allan Loeb, who'd been brought on to write, and sort of sitting in a room hashing out what I felt like Roland needed to be, my whole basis of that was I need to be everything that Wally's not."
Patrick Wilson continues. "I just have to be the opposite of him. That's all. Roland has to serve Wally and Kassie. If Wally's negative then I've got to just play Roland as the most positive person around. Annoyingly positive. That's the goal; if Wally was cynical then I have to be an optimist. I just had to play the opposite, so when they said, you know, what do you think about Roland? I'd say, well let's talk about Wally first. Where is Wally coming from and then I'll go the opposite way."
"When I heard that Jennifer Aniston and Jason Bateman were attached to the movie," says Patrick Wilson, "I thought, man, I can't think of a more likeable couple who are both funny and charming. I was thinking that's a movie I'd like to see, so when it became something interesting that I wanted to be a part of, it was really just a bonus."
Ron Yerxa explains his rationale in choosing Patrick Wilson to play Roland. "Well, Patrick Wilson is a bit of odd casting. I mean, to put Patrick Wilson in that kind of role…he's a handsome guy…but it's a comedic role. You don't immediately connect with the work Patrick Wilson's done. What he did was take someone who could have been just a beautiful DNA sample and turned him into this inspired character who's so energetic, but kind of delusional about his life. He brought a level of comedy and psychological sophistication that really didn't exist in the early drafts of the script."
Patrick Wilson agrees. "Yeah, I haven't had a chance to do a lot of comedy. I seem to be doing more of it lately, which is nice. I try to do as many different genres as I can, but comedy is another story. My resume doesn't exactly scream hilarity, so, with me, it usually takes someone knowing me personally to know that I'm not nearly as serious as the roles I tend to play."
Jason Bateman first saw Patirck Wilson perform in a play in New York and then saw him in "Little Children." "I was really, really impressed with his performance in 'Little Children.' At first, I was surprised we got him for a role that is smaller than he's used to doing, but I guess it really speaks to the quality of the script and the fact he wanted to be a part of it irrespective of the size of the role. We were lucky again with him and our scenes were pretty effortless. He's a really, really good actor."
Juliette Lewis lets loose as Debbie
One of the most fearless actresses of her generation, with a roster of films that include Oliver Stone's Natural Born Killers, Kalifornia, Strange Days and Cape Fear, Juliette Lewis is the embodiment of Kassie's slightly ditzy friend Debbie.
Juliette Lewis was offered the part after she appeared in Drew Barrymore's directorial debut Whip It! which was made at Mandate Pictures with Nathan Kahane executive-producing.
"I also know Albert Berger," she says, "and so they were aware of me and I guess they were all masterminding who's going to play this friend part, Debbie. I'm a huge admirer of Jennifer Aniston and Jason Bateman and the script, of course, was really unique and funny."
"Josh Gordon and I thought about Juliette Lewis pretty early in the process and I think the thing that we were excited about was she's really unpredictable and she brings that kind of messiness to the relationship with her and Jennifer Aniston's character that we really wanted," says Director Will Speck.
"My character's name is Debbie Epstein," Juliette Lewis explains. "She's Kassie's friend and you'll find her often at all the parties in the movie. Essentially the part was just one scene and then they expanded it for me and I got to play with Jason Bateman and improvise and make up some fun stuff. I wouldn't call my character eccentric; I would say she's a bit daffy maybe."
"Juliette Lewis is really a live wire," says Ron Yerxa. "She's the vulgarian friend and so whatever scene she is in she cuts right through it with the most direct, off-putting, somewhat insulting thing to say to people, but she's brilliant at it. She had a minor role in 'Old School' that I always think about because she's the betraying wife and she's just so heartfelt and duplicitous at the same time. Here she really has a level of energy and materialism and narcissism that eclipses everybody else."
"Juliette Lewis is remarkable," adds Albert Berger. "She's a comic genius. She has a very interesting process in that she takes a little while in rehearsal. You can't quite see where she's going, but once filming starts she just comes at you with all sorts of different fresh and unpredictable ideas and she really grabs the role and makes the most of it."
Juliette Lewis admits to finding the comedic work challenging and rewarding. "I love mixing up my creative bag, so to speak, and I'm always looking to work with interesting people. That's the first, that's the most important thing to me. The second thing is making sure I can do a part I've never done before and do new things, but always I try to ground my work in something really honest. I've just done four movies in a row and right before this I did really dramatic heavy stuff where I played a drug addict and it's dark and I worked with Mark Ruffalo and he was superb. So it was fun to come and do this."
Juliette Lewis describes one of her favorite scenes in the film. "It's the scene when she throws the big party. I guess that's eccentric. My character throws a party for Jennifer Anniston's character that's an insemination party. I mean, that's a little weird and so we sort of have made Debbie that she's creative. She makes these creative tapestries you'll see in the film, inspired by sperm of course, so look out for the semen-inspired artwork of Debbie Epstein."
Jeff Goldblum aces Leonard
Jeff Goldblum has the remarkable pedigree of having appeared in two of the highest grossing films in movie history-Jurassic Park and Independence Day. And this for an actor who has most often preferred independent films with developed, nuanced characters. "Jeff Goldblum is the old pro in our group," says Albert Berger. "He is always coming up with different options and different comedic flair. He's a very serious actor, but is able to play comedy in a great way. He's thoughtful. Jeff Goldblum has been a great partner in the process of crafting the character of Leonard. He was the last guy to work and so we had the most time leading up to the production with Jeff Goldblum."
Ron Yerxa adds, "In meetings and in a reading rehearsal, Jeff Goldblum brought this electric energy of a guy who's so ambitious and pragmatic-and in a way, that character is ethically challenged. He barely knows what the right thing to do is because he's so concerned with what is the most practical, self-serving way to behave. His character struggles to find what might be a moral conscience, but basically, he's like the pure American who defines himself by materialist ambition."
"He's the eyes of the audience in this movie," says Albert Berger, "an anchor for the viewer.
Director Will Speck agrees, "Jeff Goldblum was our absolute first choice. We begged him to do it because it's a small part and he would bring so much to it. We were lucky that he happened to be shooting in New York and we could get him on his off days to come in."
Jeff Goldblum explains his character. "I play Leonard and I work with Jason Bateman's character. We are at our workplace dong financial advising and that's who I am. I'm a good friend to him. He's been going through this challenging and interesting, fascinating relationship, and he talks to me about it."
In talking about the genre, Jeff Goldblum admits he likes comedies best. "I like to watch them. I really enjoy them and so I try to do things that are supposed to be funny and some people have found them funny perhaps along the way and I enjoy it. I like that."
This is Jason Bateman's first time working with Jeff Goldblum. "I've never worked with Jeff Goldblum before, but I've always wanted to. You know, he's got a very unique style and rhythm that is very anti-acting, you know. It's very sort of free-formed and very conversational and he's famous for it. He was one of the first to really introduce a current style."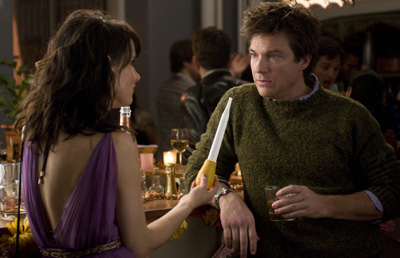 Thomas Robinson breaks out as 6-year-old Sebastian
Finding the right child to play Sebastian was a big piece of the puzzle for the filmmakers. Directors Will Speck and Josh Gordon and casting director Doug Abel did a search for two months in both the New York City and Los Angeles areas with a lot of open calls at grade schools, resulting in many work sessions, callbacks, and screen tests to find the right fit for Sebastian.
Finally, in Los Angeles, they found talented, six-year-old Thomas Robinson. Both directors are justifiably proud of the work they put in bringing Thomas Robinson through the casting process and then nurturing and guiding him to deliver a fine performance on screen.
Says Will Speck, "We had seen Thomas Robinson on tape and knew we had to meet him in person, so we flew to LA and had a great work session with him." Adds Josh Gordon, "He had the perfect balance of vulnerability and introspection that the character demands, and he happens to look a lot like Jason Bateman."
"We've worked with a lot of kids in Little Miss Sunshine, King of the Hill, Little Children and Bee Season," says Albert Berger when talking about the child actor. "Thomas Robinson has been fantastic. He's got a natural gift, he's an adorable kid, plus he works hard. He knows his lines and it's a tough role. He plays a kid with a lot of edges and someone who badly desires the father he hasn't had for the first six years of his life. It's an emotional role and yet at the same time there's a lot of humor. Thomas Robinson did a fantastic job and really, really stepped up to the challenge."
Jason Bateman recalls his own experiences as a child actor. "I started when I was ten and it was tough at ten, so I have no idea how he got it done at six. For him to learn his lines and then also manipulate those lines and try to find some nuance and all that sort of actor crap is amazing. It could have been a whole lot more difficult with somebody who wasn't as talented as him, so we got really, really lucky."
About the Location
In the tradition of many classic comedies like When Harry Met Sally and Annie Hall, The Switch was shot in New York City. The filmmakers combined familiar locations with new areas of the city known only by the residents, to give the city some extra fresh appeal.
Says Josh Gordon, "We wanted to make sure to find locations in the city that were a little bit less expected and felt like the place that Will Speck and I went to school." (The two met at New York University's Tisch School of the Arts.)
"We shot entirely on location in neighborhoods that made sense for who each character is," adds Will Speck. "It was so great to not have to double the city and get only a week to grab exteriors-it's one of the things that really excited us about the movie."
Josh Gordon explains: "A lot of times, like Will Speck said, they'll shoot in another city and then they'll go to New York and just capture the monuments. So you'll have the requisite scene in front of the Plaza and you'll have the big Central Park scene and for a lot of people that actually live in New York that's not the New York you usually pay attention to and see. You're usually pretty focused on your own little life and walking through, and we really wanted to capture that kind of New York in this movie, which we called 'the New York B-sides.'"
Albert Berger comments, "It's been an exciting place to film and of course, filming with Jennifer Aniston is a trip as well because everywhere she goes, everywhere she is, there's a lot of enthusiasm. A lot of fans. A lot of paparazzi and so it brings an energy to the experience, as if New York doesn't have enough. It's created a really exciting film environment for us. We're really happy with the locations we've found and for the directors, it was very important to them to find the 'B-sides' of New York. The New York that hasn't been perhaps overexposed in every movie you've seen, so it was a lot of fun trying to find these locations and even more fun filming there. Because you walk off the set and you're in the greatest city in the world, so what could be better?"
"We felt it was important to be true to the world Allan created in his script, so shooting in New York City was our top priority," adds Nathan Kahane.
"I love New York City," says Jeff Goldblum. "Don't get me started on New York City. I'm staying here now because of 'Criminal Intent.' So I've been here for nine months and got a place here. I grew up in Pittsburgh and then after high school I lived here for four years right around this neighborhood on the Upper East Side. Then I lived in the West Village and then I moved out to LA, so I've been there for a while and I have a kind of a base there which I love."
"I love when movies come here because selfishly it's just much easier for me to commute and be able to go home. There's nothing like shooting in New York," states Patrick Wilson.
Juliette Lewis echoes Patrick Wilson's sentiments. "Filming in New York-any time you come to New York for any reason is always a good time. I mean, it's New York City, but it is a challenge for film companies just in the parking, you know. The energy is so rich and is so vibrant and people and all those cars and the great buildings and spaces, so it's nice that the movie will have an authentic New York City feel."
Jason Bateman has always wanted to live in New York. "New York City is a place that I've always wanted to live since I was in my teens, but because I did so much television I had to be in Los Angeles and so never got a chance to move out here," he says. "Now I'm married and have a kid and they're not too keen on unplugging from there and coming here, so I think the best chance I have of living in the Big Apple is doing jobs here and that was one of the draws to doing this. I think we only went out to Brooklyn a couple of times; it was really neat to park trucks on these streets that are usually so jammed anyway, to own little pockets of the city from day to day really felt like a privilege."
True to the film's location mission, The Switch takes in a lot of New York City-Soho, Upper Westside, Williamsburg, Central Park, Park Avenue, Chelsea Piers, The Meatpacking District, Midtown Manhattan, Queens, and more-making for a visually rich backdrop for the story.
About the Production Design
Directors Will Speck and Josh Gordon knew exactly how they wanted the film to look and knew exactly who to hire to deliver it for them-Adam Stockhausen, who was the art director on "Synecdoche, New York" and the supervising art director on "The Darjeeling Limited."
Adam Stockhausen gladly accepted the production designer assignment to create the visual look and tone of the film-the world in which the characters live. "The process came together very quickly," says Stockhausen. "We had only about seven weeks. We started out broadly and then got specific…. How did we want to portray the character and how did we want to see New York City…and how has New York City been seen in other movies, both a long time ago and very recently. And what did the directors like and what did they not like, and again it started with broad images and then we narrowed it down."
Adam Stockhausen started with Kassie's world and what her spaces were going to feel like. "What did she do for a living and what kind of a place would she have at the various stages in her life that we see her? The first thing we hit upon was this apartment on the Upper West Side for when she comes back after seven or eight years in the story," he says. "We locked in on that and said this is her space and that influenced everything else. Kassie's first apartment was a younger place, a hipper place, more of a loft with an open space plan, rougher around the edges. Then she moves later into a more finished space."
Finding Wally' space meant focusing on his work environment. "Jason Bateman's space keyed off his office, really," explains Adam Stockhausen. "Will Speck and Josh Gordon wanted it to be Park Avenue, midtown financial as opposed to lower Manhattan, and that gave an international style in his office that kind of carried into his home life. His apartment has clean lines, large windows, a lot of repeated windows...more straight-edged and modern as opposed to Kassie's places which have a richness, depth and softness that his place never did."
"For Leonard's place, we looked at all kinds of different spaces," Adam Stockhausen continues. "The thing that seemed important in talking to Will Speck and Josh Gordon about it is that Leonard is a one-of-a-kind sort of guy, so it really had to be a one-of-a kind sort of space. We looked at all kinds of styles and architecture and we ended up at this townhouse in the Village. It is a beautiful, stunning incredible house that had been renovated in a very special and careful way. It allowed for us to do these great scenes with Leonard in the window above and Wally down on the street yelling up at him with this white grand piano right behind him, and then a kitchen when Wally comes over to see him in the middle of the night. It was a 'kitchen table' scene but again in a one-of-a-kind beautifully redone brownstone kitchen with a little terrace outside and a garden in back and it was an incredible space that none of the other characters had."
Adam Stockhausen continues explaining his process. "We looked at a lot of imagery, a lot of films from the '70s and how those films and photographers from that time looked at the city. Then we looked at newer films and newer photography and we felt that lately we've been seeing a lot of romantic, downtown Village scenes. What we hadn't seen lately was Park Avenue, the modern streamlined, glass and steel Manhattan which had been very popular in the past. There's a new building boom going on, and Josh Gordon was interested in seeing them and staying away from the tree-lined gorgeous Magnolia Bakery West Village kind of thing."