Jane Harber A Moody Christmas Interview
How does an unsentimental family get through the most sentimental time of year?
Such is the ordeal Dan Moody must face when he journeys home from London to spend each Christmas with his overbearing family.
Once a year, for six years, we visit the lovably dysfunctional Moody family as they come together to share this universally celebrated holiday, stuffed full of all the fun, fights, bad gifts, boring uncles, overbearing in-laws, shocking family secrets and bizarre eccentricities that any family who's experienced the melting pot of Christmas Day will relate to.
Each year, 25-year-old Dan Moody (Ian Meadows) makes the pilgrimage to celebrate Christmas with the family he travelled to the other side of the world to escape. While most families bask in the warm glow of Christmas spirit, the Moodys seemingly disintegrate, cracking under the pressure of forced civility and their own unique brand of domestic politics.
As with most families … the eternal question is - what will happen this Christmas?
Review
: Each half an hour episode of A Moody Christmas is set a year on from the previous and focuses on the dysfunctional (yet so typically Australian) Moody family. A Moody Christmas is hilariously Australian and when watching the years go by, you are bound to find similarities within your family and your Christmas day events and of course the mishaps. With familiar rituals and routines, A Moody Christmas will have you laughing hard and reminiscing of your own irrational family, at Christmas time.
'A Moody Christmas' premieres Wednesday October 31st at 8.30pm.
Starring, Ian Meadows, Patrick Brammall, Jane Harber, Danny Adcock, Robina Beard, Tina Bursill, Phil Lloyd, Guy Edmonds, Darren Gilshenan and Rachel Gordon.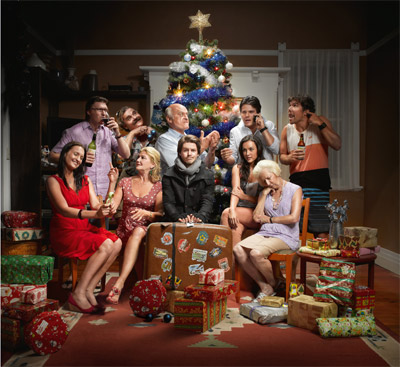 Interview with Jane Harber
Question:
Tell us about A Moody Christmas:
Jane Harber
: I've seen the first three episodes of A Moody Christmas and they've come out really well!
It's not a smack you in the face you have to laugh now show and none of the jokes are left to hang. I do love a lot of comedy, from overseas, but sometimes you're expected to laugh and I don't think that happens a lot with Australian comedy and that's probably because we're cutting people down all the time (laughs).
Question:
Why do you think A Moody Christmas will appeal to Australians?
Jane Harber
: A Moody Christmas showcases that typical Australian Christmas with montages of cricket shots which are done really well and create a sense of nostalgia which I wasn't sure would come across because I was laughing 24/7 when I was on set (laughs)! The show has that warm, heart-felt Christmas feel as everyone has crazy people in their family and people that they don't particularly want to be there, on Christmas day. There is typically a reason why the Christmas lunch is held and they're all there together, in this case it is for Tina Bursill's character, Maree.
All of the characters will resonate, especially when I was watching it and I believe all the characters are fully developed family characters that we can all relate to!
Question:
What attracted you to audition for Cora in A Moody Christmas?
Jane Harber
: I read the first episode and I thought it was hilarious and I knew of Phil Lloyd, and Trent O'Donnell's work in the past, such as the Review with Myles Barlow which was incredibly funny and I really wanted to work with them and Andrew Walker because he is one of the best producers I have ever worked with. It was more about if they wanted to see me as Cora.
It was an easy process because I flew up to Sydney to meet with Ian Meadows, to work on the scenes and we mucked around a little bit and it seems to work!
Question:
Would you say you are similar to the character in anyway?
Jane Harber
: In any character that you play, you have to find a similarity or as many as you can to make it as truthful as possible. Ian Meadows and I get along really, really well and he actually goes out with a very close friend of mine so I did know him and I liked his sense of humour; we got to play around and improv a lot which was a great dynamic.
I have found myself in situations where you're definitely dating an idiot and you don't know how to get out of it; you know there are nice things about them but you know they're the wrong person for you (laughs); Cora is definitely in that position.
Also, being confused as to what you want to do in life and how to go about it and finding out who you are, in your twenties, I've certainly been there!
Question:
What was the best part about being on set for A Moody Christmas?
Jane Harber
: The best part about being on set was meeting everyone, that I got to meet and I think I learnt a lot from the way in which they shot A Moody Christmas. Phil Lloyd, and Trent O'Donnell have a clear idea of what they want but they still allowed everyone to play and collaborate which made it feel like a collaborative project.
I was nearly wetting my pants every day, laughing at the people, on set which was pretty good! We've all kept in touch, which really does sound a bit wanky but I loved meeting everyone and getting to work together, I hope we get to do it again!
Question:
What was the most difficult thing about being on set for A Moody Christmas?
Jane Harber
: The most difficult part was for the first part of shooting I was flying back and forth from Melbourne to Sydney because I was filming Offspring. There was one day where I shot a scene for Offspring in the morning and shot a scene for A Moody Christmas in the afternoon which was a bit tricky! The time frame for A Moody Christmas was also very, very quick as we had five weeks to rehearse, block and get into the house to shoot all of the six episodes, it was a very quick process but I think that ended up adding to the creativity and spontaneity of the show, as well!
Question:
What should we expect from the first episode?
Jane Harber
: I think audiences can expect to get into Christmas mode because as soon as I'd seen the first three episodes I knew Christmas was coming and I got excited about it! Audiences will also see brilliant comedic performances from Patrick Brammall, Danny Adcock, Phil Lloyd, Guy Edmonds, Darren Gilshenan and the whole cast; there are hilarious performances as well as romance and a show that hopefully Australia is going to relate to.
Question:
Are you currently working on another project?
Jane Harber
: I am about to go into the fourth season of Offspring as we start pre-production at the end of November and I just finished up some work on House Husbands.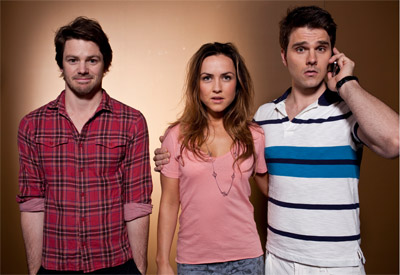 Question:
What's your favourite part of Christmas time?
Jane Harber
: Christmas time usually means good weather and getting to see people that you haven't seen or you've forgotten to keep in contact with for the entire year! Christmas is always nice and I like being with family and getting a little bit tipsy (laughs)!
There are similarities with my family Christmases and the Moody Christmas such as we sometimes play cricket but also sometimes people say inappropriate things!
Interview by Brooke Hunter