James Corden One Chance
Cast: Jemima Rooper, James Corden, Julie Walters, Mackenzie Crook, Colm Meaney and Alexandra Roach
Director: David Frankel
Genre: Biography, Comedy, Drama
Rated: PG
Running Time: 103 minutes

Synopsis: Most people only dream about becoming a famous superstar, but against all odds one man from Wales did just that. This is the story of his journey.

From the director of The Devil Wears Prada, One Chance is the remarkable and inspirational true story of Paul Potts, a shy, bullied shop assistant by day and an amateur opera singer by night. Paul became an instant YouTube phenomenon after being chosen by Simon Cowell for 'Britain's Got Talent.' Wowing audiences worldwide with his phenomenal voice, Paul went on to win 'Britain's Got Talent' and the hearts of millions.

One Chance
Release Date: November 28th, 2013



A Voice Rises
On the night of June 9th 2007, a new television reality show called -Britain's Got Talent' went on air in the UK. On its first ever broadcast, a shy, unassuming man opened his mouth to sing the famous operatic aria -Nessun Dorma', delivering a beautiful, stirring rendition that would change his life from that moment forward.

Swept up in the contagious emotion of Giacomo Puccini's stunning aria, and the unlikely figure with crooked teeth and diluted confidence who had crooned it for them, the show's three judges – Simon Cowell, Amanda Holden and Piers Morgan – stared in awe at what they had just witnessed, while the audience of 2,000 at the Wales Millennium Centre in Cardiff erupted in a standing ovation. Britain was instantly won over by Paul Potts, who was then working as a manager at the Port Talbot branch of The Carphone Warehouse, and followed him on his journey to becoming the first ever winner of the new talent show and, subsequently, a world-famous opera singer. Potts' unanticipated vocal prowess didn't stay confined to UK shores for long, blazing a scorched trail around the globe as news of his improbable audition went viral and millions watched it for themselves on YouTube.

But despite his own admission before going on stage that he was lacking in confidence, few knew the herculean effort it had taken for Potts to reach that point, and the trials, tribulations and monumental setbacks he had suffered along the way. As thrilling as Potts' on-air success was to behold, it was the story leading up to his -Britain's Got Talent' appearance that the filmmakers of One Chance wanted to tell: the tale of a steelworker's son from south Wales who fell in love with opera at an early age and, despite bullying, skepticism and physical hardship, never gave up on trying to achieve his dreams. And by the way, it's a comedy.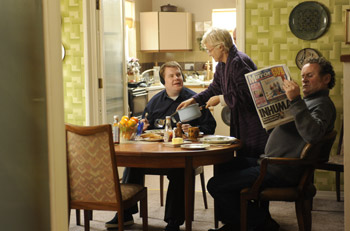 Origin Story

It was one of those rare moments that took everyone by surprise, spreading from broadcast to news report to water-cooler conversation to YouTube sensation: the sheer surprise of this unassuming man, surrounded by eccentric novelty acts that had failed to impress the -Britain's Got Talent' judges, blowing the world away with his magnificent operatic voice. For Simon Cowell, 'Paul Potts was for me the point when I knew the show was going to work. We were in Wales that day and we were having an OK day and this guy walks on and he didn't look great. He looked nervous and he had this funny suit on, and I'm looking over at Piers and Amanda thinking 'Oh god this guy is going to sing.' I remember he started singing -Nessun Dorma' and I'm looking around, and when you've got an audience behind you, you feel something when it's special, and literally the hairs on the back of my neck stood up. I thought 'This is magic! This guy has just blown the place apart' and I remember thinking that if this comes over as well on TV as it just has in the room then this show is going to be fantastic." Many of the talent involved in One Chance can recall watching Paul Potts' original audition on TV, or hearing about it straight afterwards and looking it up on YouTube.

'It was incredibly moving, particularly because he was singing that song," says James Corden, who plays Paul Potts himself in One Chance. 'There's the great moment, which is also in the film, where he says, -I've never found it easy to be completely confident in myself.' And that's minutes before he walks on stage and his whole life changes."

'It's one of the iconic moments of British reality television," agrees Alexandra Roach, who co-stars as Julie-Ann Cooper. 'I remember the audience reaction of everyone jumping to their feet and really wanting this guy to hit that high note at the end. I'll always remember watching it but I didn't realise it would have such a big impact on my life down the line."

It was Mike Menchel who first considered the idea of bringing Potts' story to the big screen. A former talent agent at CAA who had branched off into producing, Mike Menchel heard about Paul Potts on a morning news show in Los Angeles and, like so many others, had then perused the YouTube clip of his stirring performance (110 million views and counting.) He found Potts' tale instantly inspiring and uplifting. 'I just thought it was a potentially fabulous story, a story of great inspiration and aspiration about a guy who, against all odds, refuses to stop pursuing his dreams no matter who or what brings him down," says Mike Menchel. 'I said to myself, -This is Rocky – this is a story about never giving up, about believing in yourself when nobody else does.'"

Almost as soon as the idea materialised in his mind, he went straight to the source, calling up Simon Cowell, the creator of -Britain's Got Talent', and pitching him the prospect of making Paul's story a movie. Mike Menchel was somewhat surprised when Cowell proved instantly receptive. 'I didn't know Simon but he said, -Yes, I get it, I'm in. What do you need me to do?'" recalls Mike Menchel. 'I think the Rocky reference helped. Simon introduced me to Paul and we went from there."

Simon Cowell adds, 'Mike Menchel, the producer, was like a dog with a bone, he just wanted this movie made and never, ever, ever gave up. I've never seen anyone so determined. He really believed in this story. And then when I read the script and I found out who else was involved in the movie, I started to get really excited about it, because it is a classic underdog story. It's a guy who didn't have a great early time of his life, he was frustrated, he was bullied, he was disappointed, he'd given up - he literally flipped a coin as to whether he was going to enter the competition. That's the stuff movies are made of, and it has a happy ending."

Mike Menchel put the project into development at Paramount Pictures, which was then under the stewardship of Brad Weston, and hired Justin Zackham to write the screenplay; the writer met up with Potts several times in Wales and the US. When Weston subsequently left Paramount to become an independent producer, he took One Chance with him, and the two producers were soon joined by two big Hollywood names: David Frankel, who signed up to direct, and Harvey Weinstein, who joined to produce. David Frankel, who has directed a host of popular dramatic comedies in recent years, including Marley and Me, The Devil Wears Prada and Hope Springs, had first been sent the script in late 2008 and had loved the story and its themes. 'I had been a big YouTube fan of Paul Potts," he explains. 'Someone sent me the clip and I fell in love with him and had downloaded his recording of -Nessun Dorma' and sent it to everyone I knew. I had always thought that a comedy set in the world of opera would be intriguing, because it's this beautiful world that doesn't get explored in the movies. And then here was this script that almost exactly combined these two ideas."

Mike Menchel cites David Frankel's interest as a pivotal moment in One Chance's journey to the big screen. 'It's not every day that you get a filmmaker as talented as David Frankel involved in a smaller, offbeat project like this," he notes. 'He's absolutely passionate about this material and this story." Partnering with Harvey Weinstein was also instrumental, with the Oscar-winning producer bringing a similar level of passion to the Potts biopic. 'He's a game-changer," says Mike Menchel. 'He saw what we saw in it and he said, -I'm making this by hook or by crook.' That's when the train pulled out of the station."

Says Harvey Weinstein, "I am incredibly happy to be a part of this project. This was one of those screenplays I immediately fell in love with, and it's exciting to see it brought to life with David Frankel and James Corden."

While citing the Rocky references himself, Frankel also viewed One Chance as a Cinderella story about a downtrodden man with nothing but talent who magically finds a way to share it with the world…but not before encountering a string of funny/sad happenings to arrive at that place. The director brought a vision to the film that might not have been immediately apparent on the page, a desire to widen the scope of a narrative that could easily be told on a smaller scale without losing the story's intimacy or changing its fundamental nature as a portrait of a very ordinary man.

In a serendipitous bit of casting, Weinstein suggested hiring a British actor who was then taking the theatre world by storm in -One Man, Two Guvnors': James Corden. The acclaimed National Theatre production, directed by Sir Nicholas Hytner, had transferred to London's West End and then onto Broadway, where it played for six months at the Music Box Theatre to giddy audiences, massive acclaim and a nightly celebrity turnout.

The Rise and Rise of James Corden

When Menchel bumped into Weinstein at the 2012 Sundance Film Festival, while casting discussions were underway about who was going to portray Paul Potts, Harvey suggested that his counterpart go see -One Man, Two Guvnors' at London's Adelphi Theatre, where Richard Bean's smash-hit play had transferred after its initial three-month run at the National. 'Ten minutes into the play, I literally stood up and said, -Harvey Weinstein is right! This is the guy,'" says Mike Menchel. 'You saw the talent, you saw the similarities, you saw not just the humour but also the heart. He just had it. I went back to Harvey and said, -Once again, you are right.'"

James Corden's name had cropped up on early lists for One Chance. In those earlier days, he might still have been considered a risk. As a star and co-writer of the celebrated BBC sitcom -Gavin And Stacey,' as well as a regular fixture on comedy panel shows and awards show hosting, he was already huge on native shores. But he was still what might be termed a 'local hero."

The bright lights of Broadway changed that opinion in one fell swoop. What had been the hottest play in London became an equally hot ticket in New York City, and James Corden's magnificent performance as the play's hapless star Francis Henshall – a glorious combination of outstanding comic timing, breathtaking physicality and charismatic audience interaction – ended up storming the Great White Way in the spring and summer of 2012. And, lo and behold, he triumphed in the Best Actor category at the Tony Awards, beating the likes of Philip Seymour Hoffman for -Death Of A Salesman,' a victory that supplied a rocket-fuelled boost to his film industry profile. James Corden had hit the big time.

'He was no longer an emerging British actor; he had arrived," enthuses Mike Menchel. 'He hit America with a splash and went from being relatively unknown to known in one fell swoop. He's wonderful and there's just nobody else for this film. He's the best actor we could have found for One Chance, and I'm so excited to watch his trajectory."

'His name is now on the lips of everyone in Hollywood and he is a movie star, categorically," states Kris Thykier, who joined One Chance as a producer in early 2012. 'He has an emotional vulnerability on screen that is incredibly winning and compelling. He's got that classic movie star thing which is that it doesn't really matter what he's doing on screen, you want to be in his gang.

And he's also a very fine actor. He brings the sensitivity that Paul himself must have had to want to sing opera, which is maybe an odd thing in the environment he grew up in."

'As soon as I heard that James Corden's name was mentioned, I didn't think for one second that we should consider anyone else," says Simon Cowell. 'He is one of the nicest people I've ever met - he has what we call the likability factor and I knew that James would like Paul, and I knew that he would want to play Paul in a good light and it is a challenge for him and James is always up for challenges. He was completely and utterly committed and devoted to making this as good as possible."

Even before he had had the opportunity to see much of his work, Frankel had always been drawn to the idea of James Corden playing Potts. 'I had never seen -Gavin and Stacey' but I watched some of his chat-show clips and he really made me laugh," says the director. 'Physically he seemed right and he's so charismatic; I just enjoyed watching him." David Frankel also flew to London to watch James Corden in -One Man, Two Guvnors': 'I was already sold by then but he was extraordinary in the show."

Their faith has been amply justified. Potts is a less comedic character than many of James Corden's previous parts, but he has engaged with the role on a deeply human level, and has delivered a performance filled with heart, charm and sensitivity. One of the significant strengths of the One Chance script in James Corden's eyes is the fact that the story doesn't use Potts' astonishing success as its starting point but rather builds up to that date with destiny, focusing on his life before and the many stumbling blocks he encountered along the way, from severe bullying to hospitalisation for various physical ailments, including being run over by a car. Through it all, he never gave up.

'When you first hear, -We're making a film about the life of Paul Potts', it conjures up visions of people sitting behind oversized desks saying, -I'm going to make you a star, kid!'" says James Corden. 'Then you read it and go, -Oh, this is a film about a boy who lives in an industrial steel town in Wales and wants to be an opera singer. And in spite of everything, he just never, ever gives up on that dream.' Plus, it's got an incredibly romantic and beautiful love story."

'The thing that I've enjoyed the most about this," he continues, 'is playing someone who is incredibly shy and lacking in confidence but has this unbelievable self-belief that he can stand up and sing. It's just a lovely thing to play."

As for the real Paul Potts, he actually met James Corden long before there was any talk of being played by him. It was at the end of his first UK tour, and he and his wife Julz were standing at a London hotel bar when a very flustered James Corden entered with a carrier bag and pulled up at the bar alongside them. 'He had come in from his car and he turned around and said, -They broke into my car and all they left was my dirty underwear.' Julz just burst out laughing, and he said, -Why are you laughing? It's true!' She just thought it was so funny."

From Page to Screen

David Frankel has always wanted to make a film that incorporated opera into its storyline. The American director has a personal connection: his father trained to sing opera when he was a teenager. 'He has a beautiful tenor voice to this day and has always loved opera," says David Frankel. In his youth, his parents took him to see all the classics. 'I had an education; I have a sense of the great composers but I couldn't tell you the plot of Figaro," he laughs. 'I just learned the plot of Aida the other day while we were shooting a scene about it, and it's so convoluted I can't even remember it now. But going into this movie, I didn't appreciate how much I would fall in love with the arias. The music is so beautiful and part of the great fun of making this movie is getting to share that."

'I like that this story manages to be both sweet and funny in equal measure," says David Frankel. 'Those are two adjectives that I'd love to see used to describe all my movies. It has elements of a fable and yet it happened in real life."

David Frankel brings a consistent tone to the stories he tells and feels just as comfortable with the belly laughs and comic sensibility in a narrative arc as he does delivering the knock-out emotional blow. His films are full of heart and he's not afraid to get sentimental – a dirty word in some people's eyes, but handled sublimely by David Frankel. He was the perfect man to direct Potts' story and to get the optimum performance from James Corden.

'The humour in David Frankel's films is never cruel," observes Thykier. 'You might laugh at the circumstances Paul finds himself in and some of the things that happen to him, but you're never laughing at Paul in this film. The humor rises out of the drama, and you can recognise that from David's previous films."

David Frankel and James Corden collaborated together to finesse Zackham's script. As the director observes, 'James Corden is a brilliant writer himself and has phenomenal instincts about drama and comedy." He credits James Corden with thinking up a creative solution for introducing Potts' family into the story that would rely on music rather than dialogue. 'It's Chaplin-esque," David Frankel says. 'It takes all the words away and makes something that could have been prosaic really extraordinary. He had those instincts all the way through."

'I've loved working with David Frankel," echoes James Corden. 'When I asked him why he wanted to make the film, he said that he was really interested in people's hidden talents. He's so passionate about this story."

James Corden's co-star Alexandra Roach also found herself smitten by Frankel and the laid-back, all-encouraging atmosphere that he cultivates on his sets. And she couldn't believe that she was getting to work with the director of one of her all-time favourite films. 'I cried so much at the end of Marley and Me," she laughs. 'There's a magic with his films that he's able to get the audience to feel exactly what he wants them to feel at a specific time. It's my first leading role in a feature film and quite a big milestone for me as an actress, and he made me feel so comfortable. Any nerves I felt coming in completely evaporated because he is so supportive and wonderful. He let me fly."

David Frankel also shared an important shard of information with his leading lady, telling her that none other than Meryl Streep – who had starred in The Devil Wears Prada and played the older Margaret Thatcher in The Iron Lady – had given her seal of approval to Alexandra Roach's casting. 'Apparently, she sent a text to David Frankel when he was auditioning that said, -Hire her'," the Welsh actress marvels. 'That's lovely. I wish I could get that text printed and paper my wall with it."

About the Production

In early November 2012, at the Churchill Theatre in the London suburb of Bromley, James Corden stands on a stage that has been dressed to look like -Britain's Got Talent', belting out -Nessun Dorma.' The milieu is convincing, and so are the stand-in doubles for judges Simon Cowell, Amanda Holden and Piers Morgan, at least from behind. But the most convincing factor of all is James Corden himself, dressed in a slightly shabby suit and nervously coming onto stage to deliver his moving rendition of Giacomo Puccini's soaring aria. It's enough to send chills down the spine and bring tears to the eyes, much like Potts' achieved with his original audition.

While it's Potts' voice blaring out of the speakers, Jams Corden is also singing live to ensure his breathing matches that of a real singer's. The actor is as lost in the music as Potts was back in 2007, conveying every ounce of emotion and concluding with his muted, modest acknowledgement of the audience's rapturous applause and the judges' awestruck reactions. It's a powerful sequence that cast and crew know they have to get absolutely right for One Chance to send audiences away with the same feeling of elation and delight engendered by that original audition. Fortunately, James Corden is able to nail take after take as Frankel changes the camera's angle and distance and sets up a semi-circular tracking shot to capture his star from every angle he'll need to cut the sequence together in post-production.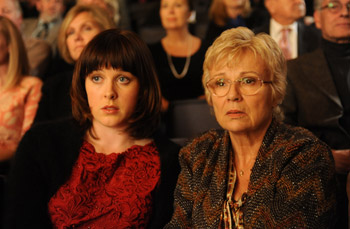 'I loved that day," James Corden says later. 'I loved doing it, and it just felt like we came away knowing that our film has a good ending."

While David Frankel agrees with the Rocky overtones of a guy who's approaching middle age and has put his dreams aside, he also see the film as a modern-day Cinderella story (albeit with a male protagonist) in which someone whose life represents a form of drudgery sees it transformed overnight. It's a tale that contains universal appeal. 'The instantaneous nature of his fame is so thrilling to watch," says David Frankel. 'That's what was so memorable about the YouTube clip: not just that you were seeing something quite beautiful but that you were watching someone's life change in two minutes. The sensation you get is like watching someone jumping out of an airplane without a parachute: how did they just do that?"

As a mainstream Hollywood director coming to shoot in the UK with a primarily British cast and crew, David Frankel was impressed by the professionalism he found. 'The crew was fantastic, and they were a very unfussy group of actors," he says. 'They liked to get on with it and do the work. I'm lucky that that's been true of my experiences in Hollywood, too." David Frankel brought his longstanding cinematographer across the pond with him. One Chance marks his fourth feature collaboration with Florian Ballhaus, and their on-set relationship is one of humorous banter as well as deep understanding of each other's work habits and tastes.

'Florian Ballhaus brings a great intelligence, a great narrative sense and a great sense of humour to his work in painting pictures for cinema," says David Frankel. 'And he tolerates me. That level of collaboration is very important to me."

David Frankel was very open to his actors improvising and not treating the script as sacrosanct, a wise move when working alongside such comedic talents as James Corden, Julie Walters and Mackenzie Crook. The film's star didn't set out to deliver a facsimile impersonation because 'I'm not playing J. Edgar Hoover or Idi Amin." But James Corden has worked hard to adopt some characteristics, including Potts' soft-spoken, Bristol-accented voice and the physical mannerisms of someone who hasn't always been allowed to be comfortable in their own skin. The actor also wore a dental prosthetic modelled on Potts' uneven teeth (before he had them fixed) throughout the shoot.

'My job is just to be as true to him as I can be," James Corden continues. 'It's made easier because the character in the film isn't the person we recognise now as Paul Potts, it's everything leading up to that point. I feel like I have a touch more freedom in that." Where the plot deviates from real life, it's in the name of storytelling, a fact that the real Potts has accepted with good grace. 'The most important thing is the message, and I think the message is bang on: a guy who's struggling for money because of injury and illness gives up and then flips a coin and does something that changes his life," says the singer. 'I'm really happy it's being covered as a comedy because a 90-minute sob story is not what anybody wants to watch. People come to the cinema to escape reality."

Potts and his wife visited the set in Port Talbot on the day that their own wedding and wedding reception were being shot. 'That was weird," Potts smiles. 'I was sat next to David Frankel and Julz was on the other side, and one of the assistant directors said to me, -Oh look, it still brings out the emotions. She's crying.' I said, -Those aren't tears of emotion, they're tears of laughter because she's just finding this whole thing so surreal.'"

'Of all the days for them to come" laughs Roach, who was walked down the aisle as Julz by her own father. 'I had butterflies in my stomach. I was all made up in a massive wedding dress, and I met the real Julz like that. It was really strange but I got chatting with them both and they are just a lovely couple. You can tell that there's so much love there and I hope we've captured that for the film."

Story, Cast and Characters

Around James Corden, David Frankel and the producers have cast a host of acclaimed British actors, each of whom bring their own strong comic and dramatic personas to their roles: Julie Walters and Colm Meaney as Potts' mother and father; Mackenzie Crook as Braddon Evans, his nutty best mate and boss at The Carphone Warehouse. As Julz, the internet blind date who wins Paul's heart and becomes his wife, the filmmakers settled on Alexandra Roach, the young actress who impressed so many with her sterling performance as the young Margaret Thatcher in The Iron Lady.

'I had a Skype audition with David Frankel first," Alexandra Roach recalls. 'He was in Miami, I was in my dingy north London flat – so glamorous! We really got on and I met up with Harvey Weinstein. He said he wanted me to fly to New York to meet James Corden, which sounded ultra-glamorous to me but I thought it was never going to happen. But the next day I was on a flight to New York and meeting James Corden for the first time. As soon as my plane landed back in England, I found out I'd gotten the job."

For Alexandra Roach, Potts' -Britain's Got Talent' appearance carries its own personal significance. The actress was ill in hospital for a few weeks and watched most of that first series with her fellow patients. 'We were a ward of six women in a Welsh hospital and we'd all gather round the television and watch it together. It brought us together and that's what I hope this film does as well."

As Potts' best mate, Braddon, Mackenzie Crook brings his unique brand of 'comic genius," as Alexandra Roach refers to it. Braddon is Potts' boss at Carphone Warehouse as well as his drinking buddy and confidante; he's obsessed with Dungeons & Dragons-style fantasy role playing and his girlfriend Hydrangea, and fancies himself a stand-up comedian, although his gigs have a tendency to go disastrously wrong. 'He's the comic relief; he's a bit of a ridiculous character but he has a positive outlook on life and is a genuine friend to Paul," says Mackenzie Crook, whose role has been created for the film. 'He wants to see Paul succeed and encourages him. When Paul hits rock bottom, it's Braddon that buoys him back up again."

Although Mackenzie Crook and James Corden knew each other, this is the first time they've worked together, and the former star of -The Office' is delighted about it. 'We've been friendly for a number of years, and have had good opportunity to do some nice comic set-pieces in this," says Mackenzie Crook. 'James Corden has always joked that one day we're going to do a Laurel & Hardy biopic. He has great timing, both comic and dramatic. It's great and easy to work with actors who know what they're doing. David Frankel's given us quite a bit of freedom to play around with our lines in the scenes. It's been a joy."

Mackenzie Crook admits to feeling a mite skeptical when he first heard about One Chance: 'I've never been into reality TV shows, but that skepticism is completely gone now. It's a great script and people who haven't and don't follow those programs shouldn't stay away from this movie because it's not about them, it's a universal story."

Playing Potts' supportive mother Yvonne, Walters is also thrilled to be on board. 'It's not a big part but she's got some of the best lines," she says. 'When you also have David Frankel, who is such an easy, calm director, a great script, the wonderful James Corden and a story about someone everyone loves, it has everything going for it and has made for a great experience." Like her onscreen son, Walters is adopting a Bristol rather than Welsh accent for the film, to reflect the fact that Potts spent much of his youth in the Gloucestershire city before moving to Wales later in life. On the day he visited the set, Potts told Walters she reminded him of his own mother. 'I said, -Oh, you're just saying that,'" she says. 'He said, -No, you are, when I heard you were playing her, I knew you'd be perfect.' So sweet."

In the film, Potts' mother adores her son and colludes with him in his love of music and opera, against the wishes of his skeptical father Roland, a gruff Welsh steelworker who'd prefer that Paul follow a similar blue-collar path. 'When my agent first phoned me about this, I made the mistake that everybody makes in the film," says Meaney, who plays Roland. 'When he said -Paul Potts', I said, -The Cambodian dictator?' I live in LA and Spain so I'm not familiar with British television. When I read the script, I wasn't expecting it to have so much humour in it. It's also very moving."

Meaney feels that the relationship between Potts and his father is very clearly drawn, and gave him a strong motivation for why his tough working class Welshman would so fiercely question his son's singing ambitions. 'I think there's a very common working class thing where, when it comes to your children, you want them to do well but you also want them to fit in," explains Meaney. 'I know this from my own experience that wanting to do something -strange,' like be an opera singer, can mark you as a bit of a freak in a working class environment. And fathers, in particular, are desperate to avoid that because it will make their kid's life more difficult. I saw their relationship more in that way than him feeling any kind of prejudice against what Paul was trying to do. It's based in concern and not wanting to see his son hurt in any way, although he doesn't deal with it very sensitively."

The Dublin-born actor, who wields a Welsh accent ('it's an accent I'm very fond of for its wonderful lyrical quality"), relished the family scenes with James Corden and Walters. 'It was instantly wonderful, as it usually is when you get terrific actors," he says. 'I'd been a fan of Julie's for years and she's such a welcoming and jolly presence; she makes it very easy. We immediately fell into this familiar relationship. And James has a kind of guarded thing about him, which worked wonderfully for our father-son relationship. It's almost like he's ready to squirm before his dad opens his mouth. He gave me some wonderful looks."

Filling out the cast are Valeria Bilello as Alessandra, an Italian singer Potts trains with in Italy, and Jemima Rooper, who co-starred with Corden in -One Man, Two Guvnors' and plays Braddon's eccentric girlfriend Hydrangea. Braddon is absolutely besotted with her; she's fairly withering about him. Normally dark-maned, Rooper's hair was dyed peroxide blonde for the role, with pink streaks added for a couple of scenes, and she calls Hydrangea's dress sense 'outlandish… lots of tiny skirts and shorts and thigh-high boots. She's pretty rocking." 'She's really horrible to Braddon but in that way that I hope people imagine them being completely different at home when no one's watching, being very sweet and loving," she continues. 'Most of our scenes were with James, and it was so much fun working with an old friend and a new one. I wish there could be a whole spin-off movie for Braddon and Hydrangea."

From Venice to Port Talbot

The shoot for One Chance kicked off in the glorious canal city of Venice for scenes in which Potts goes to learn his craft and attends a master class with the great Italian tenor Luciano Pavarotti, getting the chance to sing in front of the maestro himself. Unfortunately, nerves get the better of him and he fluffs his chance to impress Pavarotti. In the film, it's a massive blow to his confidence and any hopes he had harboured about becoming a professional singer. Venice is a notoriously difficult city to shoot in, not just because it's surrounded by water, criss-crossed by canals and can only be navigated by boat, but even in low season it's teeming with tourists and throws up logistical and financial obstacles. But there was no alternative as far as the makers of One Chance were concerned; they earmarked a one-week shoot at the start of production, eager to strike while the weather was more likely to be good (their scheduling turned out to be prescient; they missed the worst flooding in the city's history by a scant few days.)

'We'd heard horror stories about how unpredictable it can be to shoot in Venice," observes Thykier. 'There was tension leading up to it in terms of how it was going to work, but in fact it turned out to be glorious once we got there. It was a joy. There was something wonderful about getting to Venice and suddenly understanding the scale of the ambition that David had for this film. There's a lovely tone that sits in this which is reminiscent of some of the great British comedy, which starts at Ealing and heads all the way through, but with an American sense of scale and endeavour."

'It was a crucial chapter of the movie to show the contrasts in Paul's life," adds Frankel. "When you're walking through a city that's 700 years old and you're travelling by water and you're shooting scenes of people studying opera in a music school where people have been studying opera for hundreds of years, it can't help but seep into the fiber of the movie." Venice was the glamorous, majestic counterpoint to One Chance's other key locations in the Welsh conurbations of Swansea and Port Talbot, the drab industrial town where Potts settles down with Jules and manages a branch of Carphone Warehouse. Wales offered a different kind of majesty to Venice, with the massive steelworks that dominate Port Talbot and rolling green hills that come right to the edge of town undoubtedly majestic in their own right. 'There is something about the relationship between the Welsh hills and this enormous steelworks, which covers 12 square miles and is set against the ocean, that is John Ford-ian in terms of its scale," says Thykier. 'That backdrop has its own majesty."

David Frankel also shot on the very streets where Potts lived, and in the shadow of the steelworks that dominated his horizon for many years. 'We've had the opportunity to tell his story in the most authentic way, which has been fantastic," he says. The production filmed for two weeks in Wales, under skies that weren't as threatening or grey as David Frankel had been hoping for. 'The first time I went there the weather was so bad and the fog was so thick that you didn't know there was a steel mill and you didn't know there were hills," he says. 'We didn't get that weather. On the first day we shot, there were gorgeous, glorious blue skies. It was like we were in St. Tropez."

For Alexandra Roach, the Port Talbot portion of the shoot was only 15 minutes away from the town she grew up in and where her parents still live. 'It was really lovely to have that connection with home. I know the area so well so I took James Corden out to my local pub," she says. 'He got mobbed. But to meet James was massive to some people because for Welsh people, it feels like we own -Gavin and Stacey'."

Music and Lyrics

'My love of opera stems from classical music," says Potts. 'As a child, I started to listen to Brahms, Tchaikovsky, Dvorak, and then stumbled across a recording of Jose Carreras singing -Che Gelida Manina' from La Boheme. I was hooked by the passion and the music."

Developing his love for singing in school and church choirs, and finding his voice to be a source of solace in the difficult moments of his life, Potts went on to sing in amateur productions for Bath Opera, for whom he performed leading roles in Mozart's Don Giovanni and Verdi's Aida. Doctors warned him not to sing Aida after discovering an adrenal tumour following hospitalization for a burst appendix, but he wasn't to be dissuaded. After surgery for the tumour, he performed in Puccini's Manon Lescaut for the Southgate Opera Company in London, before breaking his collarbone and suffering whiplash in a 2003 cycling accident.

This mishap and the financial difficulties that followed are what inspired him to enter -Britain's Got Talent', despite not having sung for years. Potts literally stumbled across the audition application while surfing the web during a break from writing reports for his area manager at Carphone Warehouse. 'I was Googling around and got a pop-up window which I intended to close but I accidentally maximised it and it turned out to be an ad for -Britain's Got Talent' auditions," he recalls. 'I filled out the form and then saw my reflection in my laptop screen and thought, -No one's going to pick you. You're fat, you're too old and you're singing the wrong kind of music.' But I decided to flip a ten pence piece. If it landed on heads I would press -submit', tails I would press -cancel'."

No prizes for guessing the result. Walking on to the stage was terrifying, but Potts had made a wise song choice: -Nessun Dorma' is arguably the world's most recognisable aria, taken from Puccini's opera Turandot. The delirious audience reaction and three judges beaming in surprise must count as the best moment in Potts' life, surely? 'I was pleased to get that reaction, but I still was looking for a trap door because Simon had yet to speak and I was expecting him to say that it was okay but I'd messed up the note that everybody waits for…"

Much of the singing we hear in One Chance will be Paul's voice, but that doesn't mean that james Corden didn't take it very seriously since he was required to sing live during the scenes. At one point, there was discussion that James Corden's own voice be used, and the actor was certainly up for it, squeezing in voice lessons while performing eight shows a week on Broadway. 'But there's a big leap between being able to sing and being able to sing opera," he notes, 'and you had to believe this guy is good enough. There was no point in doing it unless I could sing that big note in -Nessun Dorma' really, really well. Ultimately, I think we made the right choice."

For the scenes in which James Corden was required to belt out a song, the actor sang live with his vocal/opera coach Kylie Watts standing off camera and conducting the actor so he could get the breathing required for live performance correct. 'It was important because people can tell when someone is miming on screen," notes Watts, who joined the production shortly before it set off to Venice, where she helped James Corden get to grips with the Italian-language repertoire for operatic arias. 'If you don't speak Italian, it's hard to get to grips with at first," says Watts.

'Kylie has to remind me sometimes what I'm actually singing about," says James Corden. 'Will people believe it? I hope so." Watts, a professional opera singer in her own right as well as a personal friend of Potts' (they met on a singing course in Rimini), also appears in the film's recreation of the Bath Opera production of Aida and found herself impressed by James Corden's inherent musicality and performance as her good friend. 'What James did this morning was amazing," says Watts, referring to the filming of the -Britain's Got Talent' sequence in Bromley. 'The first take that he did brought tears to my eyes. He did an incredible job."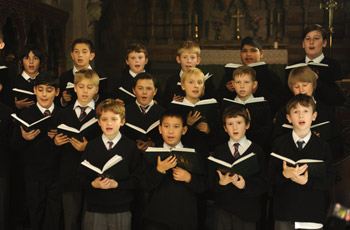 Potts' story has touched millions of people, most of whom who might not dream of going to see an opera or a classical music concert. His story is one of triumph over adversity, and overcoming the knocks and challenges life has thrown at him. After winning the first series of -Britain's Got Talent', Potts went on to perform in front of Queen Elizabeth II at the Royal Variety Performance, played the Sydney Opera House and became the biggest-selling opera singer of the year in 2008. His three albums have sold millions of copies between them. The first, One Chance, topped the charts in nine countries. He's also given nearly 500 concerts in everywhere from Germany to Denmark to Taiwan to South Korea, where he performed in a stadium for 25,000 people. Ask a London taxi driver – those great arbiters of the cultural conversation – to name a famous opera singer, and chances are they'll mention Potts' name.

With One Chance, many more people will come to know Potts' name around the world, the determined underdog, dealt a bad hand by life, succeeding against all odds. 'I hope this movie finds a broad audience, I hope it surprises people," says David Frankel. 'We would all love to have a secret talent that we one day got to share and I think this movie taps into that."

'I think this film is going to appeal to so many people," says Walters, 'because it's about overcoming adversity, but it's also about how Paul Potts got there. He's very well-known so people will be interested in seeing what his journey was. It's an interesting journey psychologically, being bullied and his relationship with his father and mother and eventually having the courage to stand up and do it."

'Never give up. If there's something you dream of doing, just persevere and go for it. Believe in your dream, believe in yourself. One Chance is a film filled with universal messages and themes that we can all relate to," says Menchel, 'It shows that even a little guy can win, that anybody can do it."

'If you don't ever give up, you can't fail and Paul is the shining example of that," adds James Corden.

For the original aspiring singer who became a reality-show sensation, having a story made about his life is both daunting and exciting. 'I've always had the belief that in life you have to live each day as it comes," concludes Potts. 'That's how I've dealt with the setbacks I've had, and how I deal with what has happened to me since -Britain's Got Talent'. I think that's a lesson for anyone – don't ever take anything for granted and just take each day as it comes. I'm astounded that people are going to be watching a movie about my life. I'm really looking forward to it."

One Chance
Release Date: November 28th, 2013