Alexander Payne Nebraska
Cast: Bruce Dern, Will Forte, Stacy Keach, June Squibb, Bob Odenkirk
Director: Alexander Payne
Genre: Adventure, Drama
Rated: MA
Running Time: 115 minutes

Synopsis: After receiving a sweepstakes letter in the mail, a cantankerous father (Bruce Dern) thinks he's struck it rich, and wrangles his son (Will Forte) into taking a road trip to claim the fortune. Shot in black and white across four states, Nebraska tells the stories of family life in the heartland of America.

Nebraska
Release Date: 20th Feb, 2014



About The Production
'We are now authorised to pay one million dollars to Mr. Woodrow T. Grant of Billings, Montana."
- Notice from Mega Sweepstakes Marketing mailed to Woody Grant

In Alexander Payne's 'Nebraska" a father and son steer the American road comedy into a vanishing Midwest on the trail of a dubious fortune – and in search of an understanding of each other that once seemed impossible.

This is the story of the Grant family of Hawthorne, Nebraska. Now transplanted to Billings, Montana, stubborn, taciturn Woody (Bruce Dern in a role that won Best Actor at the Cannes Film Festival) is well past his prime -- such as it ever was -- and possibly his usefulness, but he believes he's got one last shot at mattering: a notice that he's the lucky winner of a million-dollar sweepstakes.

To claim his fortune, Woody insists he must quickly get to the sweepstakes company's office in Lincoln, Nebraska – a 750-mile journey that seems unlikely given that he can barely shuffle down the road a few blocks, at least not without stopping for a drink. Worried for his father's state of mind, it falls to Woody's reluctant, baffled son David (Will Forte) to accompany him on a trip that seems hilariously futile on the surface.

Yet, their odd journey becomes a kind of modern family odyssey. When Woody and David make a pit-stop in their hometown of Hawthorne – with the Grant's tart-tongued matriarch (June Squibb, 'About Schmidt") and anchor-man son (Bob Odenkirk, 'Breaking Bad") joining them – word of Woody's fortune makes him, momentarily, a returning hero. Then it brings out the vultures. But it also opens a view into the unseen lives of David's parents and a past more alive than he ever imagined.

Shot in a black and white Cinemascope that mirrors the dusky beauty of small-town USA and the film's high contrasts of humor and heartbreak, the film gives comic consideration to questions of family roots and family riddles, delusion and dignity, self-worth and the quiet yearning for a dash of salvation.

Paramount Vantage presents in association with FilmNation Entertainment, Blue Lake Media Fund and Echo Lake Entertainment, a Bona Fide production of 'Nebraska," directed by Alexander Payne from a screenplay written by Bob Nelson. The producers are Albert Berger & Ron Yerxa; and the executive producers are George Parra, Julie M. Thompson, Doug Mankoff and Neil Tabatznik.

The Actor's Director – Alexander Payne
'I never knew the son-of-a-bitch even wanted to be a millionaire."
- Kate Grant

Often perceived as an 'actor's director," Alexander Payne allows his actors to strip their performances down to the rawest, essential elements of comedy, tragedy and humanity. Alexander Payne knew that the subtle, emotional story of "Nebraska" would only succeed if driven by risk-taking, naturalistic performances. 'Alexander Payne is someone who says, go ahead, take risks and I'll catch you," says Bruce Dern. 'He doesn't want you to act in the conventional sense – he wants all the characters to become real people. He gets to a level where you are pouring out what's in your heart – and all the emotions and baggage that come with it."

Alexander Payne could also relate to what has become a nearly universal experience in our aging society: watching one's parents grow older in ways that can be both confounding and revealing. 'As someone with two older parents myself, I was able to relate to David. I haven't been in his exact situation of course, but I know those same emotions," he says. 'One thing I really liked about the story was David's wish to give his father some dignity. That theme was important and personal to me." And then there is the film's setting in Alexander Payne's home state, which he says just brings him that one step deeper inside the story. 'In many ways, this story could be set anywhere in the U.S., but since it takes place in a state I know well, it gave me a chance to bring out a lot of details," he explains. 'I'm from Omaha, which is more of a city than where the Grants are from, though, so the chance to explore rural Nebraska was almost exotic to me."

There was little doubt in anyone's mind that Alexander Payne would take the story of the Grants and make it inimitably his own. 'When you see one of Alexander Payne's movies, you immediately know it couldn't have been directed by anybody else," points out producer Albert Berger. 'He has a unique way of revealing human behaviour in all its warts and all its glory, and he revels in those moments when people are behaving badly, yet recognisably. All of us see ourselves in these characters."

That reliability in the characters emerges in part because of the way Alexander Payne works with his actors, accompanying them into that still rare territory of dead-true performances.

'He reminds me of Preston Sturges and Frank Capra," comments Bruce Dern. 'He wants to examine what human beings do and why they do it. He is fascinated by human behavior and that comes out in the way he directs."

Co-star Stacy Keach points to two key elements that set Alexander Payne outside the mould: 'He has tremendous attention to detail and an acute understanding of an actor's process." Stacy Keach continues, 'Having been an actor himself, I think Alexander really understands what actors go through, and also what they are capable of delivering in terms of showing a variety of colours and different emotions all in the same moment. That makes him an inspiration."

Adds Will Forte: 'Working with Alexander Payne was an amazing experience for me. From a technical point of view, everything he does is magnificent. But he also taught me that it's about more than that. It's about building an inclusive, family atmosphere and about treating people in a way that gives them a wonderful, exciting environment to work in. The way he works, you can't imagine why anyone does it any other way. He really helped me to get out of my head playing David."

Executive producer George Parra ('Silver Linings Playbook," 'Sideways," 'The Descendants"), who has been working with Alexander Payne since 'Election," and also served as assistant director on 'Nebraska," says that as impressed as he was watching Alexander Payne direct on set, he's even more awed by how audiences respond to the indelible characters Alexander Payne brings to the fore.

'People look forward to his films because he has such a grasp on life's comedy and tragedy. His comedies are dramatic and vice versa," he summarises. 'There aren't many directors who can do that in every film."

Just Be Dernsy - Bruce Dern
'Beer's not drinking."
- Woody Grant

'When I first read 'Nebraska," I knew that I had to go after it as hard as I could," recalls Bruce Dern. The role was unlike any for which he had ever been considered -- and Bruce Dern was especially gratified that Alexander Payne asked him to leave behind his iconic film persona and explore entirely new directions. 'I think it was a lot like when he worked with Nicholson on -About Schmidt,'" Bruce Dern observes. 'For so many years I've been told, -just be Dernsy, give us that.' Jack is the same way. Well, he doesn't want to be Jack in every movie. And I don't want to be Dernsy, and Alexander Payne has brought something more and demanded that of me. He wanted to see the qualities I could bring within Woody, not the qualities Woody brings to me. I relished the chance to do that."

'With Woody, I was able to do something I've never done before. He's not an angry rebel or a nasty killer. He doesn't involve all those Dernsies," he says referring to all the sly mannerisms of the dark-hearted which he once honed. 'He's a guy who lives like he lives and he isn't interested in changing. In a way, he's a monument to a lot of people like him who built America."

In casting 'Nebraska," Alexander Payne was interested in just one thing: authenticity. That's how Bruce Dern wound up in the role of Woody Grant. It was an especially fitting match for Bruce Dern, a man legendary for playing the irreverent and malevolent but now a septuagenarian. His six decades-long career includes a diversity of unforgettable performances and an Academy Award® nomination for 'Coming Home" – yet he has never had a leading role anything like Woody. With this role, Bruce Dern was able to sink his teeth into an ordinary man's living, breathing soul – and the result garnered him both joyful analyses from global critics and the coveted Best Actor Award when the film premiered at the 2013 Cannes Film Festival.

From the minute Woody Grant first existed, people started envisioning Bruce Dern in the part. 'Bruce Dern was actually the first person Alexander Payne mentioned, but then he went through 100 possibilities before he finally determined that indeed, Bruce was absolutely right for the part," recalls Berger.

Once he was sure, Alexander Payne never looked back. He watched as Bruce Dern dove into the role with a gusto and originality befitting his experience – yet going beyond that to something both starkly human and transcendent. 'It was up to Bruce Dern as an actor how to approach him. He told me he saw Woody as a guy who checks out for about 20 minutes of every hour,'" Alexander Payne recalls.

For most, Woody's particular mix of confusion and clarity, disgruntlement and hope, would have been tough to make believable and authentic. Bruce Dern, however, found that precarious balance. 'It's an extremely challenging role," notes producer Ron Yerxa. 'Bruce Dern walks a tight-rope between being repressed and emotionally open, between being curmudgeonly and sympathetic, between being comical and true. There are so many ways he could have fallen off the wire, but he never lost a step."

Bruce Dern has always been somewhat of a rule-breaking actor, having come to the fore in an era of counter-cultural anti-heroes. After auspiciously cutting his teeth with two masterful directors – in Elia Kazan's 'Wild River" (1960) and Alfred Hitchcock's 'Marnie" (1964) -- he starred in a series of darkly comic, character-fueled stories that defined a shifting American cinema. He shot John Wayne in 'The Cowboys," played Jack Nicholson's con man brother in Bob Rafelson's 'King of Marvin Gardens," became an offbeat space hero in Douglas Trumbull's environmentalist sci-fi hit 'Silent Running," undertook satire as a beauty pageant sponsor in Michael Ritchie's 'Smile," and brought the devastating experience of a soldier returning from Vietnam to audiences in Hal Ashby's 'Coming Home."

He became renowned for playing heavies, villains and criminals – recently playing a brutal slave owner in 'Django Unchained" -- but he also carved out his own space as a kind of consummate iconoclast. Still, he was stunned to find perhaps the best, and perhaps the most movingly iconoclastic role he's ever come across at the age of 76.

Bruce Dern sees Woody, at bottom, as a man trying to believe he's finally going to be lucky in life. 'Woody's someone who stopped dreaming a long time ago," the actor observes. 'But he's determined to finish out his life living it his way. Maybe he's lost a little bit upstairs. But as far as he's concerned, he's really going to get that million dollars. Maybe for the first time in his life, he really wants something, and it just happens to be this."

He also relished exploring fatherhood – albeit a fatherhood as full of flaws, misunderstandings and bewildering behaviour as any in real life. 'I never really had much of a relationship with my own father," Bruce Dern notes, 'but by they end of the movie, I felt I found him through Alexander Payne."

For Alexander Payne, Bruce Dern brought the all the contradictory qualities he sought. 'He was able to be ornery but heartbreaking at the same time," he says. 'The thing for which I was most grateful to Bruce Dern is that he trusted me, a phenomenal gift to any director. He would try anything. At one point in the car, my only direction was -please put yourself in a pathetic, crumpled heap,' and he did exactly that."

Bruce Dern gives a lot of credit to Alexander Payne, who he first met when his daughter starred in Alexander Payne's debut film, 'Citizen Ruth." 'I've never been given a role this fabulous in my entire career," Bruce Dern says. 'I also have never been this blessed with a director. I've worked with several geniuses in my career – Kazan, Hitchcock, Trumbull, Coppola and Tarantino – and Alexander Payne just joined the list. What you need from a director is assurance to take risks and he is all about risk taking, but he also gives you faith that you always have a guide. He lets you go for it, but he's there to support you."

He goes on: 'Every single day you go to work for Alexander Payne, you feel you just might do something that's never been done before. A lot of days he captures lightning in a bottle."

Part of the way Alexander Payne worked with Bruce Dern was simply to create an early bond. 'For many, many weeks before shooting started, we hung out together and talked about everything but the film, so that by the time we were shooting, everything was just able to flow very naturally," the director says. Screenwriter Bob Nelson was exhilarated to see the way Bruce Dern embodied moments he took from real life, including the scene that turns from wrenching to hilarious when David takes Woody in search of his lost teeth on a desolate train track. 'In that scene, Bruce shows there's still a lot going on upstairs with Woody. You aren't sure but then you realise he's still got that spark. You see he still has moments of absolute clarity and part of him is trying to make amends," says Bob Nelson.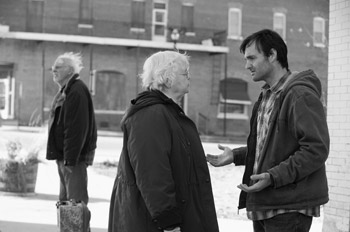 His fellow cast and crew members were equally struck by how deeply Dern buried himself beneath Woody's tough old hide.

'Working with Bruce Dern was a pleasure on so many different levels," says Will Forte. 'On a professional level, it was like going to acting school each day with a master. I learned so much and I soaked in all these amazing stories about Alfred Hitchcock, John Wayne and Jack Nicholson. On a personal level, he is such a fun, sweet person. At times he's playfully cantankerous, but he's actually a big softie beneath that exterior."

'I think Bruce Dern has created one of the finest comic characters on screen," comments Bob Odenkirk. 'He's extremely entertaining to watch at every moment."

Says Stacy Keach: 'Just as Jack Nicholson gave one of his greatest performances for Alexander Payne, I think this is a truly great performance from Bruce Dern."

Sums up Albert Berger: 'Bruce Dern really delivered the cherry on top of all the work he's done over the years. He is wonderfully unpredictable as Woody. On the one hand he came to the set fully prepared. On the other hand, he was able in the moment to bring so many different flavours to Woody, Woody at times seems lost, at times he seems angry, at times he seems like an innocent child. Alexander Payne wanted to see all of those aspects of his character and Bruce gave him every colour and dimension."

The Good Son – Will Forte
'He doesn't have Alzheimer's, he just believes what people tell him."
- David Grant

Playing opposite Bruce Dern's Woody is Will Forte as his son, David, who finds himself on a road-trip he's not entirely sure is such a good idea with a father he's not entirely sure he can communicate with, let alone get close to. Will Forte, best known as a cast member of 'Saturday Night Live" and as the spoof action star 'MacGruber," reveals an entirely different side of his talent in a role that is as dramatic as it is quietly, darkly funny. A lovelorn stereo salesman, and a man who seems to mostly be spinning his wheels in his own life, David has no idea just how far this trek into his family past will take him. Alexander Payne notes that Will Forte's audition won him over. 'I believed him," he explains. 'Will Forte communicates a ready sincerity and sweetness, and also a sense of damage. And since we were putting together a family, we really felt that Bruce Dern and June Squibb could produce this person."

Forte knew it was going to be a step outside the box for him, and that excited him. 'I'm used to doing crazy comedies and I didn't even know doing a film like this was in the realm of possibility," he says. 'To work with Alexander Payne, who is such a hero of mine, was a dream come true situation." He was determined to give it his all. 'It wasn't lost on me that this was an amazing opportunity to do something different. But it's been a big challenge, too," he admits. 'There are comedy elements in this story, but they're rooted in real life, and what's interesting is that Bruce Dern and June have most of the really funny moments. David is actually the straight man."

On the set, everyone was impressed by Will Forte's never-before-seen facility for subtlety, and for moving between the amusing and the touching. 'Will is a big, big discovery in this part," says Berger. 'He brings a wonderful every-man presence that invites audiences into the story."

Part of that comes through a performance that is built on conflicted feelings towards Woody, says Forte. 'David is frustrated by his father at the same that he cares about his father at the same time that he regrets not knowing him that well. He sees this trip as his one chance to take another look at his father."

To bring all that out, Will Forte had to carve out a complex relationship with Bruce Dern. 'It was intimidating," he admits, 'but it was also magical."

Mommy Dearest - June Squibb
'Keith White. He wanted in my pants, too, but was so boring.
See what you could have had, Keith, if you hadn't talked about wheat all the time?"
- Kate Grant

'Nebraska" might be a father-son story, but it is a woman who instigates some of the most remarkable moments -- as June Squibb takes on Kate Grant's razor tongue, wicked sense of humour and impenetrable strength as a wife and mother devoted to her family through thick and thin. Previously, the Illinois native who made her debut in Woody Allen's 'Alice," played Jack Nicholson's wife in Alexander Payne's 'About Schmidt," but this was an entirely different type of role. Yet June Squibb says she had a handle on it from her first videotaped audition. 'I don't know if it was a shock or a surprise to Alexander Payne, but I knew who this woman was and I think he got that from the tape I made," she says. 'She doesn't just say these things, she means them. There's no pretention at all about her."

June Squibb found great joy in Kate's unapologetic bluntness. 'There's no filter with her," she muses. 'Words come out of her mouth as she's thinking them. She has very definite ideas about who she is and who her husband is and who her sons are, and that is just who she is. But I love her dearly. She's funny, yet she also protects the family and she's quite a formidable person."

Kate is also more than she might appear, especially to her son David, who discovers a whole unsettlingly lusty side of his mother's youth in Nebraska in the course of his trip. Revealing that part of the character was key to Squibb's multi-layered performance.

'Kate and Woody went to a small-town high school, where she was probably a pretty sexy young woman," comments Squibb. 'I kept thinking of the wiles she must have used to get Woody, and 10 I'm sure sex was part of it. Of course she was also Catholic, but she used her wiles to say -no more hanky-panky until I get a ring,' and in her mind, all the boys wanted her. It's the way she sees herself."

On the set, that portrait of a woman who tells it like it is, no matter how inappropriate, became honed in June Squibb's close collaboration with Alexander Payne. 'He and I have a relationship that is like dancing, because he let me move in a way that seemed right to who this woman is – and then he started tweaking that and giving me ideas to incorporate. I remember him doing this same thing with me in -Schmidt,' but this time there was much more. We were working like that constantly and it was very exciting."

The results excited the entire team. 'June Squibb dove into the centre of this feisty, irrepressible, uncensored mother who is full of desire and fiery opinions and she was something," concludes Yerxa.

The Favourite - Bob Odenkirk
'A home would be in his best interest –
which, let's face it is more than he ever thought about with us."
- Ross Grant

If David seems to be following in his dad's footsteps, his brother Ross, is the family celebrity – a news anchor seen daily on television. Taking the role is Bob Odenkirk, the actor, writer and director known for his iconic role as 'criminal lawyer" Saul Goodman on the acclaimed 'Breaking Bad."

Bob Odenkirk was intrigued by the contrasts between the two brothers. 'David's more of an aimless, kind-hearted fellow compared to my hard-charging, modern type of guy," he explains. 'My character is a newscaster, so I'm on the go, I'm making it. I'm getting places and I'm on TV. Ross is a little more egotistical and he's angrier towards his parents and more judgmental of Woody as an alcoholic. And yet, I think this adventure we all go on brings the whole family closer. Along the way, people soften towards each other and open up a bit. It's a human comedy, but with a lot of tenderness."

He was thrilled to work with his cast mates. 'It was a crazy gift to be a part of this movie," he says. 'I love all these people and they are each great for their characters. Forte is a friend, so it was a lot of fun to be brothers. Bruce Dern as a dad is the greatest crotchety, hard-driving, irascible, crusty old guy you could be ever entertained by. And June Squibb who is such a sweet lady, plays a wife who is justifiably peeved at putting up with Woody for years, and she plays it to the hilt."

Something different for Bob Odenkirk was the rhythm Alexander Payne brought to 'Nebraska," full of wide-open spaces and subtle moments where people change by moving just an inch or two towards each other. 'My character on -Breaking Bad' has loads of dialogue, so this was a whole different beast," he explains. 'Many scenes in -Nebraska' have very little dialogue. Alexander Payne really pushed us to sensitise ourselves to all the communication that takes place just through glances and wordless moments."

The Veteran - Stacey Keach
'I'm a man with a real strong sense of right and wrong.
And if Woody hit it rich, and I don't see any of it, that's wrong."
- Ed Pegram

When Woody arrives back home in Nebraska it isn't long before he leaks the secret of his supposed fortune – and it isn't long before some of his old friends, enemies and acquaintances try to cash in. The man most determined to share in Woody's dream, one way or another, is his long-ago business partner, Ed Pegram, played by screen and stage veteran Stacy Keach, who first came to the fore in John Huston's 1972 classic 'Fat City" and has recently been seen in 'The Bourne Legacy."

Stacy Keach also happens to have long-ago friendship with Bruce Dern (the two starred together, along with Robert Mitchum, in the 1982 sports drama 'That Championship Season"), which made his playing Pegram a fortuitous choice. 'The casting couldn't have been better in that respect, because I hadn't seen Bruce in almost 30 years, just as Ed hasn't seen Woody in almost 40," he notes.

As with his cast-mates, the story pulled Stacy Keach in. 'What Alexander Payne captures in -Nebraska' is a slice of Americana that we haven't seen before. It's a story that reflects a lot about what America is in the heartland and in the heart," he observes.

While his character brings moment of comic relief, as well as tension, to the film, Stacy Keach makes little distinction between comedy and drama. 'I've been teaching a course by Skype at George Mason University and I'm always telling my students: - if you're doing comedy don't try to be funny, just try to be real. The comedy will take care of itself.' That's reality," he says.

In one sequence, Ed Pegram sings an unlikely Karaoke version of 'In The Ghetto," the 1969 Mac Davis song about inner-city poverty that became a hit for Elvis Presley, in a Nebraska restaurant. Though the effect is dryly comic, Ed Pegram, who has never left the town where he grew up, is dead serious. 'I really felt that Ed relates to that song," comments Stacy Keach, who is also an accomplished composer. 'Not that Ed grew up in the ghetto, of course, but I think he identifies with victims in a strange way. I've never sung in a movie seriously. I'm an actor who can carry a tune kind of, but I think that's just about enough for Ed. I felt it was his idea of a cross between Elvis and Johnny Cash."

Moments like these give the character a depth that gives his aggressive fortune-seeking a humanity. 'Alexander Payne wanted somebody in the role of Ed Pegram who could be intimidating, yet also open up an avenue of sympathy towards the character," says Berger. 'On the face of it, Ed Pegram's a bully, but Stacy found a way to embrace all of Ed Pegram and create a very complex performance."

Other standouts in the ensemble include Tim Driscoll and Devin Ratray as Woody's trouble-prone nephews; and Angela McEwan as the newspaper editor who once carried a torch for Woody. Several smaller roles, including Aunt Betty and Uncle Cecil, were cast locally with non-actors.

Much of the cast doesn't say much but it's how they say so little that becomes humorous, human, or both. 'There aren't many filmmakers who do as much comedically with silence as Alexander Payne," observes Yerxa. 'The humor comes in part from the audience filling in what's going on in the characters' minds. Often, Alexander Payne's philosophical ideas are so deeply entwined in the characters and the absurd situations; they just flow into the story. A great example is the scene where David's uncles are talking about an old Buick and Uncle Ray says -Those cars'll run forever. Whatever happened to it?' and Uncle Verne says -Stopped running,' and Uncle Ray replies, -They'll do that.' It's a very funny scene but it gets to the idea that you have to accept reality one way or another." Berger notes that no matter how large or small a character's presence in the film, Alexander Payne is 100% focused on actors as individuals. 'One of the great pleasures of the film was watching Alexander Payne with the actors," he says. 'I think of David standing at the Woody's hospital bedside – and Alexander Payne's note to Will was, -look at this man, stare down on him as an albatross that's been around your neck for the last 35 years.' The kind of humour and humanity he is able to express with the actors is a real treat."

A Story Years In The Making– Pre Production
'Am I the only sane one in this family?"
- Kate Grant

Perhaps fittingly, 'Nebraska" first began with a real Midwesterner's attempt to push his boundaries. The Illinois-based sketch comedy writer Bob Nelson decided to try his hand at writing something closer to the bone. What he lacked in experience, he made up for with years of watching and observing the kind of characters he wanted to write about: the amusingly reticent, unpretentious Midwesterners who might work their whole lives, go to war, raise children and have their own private struggles without ever telling their stories, not even to their own kids.

'I just wanted to write a story about real people," Bob Nelson says. 'I like stories that have that real human quality and I wanted to write something about the joy of living and the sadness that goes with it. I also wanted to write something that might move people because I've spent ten years writing comedy. Mostly, I wanted the people in this film to seem so real that you get totally immersed in their lives." The truthfulness of Bob Nelson's script for 'Nebraska" emerged out of his own family experiences. 'I raided family stories to set up the structure of the story and then I invented around that," he explains.

Another inspiration for Bob Nelson came from true tales of senior citizens showing up at publisher clearinghouses ready to claim their sham winnings. 'That's what started me wondering what would happen if your old dad was the guy insisting that he won," the writer recalls. 'What would you do? I thought a certain kind of son might take him anyway, and that's what started this whole journey."

But what starts out as quixotic quest for a million dollars becomes even more so a search for something more important to father and son – something akin to unspoken forgiveness. 'David wants to look at his dad as a good man, even though he has his problems," says Bob Nelson. 'And deep inside Woody, he wants to set things right with his family, even if he has no clue about how to do that."

The potent blend of humour and human need in Bob Nelson's screenplay quickly attracted the attention of executive producer Julie M. Thompson, with whom he had worked on a PBS project. 'I laughed so much and it was so heartfelt to me," Thompson recalls of the script. 'Coming from the Midwest myself I totally bought into these characters."

Thompson was so taken with it, she in turn handed it to producers Albert Berger and Ron Yerxa, renowned for bring to the fore a string of influential comedy-dramas, including Payne's 'Election," Jonathan Dayton and Valerie Faris' 'Little Miss Sunshine" and Todd Field's 'Little Children." Given the script's title, Berger and Yerxa immediately thought of Payne, and they sent it to him almost a decade ago, not long after they had all completed 'Election."

'It was such a beautiful story, told with wit and insight, that we immediately thought of Alexander Payne," recalls Berger. 'We had just worked with him on -Election' and it was a very successful relationship. At the time, we thought Alexander Payne might mentor another director on it. He read it very quickly, called us back and said he had a director in mind and we said, -Who?' He said, -Well, me.' Ron and I were delighted. We couldn't think of a better choice. The only twist was that he had just made -About Schmidt' and he was about to start on -Sideways.'"

The producers were happy to give Alexander Payne the room to make the film when he was ready. 'Alexander Payne's films are very distinctive," notes Yerxa. 'They are always filled with big ideas, yet he embeds those ideas in a humorous, surprising narrative, so that just as you're fully enjoying the entertainment, he hits you with something fresh about life. -Nebraska' gave him that kind of material to work with. It's about a situation in life most of us face when our parents are getting older. It's about a son trying to make an emotional connection with someone who seems to be completely closed off – and his discovery that there's something generous and dignified deep inside his father. How a family comes to finally express their love for one another is a really attractive theme, both for us and for Alexander Payne."

Thompson was thrilled. 'I knew that Ron and Albert, two producers especially adept at character driven stories, would really understand this material and bring it to life. We had the right producers, the right director and we just had to wait for the right time."

There would indeed be a bit of a wait, but Alexander Payne's love of the story never left his mind, and in the wake of his success with 'The Descendants," the recipient of five Academy Award® nominations, he returned at last to tackle it. Alexander Payne always liked that 'Nebraska" was a grown-up, unsentimental story, but now it was even timelier.

'I received this beautiful screenplay 9 years ago, and what appealed to me then was that it was humorous and melancholy, like life. I also liked that the writer really lived what happens in this story, so it feels personal," says Alexander Payne. 'By the time we made it, all these other things were happening in our society, and it came to feel like modern Depression-era story. But I think any film takes on the time in which it is made. The winds of the period blow through it, whether consciously or unconsciously."

The Heartland - Location
'My dad built all of this."
-Woody Grant

For Alexander Payne, 'Nebraska" is a kind of home-coming to the Midwestern setting of his first three films – 'Citizen Ruth," 'Election" and 'About Schmidt" -- which established his deadpan-funny vision of Americana, before he took journeys to California and Hawaii in the equally acclaimed 'Sideways" and 'The Descendants."

Yet, this is a homecoming to a place that has been changing. It's a place that has unwound into strings of fading towns that might not have much in the way of 21st Century economic prospects, but still nurture a way life that once defined the country as we knew it. It's also a place that highlights the dilemmas of Woody and David Grant, a father and son who aren't quite sure what to make of one another's futures.

Alexander Payne chose the locations for 'Nebraska" with a meticulousness that is part and parcel of his style. Indeed, his unending quest for naturalistic settings often becomes one of the main challenges of his productions. Notes Berger: 'Alexander Payne casts locations just as carefully as he casts the actors."

Given that the film would be black and white, tone was an essential consideration for both locations and costumes. It was a new experience for everyone. 'I've never designed for black and white before, but we drew what we could from classic, old movies," notes production designer Dennis Washington, whose films include 'The Fugitive," 'Prizzi's Honor," and 'Stand By Me." 'We had to kind of relearn tactics used in the past – and then we coupled those with new digital tactics."

That education began as soon as Washington joined the film. 'When we were scouting, I started taking pictures in color and transferring them to black and white, so I could see the changes.

You might think it's obvious what's going to change but it's not. Your focus goes to one thing in color, but in black and white, suddenly it is elsewhere. So I began to understand all that. Later, everything we learned helped us to focus subtlety where it should be, to work with the lighting, and to know when and how we could bring the contrast up to get that gorgeous quality of black and white photography."

Plainview, Nebraska – a town that echoes its humble, straightforward name – stood in for Hawthorne. 'We wanted a town that could give you a feeling for where Woody came from, the kind of town that hasn't changed all that much. Plainview is a vibrant little town – it's not necessarily like the town in the script – but it has some of that feeling of being set in its own time," says Washington.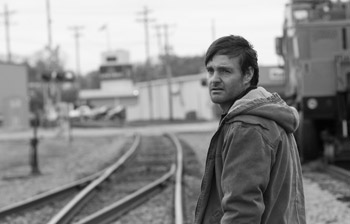 He goes on: 'Hawthorne is meant to be a place that is not too cute. It hasn't been gentrified. You see a mix of the new and old, but you get the feeling that this town just hasn't moved that much. It's surviving, and so are the people. All the work we did on the town was very subtle."

For the sake of filming, many street signs were changed from Plainview to Hawthorne, which did have its consequences. 'I understand there was a Fed-ex driver looking for a Plainview address and all he could find was Hawthorne, so he was desperately lost in the middle of town," laughs Washington. This was Washington's first time working with Payne, an experience he savored. 'I don't know if I've ever spent as much time with the director scouting locations, and talking about theory and the story," he elucidates. 'Alexander told me at the start, -I'm very particular with locations' and he puts his money where his mouth is. He was out there with us going to strangers' doors and saying, 'You don't know us, but we'd like to look at your house.' He always has something very specific in mind, but he is always open to opportunity. You will be in the car with him and he'll suddenly stop and say -Look at that sign. We've got to have that sign.' All of that enriches the story in every moment."

For costume designer Wendy Chuck, who has worked with Payne since 'Election," 'Nebraska" was a true study in subtlety – as she worked meticulously to allow the characters to seem the very opposite of meticulous, to be as casual, natural and real as anyone you'd meet on a Midwestern street.

For Bruce Dern's Woody, she took a bottom-up approach. 'It started with finding the right shoes," she explains. 'He does all this walking in the cold. So I started with what I took to be -old man' comfortable shoes. Then, I decided to keep him in the same jeans the entire movie. You think -oh just jeans' but we wanted just those kinds of pants that maybe you bought too long and eventually they start to fray at the bottom. We put some real age and patina on his pants."

Similarly Chuck's team put Woody's plaid shirts through a cement mixer and soaked them with lemon to fade them out into something as worn out as he is. The shirts are topped off with the jacket that takes Woody through the whole movie. 'We got lucky, finding the perfect jacket in the Salvation Army in Norfolk, Nebraska, which is as local as you can get," says Chuck. 'It had all the right texture, all the age and it gives Bruce just the right shape for his performance. It gives him a layered look -- and I feel like part of who this man is is having a lot of layers. So that's what you see in Woody."

David starts out in contemporary men's casuals but as the film's goes on, he ultimately echoes his father's plaids and jeans. 'We see them coming a little closer together," Chuck observes. 'David has many of the same kinds of items as Woody but in slightly different versions."

Though she might have been working with such everyday items as June Squibb's easy-going button-downs or Stacy Keach's trucker hats, Chuck had the sense she was creating a luminous portrait of everyday life. 'From the first week on this film, I was on a high because I felt like I was contributing to what I consider to be a work of art," she says. 'It's so very exciting to wake up every day and feel passionate about what you do, to be excited to go to the set, to see people that you love, to collaborate with them and every night, to want more of that experience. To be hungry for more, that's a gift." On the heels of principal photography, Payne and his longtime editor Kevin Tent, who has cut all his films, began to weave the narrative into its final form. The final touches included a score by Mark Orton, the composer and multi-instrumentalist known as a member of the genre-defying chamber group the Tin Hat Trio.

'Alexander started off using a temp track by Tin Hat Trio, but he fell so in love with the music, he brought Mark in to do more," explains Berger. 'Mark's music has a haunting, soulful quality that is very cinematic. The score he gave us really fits the landscape and the quality of the characters – there's that same mix of humor and depth to it."

That same combo of the funny and finely-observed imbues the whole film, but the filmmaking remains understated to the point that the audience is invited to bring their own experiences into the mix.

'I think for many people there's a road trip with a parent, or a moment with a parent, that you always wanted to have happen," concludes Yerxa. 'Maybe it never did happen, but it's always there in your mind. -Nebraska' takes that journey."

The New Black, and White - Cinematography
'It took you two days to drive 750 miles? What are you driving a dump truck or something?"
- Cole

One of the first decisions Alexander Payne took in making 'Nebraska" was to shoot the film in black and white. He knew it would be a risk, but it was central to his vision of the story. 'Visual style was my window into the picture," he notes. 'Black and white just felt like the right choice for this film, because that's always how I read it and saw it," explains Payne. 'I've also always wanted to make a film in black and white. It's such a beautiful format. And this modest, austere story lends itself to a visual style as stark, plain and direct as the lives of the people in the film."

Everyone involved in the film was intrigued by the idea, despite the uncertainty that surrounds black and white as a medium in today's film world. Says Berger: 'Alexander has always been interested in an authentic look, but black and white gives this story something iconic. He and DP Phedon

Papamichael use black and white and Cinemascope to really add to the storytelling. At times, I was put in mind of John Ford's work or Peter Bogdanovich's Last Picture Show – it's a film that fits into that kind of American tradition of visual storytelling. And Phedon is such an amazing DP that it was exciting to give him this chance to really stretch his talent."

Yerxa adds, 'Phedon really has an ability to find beauty in the mundane. I think the look of the film has the quality of taking you into the Midwest America in your mind. It allows you to consider what goes into our quintessential idea of Americana in an inviting and atmospheric way."

If anything the black and white focused the filmmaking even more. 'Every frame was meticulously planned to create this black and white world," noes George Parra. 'Alexander and Phedon are into pure filmmaking. There aren't a lot of crane shots or steady cams, so it's a very Billy Wilder kind of storytelling."

The actors were equally on board. 'This film is perfect for black and white because it allows you to focus on human behavior," observes Stacy Keach. 'There are no distractions."

Papamichael, who also shot 'Sideways" and 'The Descendants" with Payne, says that Payne talked about black and white from moment one. 'That's how he saw it in his head," he says, 'so even though there was a series of struggles about how to make it happen, that was always the plan."

The specifics of tone and texture emerged from a series of tests. 'We did lots and lots of testing," Papamichael recalls, 'to find the particular look of black and white that was right for the film. There's nothing stylised about it, though. It's a high-contrast look that supports the human comedy and really sets that mood."

Papamichael notes that they all wanted to make the most of the opportunity creatively. 'We definitely knew this might be the only time in our lives we'd have a chance to make a black and white film, which I think is a dream of a lot of filmmakers, so we really enjoyed it. At the end, there was the feeling of -how can we ever go back to making color films again?' It's like a whole new reality."

To fully explore that reality, he and Payne perused film noirs, Italian Neo-Realism and contemporary American film such as 'The Last Picture Show" (notably, Papapmichael's father shot the sequel to 'The Last Picture Show," 'Texasville"), but the biggest driving factor was the characters.

'The way that the black and white works with the texture in Bruce Dern's face alone, with all of the subtleties of his performance, is so powerful," he notes. 'Equally important was the decision to 18 shoot with anamorphic lenses, which really lend themselves to these landscapes -- the vastness of them, the power of the sky, the texture of the fields, the feeling of Midwestern communities." The decision to shoot with Arri Alexa cameras came after extensively testing color and black and white stock, and realising digital would offer the most range and flexibility. In post-production, a layer of authentic film grain was then added to the digital print to echo the warp and weave of celluloid.

This was the first time Papamichael had shot in the Midwest, and he found himself charmed by the locales and more so the people. 'You have wonderful, archetypal landscapes, but some of my favorite scenes to shoot came in these little, powerful moments that are so human," he says.


Nebraska
Release Date: December 26th, 2013

Photo credit: Merie Wallace
© 2013 Paramount Pictures. All Rights Reserved.