Nutritionist, Wholefoods Cook, HIVITA Health & Beauty Ambassador and Mum, Jacqueline Alwill Talks Parenting
Question: What originally inspired your passion for wholefoods and nutrition?

Jacqueline Alwill: I loved food as a kid, but had a very disordered relationship with food as a teenager and right into my twenties. I was always passionate about it but it wasn't always the healthiest approach. A few years into my (first) career as a marketing strategist I decided I couldn't ignore my deep yearning for understanding nutrition better so I jumped ship, re-educated as a personal trainer and followed my path to becoming an accredited nutritionist. When I had Jet all of my history with food and nutrition, finally came full circle and I became the healthiest and most balanced with nutrition I've been. I wanted for Jet to grow up seeing his mum healthy and knowing what a great way to live that is.


Question: How did having Jet change your approach to meal times?

Jacqueline Alwill: I think any parent might agree the biggest change is actually the time that you eat! I grew up eating most of our meals sitting together at the dining table as a family and it's something I wanted for Jet to grow up with too. So I aim for us all to eat at the same time - even if it's early. It's so important to eat and connect as a family over food and by sitting to rest and digest optimises the nutrition for your body too.


Question: What is your main health message to parents?

Jacqueline Alwill: You need to prioritise yourself too. It's easy to let go of time just for you in order to do everything for your kids but you'll end up burnt out and deflated long term. Schedule in the time out even just 20 minutes a day to do something that invests in your health. Don't be afraid to ask for help and have others support you so you can do this.


Question: How can parents get fussy eaters to eat their greens?

Jacqueline Alwill: Keep exposing kids to them! Even if it is just the smallest amount at each meal - a couple of peas, a piece of broccoli, one lettuce leaf, but keep them there because in time they will learn that's the norm and you never know the day they will decide to pick it up and try. Reward them with encouragement and lots of love when they do - make a song and dance about it! Also, have greens on a plate when they are at their hungriest - pre dinner for instance. That way their hunger will override their apparent dislike of greens and they'll try them anyway.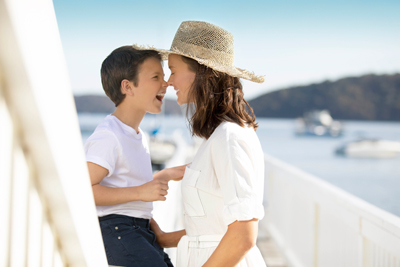 Question: What are the best foods to put in our kids lunchbox?

Jacqueline Alwill: Try these for lunch and snacks throughout the school week: + hidden veggie savoury muffins (add carrots, zucchini, grated broccoli or cauliflower to the mix)
+ frittata
+ hummus with carrot, capsicum and celery or whichever 3 veggies your kids will eat
+ baked ricotta
+ crunchy beans - bake tinned legumes (rinse and drain) such as butter beans, cannellini beans and chickpeas in the oven with some olive oil until crunchy
+ tuna avocado and sprouts in a wrap
+ picnic style lunches with olives, cherry tomatoes, seeds, sprouts, cheese, chicken or meat (you can pop a freezer block in the lunchbag to keep these cool)
+ rainbow pasta salad with fresh veggies, olive oil and legumes
+ cheese toasties on wholemeal or sourdough bread as as change from the normal sandwich - add in fats such as avocado, butter, ricotta, feta or cheddar here to provide more sustained energy
+ home made treats - on rotation in our house is Banana Coconut Bread, anzac cookies, nut free bliss balls, sweet potato brownies, fruit wraps and Jelly Gummies
+ any small fruits such as berries, kiwifruit, sliced up stone fruit
+ and of course vegetables! Be creative with these, rather than always packing them as whole or just cut pieces, ribbon the carrots with a veggie peeler, cut the cucumber into fine coins, include leftover pieces of baked sweet potato from last night's dinner when possible, cut tomatoes in fun shapes - we love a star tomato in our house! I have a number of lunchbox ideas and recipes on my blog too.


Question: What advice do you have for parents during the back-to-school chaos?

Jacqueline Alwill: Planning is the number one cure for reducing the chaos and anxiety of heading back to school I believe and once you start and move into a flow with planning it takes no time at all and massively reduces the stress of it all!

- I ensure before the week begins that I have planned 4 family dinners, a few different lunchbox options so the kids aren't always eating the same foods each day and each week I encourage to make 1 healthy treat with the kids to pop in their lunchbox too. These could be healthy banana bread, nut free energy balls, sweet potato brownies, jelly gummies, muffins - whichever is the family choice for that week. However doing this together is important because it not only gets the family in the kitchen but also helps children realise the structure and planning that goes into the week from a young age so they can grow up understanding the importance of it - for the entire family. I also create structure around breakfast too so it's not eaten on the fly and sets us up well for the day. A glass of water with a multivitamin such as HIVITA Liquivita for Kids and Womens Multi for mums to start. Followed by a wholesome breakfast sitting at the table, rather than a mouthful here and a mouthful there as so often kids like to. Everyone takes their dishes to the sink so it's not all laden on one person and then off to brush teeth and get to school. The more families take time to sit and eat meals at a table and together the more they optimise their nutrition and of course time together as a family too.


Question: How do you maintain a balanced, healthy lifestyle and ensure you have downtime as well?

Jacqueline Alwill: I schedule in the time I need for me at the start of the week and ensure someone can help me achieve it. Time out for me is non-negotiable, I'd be rotten and feral if I didn't have it, when I do I'm better organised, happier, calmer and the effects roll into our life as a family too.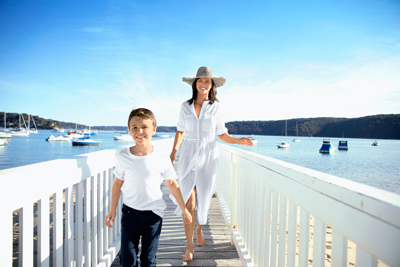 Question: What five items can you currently not live without?

Jacqueline Alwill: Tea - I don't drink coffee but I cannot go without a really strong cup of tea in the morning, it's become part of my morning ritual and I absolutely adore my morning cuppa.

Multivitamin - either HIVITA Women's Multivitamin or HIVITA Energy or Stress depending on the time of year and what is on my plate. I took the Energy vitamin in the lead up to Christmas last year and it was a god send!

Enviro friendly water bottle / straws / coffee cups in my hand bag because a healthy life to me also means looking after the earth - if we don't get into practice with these habits then our earth won't be as we know it by the time our grand kids come into being and that is something I cannot fathom. We can make small changes, like carrying these with us, to make a difference.

Healthy chocolate and treats. For about 15 years I didn't eat chocolate because I was so obsessed with being 'healthy' but it wasn't always such a healthy approach! Then I discovered I could make healthier recipes of literally all the treats I loved - caramel slice, chocolate with nuts and berries, healthy snickers bars - you name it! Chocolate or a healthy treat is a must. It keeps you sane! I have a stack of these recipes on the blog.

Jet's cuddles and kisses - of course. I read a few different sources that around the ages of 6-9 boys might drift a little away from their mothers and be more male focussed with their attention but I think it's been the opposite. I have so many cuddles and kisses at the moment - no way could I live without that precious love in my day.


Question: What is Jet's favourite recipe, currently? Can you share it with us?

Jacqueline Alwill: Jet absolutely LOVES my sweet potato brownies and gets kicks out of asking his friends when they try them what vegetable they think is in them - they're a winner all around and make a great healthy lunchbox treat too! Check out the recipe here.


Interview by Brooke Hunter