Interview with Better Homes and Gardens chef - Fast Ed Halmagyi
Most Aussies can't stand the heat in the kitchen, a new MasterFoods survey has revealed. With Australia in the midst of a cooking resurgence, it's no surprise that 87% of respondents enjoy preparing a home cooked meal for family and friends. However, the survey also lifted the lid on the pressure cooker, with the majority of these food lovers (74%) admitting to being nervous about hosting a dinner party.
While Aussie home-cooks are most worried about people not enjoying the meal (64%) they will be relieved to know nearly all dinner guests would most like to see a familiar meal on their plate, with over half of the respondents (57%) stating they'd rather have an everyday food such as pasta or roast lamb that is cooked to perfection.
"Most dinner guests just want a delicious home-cooked meal, so it's worth thinking about how you can take the stress out of entertaining, simply by putting a twist on a recipe you feel comfortable with," said celebrity chef "Fast Ed" Halmagyi. "When I have friends over, I like to select a dish that everyone knows and loves - but incorporate a simple twist to make it my own."
Food coming out on time caused concern for almost a quarter of home cooks (22%), which shows an opportunity for frazzled cooks to add quick and easy flavor boosts that easily maximise the taste of food.
"Herbs and spices are the best way to liven up your every day cooking, adding flavours and aromas that bring creativity to your meal and leave an impression on your guests," said Ed.
"Focussing on quick and easy dishes that I'm comfortable with also means I get to spend more time chatting at the table than slaving in the kitchen."
Although cooking for strangers causes the most fear overall (42%), over a quarter of the Aussies surveyed (29%) admitted to being most nervous cooking for their friends, followed by 14% who most fear their in-laws.
"It doesn't matter who you're entertaining, there are certain meals that are fun to make, and sure-fire crowd pleasers," said Ed.
"Cooking should be enjoyable, not a chore, so put a simple twist on a meal you're comfortable with to bring a touch of creativity to the table."
Garlic, mixed herbs, basil, and Italian herbs were voted the four most popular MasterFoods Herbs and Spices respectively, while the most underused were revealed to be saffron, chicken salt, nutmeg and Moroccan seasoning.
Fast Ed's favourite flavour combinations include:
Coat fresh fish in MasterFoods Sesame and Seeds for extra taste
Use MasterFoods Tuscan Seasoning to add a touch of Italiana to tomato-based pasta dishes
Try MasterFoods Ginger as a zingy topping on poached fruit
To find out more visit:
www.masterfoods.com.au/simpletwists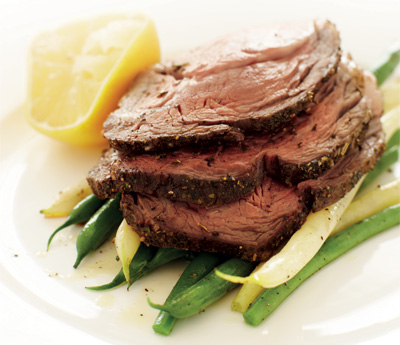 Fast Ed's Herb & Pepper Roast With Bean Salad
Perfect for creating a high-impact low-effort dinner party meal.
Serves: 4
Preparation time: 5 minutes and 30 minutes marinating
Cooking time: 50 minutes
Approx price per serve: $6.50
Ingredients
1kg beef Scotch fillet
2 Tbsp cracked black pepper
1½ Tbsp dried Italian herbs
2 tsp fine salt
2 Tbsp extra virgin olive oil
200g green beans, trimmed
200g yellow beans, trimmed
2 Tbsp extra virgin olive oil
1 Tbsp white wine vinegar
Lemon wedges and crusty bread, to serve
Method
1. Preheat oven to 210°C. Roll the beef in a mixture of pepper and herbs, then set aside to marinate for 30 minutes. Sprinkle with salt and olive oil, then arrange in a baking dish and roast for 30 minutes.
2. Reduce the heat to 170°C then continue baking for 20 minutes. Set aside to rest for 5 minutes.
3. Steam the beans until tender, then season with salt and pepper and toss in the olive oil and vinegar. Carve the roast and serve on a bed of beans with lemon wedges and crusty bread.
Cook's tips: For perfect medium roast beef, use a meat thermometer. The centre should reach 60°C.Health habit: Pepper is the perfect addition to beef as it encourages the production of hydrochloric acid in the stomach, which makes digestion easier and more effective.
Value-add knowledge: Scotch fillet is the best roasting cut as it has a good fat to meat ratio which bastes the cut automatically while cooking.
Mars Food was founded by the Lewis family in 1926 before joining the Mars family's group of companies in 1967. In 1950, the company started manufacturing its own brand of products under the name of
MasterFoods
. Mars Food today offers over 500 products including mustards, marinades, relishes, sauces, herbs and spices, pasta and stir fry sauces, and Promite spread. It exports to New Zealand and the Asian Pacific region, as well as supplying the food service and industrial sectors. All MasterFoods products are made in Australia, and most are made at its manufacturing site on theNSW Central Coast, Australia.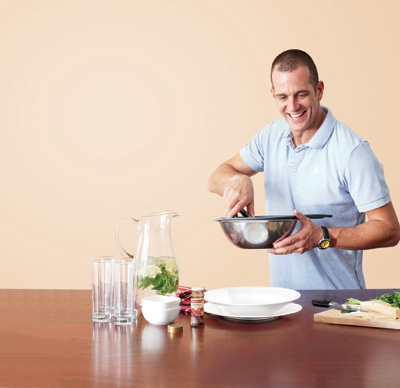 Interview with Fast Ed Halmagyi
Question:
What surprised you most about the MasterFood survey results?
Ed Halmagyi
: The degree to which cooking has become a national pastime in the last several years. Out of the culinary wilderness, Australians have taken to the kitchen with great new energy - it's a really exciting time.
Question:
Why do you think most people become extremely nervous when they have to cook for a dinner party
Ed Halmagyi
: It's the pressure of the event - there's a lot riding on it, because it matters to us what our friends and family think. For example, the biggest stress of the year usually comes at the time when we should be enjoying ourselves the most, Christmas Day lunch. For the cook, the level of expectation can be unbearable, particularly if there hasn't been enough planning. Yet as with so many things in life, the answer is staring us in the face - Keep It Simple.
Question:
What's your advice for throwing the perfect dinner party?
Ed Halmagyi
: Always cook something that you have tried before - you want to work with recipes you know and understand. Never cook more than one dish to order - have two already prepared, say a simple stew for entree and a cake ready for dessert. This leaves you more time to be a great host, while giving you more confidence in the kitchen.
Question:
What are some of the perfect dinner party foods?
Ed Halmagyi
: Lamb and white bean stew, or a chilled prawn salad for entree (both can be made up ahead of time); whole snapper with lime leaf ginger, or roast Scotch fillet in prosciutto for main; cinnamon semifreddo or baked chocolate tart for dessert (again these can be prepared ahead of time).
Question:
How can we put an exciting twist on basic meals such as pasta?
Ed Halmagyi
: Start by cooking the pasta properly: use a large pot of rapidly boiling salted water and don't over cook it. Think 'al dente'. Then remember what a simple hit of spice can do to lift the perfume of a dish - add nutmeg to a Bolognese, or cumin to a Carbonara. Best of all, let the experts do the heavy lifting and grab a jar of MasterFoods Tuscan seasoning - it'll bring serious sparkle to pretty much any Italian classic.
Question:
What is the best thing about herbs and spices?
Ed Halmagyi
: Versatility, accessibility and reliability. There's a huge range to choose from, so they can match to pretty much any meal. You can find the MasterFoods range in every supermarket. And the high quality ingredients mean that you get great results every time you use them.
Question:
What are a few of your favourite herbs and how do you use them?
Ed Halmagyi
: Ground nutmeg is my all-time favourite - I add it to mashed potatoes, and to my slow cooked beef. I'll add a pinch to salad dressing, and it makes wicked shortbread biscuits. For herbs I love the aroma of dried thyme - it's so distinct from the fresh thyme flavour that it's like getting a whole new playbook. I can change the character of any dish with just a sprinkle.
Flavour Insights with Fast Ed
Ed Halmagyi ("Fast Ed") is one of Australia's most well-known and acclaimed chefs.
His food philosophy is that it's quick and easy to cook delicious meals. When youdo less with your food, the ingredients can do more. Remember to cook withpassion and eat with love!
Fast Ed began his culinary career at the age of 15, when his parents forced himinto the part-time workforce. After a tenuous stint at university, he joined thepastry team at Bennelong Restaurant, where he remained until 1997. He went onto work for a number of Sydney's leading restaurants including Rockpool, Gothamand Fuel. Following a stint overseas at Vancouver's Wickannish Inn, Ed returned toAustralia and moved into head chef roles at Nove Cucina, Cruise and Beach RdRestaurant. He is now the resident chef on Channel 7's Better Homes and Gardens.
Fast Ed's best advice for cooking with herbs and spices:
1. Cooking is an ongoing adventure, so be experimental and open to new flavour combinations.
2. My favourite flavour combinations are:
Beef - thyme or pepper
Pork - cloves or chives
Chicken - chilli or marjoram
Lamb - paprika or oregano
Fish - dill or allspice
Eggs - dill or cinnamon
Tofu - rosemary or fennel seed
Mushrooms - turmeric or garlic
3. Avoid any combinations where one flavour completely overpowers another. Cooking is aboutcomplements, not combatants. Nutmeg will kill chives, chilli (in large amounts) will kill many flavours,and cloves and basil don't work particularly well with each other.
4. Many herbs and spices are misunderstood. Most cooks used turmeric purely for its gorgeous colour butits delicately robust perfume adds strengths to subtle flavour. Chives are used mostly as garnish butthey have a unique taste. Learn to use herbs and spices in a variety of ways and you will be rewarded.
5. It's important to remember that both fresh and dried herbs have roles to play in cooking. They bothhave a distinct flavour - for examples dried oregano can be used in many ways that fresh oreganocannot. You can slow cook dried herbs without souring, something fresh herbs can't manage. Thenthere is the convenience - most people don't have their own market gardens, so dried herbs makecreative cooking possible.
6. While different herbs and spices add taste and texture to different dishes everyone should havecinnamon, nutmeg, chilli, oregano and fennel seed in their spice rack. With these there is a whole worldto explore!
7. Always involve the family in cooking. These cooks won't spoil the broth; many hands do make lightwork. Plus it's a great chance for the family to catch up on what happened during the day.
8. Great cooking is all about developing confidence and experience. Once you know and can remember aflavour it's much easier to match it. You learn to cook by cooking.