TIME TRAVEL WITH DESIGN HOTELS
PRESENTING FIVE MODERN HOTELS IN HISTORIC BUILDINGS
Style mavens, design lovers and history aficionados watch out! Contemporary hotels are not all polished steel constructions with sparkling glass façades - Design Hotels™ introduces five member hotels located in centuries-old buildings that perfectly meld historic architecture with modern interior design. There's something for every type of traveller: courageous adventurers can sneak through the secret 14th century staircases of The Three Sisters in Tallinn and maybe meet the souls of previous inhabitants; at the Gerbermuehle in Frankfurt, poets can discover the path of Goethe, who once stayed at this 1520's building, and the myths ofArabian nights are revealed at the AnaYela in Marrakech, a 300 year old palace. An architectural journey throughtime begins and ends at the Widder, where medieval beams and Renaissance pillars meet glass ceilings andelevators. Das Triest in Vienna, designed by Sir Terence Conran, is truly rich in history, once being the stable forthe horse-drawn postal link between Vienna and Trieste. However guests decide, they will experience a fusion ofold and new in each of these hotels.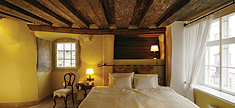 The Three Sisters


Located on Tallinn's main street in the atmospheric Old Town, guests at The Three Sisters may feel like they havetaken a step back into the past. Each of The Three Sisters' 23 spacious rooms and suites is unique in shape andsize due to its 14th century origins. The rooms offer sleek marble and granite bathrooms, and yet the buildingretains its old charm in original features, such as the intricate ceiling fresco that was discovered under 14 layers ofpaint and wallpaper. A two-year renovation breathed new life into the historic property, bringing contemporarydesign into its ancient walls, and highlighting its centuries of organic growth. Secret staircases and walkwaysconnect a maze of different levels, each reflecting a different 'sister' - the younger and bohemian, the middle withclassic charm and the contemporary and sophisticated older sister.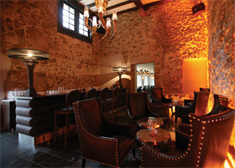 Gerbermuehle


Originally a corn mill, this strikingly modern hotel in a 1520's building sits peacefully on the southern bank of theRiver Main on the eastern outskirts of Frankfurt. Original and modern features create a stylish and varied interior,from the modern skyscraper feel of the lobby to the cosy stone-walled bar. The house's old postbeam constructionis never hidden, but is painted to match various rooms' colour schemes, in a nod to sleek contemporaneity. The 19bedrooms feature traditional dormer windows and open beams with modern technology including flat screen TVs.The old-world-meets-new atmosphere continues outdoors in the summer garden. An intense and welldocumentedromance began at the Gerbermuehle - it was here that seminal German author Johann Wolfgang vonGoethe met Marianne Willemer in 1814.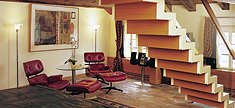 Widder Hotel


Once nine historical residences, the Widder Hotel's original features have been lovingly preserved by Swissarchitect Tilla Theus. Historical materials like original stone walls and coffered ceilings mix seamlessly withmodern features such as steel pillars, metal beams, polished granite floors and Le Corbusier and Ray and CharlesEames furniture. Each house reflects an individual design based on its history and experience. Case in point is aglass roof atop a medieval stone house, or the integration of nine elevator banks, including one of glass and chromethat rises alongside an original city wall dating from the 12th century. The 49 guest rooms, each having its ownlayout and interior design, feature antique oil portraits, Renaissance murals, and even original paint and woodworkdating from medieval times as well as contemporary pieces by Warhol, Poliakov and Rauschenberg.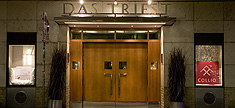 Das Triest


Das Triest, a former coach station on the route from Vienna to Trieste, was Vienna's first design hotel as well asSir Terence Conran's very first foray into hotel design. Combining the traditional with the modern, this famousEnglish designer shows off his skills to the full, combining the original features of this former coach house such asits vaulted ceiling with a modern interior of Artemide light fixtures and handcrafted furniture. The bathrooms haveporthole windows, which, along with railings and flag motifs in the rest of the hotel, offer an emotional link to theAdriatic port of Trieste. Specially commissioned black-and-white photographs of Trieste and Vienna furthercelebrate a connection to the building's historic role in international travel.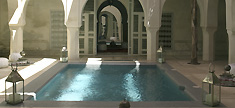 AnaYela


The AnaYela, located in the oldest part of the Medina of Marrakech, is a 300 year old former palace. The interiordesign is an homage to Moroccan culture and architecture: Its restoration was conducted using only traditionalMoroccan craftsmanship, with over 100 artisans performing the work completely by hand, without the help of asingle electric tool. Similarly, each piece of furniture and ornamentation of the five individually designed roomsand suites was personally created by owner Bernd Kolb and designer Yannick Hervy and then hand-crafted by ateam of Moroccan artisans. But the AnaYela is much more than meets the eye, it is "a place of inspiration", asKolb describes it. With its unique holistic architectural concept all senses are addressed and subtly stimulated. It isa journey into the myths of Marrakech. Modern facilities such as an open-air cinema and state-of-the-artconference facilities give a luxurious modern feel to this unique traditional building.
For reservations, please visit the website:
www.designhotels.com