Hotel Sezz Saint Tropez
In mid July, the French Riviera will get a glamorous new addition to its perpetually fashionable and buzzing coastline: Hotel Sezz Saint-Tropez. Owner and hotelier Shahé Kalaidjian has joined forces with an all-star team consisting of designer Christophe Pillet, architect Jean-Jacques Ory, landscape designer Christophe Ponceau and chef Pierre Gagnaire to create a sister property to the Hotel Sezz Paris.
Situated just outside Saint-Tropez and a short walk from the beach, Hotel Sezz Saint-Tropez is a contemporary version of a Provencal village with a collection of single-storey buildings. The resort has 37 guestrooms surrounded by a lush wooded park, and a swimming pool at its centre. Christophe Pillet has made sure that guests will smell, hear and taste 'holiday' from their beds and baths. Entire walls of glass and oversized windows are used throughout the resort to create an airy atmosphere. Hotel Sezz Saint-Tropez is set to shine new light on the regional tradition of luxury resorts.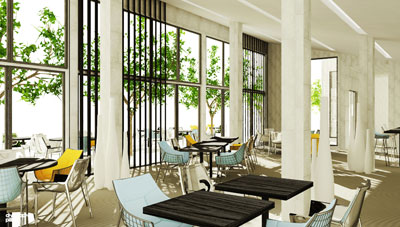 Design Hotels™
represents and markets a curated selection of more than 190 independent hotels in over 40 countries across the globe. More than a collection of hotels, the company is a collection of stories. Each property reflects the ideas of a visionary hotelier, an "Original," someone with a passion for genuine hospitality, cultural authenticity, thought provoking design and architecture. Each "Original" stands for the individual, aesthetic and service-driven experience that his or her hotel provides.Founded by Claus Sendlinger in 1993, Design Hotels™ offers its members insightful travel industry knowledge, from feasibility studies and conceptual branding to market trend consultancy and international sales representation. The company has its headquarters in Berlin and branches in London, Barcelona, New York, Singapore, Bali and Perth.
www.designhotels.com