Chisolm's Restaurant at Jenolan Caves
Although Jenolan Caves is Australia's most famous cave system, less known for nearly 100 years, is Jenolan's historic restaurant - Chisolm's. Now Chisolm's has been honoured by a well-deserved award - for 'Tourism Restaurants & Catering' in the Blue Mountains Tourism Awards of Excellence 2010.
The rambling 4-storey hotel, Jenolan Caves House, between Oberon and Lithgow, was designed in 1897, by Walter Liberty Vernon, in the Federation Arts & Crafts style, as a wilderness retreat for the rich. Vernon included an enormous dining room - now Chisolm's Restaurant, named for a former housekeeper, who, rumour has it, still haunts the place.Chisolm's caters for wedding receptions, special occasions, corporate dinners, romantic couples, families and tourists from all over Australia and the world. Everyone, from very supportive locals to celebrities and international visitors, expect high quality. The caves themselves are dazzling, with thrilling underground experiences. The heritage-listed hotel brims with atmosphere. Raising expectations even further, visitors step through Chisolm's elegant entrance into another world. In graceful Victorian style, Chisolm's grand features create a high expectation of the coming meal. Those expectations are met by new chef, Michael Frenett, trained in the restaurants of prestigious resorts such as the Park Hyatt in Colorado, Chateau Lake Louise in Alberta and Westin Whistler in British Columbia.
Last year, Jenolan Caves Reserve Trust, decided to invest in training and staff who share a goal in returning Chisolm's to her glory days. Since splendid beginnings, Chisolm's has seen ups and downs, particularly in the 90s. This award will be a springboard to further success. There are other good reasons why Chisolm's won the 'Tourism Restaurants & Catering' award. To revive interest in the historic restaurant, James Brady, used imagination, hard work and took risks, such as themed dinners, which have grown in popularity. Celebrity author, Tara Moss, was recently spotted at one such dinner, which featured a Victorian themed menu, and commemorated Jenolan's first VIP visit in 1887 by Lord and Lady Carrington. At another dinner, the menu featured rare black truffles, a product of Oberon, demonstrating Chisolm's support for the produce of its region. Chisolm's supports local wines, through lavish and informative 'winemakers dinners'. It now even has a wine cellar hidden in a secret location, inside one of the famous caves.
Most of Chisolm's customers are ordinary people. Many have travelled half way around the world to explore the famous caves. Cost-effective packages (dinner, bed, breakfast and cave tour) help to bring Chisolm's fare into the tourist price range. Also recently, Chisolm's launched 'Country Luncheon' - a delicious, lower priced, 2-course luncheon, served in magnificence and free of charge for children under age 6.
Now, Chisolm's staff will soon be working not only in an award-winning restaurant, at an award-winning tourist destination - but in a brand new kitchen. Chisolm's is serviced by an immense kitchen - the size of a modest house. Built in 1926, it is finally getting a total makeover, bringing it in line with 21st century food service standards. James Brady, said, "When the renovations are complete, our kitchen will rank with those of Australia's best restaurants."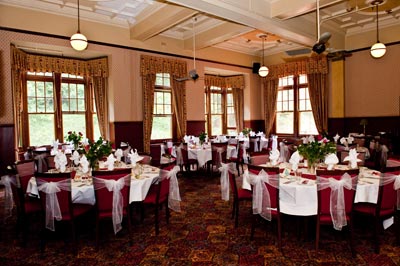 Jenolan Caves
Available daily, families can do the self-guided tour of the massive 'twilight' caves - the Nettle and the Devils Coach House. Visitors use an audio device, by Acoustiguide Australia, which includes a lively commentary for younger children - recorded by children. Visitors simply pick up a device from Jenolan's ticket office and, at their own pace, tour the Nettle Cave/Devils Coach House, hearing as much of the tour as they like - in any of 11 languages. (Star Trek fans can even hear it in Klingon.) Kids can listen to their special commentary.
This tour is complimentary with the purchase of most guided Jenolan 'show' cave tours. Along with adults, kids (from age 10) can enjoy the challenge of 'adventure caving'. At the Blue Mts Tourism Awards for Excellence, Jenolan Caves also won the award for 'Adventure Tourism', for the third year running. During school holidays, Jenolan even runs special adventure tours for teenagers, to promote self-confidence, fitness, fun and teamwork. And, irresistible to adults and older kids, Jenolan now offers cave tours every night except Sundays - tours that are not usually available during the day, including the spinechilling 'Legends, Mysteries and Ghosts' tour (Wednesday and Saturday nights).
Although they are the world's oldest caves, Jenolan constantly refreshes visitor experience. The spectacular caves attract everyone, from backpackers and seniors to bridal couples and corporate groups. But the market segment that Jenolan Caves has always attracted effortlessly is families. Cave Operations Manager, Dan Cove says, "We're still a family favourite. Maybe it's because we're a day trip from Sydney or because our guides enjoy what they do and it shows. Individual attention, especially to kids, is a real help to parents."
There is always something new at Jenolan Caves! Visit
www.JenolanCaves.org.au