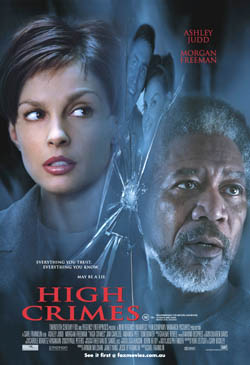 RELEASING:
09 MAY 2002
Genre:
Drama
Studio:
20th Century Fox
Rating:
TBC
Directed by:
Carl Franklin
Produced by:
Jesse Beaton, Lisa Henson, Arnon Milchan, Janet Yang, Jesse Beaton-Franklin
Written by:
Yuri Zeltser, Cary Bickley, Susan Shilliday
Running time:
TBC
Starring:
Ashley Judd, James Caviezel, Morgan Freeman and Amanda Peet, Juan Carlos Hernandez, Bruce Davison, Tom Bower, Michael Gaston.
A happily married, successful lawyer Claire Kubrick (Ashley Judd) is shocked to learn that her husband (Jim Caviezel) has a hidden past as a classified military operative and is accused of committing a heinous war crime.
Claire must wrestle with her own doubts about her husband's guilt as she defends him in a top-secret military court where none of the rules she knows apply.
Claire realizes she needs help from someone who knows the rules - and is willing to break them. She enlists the aid of a "wild card": Charlie Grimes (Morgan Freeman), a former military attorney who relishes the opportunity to take on the very hierarchy that disgraced him years earlier.