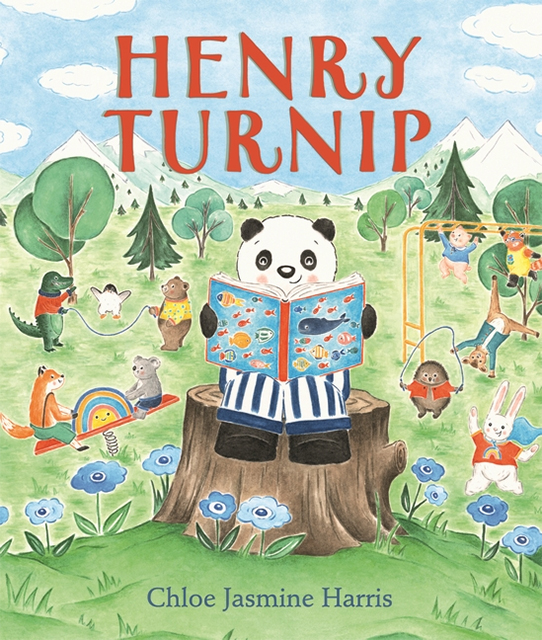 This is an every-kid story about managing shyness and being the best kind of friend you can be.
Henry Turnip has seven pairs of blue striped overalls, one for each day of the week. He likes television shows about the deep blue sea, strawberry jam sandwiches with the crusts cut off and reading indoors. Henry does not like too much of anything--too much noise, too many people or too much mess. Until he meets Reuben Moon. Reuben is an adventurer and the kind of friend who helps Henry feel a little braver and more confident. This is a story about finding a friend who likes you just the way you are but inspires you to try new things, too.
A story that features an introverted child and shows how he can feel supported by his peers.

Most kids fall into the categories of being a Henry, a Reuben or somewhere in between. This story is about finding a friend who's different and appreciating what he can share with you.

Chloe Jasmine Harris's animal characters are reminiscent of the Sylvanian Families/Calico Critters endearing toys. There are animals from all over the world, representative of a diversity of students, together in one nurturing school environment.
About the author
Chloe Jasmine Harris studied Fine Arts at the National Art school. Her style reflects her love for the outdoors and the little creatures she finds along the way. Chloe's debut picture book Maple was published in early 2019, and her artwork appears on many of the products at Monster Threads. You can see more of her work at ChloeJasmineIllustration.com and on Instagram, where she has thousands of followers.
Henry Turnip
By Chloe Jasmine Harris
RRP: $25.99

Review: Really love this story about overcoming shyness and embracing change, simple well written text accompanied by gorgeous, colourful and happy illustrations makes for timeless children's book.