Review: MAMMA MIA! was originally conceived and produced by Judy Craymer over 25 years ago. Today it is a global phenomenon, seen by over 60 million people across more than 20 languages. The duke box style musical shuffles through hit after hit from the much loved and world renowned Swedish pop artists, ABBA. The story is built around the uplifting ABBA tunes and promises an evening full of fun for the whole family. It's been five years since the global favourite MAMMA MIA! stole our Australian hearts and now, until November 2018, MAMMA MIA! is back in Australia – bigger and bolder than ever with a stellar leading cast.
The Melbourne CBD venue, the Princess Theatre, with its exuberant and esthetic Second Empire style, was pack to the rafters with starry eyed patrons buckling up in their seats, ready for the show to begin. The audience quietens as the talented band, led by musical director Michael Azzopardi, opens the evening with an electric-rock-like instrumental montage of various ABBA hit songs. The music builds, stirring anticipation for what is to come… GIMME! GIMME! GIMME!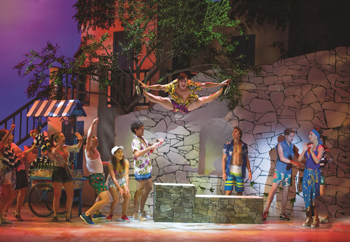 As the curtains roll up, right away the set design by Linda Bewick transports the viewers to the factorial Greek Island of Kalokairi; inspired by the traditional Grecian blue and white stone buildings and red bougainvillea vines beautiful draped across the stage. Sophie Sheridan (Sarah Morrison) is first on stage, with the chart topping single 'I have a Dream'.
What's Sophie dream? To discovering the truth about which of her mothers three ex-lovers is her Dad! Sophie secretly sends out wedding invitations to all three of these men, certain she will know which one is her father when she sees him – a task that proves a lot more difficult than Sophie could have imagined! The character of Sophie is soft, innocent and extremely likeable which was perfectly executed throughout the show by leading lady Sarah Morrison. This opening piece sets the scene for the entire show, the appeal of which has the audience willingly jump of board for the ride as the story of MAMMA MIA! begins to come alive.
The narrative interweaves themes of cross generational love, family shenanigans, second chances and female empowerment. There is never a dull moment in this feel-good musical. Laugh-out-loud moments were abundant, with especially comical performances from Tanya (Jayde Westaby) and Rosie (Alicia Gardnier). In Act II, an incredibly moving and notable performance by Donna Sheidan (Natalie O'Donnels) of 'The Winner Takes it All' is sure to send tingles down your spine. A powerful song and performance is a reminder of how theatre can truly bring a story to life and move you in ways far beyond a film can. Moments of Aussie slang were sprinkled throughout the screenplay, giving the musical a unique Australian touch the audience responded well to and helped set it apart from other productions of MAMMA MIA! around the world.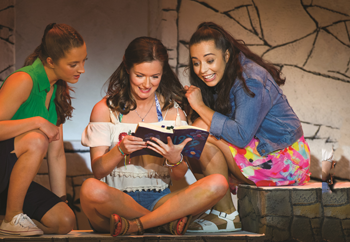 Directed by award winning director Gary Young, the show as a whole has incredible impact, energy and synergy between all the creative's behind the production, as well as the cast and the ensemble on stage. The evening was filled with playful and moving scenes carried by the brilliant cast. At times goofy but always heartwarming, whether you're 12-years-old or 60-years-old, MAMMA MIA! will light up your night and have you wiggling along to your favorite ABBA hits, one after another. Prepare to be swept off your feet into a world of Dancing Queens and Super Troupers - just say I Do I Do I Do – cause' we loved this latest Australia production of MAMMA MIA! and we know you will too.
- Madeleine Coleman
Starring in this brand new Australian production is an amazingly talented cast lead by Natalie O'Donnell as mother-of-the-bride Donna Sheridan and Sarah Morrison as Donna's daughter and bride-to-be Sophie. Alicia Gardiner and Jayde Westaby star as Donna's best friends Rosie and Tanya. The 3 unsuspecting fathers are played by Ian Stenlake, Phillip Lowe and Josef Ber with Sophie's adoring fiancé Sky played by Stephen Mahy.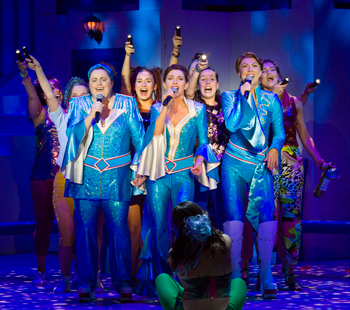 The incredible supporting cast includes Monique Sallé, Jessica Di Costa, Sam Hooper, Alex Gibson-Giorgio, Stephen Anderson, Jadie Bastow, Dion Bilios, Du Toit Bredenkamp, Annie Chiswell, Matt Edwards, Josh Gates, Catty Hamilton, Matthew Hamilton, Emma Hawthorne, Zoe Komazec, Sarah Kate Landy, Courtney Monsma, Clay Roberts, Leigh Sleightholme, Thalia Smith, Lisa Sontag and Zachary Webster.
The Melbourne season runs to the 30th September.
#mammamiainoz
Imagery: James Morgan