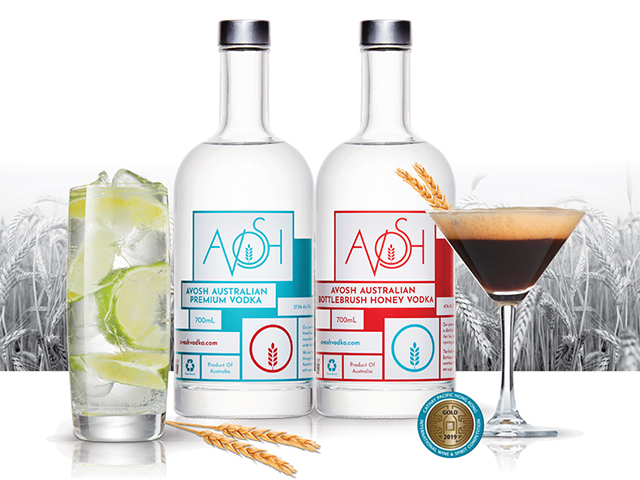 AVOSH Vodka's two expressions, the original premium spirit, and the Australian Bottlebrush Honey vodka are stunning examples of the craftsmanship we've come to know and love from The West Winds Gin team. Both finished in a copper pot still, the original has a bold mix of pepper, aniseed and lemon zest, unashamedly and proudly drawn from its Aussie wheat base. The team has also expanded on this and created a smoother, rounder and gently sweeter variation that harnesses the inimitable native flavour of bottlebrush honey – think subtle warmth and gentle vanilla and maple syrup notes.

Both are equally perfect for your at-home bar!
AWARD WINNING!
The new Bottlebrush spirit has already picked up a gold medal for Artisan Vodka at the Hong Kong International Spirit Competition 2019!
100% Australian Wheat
AVOSH has an utterly unique flavour profile that puts the spotlight firmly on its base of Australian wheat which makes it a great sipping vodka over ice, especially the AVOSH Australian Bottlebrush Honey Vodka. It's also a great star in cocktail recipes.

HOW TO Seaside Spritz
Simply build in a wine glass over ice, then sit back relax and enjoy!
50ml AVOSH Premium Vodka
30ml Sparkling Wine
15ml Soda Water
Garnish with pink salt and pepper
Review: Great time to get behind this Australia brand, Avosh Vodka and the Seaside Spritz is a refreshing way to finish the working day, refreshing and just really enjoyable.