THIS BERRY IS SWEET AND HAPPY.
by Paul Fischer in Los Angeles.
Halle Berry says that at a very youthful 40, she is more confident having hit that milestone, than ever before. Promoting her latest film, the thriller Perfect Stranger, the luminous Oscar winner concedes that turning 40 was " really magical" for the actress, because she had "the right to say and be who I wanted to be, say what I wanted to say and not accept what I didn't want to accept." Despite reeling from a bad marriage, the actress says she is so much wiser at this age and after she turned 40, "I felt more self-assured, more confident and I felt like half my life is probably over now and thus had the right to really be authentically who I want to be and say what I want to say, and not accept what didn't feel right." Nor does Berry care any more what people think of her. "I was getting there slowly by slowly when I turned 35 but at 40, in a real way, but it doesn't matter what they think. Do people really care? Nobody goes home really pondering what Halle Berry did or said," she says laughingly.
Halle Berry can relate to one aspect of her Perfect Character stranger who finds herself in love with the wrong man. 'What is it about powerful women and shitty men?' a character asks her half way through. The irony of this line does not escape the actress when asked to ponder the question now. "I wish I knew, because the course of my life would be different if I knew the answer to that question before the age of 40," she says, laughingly.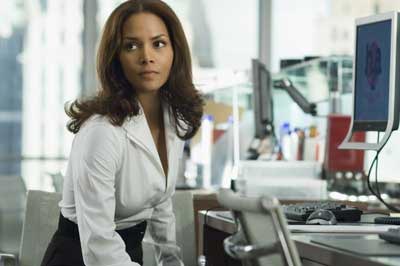 At least the actress has a full-on career to keep her busy, in Perfect Stranger playing a journalist who takes on various pseudonyms to get to the truth. Halle Berry says she was attracted to the film because "I love a character that gives me a chance to grow and do something different, and Rowena was so multifaceted," she explains. "I never played a character that played a character who played a character and that gave me a chance, as an artist, to stretch my limits and challenge myself. When I read the movie and I got to the end, I thought wow, I don't know how I'm going to pull this off but if I can't then at least I'm going to go down trying, because that's how impassioned I was about it." Halle Berry also gets to look every bit the glamorous movie star throughout the film, as the camera lovingly and often accentuates her beauty and physicality.
While years ago, she may have been concerned by this, the more confident actress says she has come to terms with her beauty and doesn't mind showing it off. "I think that's also come with 40, and just getting older as I've become really comfortable with my sexuality and making no excuses for it anymore. It's part of being a woman, part of what empowers us when we're smart enough to know how to use it and the character of Rowena certainly knew how to use it. So I think I've been learning as I've gotten older, to become comfortable with that side of who I am. In the beginning, I used to have to downplay it because I wanted to be taken so seriously as a 'thespian', as an artist and as an actor, so I'd play crack heads, down trodden women and disguise myself. But I think as I've gotten older, I've become more comfortable with whom I really am and all parts of me knowing that my physical self doesn't diminish me in any way or my talent."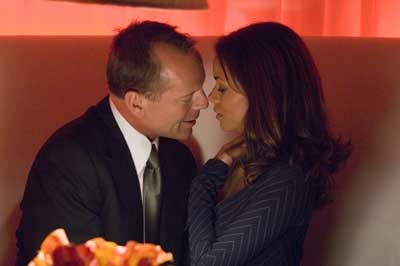 Halle Berry not only thrives on challenging herself as an actress, but receiving her star on Hollywood's legendary Walk of Fame represents yet another milestone, a star which she actually kissed during the ceremony. "And then somebody reminded me that it was frequented by crack heads and drug addicts, but it was just a spontaneous thing. I felt so proud of it and I felt like that's what I wanted to do, so that's what I did." Halle Berry added that attaining the Star, "was yet again another profound moment in my career. After Oscar, I wasn't so sure I would ever have another one and I was surprised that I found myself standing up there on the verge of tears, because I'm an emotional train wreck. So I found myself up there really moved, feeling proud and knowing that while it seemed like a simple star in the ground, it also represented history and that I was a part of it. Not to mention the fact that my star is right in the entrance of the Kodak Theatre which said to me okay, I've got a piece of prime real estate here, so it wasn't a bad day."
Oscar, Golden Globe, Emmy winner and now recipient of the Hollywood Walk of Fame star, it seems there are few personal; ambitions left for Ms Halle Berry, except one significant aspiration. "I want to be a mother, and that feels really important. Career is one thing and I think I've gotten a lot out of that and made the most of my opportunities but I am starting to feel like I need something more meaningful to wake me up in the morning, and it's feeling very much like it's family and children." Does she have a number in mind? "Oh God, I'm just hoping for one right now."
Halle Berry says that no matter how good or bad her choices, it is the fans of hers that validate who she is an actress, even when it comes to the likes of Catwoman. "A lot of fans, a lot of people liked Catwoman and it's validated. I mean you'd be surprised how many people, especially young girls, came up and they really liked it and so that's the validation. I try to focus on the positive of things and so the validation is really from the fans because that's who we make movies for, for people and for fans and I think it's our job to offer them a variety, and do different kinds of things." Not that she needs that validation to feel okay about her work, "because I know every time for good or for bad, I give 100% of what I have to give and I make choices based on what's happening in my life at that moment, what I'm most needing to do, sometimes for personal reasons, sometimes for the art of it. So knowing that I make decisions from the right place, I can live with that at night, no matter what the outcome of the project."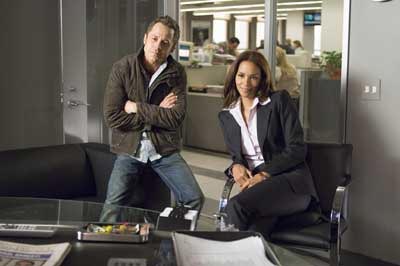 Always trying to become as diverse as possible, Halle Berry's upcoming projects exemplify that diversity. She is re-teaming with Perfect Stranger producer for the true story Class Act, in which she plays a cynical high school teacher encouraged by her students to run for Congress. Despite the glut of Hollywood films on teachers, Halle Berry is non-committal as to how this one will differ from its predecessors. "We'll see, I don't know yet, as I haven't even begun to delve into who that woman is right now, so I'll tell you about it on that junket because it's something that's not really close to me right now." What is far closer is the movie Things We Lost in the Fire with Benicio Del Toro and directed by Susanne Bier. "It's very different from Perfect Stranger on many levels. It's a small movie that deals with love and loss, and it's very different in the sense that while Stranger is designed to be a crowd pleaser, whodunit, this is a slice of life movie, a little movie that will probably take the festival route this year."
While she laments the fact that Hollywood doesn't see Halle Berry in a comedic role, the actress is finally getting to star in an offbeat romantic comedy, Nappily Ever After in which "I get to shave my head bald and we're talking grease-head bald." Halle Berry describes Nappilly Ever After as dealing with "the relationship that women have with their hair, how hair throughout history has defined us, how we're in such bondage, and if my hair's not right then we're not right. So at the beginning of the movie, something is done to my character and her hair starts to fall out, so she after being drunk one night, decides to deal with the fact that their hair is dragged up, she's so she decides to shave her hair completely bald .Now she has to face the next morning with no hair and how her whole life and everybody around her are different, because she was once this beautiful goddess with this long hair and now she's bald. So she's forced to look at what beauty really is and it comes from inside obviously, not from the outside but it's a hard lesson for us to get and this movie will sort of expose that and help us come to terms and may be every time we hear thunder, we won't go like running for cover."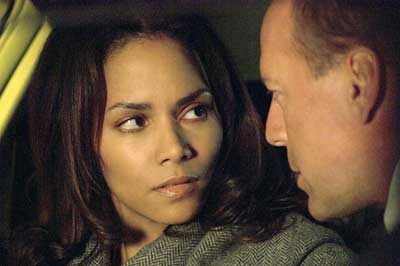 Halle Berry doesn't seem to be running for cover these days. Despite tabloid reports of suicide attempts following her broken marriage, the Halle Berry promoting Perfect Stranger remains consistently upbeat about her life and career. "I've been saying I'm just really happy, I'm in a really good space in my life and I can honestly say it's not because of anything, in particular. It's not because I have a really cute boyfriend now, it's not because my career is in a good, it's because I feel good about me and if anyone of those things should dissipate, I'd still be happy, I'd still be okay and that feels like a really good place to finally have arrived to."
Perfect Stranger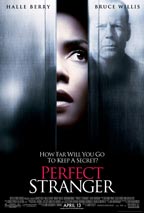 Starring
: Halle Berry, Bruce Willis, Giovanni Ribisi, Gary Dourdan, Patti D'Arbanville, Clea Lewis, Richard Portnow
Director
: James Foley
Ace New York Courier reporter Rowena Price (Halle Berry) will do anything to get her story---even if it verges on the unethical. After her plans to out a U.S. senator's homosexual relationship with an intern are thwarted, Price's next chance at a big scoop falls right into her lap. When her friend Grace (Nicky Lynn Aycox) is found murdered, the main suspect is revealed to be Harrison Hill (Bruce Willis), a philandering high-powered ad exec with a very jealous wife. With some help from her right-hand tech guru, Miles (Giovanni Ribisi), Rowena goes undercover as a temp at Hill's agency, where her own good looks are bound to draw Hill closer to her, taking her to the facts behind Grace's murder.
No simple plot description can truly explain James Foley's (AT CLOSE RANGE) twisty, tech-y thriller. It begins with a false setup, takes a whole other route, and makes a series of bizarre 11th hour revelations that not even the most seasoned viewer will be able to predict. The always watchable Berry makes us root for a character whose methods aren't always the most scrupulous, and Giovanni Ribisi does a lot with the "sidekick" role. Anastas Michos's cinematography gives Manhattan a slightly sinister glow of cool blue, appropriate to this tale in which nothing is what it seems, and trusting in someone is sure to cause regret---or worse. PERFECT STRANGER may occasionally defy logic, but that is not likely to deter those hungering for a handsomely made, star-fueled studio film with plenty of surprises.